Hotel Renovator – Steam PC Review
Reading Time:
5
minutes
Fast Facts
Hotel Renovator
Developer: Two Horizons
Publisher: Focus Entertainment
Website: https://www.focus-entmt.com/en/games/hotel-renovator
Genre(s): Adventure, Casual, Indie, Simulation
Platform: Steam, XS, PS5
Age Rating: PEGI 3
Release Date: March 7, 2003
Price: £24.99

A code was provided for review purposes
Hotel Renovator joins the ranks of simulation games where you have a job, like Gas Station Simulator, Construction Simulator, and Lawn Mowing Simulator. You start out your journey alongside your sibling, taking on your grandfather's run-down hotel, which is haunted, probably a murder scene, and looking very shady and condemned. You start off with little to no money and a mission to clear out a room, lobby, and hallway to con some naive person into staying overnight. Along the way, you will progress to more rooms that need to be fixed up and other parts of the hotel to fix up on your way to a five-star rating.
A Room with a View
There are three floors of rooms in your hotel, along with a basement, back office, and a few other surprise areas that I won't spoil for you that you will need to renovate. With each level of the game, your skills enhance to help you take care of trash, knock down walls, and clean up after your destruction. Early on, the game can feel a little tedious as each click of the mouse will be needed to clear away trash and debris, though you soon unlock the ability to clear our larger swaths of spaces with one click or holding down the left mouse button for a larger reach.
Within each room of the hotel, you will find unique items that you might be able to sell or give back to patrons, such as lost wallets, missing musical instruments and golden eggs. Apparently, your hotel is also home to a recluse chicken that prowls the halls and enjoys a high/low dice mini-game from time to time.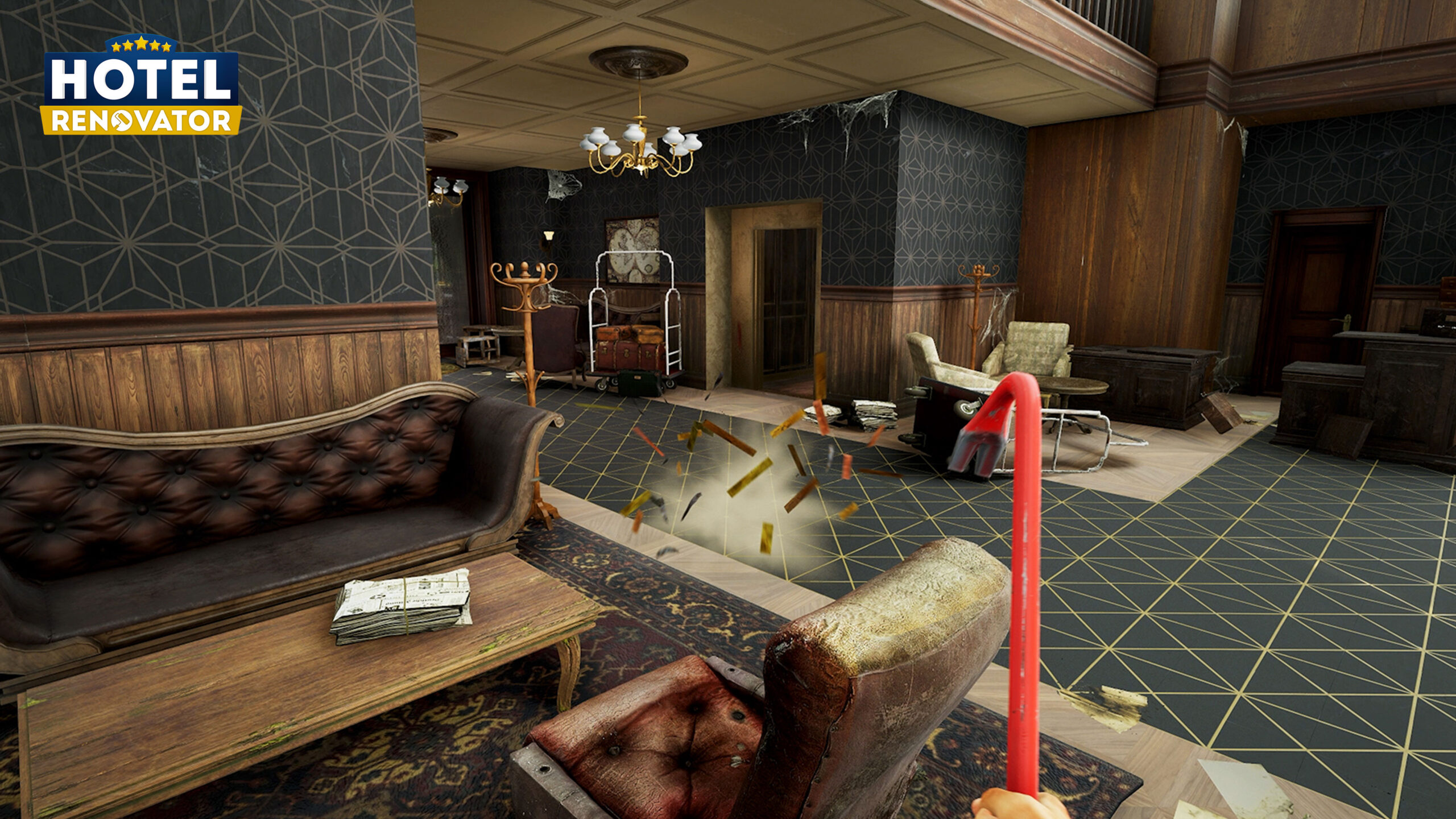 An Eye for Character
Each space in the hotel needs to be cleared. Floors and walls need to be painted, carpeted, or covered in wood or stone panels. This is the heart of Hotel Renovator, where the interior designer/decorator comes out. While you have a near-endless supply of money, each room has a set of mini-goals that you must reach to fulfill the need of either the space or a specific hotel patron. These requirements might be to use a certain color scheme, set the mood, or pick furniture that fits a theme. In my playthrough, I had to create a room for a cowboy, decorate for a bachelorette party, and have a rooftop pool.
The walls and floor of your hotel are your canvas. There are almost too many options given to you to create unique spaces. I found myself gravitating to certain wood and stone textures in typical shades of colors. Beyond the walls and floors, there are furniture items, wall hangings, light fixtures, lamps, statues, and more to place within your rooms. Designing bedrooms, lounge areas, bathrooms, and dining rooms was fun. I enjoyed being creative in how I met the goals of each guest differently.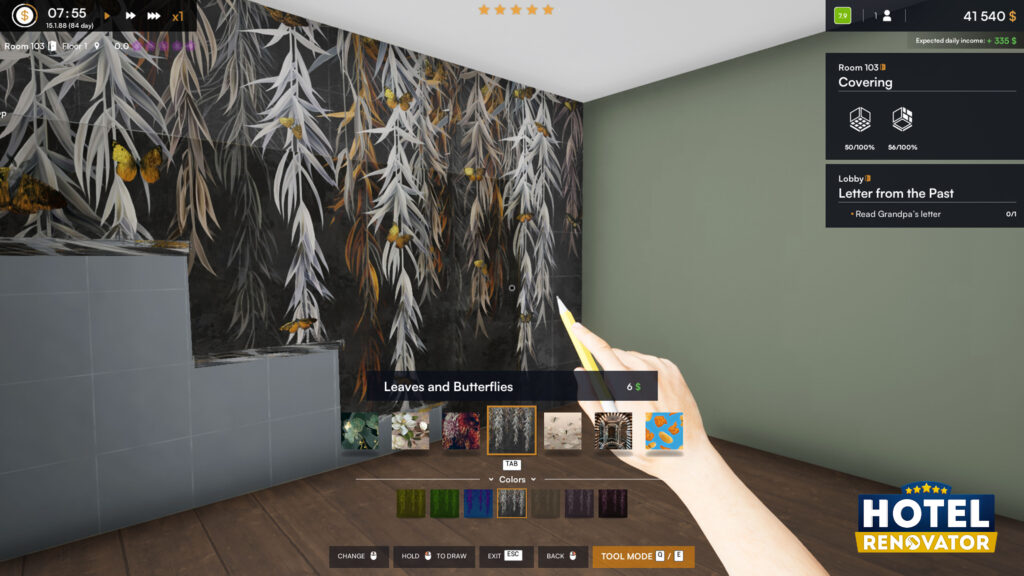 A Building Story
We have all played games where you inherit a farm, building, or some other dilapidated family treasure-turned-mess to clean up and rebuild. Even Nintendo's Breath of the Wild had an old house to fill with treasured weapons to house winnings from battle. Hotel Renovator builds within its walls a story of a grandfather who wanted to have the best hotel in town, left to his grandchildren in the hope of leaving a legacy and mark on the world.
Along the way, you uncover small snippets of clues to his past and the future you will build in working towards a five-star hotel. The story is a small fraction of the game. Appealing to your guests by meeting their requirements of room design and decoration takes center stage. There is enough variety in what each person will require, though you could always opt to just fill each room with the items in a junked-up manner. You aren't penalized for any kind of lack of order or arrangement to the furniture and room decorations. It would be nice to see a rating system based on how well items work together and the spaces you create. The game lacks an easy way to share your rooms with an online community. Currently, everybody just shares screenshots through social media.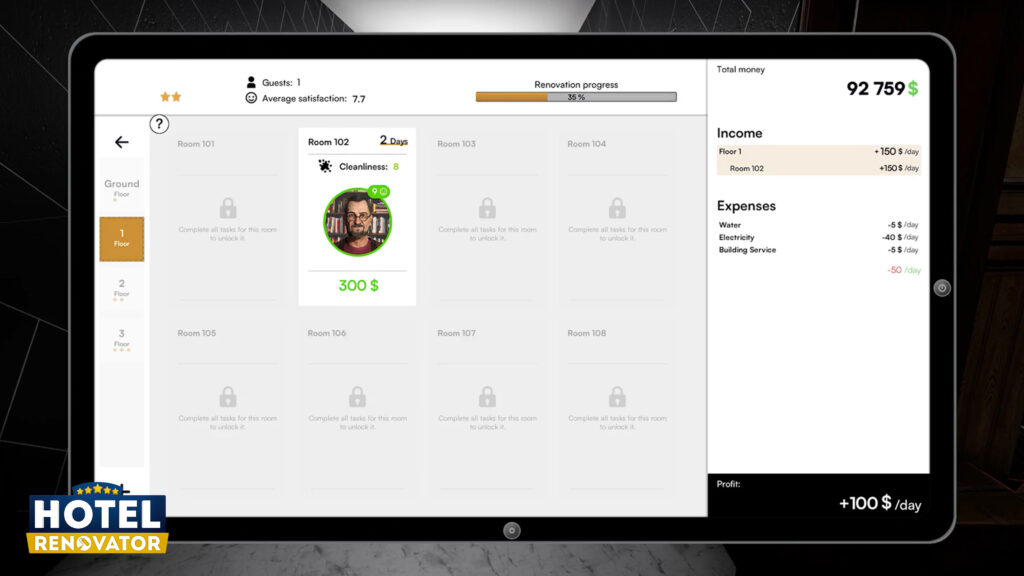 Bob-ish the Builder
Games like Hotel Renovator usually have a commonality in terms of precision and jank. The sole purpose of the game is to make a rather mundane task or job into a video game. As a result, this usually comes with a level of glitches that we have almost come to expect. Whenever you get into an elevator with other people, they usually miraculously disappear before the doors open. One time I had a task to put some hay bales in the lobby for a horse that was loose. Don't ask me how a horse got loose in the hotel. Sometimes when I would place items on shelves or on top of tables or dressers, they would bounce ceiling-high and then slingshot around the room.
Don't even get me started on the uncanny valley death glares of customers or the odd ghost-busting missions. You actually have to use a ghost trap and your vacuum cleaner to capture a poltergeist and then sell it. From time to time, you might need to capture chickens, iguanas, and other creatures that you wouldn't normally find in a hotel. I guess the developers felt a need to pad out the game with some creative elements.
There are a few elements of the game I found very tedious, like power outages, rooms that would get flooded, or guests needing me to knock on their doors to quiet them down. The biggest bother was having to constantly take the elevator to other floors in the hotel. Most likely, this masked a loading scene for each floor of the hotel. Whenever I arrived on a floor, the furniture, wallpaper, and other textures took a bit of time to load in. This was buggy but not really bothersome.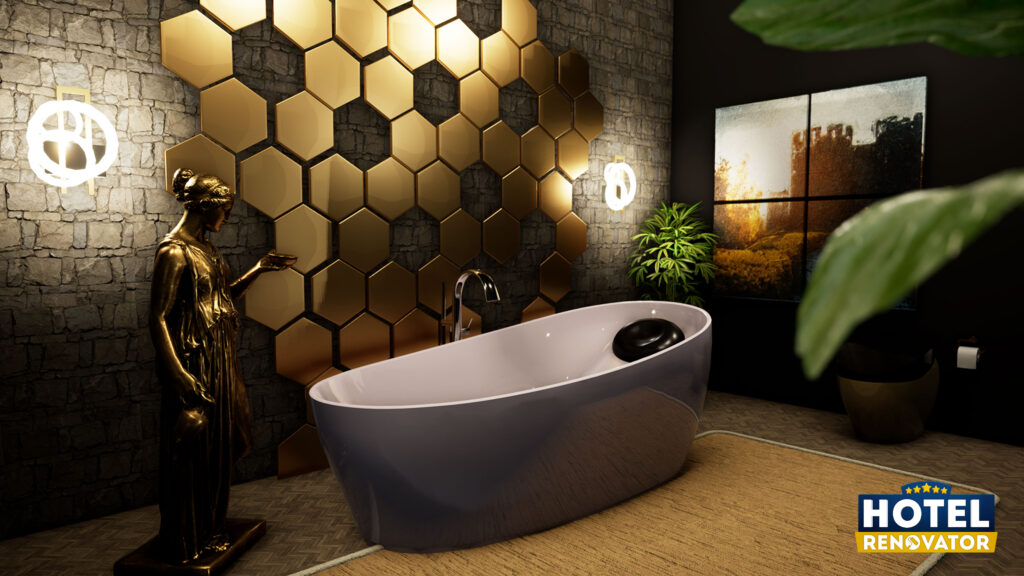 Unlock Your Artsy Self
If you enjoy games like Animal Crossing Happy Home Paradise, and House Flipper, then Hotel Renovator is for you. To get the most out of the game, you have to want to design spaces that are unique. As you progress, you unlock more items and abilities which help make demoing and designing a room fun and entertaining. Hotel Renovator won't be for everyone. However, it's sure to entice those that love creating spaces unique to themselves or NPCs that set goals for you. If any of this sounds even remotely appealing, I would recommend picking up Hotel Renovator today.
4 out of 5
4