Edifier R1280DB Bookshelf Speakers Review
Reading Time:
4
minutes
Fast Facts
Edifier R1280DB Powered Bluetooth Bookshelf Speakers

Manufacturer: Edifier
Model name: R1280DB Wood
Speaker type: Bookshelf
Connectivity: RCA/AUX, Bluetooth, Optical, and Coaxial Connection
Mounting type: Freestanding
Dimensions: 5.75in x 9.5in x 7in (WxHxD)
Power output: R/L: 21W+21W RMS
Price: £129.99

A sample was provided for review purposes
In the audio market, competition for our hard-earned money is very healthy. There are a wealth of home audio systems at all price points, and there are a range of manufacturers vying to appeal to the masses. Edifier, founded in 1996, are a Chinese audio equipment manufacturer who have been developing personal and home entertainment sound systems for almost 30 years. We have been checking out one of their staple releases, the Edifier R1280DB Bookshelf Speakers.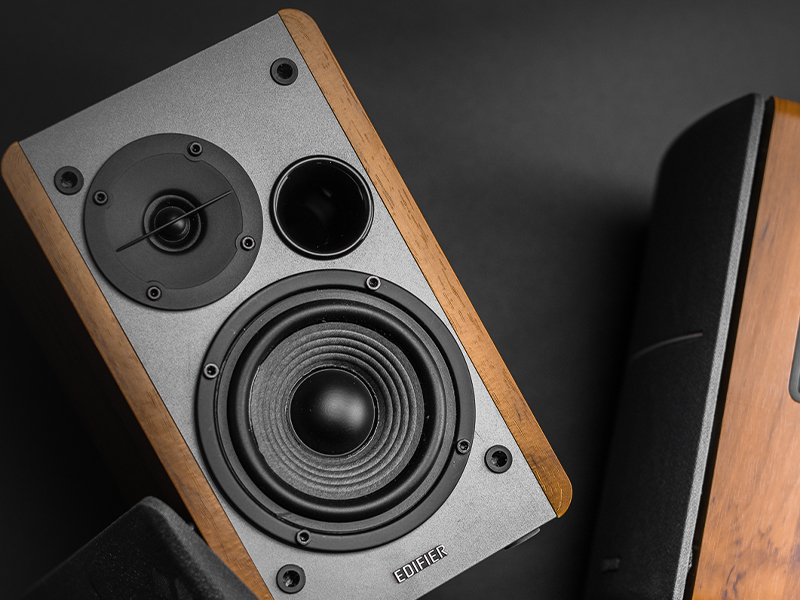 Design
When the word 'bookshelf' makes it into the marketing material, you expect a certain level of style. If it wasn't already clear from the video above and the images below, the R1280DB speakers look beautiful. The striking wood grain effect, offset against the grey, make for an excellent design. The speakers look great from multiple angles and provide a level of quality befitting the price point.
Although somewhat of a personal preference, I do believe the speakers would have benefitted from a slightly darker tone to the grey. I'd also like to have seen the bass, treble, and volume controls on the side of the speaker presented in that same grey, too – rather than the black, which doesn't match the rest of the design.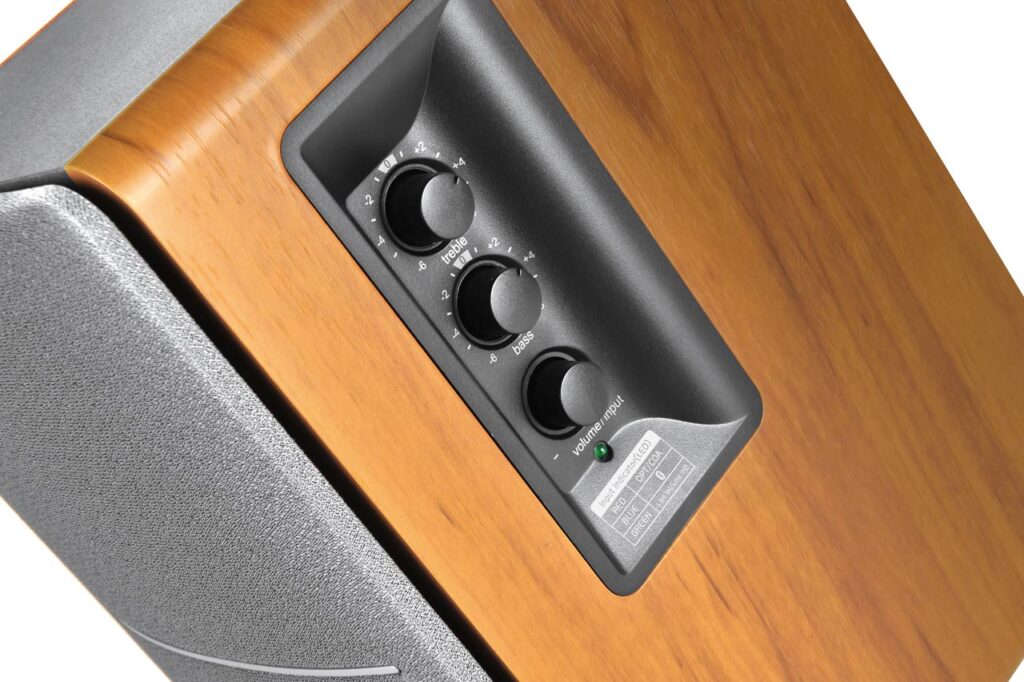 All in all, the Edifier R1280DB speakers look the part. Be it on a desk, as part of a home-entertainment system, or even on a bookshelf, they look classy.
Sound quality
Edifier has done well with the visual aspects of the speakers, but we all know it's the sound quality that matters most. I am very pleased to report that, on the whole, the R1280DB speakers sound excellent. Music is crisp and clear, and the easy-to-access settings on the side of the right speaker allow you to personalise your experience easily and efficiently.
We spent a month using the speakers in a variety of settings, and each showcased all that Edifier's bookshelf speakers have to offer. From hip-hop to heavy metal, the R1280DB's are versatile, and the music sounds great. Fine-tuning each of these takes a bit of patience, and there are some genres that may not quite hit the mark as well as you'd like, but the results are decent.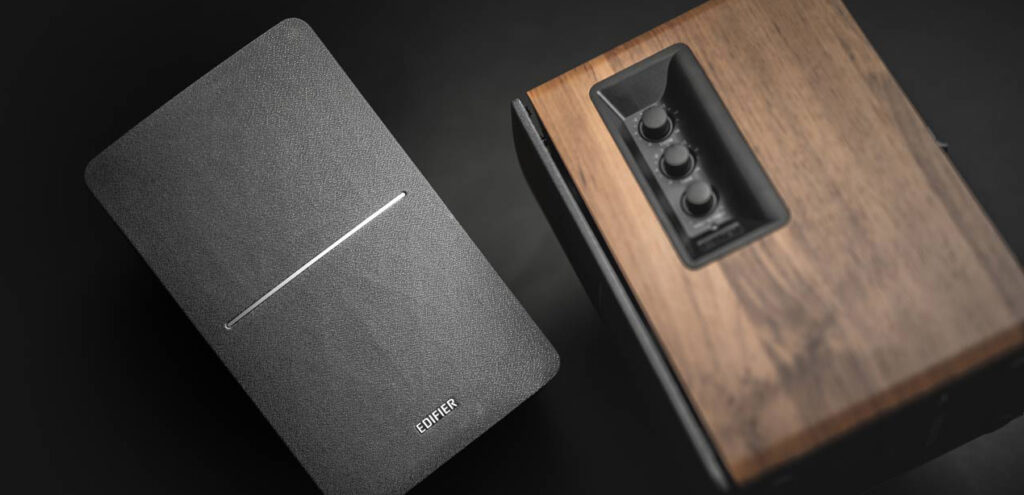 Connectivity
Edifier's own marketing material advertises the ability to "achieve HD audio with the help of the optical and coaxial inputs, which are additions to the R1280DB Bluetooth speakers. We have kept the two RCA connections for both RCA and AUX connections. Also, wirelessly connect to your phone or laptop with Bluetooth."
It goes on to say that "Edifier Bluetooth bookshelf speaker specs provide for the quintessential modern experience," which isn't far off the mark. Between the Bluetooth, optical, and coaxial inputs, there are enough options to make these speakers fully functional in a modem household.
During our time with the speakers, we predominantly made use of the Bluetooth functionality, and it worked seamlessly every time. The range was very good too. The other options were equally as effective, and it ensures that the Edifier speakers are a good all-round sound system for the masses.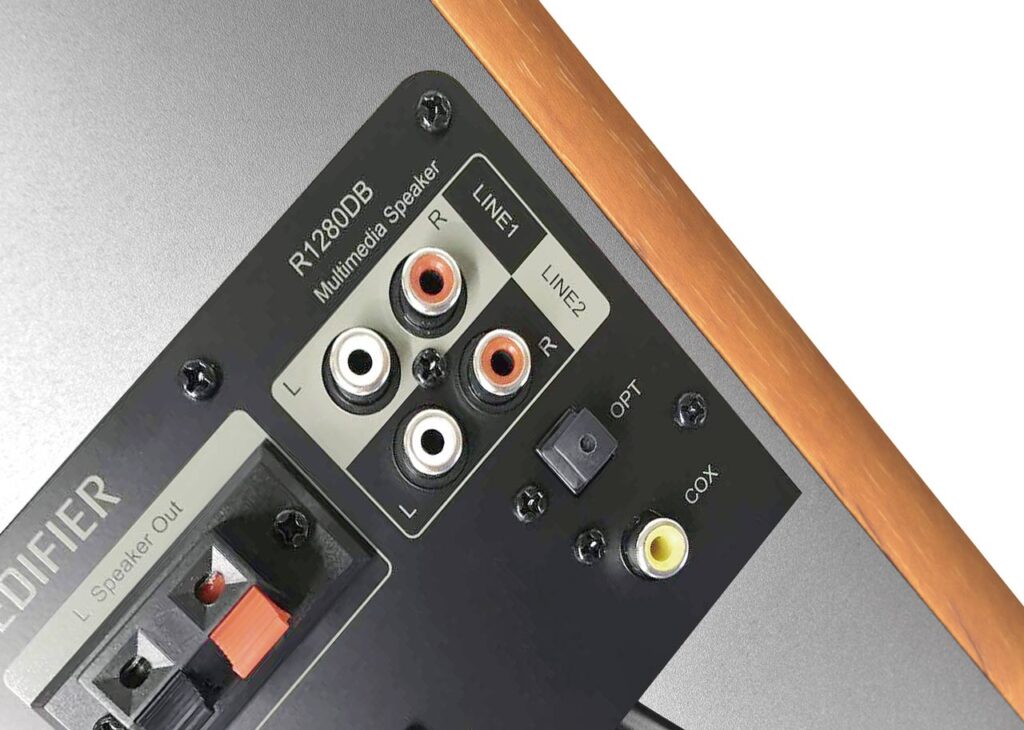 Value for money
Like any speaker set, there's always an argument for greater sound quality — music and sound are very personal. When exploring this set of speakers, it has been important to view them considering their price point and the environment in which they are being used. We are confident that, for the vast majority, these speakers represent good value for money and are competitively priced in a saturated market.
The R1280DB looks, sounds, and feels professional. Created by a company with considerable experience in audio manufacturing, and a signature style that complements its products. It would be difficult to be disappointed with the overall package. Where it does let itself down though, is the remote control. Flimsy, a little cumbersome, and relatively cheap, it proves to be the opposite of all that the R1280DBs are marketed on.
Final thoughts
I would never profess to being an audiophile. I represent the average user of sound systems. This, I believe makes me the intended audience for the Edifier R1280DB Bookshelf Speakers. For the money, these speakers offer an excellent level of sound quality, a brilliant aesthetic design, and an ease of use that we can appreciate in our day-to-day lives. At this price point, the Edifier R1280DB speakers are excellent.  
Rapid Reviews Rating
You can buy a pair of Edifier R1280DB Powered Bluetooth Bookshelf Speakers from Amazon.
If you enjoyed this review, you can check out more of our tech reviews here.