Action
,
Fantasy
,
Game
,
Gaming
,
JRPG
,
Nintendo
,
Nintendo Switch
,
Rapid Reviews
,
Reviews
,
Role-Playing Game
,
RPG
Dragon Quest XI S Rapid Review
Reading Time:
5
minutes
Title: Dragon Quest XI S
Developer: Square Enix
Publisher: Nintendo
Website: https://dragonquest.nintendo.com/dq11/
Genre: RPG, Action
Platform: Nintendo Switch
Age Rating: PEGI 12
Release Date: 29/09/2019
Price: £49.99 (£33.29 offer until the 12/01/2020) – Rapid Reviews was very kindly provided with a review code for this title.
Dragon Quest is a long running Japanese RPG series, starting way back in 1986 on the original NES. Created by Yuji Horii with art and design by Akira Toriyama of Dragon Ball fame, with the idea of bringing the RPG game to the masses. In the mid 80s computer RPGs were hard to understand and play, and Horii wanted to create a game that anyone could play, and required no tutorial or manual.
Fast forward to 2018. Dragon Quest XI released on Steam and PS4, and whilst it was technically the eleventh mainline installment, the tenth was an MMORPG that is to this day only playable in Japan. So Dragon Quest XI was seen as an anniversary or milestone game. It was also the first game in the main Dragon Quest series on a home console since the PS2, so it was highly anticipated, and it turned out to be for good reason.
Dragon Quest XI on PS4 and Steam had a fantastic reception, with many saying it was not only the best one in the series but many saying it was one of the best RPGs of all time. While I played it a little last year on PS4 and highly enjoyed it, I felt the game was perfect for playing on the Switch because of its bite-size nature. Many Dragon Quest fans will play the games like a bedtime story, by playing an hour before bed. As such much of the game can be divided into hour-long chunks. Perfect for my daily train commute to work!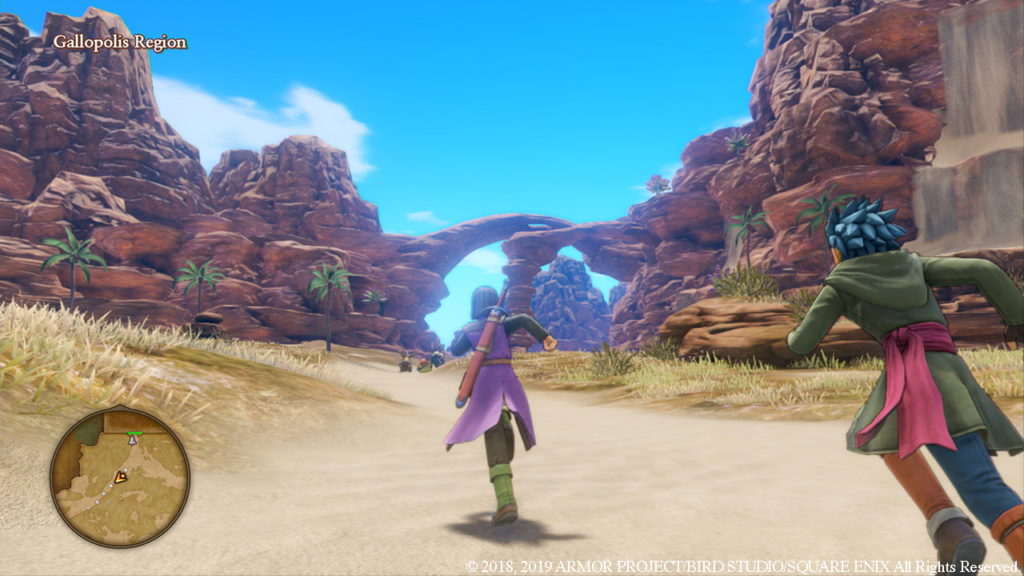 For those of you who aren't familiar with Dragon Quest XI, the trailer at the top of this review will give you a great idea of what the game is like in terms of style and gameplay. Essentially it is a classic JRPG where you go from town to town, gathering a party of adventurers on the road to save the world from a big evil baddie, with some turn-based combat to resolve conflicts with monsters on the way. While there are loading screens between areas the world feels like one big cohesive whole. Going from one area to the next feels like a natural progression, from the environment around you to the enemies you fight. And each area has its own personality, like one area where all the residents have Scottish accents or another where everyone speaks in haiku.
In Dragon Quest XI S you play as the Luminary, a prophesied hero destined to save the world from a great darkness. The darkness always returns, so the Luminary is always reincarnated and you are the latest one. After a tumultuous start you grow up in a tiny idyllic village, but once you become of age you set off into the world to save it. Unfortunately, the local king doesn't think much of that, and you have to go on the run. Whilst on the run you meet a really great cast of characters, who mostly have great personalities and their own little stories along the way. My favourite character ended up being one of the first you meet, Erik. He's a thief with a mysterious past who joins up with the Luminary, but in the latter half of the game you see how he got to where you meet him and it's a wild, emotional ride.
The main story of Dragon Quest XI S took me around 45 hours to complete, but I skipped all the cutscenes I had watched in the PS4 version so for most I would expect it to be closer to 50. There is also a huge post-game quest, which I have played around 20 hours of so far (I'm told it is at least double this) with hundreds of things to do, which I have started and am really enjoying so far. There's even some really interesting story beats leading to what feels like a "true ending", making the post-game feel as essential if not more so than the main quest.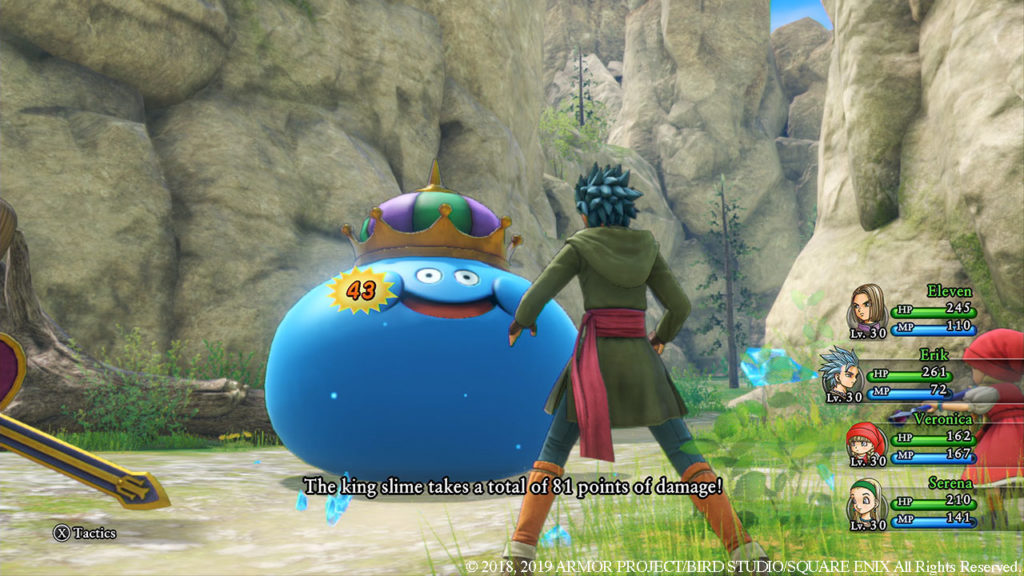 Having played both I am confident in recommending the Switch version over the PS4/Steam version for a couple of reasons. Firstly the portability factor – being able to take Dragon Quest on the train, to another room if my wife wanted to use the TV or on holiday with me, made the long adventure much more achievable for me. Secondly, in the Switch version, the soundtrack is fully orchestrated, something you don't get in the PS4/Steam version.
Also, the Switch version looks fantastic. I don't think I have ever seen a Switch game not made by Nintendo look this good, and while I am sure that if you set them side-by-side you could tell the PS4 version is better looking, the Switch version is genuinely great looking.
The big addition to the Switch version is that the game can be played in the 2D mode created for the game's Japanese release on the 3DS, with some special new content made for this mode. This makes the game look like an old-school SNES JRPG, so if that's something you like then that is in there. Personally, I only used this for the sections that are exclusively in 2D, which are trips back to sections in classic Dragon Quest games. It was nice as a gimmick but I don't see why you wouldn't play using the really nice modern graphics.
Soundtrack wise what is there is fantastic but it repeats a lot, with very few custom themes. For example, in other JRPGs you might be used to getting a different musical theme for every town, but that's not the case in Dragon Quest XI. Only some locations warrant special music, most of the time you will be listening to one of a small handful of (very, very good) tracks. If you're the sort of person who likes to play games muted and listen to podcasts or watch something then you can freely do this here though I would make sure to turn the volume up frequently to make sure you don't miss some of the lesser featured songs on the soundtrack.
Conclusion
I love Dragon Quest XI S. I would say it is, without a doubt, the best RPG I have played on Switch, and a really great showcase for the potential of the console from a power and portability point. The game is such great value for money, as there is so much you can do and then even when you finish the main game and see the credits there is a whole new story set after the Luminary and pals save the world to play through.
If you've played JRPG games and liked them before, I would definitely recommend this game. And if you're curious about the genre then I think this is the best one to start with, especially as it has a ten hour demo for free on the eShop that you can download right now!
Rapid Reviews Rating
If you'd like to purchase Dragon Quest XI S or download the demo you can do so here: https://www.nintendo.co.uk/Games/Nintendo-Switch/DRAGON-QUEST-XI-S-Echoes-of-an-Elusive-Age-Definitive-Edition-1514406.html