Big Brain Academy: Brain VS. Brain Review
Reading Time:
4
minutes
Fast Facts
Big Brain Academy: Brain Vs. Brain

Developer: Nintendo
Publisher: Nintendo
Website: https://bigbrainacademy.nintendo.com/
Genre(s): Puzzle, Family, Competitive
Platform: Nintendo Switch
Age Rating: PEGI 3
Release Date: 03.12.2021
Price: £24.99

A code was provided for review purposes
Big Brain Academy Brain Vs Brain puts player intelligence to the test but is purchasing this game a smart decision? Find out in this Rapid Review.
Small Brain Beginnings
I have very fond memories of playing Big Brain Academy on the Wii growing up. Whilst others found fun in Goomba stomping, I enjoyed memorising numbers, rerouting trains and popping balloons. So when Nintendo announced the surprise release of Big Brain Academy Brain Vs. Brain on the Nintendo Switch, I was very eager for some portable Brain Academy action! With a variety of minigames, Big Brain Academy Brain vs Brain uses the well-loved puzzle-solving formula to provide an enjoyable experience both in solo mode and with friends.
Minigames
Serving as both a game and a brain-improvement tool (which sounded a lot less sinister in my head!), Big Brain Academy Brain vs Brain has been designed with portability in mind. With rapid-fire minigames and quick Big Brain Brawn Tests designed to improve and test the players' minds, I often found myself picking up and playing Big Brain Academy for short bursts in between larger games such as Metroid Dread. The aforementioned pick-up-and-play nature does however mean that you will not find any evil sword-wielding brains to vanquish or an open world of cerebrums to explore.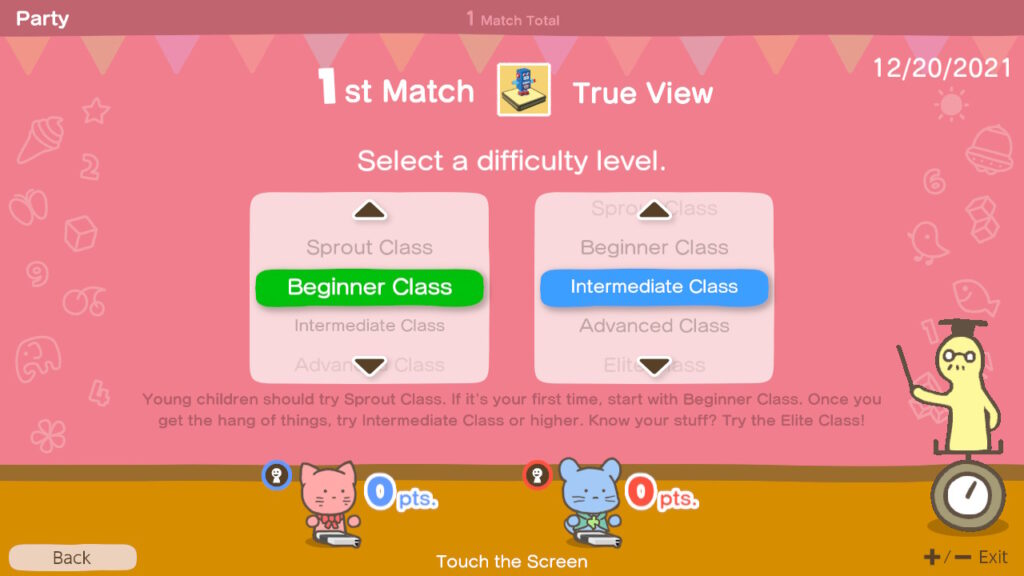 However, with twenty minigames that test players on five categories; identify, memorise, analyse, compute and visualise, there is still plenty of gameplay to be found. There's also a surprising variety of minigames within each category; I initially expected all of the memorise minigames to be a fairly standard number recall experience but the inclusion of a bird-cage take on the classic spot-the-ball formula added some pleasant game-like features to the standard IQ-judging minigames. Train Turn remained a familiar favourite where I was required to route a toy train along a board-game track. I had to place in the correct piece of a missing track to ensure the train ended up completing its journey successfully and not crashing into a tree.
Testing for Fun
During my review period, I used the Big Brain Brawn test mode daily in order to find out my brain grade. Judged and scored in all five categories, the randomly chosen minigames made sure that all elements of my brain were flexed even if calculating the addition and subtraction of time with an analogue clock still takes me far too much to calculate! Whilst the word 'test' usually instils fear, the colourful hand-drawn aesthetic and upbeat electronic soundtrack of Big Brain Academy conceals the difficulty in a deceptively cheery coat of paint. Big Brain Academy can certainly get tricky but with the optional difficulties on offer, there is a difficulty level for everyone – including younger players thanks to the suitably named 'sprout' mode.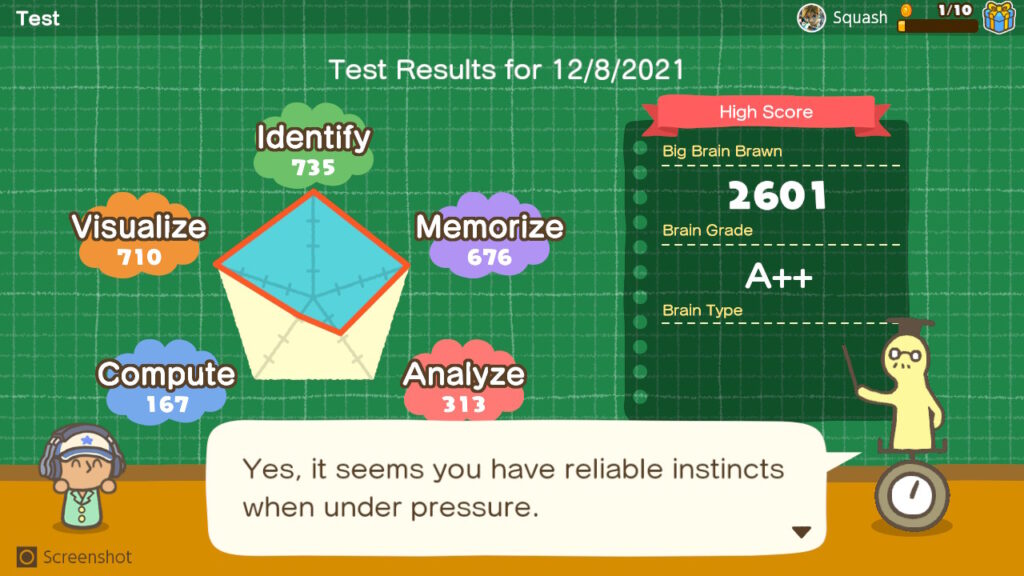 Keeping Up Appearances
With the successful completion of activities such as Big Brain Brawn tests, I was awarded with surprise costumes. My personal favourite was the astronaut helmet where my dreams of big braining could even be captured within the bounds of space. Of course, what's a fancy outfit without anyone to show it to? Well, fortunately with the inclusion of 'ghost mode' I could battle against the past performance of other players in a worldwide ranking of players.
Those seeking to play against those within their own home will be happy with the inclusion of 2-4 player local multiplayer, available with multiple controllers or by splitting the screen in two which is perfect for portability. It's a race for the highest score. I personally found that randomly spinning the wheel was the best option for choosing the game. With the option of storing multiple saved accounts on the same device, Brain Vs. Brain certainly lives up to its competitive name.
Conclusion
Remarkably, at the end of this review, I have noticed that Big Brain Academy Brain Vs. Brain has no mentionable faults. If you're looking for an approachable game to put your knowledge to the test with whilst having a genuinely fun time, then this latest edition in the Big Brain Academy series is fantastic! 
Rapid Reviews Rating
5 out of 5
5
You can purchase Big Brain Academy for £24.99 on the Nintendo eShop