WarioWare: Get It Together! Review
Reading Time:
8
minutes
Fast Facts
For those of you who have played a WarioWare title in the past, you will know just how bizarre and whacky, yet fun, they can be. Smooth Moves for the Wii was a well loved game in my household, which took full advantage of the shiny new motion controls. The weirdness of the high speed micro games though leave some a little freaked out however, but you can at least guarantee it's a unique experience.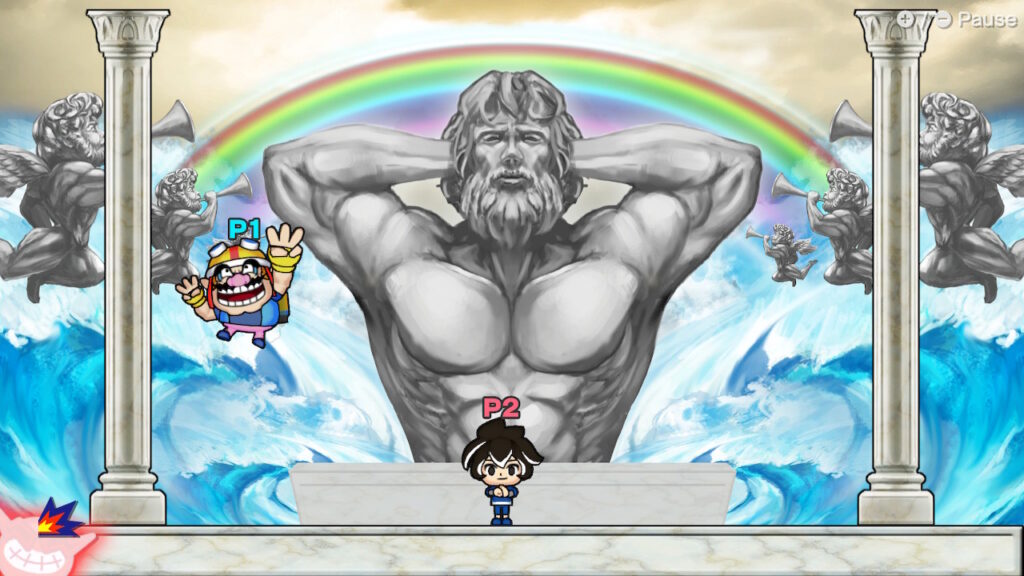 Now, Wario is back on the most popular console from the last few years, with Get It Together!. But, should you be wary that it doesn't live up to expectations from the past, or is Wario truly number one?
Weird and Wonderful
The first mode to dive into on Get It Together! is the story mode. The basic plot is that while designing a video game, Wario and his crew have been sucked into its world. Yeah, Wario is a game designer now! Discovering that this world is riddled with game bugs, it's up to you to squash these glitches and escape.
The plot is nothing necessarily creative, but it sets the scene and introduces you to both the style of gameplay and the characters. The mode switches between cut scenes, dialogue sequences and actual gameplay. I played the story with my partner, who has never played a WarioWare title before! He thought the cut scenes were a little odd with their lack of speech and weird escapades of the characters. For me, it was nothing out of the ordinary. So, just be aware that if whoever you're playing with has never played, or if you haven't yourself, it can be quite bizarre.
The weirdness doesn't stop here though, as the microgames have you plugging giant noses, ringing doorbells to reveal latex donning men and making two bird-like creatures smooch. But, it is what makes WarioWare WarioWare, as I haven't played another game like it. Get It Together!, despite feeling like previous WarioWare titles, has enough variety and microgames, that even though this game is similar to predecessors, it doesn't feel like you're just playing the same game.
Variety is the Spice of Life
The story mode introduces you to genres, a collection of microgames following a specific theme. The first time you play through the story, each level gives you around 15 games including a boss stage. This also completely changes up not just the game objectives but the overall design of the level, often jumping from 2D to 3D as well. My favourite was the Nintendo Classics genre, where you could spot your most loved Nintendo games, helping defeat enemies for Donkey Kong or assisting Samus. The next genre would be completely different, such as a food challenge, covering meals with tomato sauce or stopping a boy from dropping his ice cream.
Each microgame played in the story would unlock in the Play-o-pedia, where you can replay individual microgames to reach a high score. This meant I had to go back to the story in order to unlock each one, giving me an incentive to keep playing. However, it did not feel repetitive since replaying the story levels takes you past just the 15 stages. You can keep playing until you lose all your lives, reaching high scores in the 50s. The microgames get increasingly harder, upping the speed but also adding extra elements to increase the difficulty too.
Meet the Crew
What I found interesting about Get It Together! and what makes it stand out in the series is the ability to play as various characters. Utilising the same controls of the joystick to move or aim, and A to attack, each crew member had their own skillset. Wario flies with a jetpack and can dash through obstacles, whereas 18-Volt can't move, but can throw CDs to attack and connect to rings in order to manoeuver himself. You then have duo characters such as Kat and Ana, who constantly jump; Kat can throw shurikens to the left, and Ana to the right.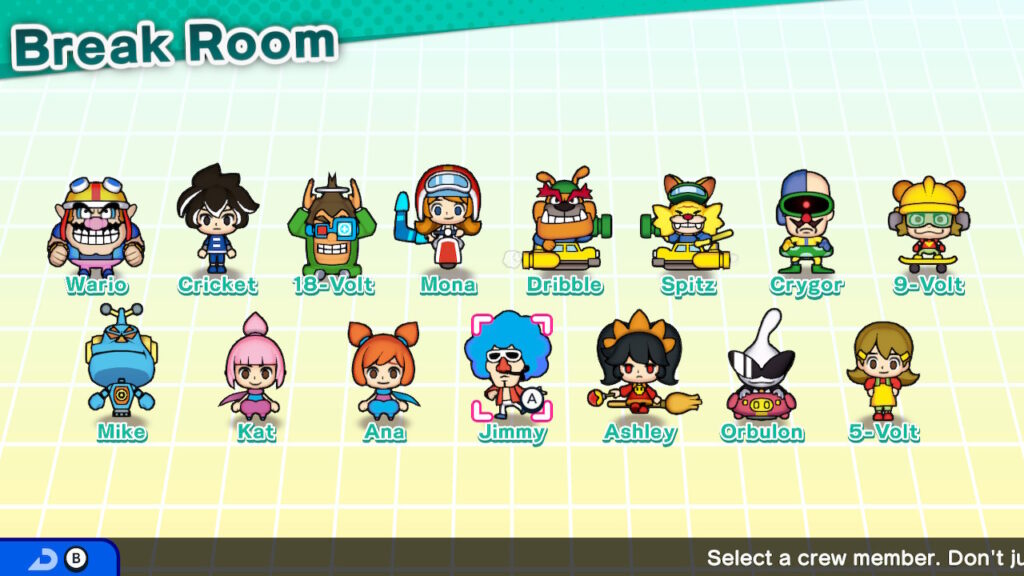 Though it added another element of difficulty trying to use each character's skillset to your advantage, some could be very frustrating. You will definitely find you prefer some over others! I found it infuriating being unable to move as 18-Volt, but his ability to spam attack proves useful. Some characters were just not suited for certain micro games too, so it was annoying to lose a life because the character wasn't delicate enough or too jumpy. With the paired characters too, though playing with a friend allowed you to co-ordinate your attacks as you'd play one each, playing solo was a disadvantage with them. Only being able to hit in one direction when you have the space of a few seconds to organise yourself was very panic-inducing!
Better Together?
Sadly, Get It Together! does not have online play which may put some people off. There is local multiplayer or couch co-op, but if you're not in a house of gamers, you're stuck playing alone. However, there are both pros and cons to playing by yourself. For example, playing the story with someone felt way too quick. By the time the other player could process what you had to do in the microgame, the other had already done it. I felt like I often was not learning how the microgame worked.
The other side to this is that arguments may be caused if your player two fails the task! At least playing alone, you only have yourself to blame… Then again, as mentioned before, playing as the paired characters was at its best with two players. Luckily, you can choose 3 to 5 crew members to play with depending on the level, so these characters could be avoided.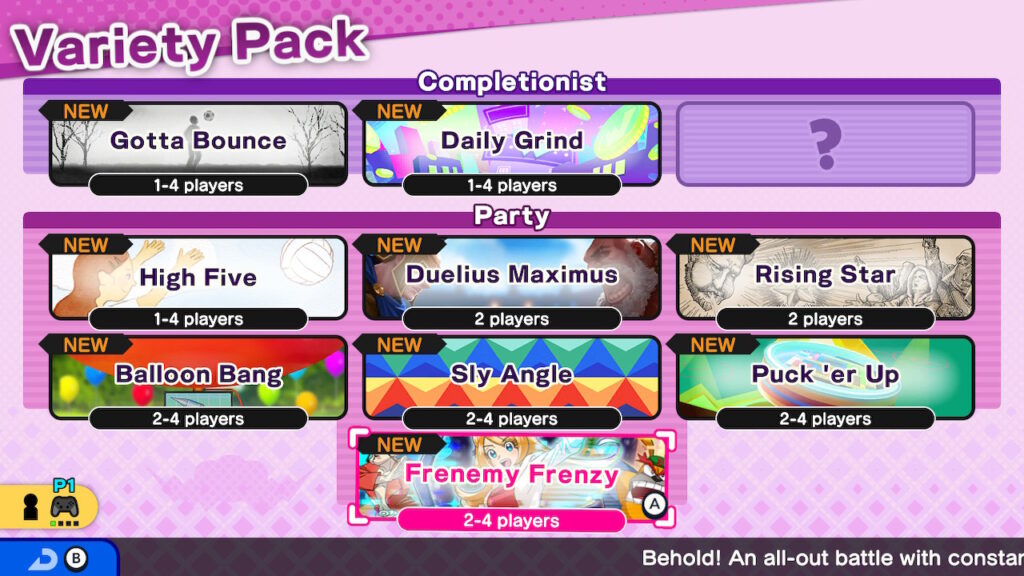 The majority of the games you are able to play solo, so it's not as if the title is unplayable alone. It is more likely you'll want to play alone when trying to beat high scores anyway. However, the other mode, Variety, has a range of games that don't feature in the Play-o-pedia. These aren't all micro-games, such as the Daily Grind which is neverending and can be played solo. Unfortunately, the majority of the Party games in this section are at least two players. It is what you'd expect from a party-style game, but it's a shame that you can't even utilise online play to be able to give them a go.
The Champ
That being said, I found playing alone and with others equally as fun. Get It Together! is so quirky and offers a tonne of replayability, even if you don't always have someone to play with. Something that utilises single-player only is the Wario Cup, which is unlocked once the story is completed.
The Wario Cup offers challenges which change weekly; some crew members have a higher difficulty level than others but will gain you more points if you are successful. Your prize is Wario coins, which are used in-game to be able to continue where you left off mid-game instead of having to start over. Your high score can be compared to others if you have ranked mode enabled. Of course, this requires a Nintendo Switch Online membership. This is another downisde if you don't have this, making this feature unavailable to you. However, this is such a small section of the game that I didn't find it much of an issue, much preferring the other game modes.
A Smooth Switch
Despite the absolute chaos that is microgames and them constantly speeding up, the Switch took it all in its stride. There were no performance issues whatsoever, loading seamlessly into each game.
The visuals are clean and vibrant, perfect for a party game, with unique well-designed characters. The funky, sound effect riddled music was occasionally joined by well-loved Nintendo tracks to keep the party mood going. I was particularly impressed with the 3D characters who were responsive and stood out amongst the madness. I enjoyed seeing the level designs go from crudely drawn sketches to highly detailed 3D assets or a combination of the two! Using the art style from Nintendo games was awesome to see as well. Though some new players may find it confusing, there's never a dull moment that's for sure.
WarioWare: Get It?
WarioWare: Get It Together! will not disappoint fans of the series. The chaos we know and love is still there, and it feels like a quintessential WarioWare game with some upgrades. Being able to play as different characters, though frustrating at times, added another layer of complexity. Despite the game partially being about replaying games, it never felt repetitive due to switching between characters and jumping up the difficulty.
I was thinking that they'd use the JoyCon motion controls but I am glad they didn't, as the two-button control scheme made it a lot easier and accessible for all gamers. The only thing letting this title down is the lack of online play. Though over 100 microgames to experience, it's a shame that some will miss out on the Party games as they don't allow solo play.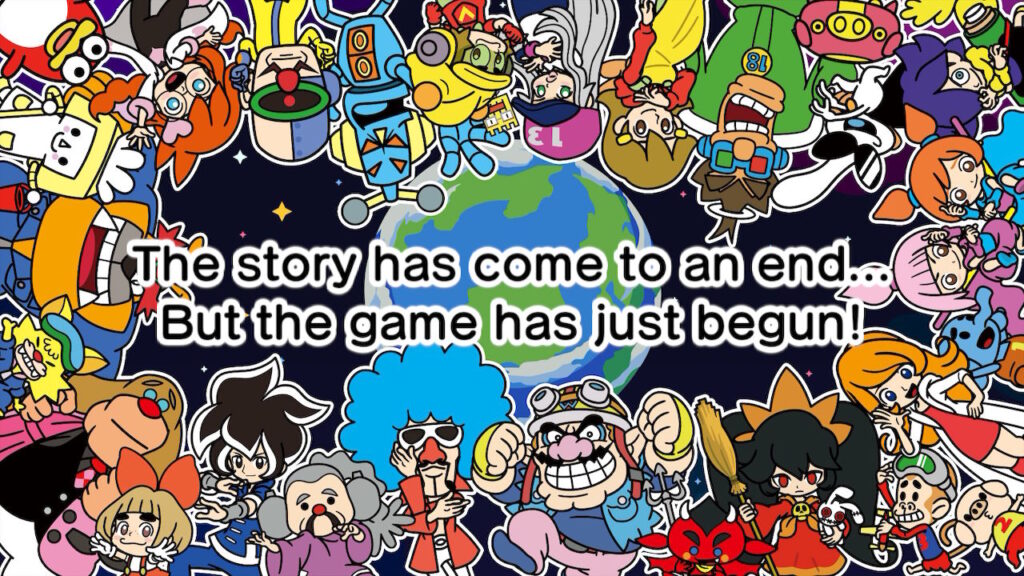 Get It Together! is a fantastic party game to bring out with family and friends, though beware of causing arguments! There's so much variety to keep you entertained for hours, solo or as a group. At £39.99 though, solo players eager to give it a go might want to wait for it to go on sale before investing since part of the game is locked behind two or more players.
Rapid Reviews Rating
4 out of 5
4