Action
,
Arcade
,
Indie
,
Indie Dev
,
Multiplayer
,
New Release
,
Nintendo
,
Nintendo Switch
,
Rapid Reviews
,
Reviews
,
Sports
Super Blood Hockey
Reading Time:
5
minutes
Title: Super Blood Hockey
Developer: Loren Lemcke
Publisher: Digerati
Website: http://superbloodhockey.com/
Genre: Action, Arcade, Multiplayer, Sports
Platform: Nintendo Switch
Audience: Mature 17+ Blood, Use of Drugs,Violence
Release Date: Out Now – 26/04/19
Price: Sale £10.79 Was £13.49 – Rapid Reviews UK were very kindly provided with a review code for this title.
What the Developers say
Arcade sports for a new generation.

Arcade sports gaming gets a shot of adrenaline in Super Blood Hockey, a violent homage to classic 8- and 16-bit ice hockey games. Customize your line-up and take to the ice, using fast-paced skills and bone-crunching brutality to dominate.


Prove your hockey prowess in a deadly global tournament or against friends in 4-player local multiplayer. Build and manage your own squad in Franchise Mode – with the right diet and performance enhancing drugs your team can be season champions!

Key Features:

Use superior skating, positioning, strategy and blood-splattering violence
Take on the world in a global tournament, where failure results in execution
Varied challenges and scenarios, including Turbo Mode and 12 vs 12 Mega Rumble
Paint the ice with the blood of your friends in 4-player local multiplayer
Franchise Mode: Create, recruit and manage your own custom team of inmates in a futuristic world of dystopic blood sports
Enjoy the retro beats of an original soundtrack by chiptunist Shawn Daley.

https://www.nintendo.com/games/detail/super-blood-hockey-switch/


Introduction
Developed by a one-man band hailing from Finland, Super Blood Hockey is a faithful nod to the games of the late 80's and 90's. Adding a touch of bloodthirsty violence to the sport of Hockey, Loren Lemcke has looked to remind us all of what made gaming so great way back when. Demonstrating that whilst graphical enhancements and complex storylines are always welcome, you can't go wrong with a bit of simplistic, wholesome fun. With the backing of Digerati, renowned for their support of independent game developers, the once Steam only title is now available on the eShop.
Audio and Visual
Pixelated, colourful and well-designed, Super Blood Hockey shares similarities with many a pixel art-style including The Escapists, Retro Rampage and Party Hard. Whilst I was initially sceptical of this same style being as successful on a sporting title, it is now hard to imagine Super Blood Hockey as anything but. It works extremely well, and compliments the over-the-top bloodsport that ensues.
The audio elements of Super Blood Hockey are also well-executed, whilst not on the same level of excellence. As an arcade-focussed experience, the sound serves to create this feeling without immersing the gamer in anything else. I did, however, thoroughly enjoy the original score by Shawn Daley and have an appreciation of the effort that has gone in to the soundtrack.
Gameplay and Replayability
All the traditional elements of most AAA sports titles are present here: Exhibition, Tournament, Challenge Mode and a recently included Franchise offering – commonly known as a season of career mode. It is here that Super Blood Hockey earns its stripes as game offering true value for money.
The game follows the rules of Ice Hockey, and turns the dials up on brutality and violence to 11. You can use your hockey stick to swing at your opponents, with or without the puck, and cause as much mayhem and destruction as possible. The game even offers the opportunity to alter the amount of gore on-screen, demonstrating an awareness of just how much there is. This is made even more blatant with the descriptions of the injuries sustained by players when a fight erupts: something I will let the gamers experience rather than write here.
Once I had practiced sufficiently in the Tutorial, Exhibition and Tournament modes, I found the franchise is where I spent and will continue to spend most of my time. After a rather unusual backstory whereby you harvest a left kidney to raise enough funds to enter the league, you then take a tour of the facilities where your team, or inmates, will stay. From here, you can adjust their diet, pay for medical care and organise an exercise plan to manipulate physical attributes of your players. It felt very much like it would if The Escapists had formed an Ice Hockey team, and this is an outstanding concept for a game.
After each match in the season, your characters gain XP in a number of areas. As well as this, during down days (when no game is scheduled), you can direct your players to complete different tasks. Having a shower can minimise injuries, doing weight training will improve strength and the ability to brawl etc. At the end of each day, you receive a rundown of the improvements that have been made with each player.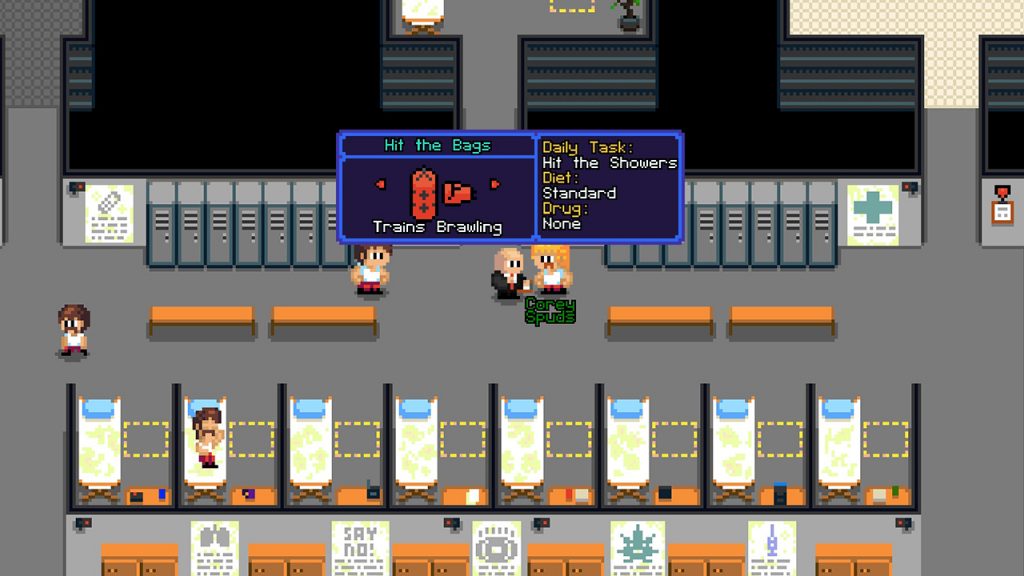 There is a depth to the franchise mode that I had not been expecting, and for the price on the eShop, there is a lot of bang for your buck. I am a huge fan of career modes in sports games, and this one holds up well. I did find that sometimes I wanted to skip to the next available game day, but going to sleep each day and letting the game simulate the stats was hardly a chore.
The matches themselves are fun and frantic, with end-to-end gameplay often commonplace. The controls are simple and easy to master, and supports the arcade-like pick up and play action. Whilst I appreciate the simplicity of the controls, the shooting mechanic is where my only umbrage with Super Blood Hockey can be found. It can be quite difficult to score at times and the simple shooting style didn't make it much easier for me.
My only other critique of Super Blood Hockey is actually more of a request. With such fun to be had in local four player co-op, I would have loved to have seen this extend to online player. A future update to include this would be an outstanding addition.
Conclusion
Super Blood Hockey wears its heart on its sleeve, and if not found there, you will no doubt find it pumping away on the ice. It's a brutal blood sport that has been fully realised in glorious pixelated artistry, and I enjoyed every minute of it. Whilst it is not without challenge, and subsequent frustration, it has an incredible amount of content at a price which is also incredibly low. Hats off to the lone developer for his efforts – this is a game not to be missed.
Rapid Reviews UK Rating
You can purchase Super Blood Hockey on the Nintendo eShop at the following link: https://www.nintendo.co.uk/Games/Nintendo-Switch-download-software/Super-Blood-Hockey-1551194.html