Unforeseen Incidents Review
Reading Time:
6
minutes
Fast Facts
Unforeseen Incidents
Developer: Backwoods Entertainment
Publisher: ASHGAMES
Website: https://www.backwoods-entertainment.com/
Genre(s): Adventure, Puzzle
Platform: Nintendo Switch (also availble on PC)
Age Rating: PEGI 7
Release Date: 27/01/2022
Price: £17.99

A code was provided for review purposes
The (Water) Hook
Unforeseen Incidents is a narrative-focused point-and-click adventure. Throughout my adventures, I learned about the Yelltown Fever, a viral disease that is rampantly spreading throughout the world. I was especially interested in this title after getting captivated by suspenseful scenes in the trailer. Moreover, I hoped it would shed some commentary on current world affairs. Did my journey meet my expectations? Find out in this Rapid Review.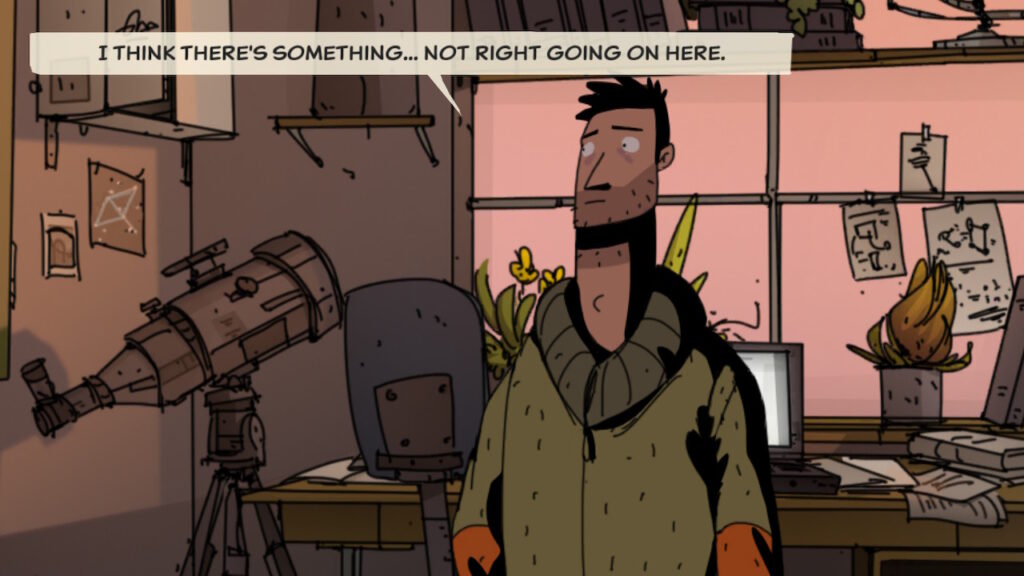 As soon as I began my adventure, I was introduced to Harper and Professor MacBride. While I was a college dropout that did not amount to much in life, the MacBride was incredibly intelligent and was working on a vaccine to cure a dangerous plague. Yet together we worked to solve the mystery behind the Yelltown Fever. The story was riveting. There were unexpected twists, memorable scenes, and it was wrapped together with a believable atmosphere. Not only was the story itself good, but it built upon itself as the story progressed. Some seemingly minor details mentioned throughout the story ended up being more relevant than I expected. It was continuous too. Things followed a logical order. Not only the main story but each character's background was placed logically into the story. I liked the plot and was fully immersed throughout.
The characters featured in Unforeseen Incidents is yet another reason the story is impactful. Though there are clearly scripted dialogue lines for each character, each character has their own conversation style and cares about different things. Some characters react strongly to certain events while others are apathetic. This made the characters memorable. They were distinct from each other in their appearance, conversational style, and they were also voice acted with various voices. The characters surrounding Harper left a lasting impact on me as I played through the game.
Becoming a Sleuth
The mystery of the world surrounding the Yelltown Fever made the point-and-click elements of Unforeseen Incidents canonical and intuitive. I collected various items from the floor and combined them with aspects of my environment to solve various puzzles and remedy issues. The puzzles were complex yet intuitive. Though there were some puzzles that stumped me for a while, the puzzle design was always fair. It took some time to understand each mechanic, but I still had a good time searching for the answers.
I also enjoyed how typically, the win condition for each chapter was not obvious. Sometimes, as I began a level, I would not be given any guidance whatsoever. Instead of knowing the end objective and searching for methods to attain it, I needed to scope my surroundings for issues to solve. It was fascinating, and it felt more realistic and immersive. However, even though the game did not explicitly guide me when interacting with certain items, I would receive clues on exactly what needed to be improved or how an object could be interacted with. Though it may seem overwhelming, I found it greatly improved my experience with the game and made it a lot more fun to explore. Plus, when I interacted with an object, any explanation I got was relevant to the object, not the win condition.
Familiar Faces
To make my adventuring easier, various characters in the world gave me clues. This is typical, but I was particularly impressed by how cordial some conversations were. If a character did not have anything relevant to mention, they would barely talk at all. This made it evident when a character had meaningful commentary to provide and prevented me from wasting my time talking to characters that were not presently relevant. However, I also liked knowing that even once a character had nothing more to say, I could find objects to discuss with them. So even though the characters would not waste my time, none of the characters could be written off either. This made the conversations seem a bit strange at times but made the gameplay much more engaging. I enjoyed this decision.
Unfortunately, though the gameplay itself featured great elements, it was weighed down by some of the controls and tedious movement. My character moved sluggishly when moving around the screen and the cursor was also slower than I wanted it to be. There were no options to adjust the speed of the cursor. However, I could toggle between the interactable objects on the screen with the trigger buttons on the controller. This helped, but most of the screens had interactable objects beyond my field of view, meaning I had to move anyways. Surprisingly, when exiting the screen, I could double-tap the interact button to speed up the transition. This made travelling through areas much faster. However, as I mentioned earlier, I typically still needed to watch my character walk to a point where the end of the screen was in my field of view.
Travel Times
To counteract this, some chapters had maps that allowed for fast travel. This worked well and could be used both indoors and outdoors. However, there were often multiple screens associated with one map indicator. Thus, even though the map helped, it still took a substantial amount of time to travel to each location. This felt even more substantial since I was returning to previous locations throughout my entire playthrough. Finally, to make things even worse, the transitions from the maps took a long time to process. It felt like I was constantly waiting for the screen to load. Though this does not mean the game is much less enjoyable, the slow travel in Unforeseen Incidents made solving the puzzles a bit less enjoyable.
Even though moving around the world was slow, the game largely performed well. It did crash once while I was playing but generally there were no noticeable performance issues. The game also has an autosave feature, so I was never scared about the title deleting my progress. The game performed well.
Haunting Overtones
Moreover, Unforeseen Incidents shocked me by how spooky the environments ended up being. The environments were well designed, and the accompanying soundtrack made them even more realistic. I was easily caught in the world of this game. The visual style is not particularly attractive, but I think it worked for the title. Every aspect of the game was easily telegraphed. Not only were the visuals themselves apt, but the settings had multiple options for the text to help readers who were unable to read as easily as others. This excellent feature was supplemented by full narration throughout the title. Each character sounded unique, and the voice lines added a lot to the unique character traits of each person I interacted with on my journey. There were a lot of behind-the-scenes details that bolstered Unforeseen Incidents substantially.
Overall, Unforeseen Incidents was an interesting and enjoyable experience to undergo. I liked meeting the various characters, interacting with the world around me, and getting wrapped up in the atmospheric design. The game had unique and interesting puzzles, and by walking circles around the maps, I got to explore the world and truly experience what it is like in Yelltown and the surrounding environments. However, this abundance of travelling brought out the tedium associated with travel and made me want a more responsive adventure. Still, I had a lot of fun playing this game. I would recommend it for fans of the point-and-click adventure genre.
4 out of 5
4
You can purchase Unforeseen Incidents on the Nintendo eShop here