Action
,
Arcade
,
Classic
,
Digital
,
Game
,
Nintendo Switch
,
Nintendo Switch Lite
,
PC
,
PlayStation 4
,
PS4
,
Remaster
,
Retro
,
Reviews
,
Sci-Fi
,
Shooter
,
Side Scroller
,
Switch
,
Xbox
,
Xbox One
,
Xbox Series S
,
Xbox Series X
Turrican Flashback Collection – Nintendo Switch Review
Reading Time:
4
minutes
Fast Facts
Turrican Flashback Collection

Developer: Factor 5
Publisher: ININ Games
Website: https://www.inin.games/games/turrican-flashback/
Genre: Arcade, Shooter
Platform: Nintendo Switch, PlayStation 4
Age Rating: 7
Release Date: 29/01/21
Price: £24.99

A code was provided for review purposes.
Introduction
Turrican, a game synonymous with the console boom of the '90s is back. The Turrican Flashback Collection brings – Turrican, Turrican 2: The Final Fight, Mega Turrican, and Super Turrican together in one complete collection.
All four games are exact ports of their Amiga, SEGA Mega Drive (Genesis) and Super Nintendo originals. While this digital collection is a vast cut-down version of the £80 physical edition, it offers the same gameplay, just minus the extras.
Do these near 30-year old games stand the test of time? Or should they be left to the fond memories of old? Come with me as I find out.
Story
To explain the story of all three games will take up an article in itself. For this review, I will briefly talk about each game, and then move on to the more general settings that cover all four titles.
All four games follow the same principle, although each varies to a certain degree. You play as a soldier who's running and gunning across the environment whilst collecting power-ups and defeating bosses. For those of us who lived through the '90s this style of gameplay was everywhere. You can compare Turrican to the likes of Contra, Mega-Man, Vector-Man, the list is endless.
Turrican & Turrican 2
Considering Turrican came out in 1991, its near 30-year old gameplay still holds up today. It features a wealth of levels which by design are not only large but incredibly claustrophobic too. Its graphics have not aged too well, and the enemy design is a little simple, but it's still a fun game. There is plenty to do within these levels, with tonnes of secret areas and hidden paths to discover. Much like games of the period, it's also incredibly difficult and does require a degree of learning the levels and a lot of luck. Enemy placements can feel random, and single colour backgrounds make levels feel incredibly claustrophobic.
With Turrican 2: The Final Fight also being originally released on the Amiga, it shares a lot of similarities with its predecessor. Thankfully Turrican 2 takes everything that made Turrican great and improves on it in every way. The guns, power-ups, stages and enemies all feel fresh. The biggest improvement comes from the graphics which you can imagine pushed the Amiga to its limits. Also, the running and gunning monotony is broken up with a chance to pilot a spaceship. It doesn't sound much but was pretty cool "back in the day".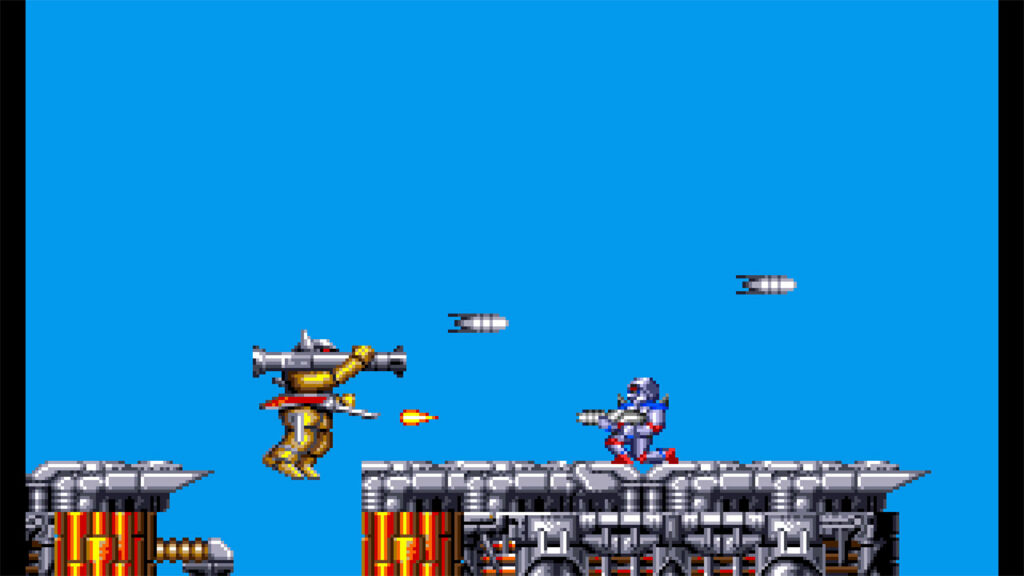 Mega Or Super?
Moving away from the Amiga, as their names suggest, Super Turrican and Mega Turrican were released onto the SNES and Mega Drive respectively. In doing so Factor 5 not only pushed Turrican into the hands of many more players, but the gameplay also changed significantly. These console versions focus more on the run and gun aspect over anything else. In a slightly weird way, Mega Turrican replaces the beam cannon with a grappling hook which seems a little odd considering the lack of exploration.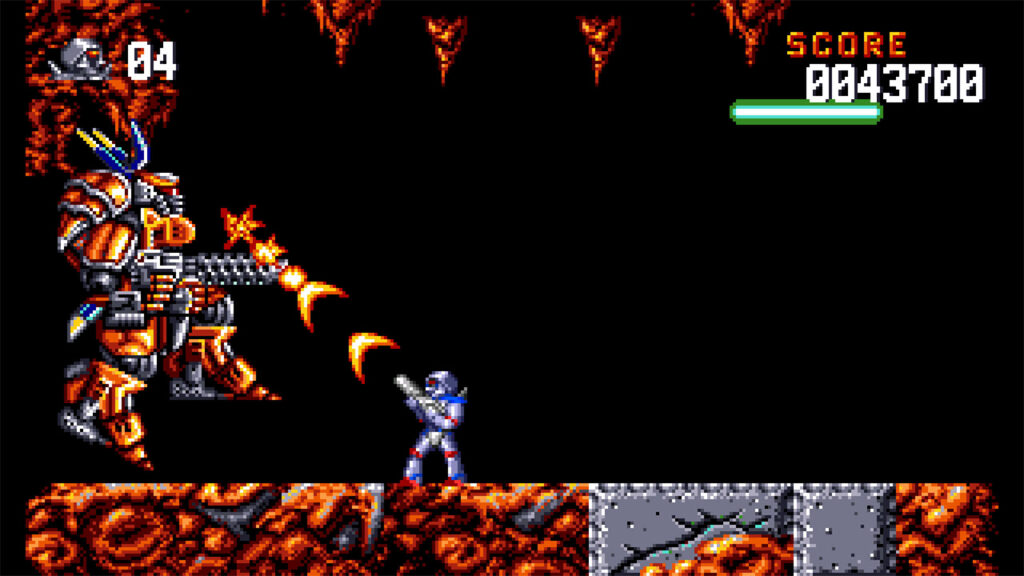 Same Difference
All four games in this collection are represented exceptionally well. For those of you who remember the originals, the very same cheats also work for the games here. What's a nice surprise is that the options menu for each game even tells you these. On an accessibility level, these cheats open the game up to so many more players. After all, not everyone's a Jedi Knight with cat like reflexes!
Another extra is also the ability to rewind time. This function is becoming more popular within the modernisation of retro games. Within the Turrican Flashback Collection, it works well. Considering the screen can be a bullet filled hell on multiple occasions, having the ability to skip a few frames backwards to avoid death is a great touch. However, far more important is you can now save your progress at any time. This simple function is a literal game-changer to any retro game, and with Turrican, it's no exception and is a feature many older gamers would have sold their soul to have back in the day.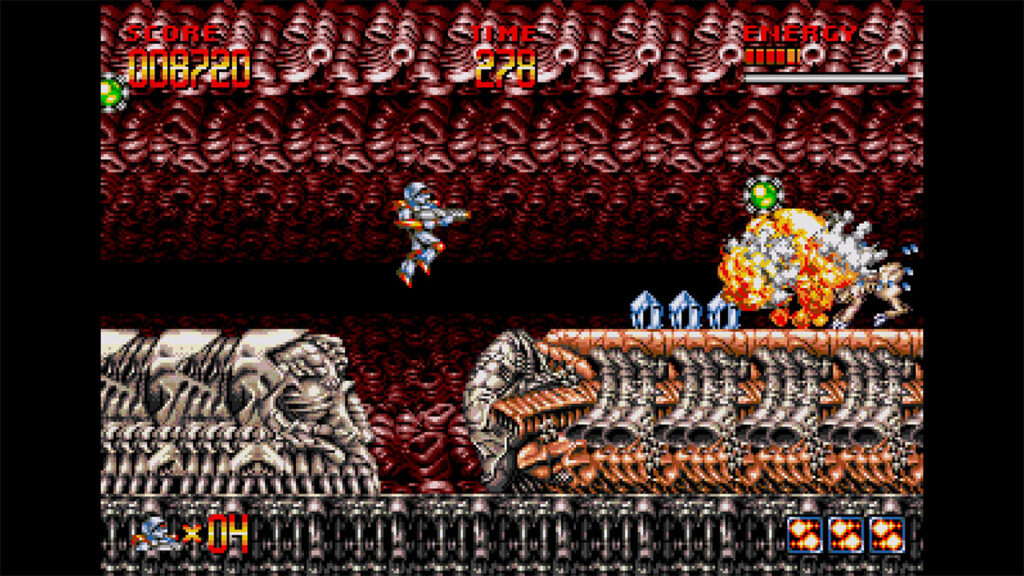 Techno, Techno
Composer Chris Huelsbeck's soundtrack sounds just as great as it did 30-years ago. The drum and bass melodies are now mixed in together which gives all four soundtracks a familiar yet new sound. I've always been a fan of the Mega Turrican soundtrack so to have this blasting out of my speakers again was a real treat.
For those of you who want that extra 90's feeling, there is also a wealth of visual options too. Some various options and filters capture that feeling of playing on a CRT monitor. If that's not to your liking you can even expand the screen to fit modern days T.V.s too. Although I wouldn't recommend this on anything over a 35″ screen…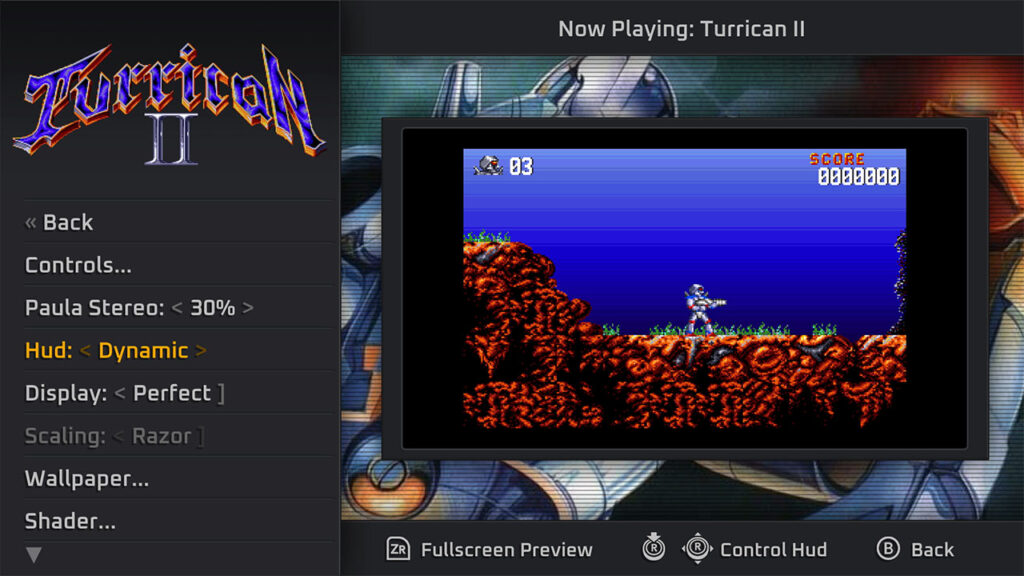 Summary
The Turrican Flashback Collection is a brilliant game for fans of the original and those looking for a solid, yet simple run and gun game. Surprisingly the gameplay of all four titles has aged considerably well. The bonus of being able to save at will and the rewind function adds a new dynamic for returning players. Regretfully the score attack modes and the Director's cut content are not available in this digital collection. What you do have is four perfect ports of four fantastic games.
Rapid Reviews Rating
The Turrican Flashback Collection is available on the Nintendo Switch eShop