Reading Time:
6
minutes
Fast Facts
Smurfs Kart
Developer: Eden Games
Publisher: Microids
Website: https://www.microids.com/game-smurfs-kart/
Genre(s): Arcade, Racing, Multiplayer
Platform: Nintendo Switch
Age Rating: PEGI 3
Release Date: 15/11/2022
Price: £44.99

A code was provided for review purposes
Let's Get Ready to Smurf
Smurfs Kart is a traditional kart racer featuring the charming and exciting Smurfs. Did this licensed title leave a smurfing good impression? Or was I hoping for more? Find out in this Rapid Review.
When I booted up the game for the first time, I was thrust immediately into the main menu. I did not get to watch a cutscene or read a dialogue about how the Smurfs learned to drive and race. Smurfs Kart does not even have a standard tutorial. The only thing I could do in this game is race. Typically, I am fine with a title getting straight into the gameplay. However, since I was excited to see how the Smurfs intellectual property would build upon the kart racing formula, I was disappointed that Smurfs Kart lacked fanfare.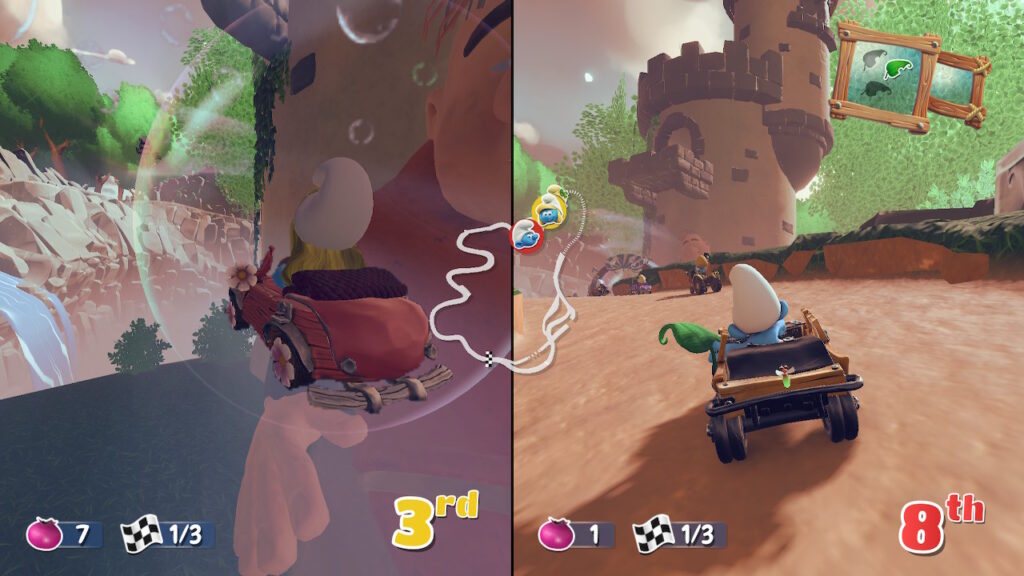 Despite my initial disappointment in Smurfs Kart's theming, I still maintained hope that Smurfs Kart would be fun. Unfortunately, that hope did not last very long. I was immediately worried when I looked at the available content. The game only had three ways to play. I could either participate in a time trial, race a Grand Prix, or select individual races to complete. By itself, this is not so bad. Apart from a mission mode, there is not much else I would necessarily want in a kart racer. These modes function as you would assume, and they primarily worked without fail. I also enjoyed how the time trial and Grand Prix modes encouraged me to master my skills with collectable medals based on my performance. The modes, while traditional were more than enough to keep me engaged.
Become a Track Star
Unfortunately, the game lacks the most important element. There are only twelve unique stages in the game. The tracks work well, I rarely had issues with the world around me breaking or the track not working as expected, but I wanted more content, especially at the price point of Smurfs Kart. In addition to the lacklustre quantity, the tracks were not overly memorable or exciting either. With a few exceptions, the tracks are largely focused on forests and woodlands. I understand that the Smurfs do spend their time in the forest more often than not, but it made each track feel generic and as though it lacked personality. The tracks were rarely innovative which made Smurfs Kart stagnate quite quickly.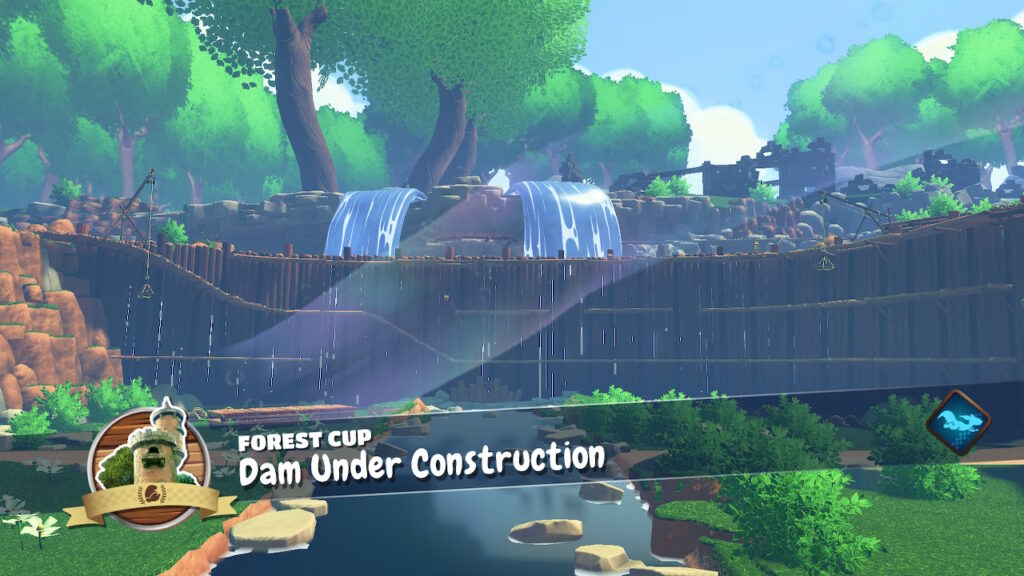 Even some of the more interesting tracks are less exciting because they had a harder time working perfectly. There are two difficulty options in Smurfs Kart. I could race at a slow speed or a fast speed. The difference was night and day. I found myself enjoying the faster mode a lot, and primarily used that mode when playing through the game. However, some of the tracks did not function as well in that mode. It felt like some curves were too steep, especially when playing some of the final levels. Still, the implementation of multiple speeds was good, even if some of the tracks seemed more optimized for the lower speed.
Be the Smurfs
While I wanted more tracks, I was more or less satisfied with the roster of Smurfs to play as. Once again, there were only twelve. However, any of the Smurfs I wanted to play were present. As a side note, it is not possible to play any characters that are not Smurfs, so do not keep your hopes high for Gargamel. Even still, the roster had ample variety.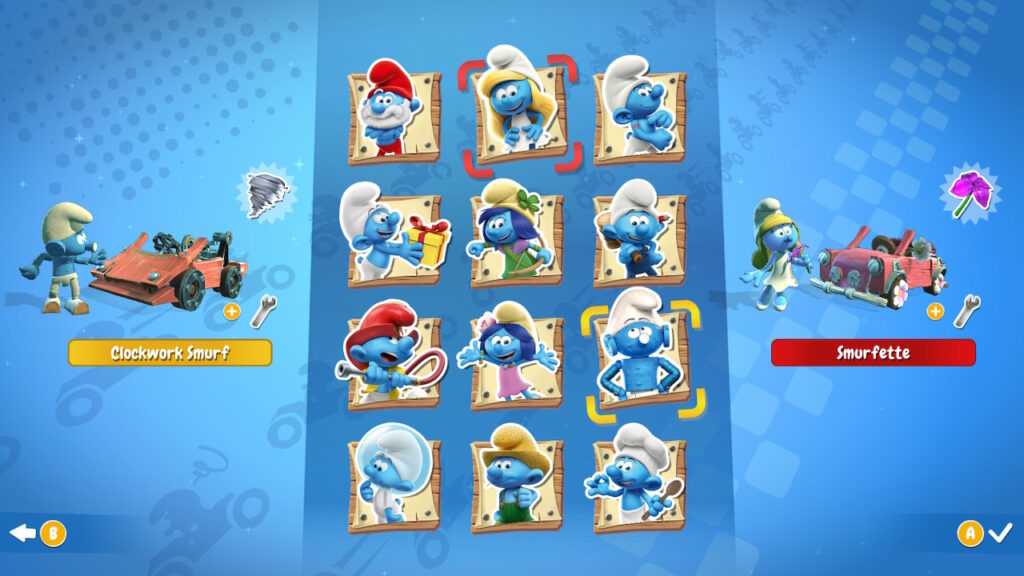 On the other hand, I was constantly confused about whether each member of the cast had any distinguishing features. Smurfs Kart does not display statistics on any of the characters, so I was completely in the dark about their differences, and if there were any in the first place.
Another thing Smurfs Kart offers was prebuilt karts for each of the racers. Instead of building one before each race, the character I selected dictated what was to come. Though this seems like it would be a bad thing, it simplified my experience in the game and I ended up enjoying it. The prebuilt karts made it easy to get from match to match and diminished any disappointment with the customization options selected.
Traversing Each Section
Finally, it is crucial to discuss how the game is played. Of course, the game is a racing game and thus involves a lot of forward progression around the track. I could move from side to side or drift if I felt up to it. The traditional movement was responsive and easy to get accustomed to. However, the drifting was a bit trickier. It had some unique and very interesting elements. For example, I could continue a drift while changing the direction of my car without losing the drift progress. This alone made Smurfs Kart feel different from the other games I grew accustomed to. I liked this change. Everything else was traditional, but this simple adjustment made this game feel distinct.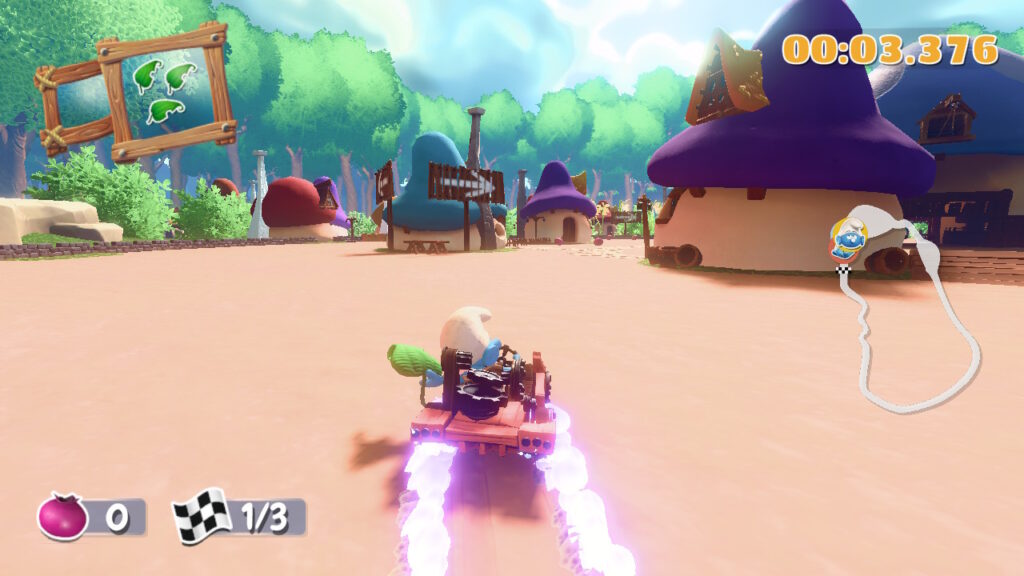 Unfortunately, as much as I enjoyed the movement by itself and in the time trial mode, getting through Grand Prix was intense. Smurfs Kart features items that impact the flow of the game significantly. Things constantly impeded my progress, and it almost felt oppressive. This had a lot to do with the item balancing, especially at the back of the pack. In many kart racing games, there is a negative feedback loop where the racers in lower positions can get more powerful items that push them forward.
Though those options are available in Smurfs Kart, there are also weapons designed to bring others down. This was prevalent to those in the back of the pack, as more people with targeting items continually impede everyone's progress. The constant chaos ensuing in this section consistently divided the people in the lead from the people in the back. I thought the items were overly aggressive and did not equalize the game enough.
Artist Smurf's Work
Additionally, the game looks good. I liked the environments, even though most were basic. On the other hand, the characters were colourful and expressive, and their cars did fit their personality. These designs were solid for sure. The item designs were good as well. Though they take substantial influence from other kart racers in their mechanics, visually, they fit the theme. Overall, the visuals were good.
The sound design was sufficient, but I did have some grievances. I really disliked the sound effect associated with getting an item. Sometimes it would play on for too long, especially after using an item and getting a new item nearly simultaneously, which made me overly aware of the noise. Apart from that though, the audio design was fine. Each track had ambient music that kept me engaged in the world and focused on getting that first-place medal.
Overall, Smurfs Kart is a fun game. I enjoyed my time with the title. However, there is a lot more that could have been done with it. I would not be able to justify spending £44.99 on this game when other titles provide more for a similar price. Still, on sale, this is a solid game with a marginally different yet interesting movement design that makes it just that little bit different from other titles on the market.
Rapid Reviews Rating

3 out of 5
3
You can purchase Smurfs Kart on the Nintendo eShop here