Accessories
,
Apple
,
Automotive
,
Bluetooth
,
CarPlay
,
Gadgets
,
Hardware Reviews
,
iOS
,
iPhone
,
Music
,
QuadLock
,
Reviews
,
Streaming
,
Tech
,
Tech Review
,
USB-A
,
USB-C
,
Wired
,
Wireless
QuadLock Wireless CarPlay Adaptor
Reading Time:
4
minutes
We here at RapidReviewsUK are big fans of QuadLock. Many of the team use QuadLock cases on their devices and have nothing but admiration for their protection.
As a testimonial, one of our writers was cycling along a busy road a few years ago when a truck going too fast behind him forced him towards a kerb. It was that or fight the truck!
He clipped the kerb and flew head over handlebars towards the pavement, breaking his wrist and bending some of the frame. Yet his QuadLock case, mount and phone were perfectly intact and had light scuffs across the edging. From that day, he swore by them.
When I spoke to him about his experiences, he couldn't even count how many times he's drop-tested the case, reluctantly!
Most recently, he slammed the phone inside a car door after it slipped out of his jogger pocket. Still damage free.
So when QuadLock offered their wireless CarPlay adaptor for review, we quickly said yes. Our favourite cases and no fiddly cables, what's not to like?
Cable-Free Life
The adaptor is tiny; it's 1.3cm thick and 8cmx4cm in diameter. The adaptor also weighs a measly 30g. This means attaching it to something should be easy, with velcro, a zip-tie etc
The adaptor comes with both a USB-C and a USB-C to USB-A cable. Perfect for those cars with more modernised connectivity types.
It's finished in matt black, with a single LED. Being small and sleek enough to hide away without drawing attention to itself.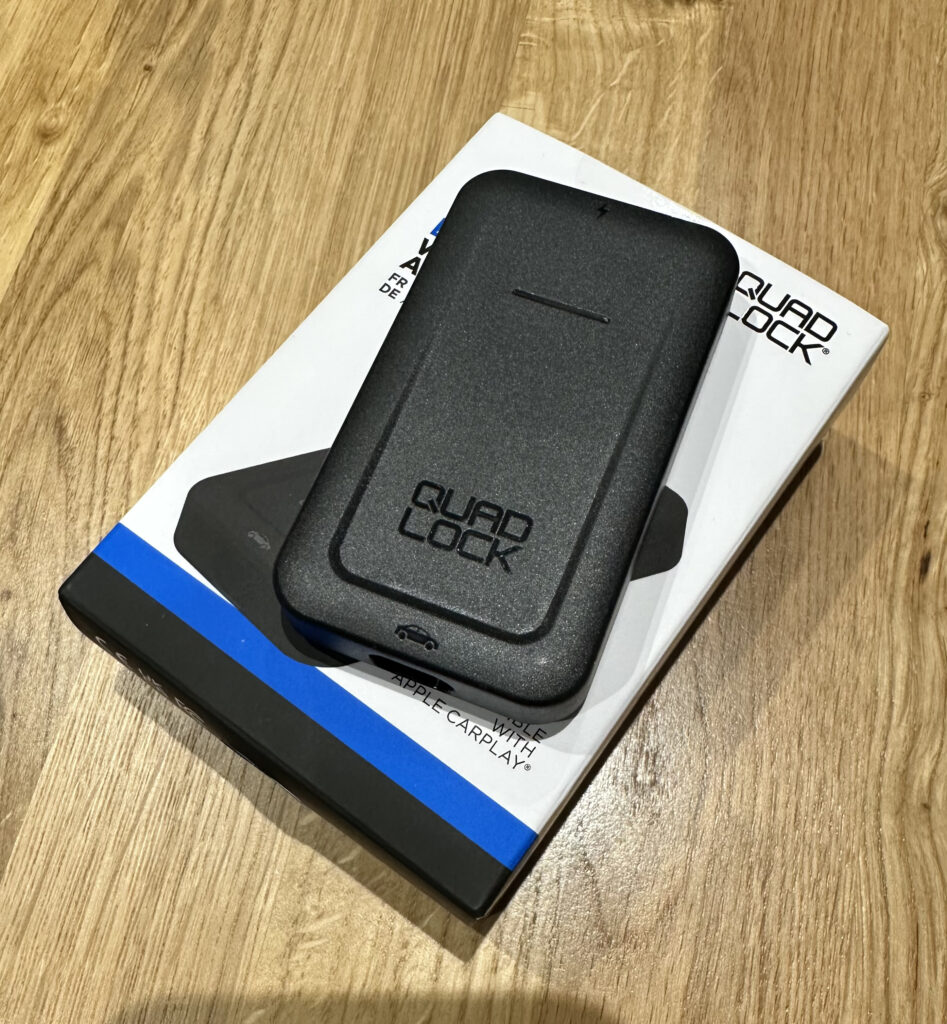 Setup
The box comes with an old-school, fold-out pictogram-style instructions leaflet. Plug it in, follow the prompts and away you go. Or so it should be. Everything is done via Bluetooth.
When I plugged the adaptor into the car, it popped up on the screen with the prompts. So far, so good, but when trying to connect my device, it kept cycling the connection for the Bluetooth.
This was incredibly frustrating.
After about half an hour, I reached out to QuadLock support for some troubleshooting, who quickly responded with some product reset instructions and further options for discourse around the device.
No matter what I did, it wouldn't work. A car issue? A Bluetooth issue?
So I decided to try it on my partners' car.
The Second Time's a Charm
After resetting the device, I managed to get it to connect to the second vehicle.
Now, I want to preface this by saying wired will be superior when connecting anything that's transferring a lot of data. However, I hoped for something decent enough to replace the cable.
It was, unfortunately, noticeably laggy when connecting to the second car and trying to use CarPlay via the adaptor. For example, switching between audio in music was delayed, and changing screens when switching between maps and messages was very pronounced.
It also doesn't charge your iPhone, so on those long journeys; you would arrive with some depletion of your battery.
End of the Road
I have personally returned to cable. The issues with my car made it unusable; however, my partner has been using it in their vehicle.
They appreciate that it's wireless, and they can jump in the car and connect. They're also less demanding than I am on the useability and can deal with the delays. Lack of charging doesn't affect them as they can charge at work, and a single trip is about half an hour. On longer trips, where maps are in more use, the cable might make a return.
Since reviewing this adaptor, I have tried it in multiple cars. As long as they've got CarPlay, I'm testing it out. It has had some success, and others have shared my laggy frustrations.
Examining online, there are mixed reviews about the product. Scouring Reddit, some love it, and others notice the disconnections become more frequent after a few months. It is a hit-or-miss product.
It's difficult to say what the deciding factor is in the inconsistency of the product. Would the use of Wi-Fi over Bluetooth yielded a better result? The power consumption of course would be higher using a Wi-Fi protocol.
Luckily, QuadLock has an excellent 30-day money-back guarantee and actively promotes discounts on its website. So if you're looking to pick one up and try it out, you're protected if you choose not to keep it.
Rapid Reviews Rating

3 out of 5
3