The Valari Legendary Gaming Pillow
Reading Time:
4
minutes

Fast Facts
The Valari

Stylish and Customisable Design
Comfortable and Breathable Material
Great Size for All Situations
Convenient Metal Clasp for Compact Storage
Suitable for Everyone
Improves Posture and Reduces Health Risks
Website: https://thevalari.com/en-gb
RRP: £69.99

The product was provided for review purposes
WARNING: MAY CONTAIN COMFORT!
I (like most people) stumbled across The Valari on TikTok and thought to myself "I HAVE to try that out!". I quickly went on their site to choose my pillow (and to make sure I could get myself the design that matched my Sofa). A short few days later, one of the most exciting packages I've ever received turned up at my door! Needless to say, I opened this bad boy up as soon as I could and was amazed by it instantly. The packaging was excellent, well protected and was pretty much all recyclable!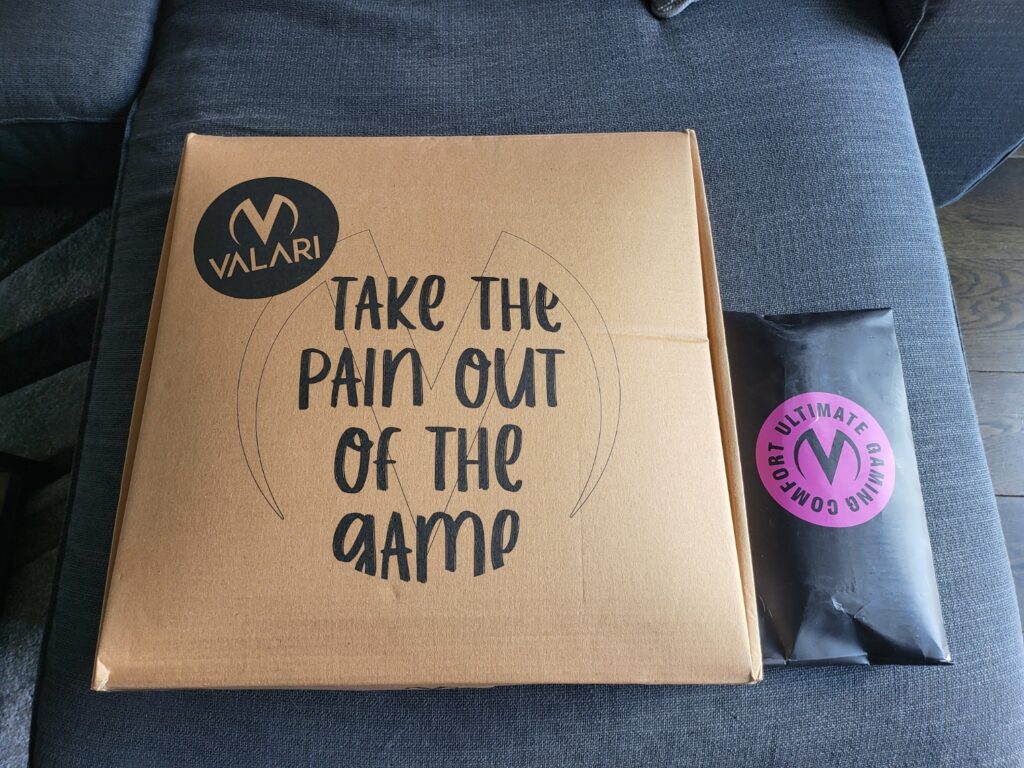 Now I cannot stress this enough, READ THE INSTRUCTIONS! Don't pull a "me" and just try and put it together straight off the bat. Either leave it to expand out after being vacuum packed, or pop it in the Tumble-Dryer on low heat for 10 minutes (that's what I did in the end). It is also worth nothing that like any new fabric item that's been vacuum packed, it will smell a little weird but don't worry, that goes away after a few days. Once you've let it do its thing, pop that cover on and it's time to relax!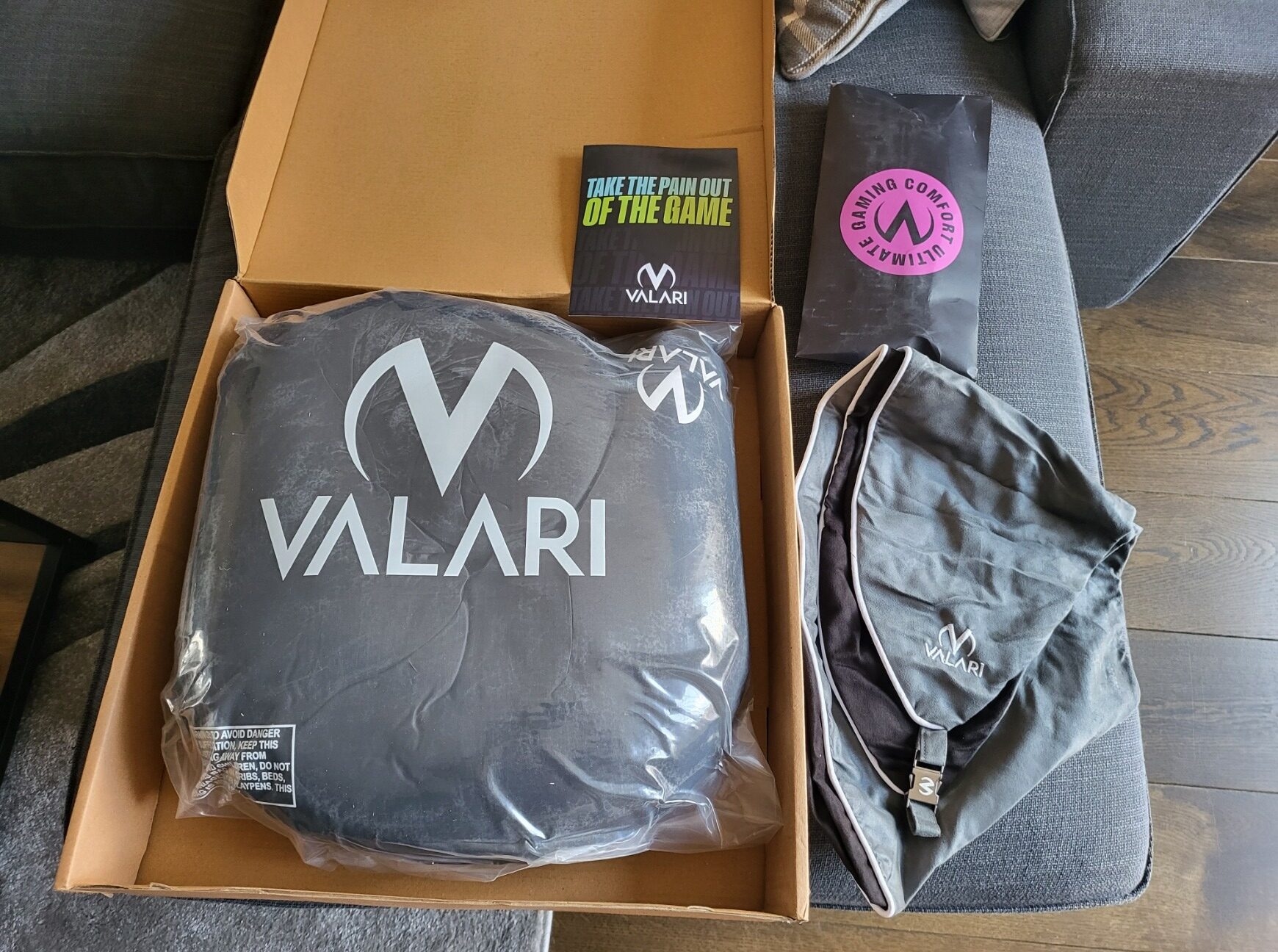 No Pain, All Game
The MOMENT I put this thing around me on the sofa, I knew it was a game-changer (literally)! As someone who suffers from early Psoriatic Arthritis, I couldn't go back to not having the support for my wrists, shoulders, arms and back. It actually makes me want to sit and game on the sofa MORE than sitting at my desk on my PC. Not to say that I don't use this thing at my desk too, in fact, I'm writing this review there right now with The Valari supporting me the whole time. I even use it to sit on my garden furniture and work on my laptop. Now that's versatility.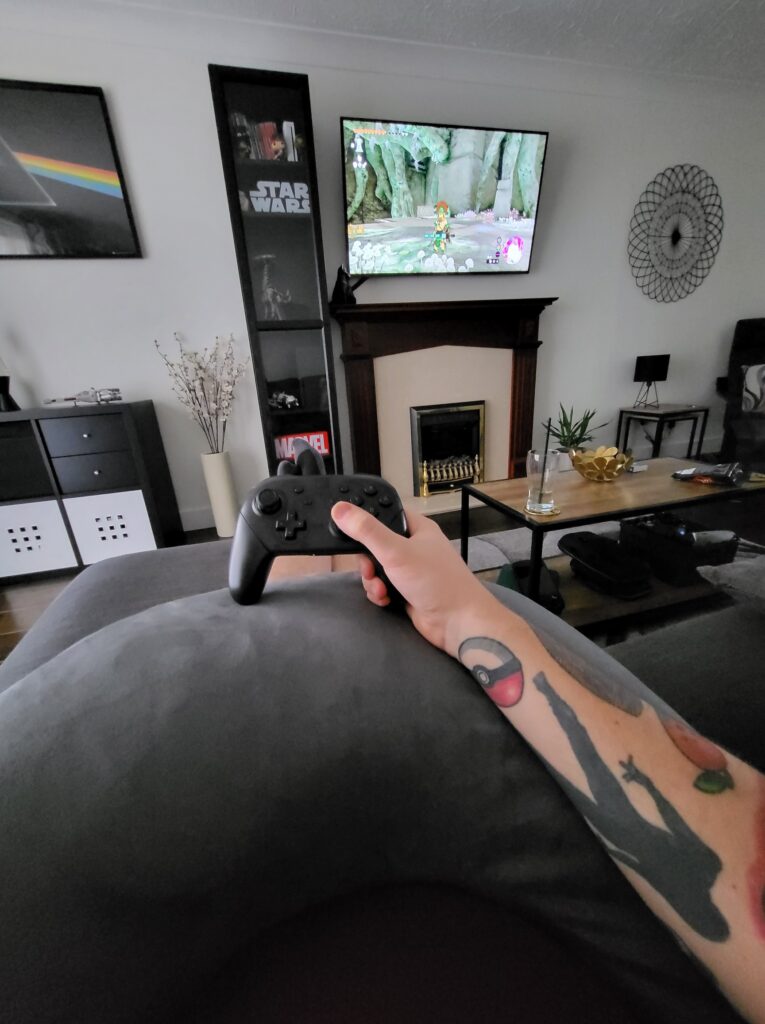 A Simple, Yet Brilliant Design
With The Valari being designed by gamers who were looking for more comfortable ways to game during the global pandemic, naturally, the design is inspired by the medical pillows that a lot of people have used before. This however takes it all to a whole new level. It's bigger, thicker, more sturdy and comes with an extensive range of cover designs to choose from, which are all interchangeable. My pillow (the Grey Legendary version) comes with a lovely 2-tone design, divided by a lovely white stripe. The fabric is easy to clean and really durable making it a long-lasting, durable purchase!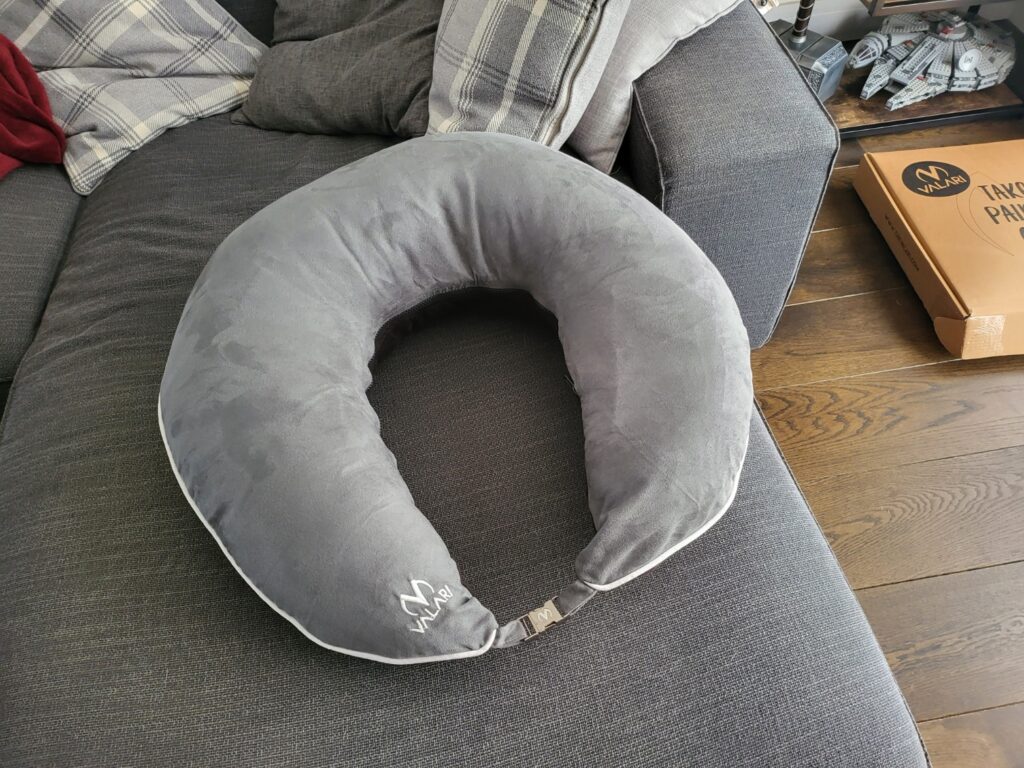 Obviously, as you can tell from the pictures, it's quite a large item and takes up a fair amount of space. Fortunately, with a simple twist of the pillow and buckling of the fastener, it folds up nicely and is comparatively small. By being folded in a compact way, it means my other half can shove it in the cupboard when guests come over, or she can ball it up and throw it at me when she's mad! Fortunately, having the pillow balled up for long periods doesn't affect the shape or function of the product. In the event that it did after a REALLY long time or lots of use, just pop it back in the Tumble-Dryer!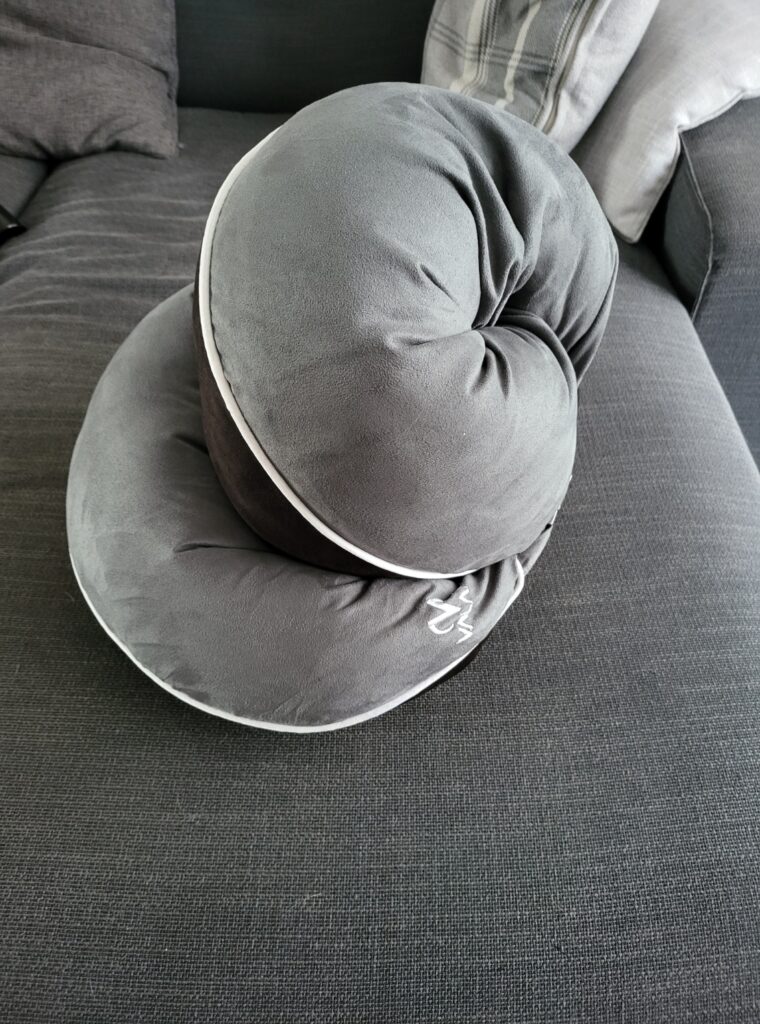 The Valari Verdict
This pillow is something I didn't think I needed until I experienced it. I can now safely say I couldn't do without it. I use it every chance I get and am overwhelmed by the extraordinary comfort and fantastic support it provides. Hell, I even put it around me when I'm just watching a movie! If I could, I'd make these mandatory for anyone buying any console – an absolute must and a total win in my book!
Rapid Reviews Rating
5 out of 5
5
You can buy The Valari Gaming Pillow on their website.
If you like the look of The Valari, why not check out our other tech reviews here?