Reading Time:
3
minutes
Fast Facts
Pupperazzi

Developer: Sundae Month
Publisher: Kitfox Games
Website: https://sundaemonth.com/pupperazzi
Genre(s): Adventure, Simulation
Platform: Xbox (also available on PC – Windows)
Age Rating: PEGI 3
Release Date: 20/01/2022
Price: £12.99

A code was provided for review purposes. I am mostly blind, so some things I have trouble with may not affect your experience with the game.
Overview
Pupperazzi is a charming first person photography game that has you taking the perfect pictures of various dogs in several locations. It has all the hallmarks of a cozy, go your own pace adventure game. Get your camera ready, because here comes the next cute canine!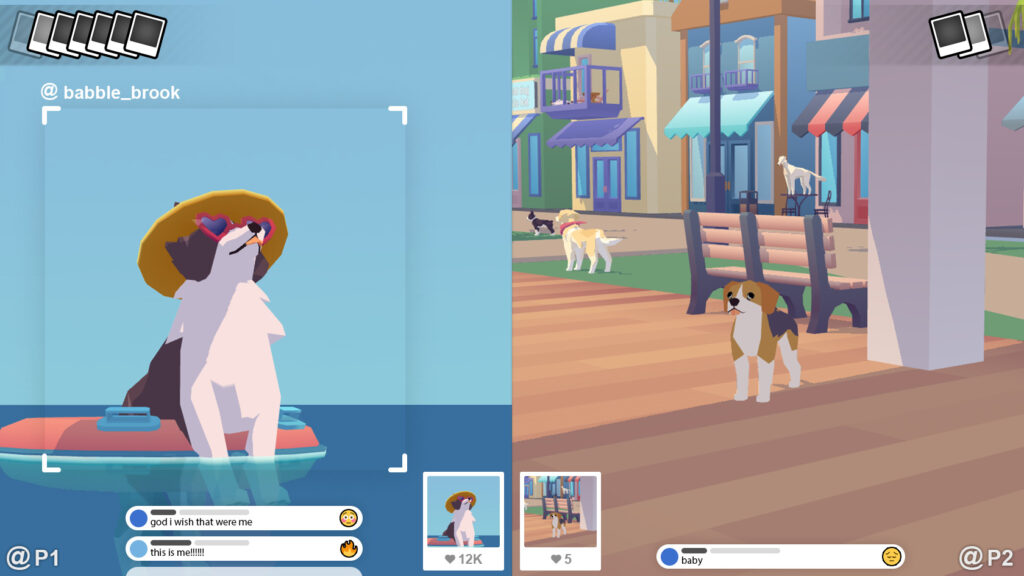 Puppy Play
The first thing that struck me about the game was how simple it is, both with the controls and gameplay. As for the controls, you have your movement on one joystick and aiming on the other like other first person games, a button each for jump, crouch, and interact, while the camera is used with the triggers. There are also the two menu buttons and a few extra controls for fine tuning your photos.
Gameplay is just as simple. There are no enemies, or even true timers. The world doesn't stop when you are taking a picture, so that is a timer of sorts. You also get a limited amount of film, however you can save the best photos to your album and then free up more shots by recycling the film. You also stop gaining followers on social media after you upload so many photos, so you must back out to the map and reenter the area to upload more. Otherwise you just take pictures of dogs, whether for yourself, to upload to social media to gain followers, or to fulfill special requests!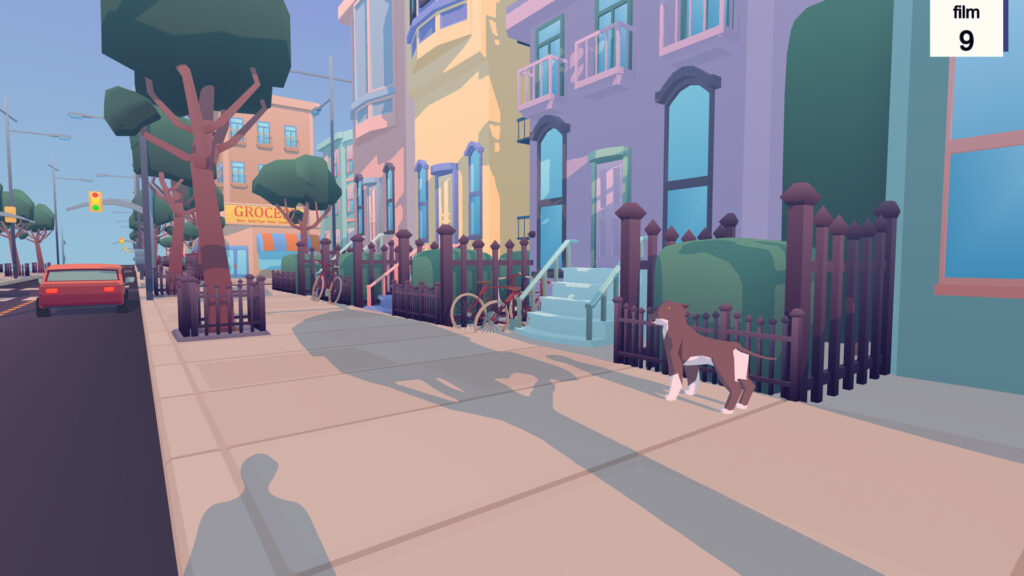 Canine Cameraman
The story has you rising through the ranks, from budding amateur hobbyist to famous social media photographer. You progress by completing special requests for various characters, increasing your follower count by appealing to various audiences, and buying new camera parts and films. As you progress, you gain access to new areas and camera upgrades.
Puppy Paradise
Each area is distinct in its feel and even the overall personality of the dogs. You start in a small cove with a sailing shop, small beach area, a sail boat, and lighthouse in the background. Since it is a smaller area, there are also less pups present. After learning the basics of photography, you can move to a larger beach boardwalk area which introduces new elements to the game. After progressing even more, you then unlock an urban city area complete with large park, a large nature park, and a secret location accessible only after impressing the king canine with your photography.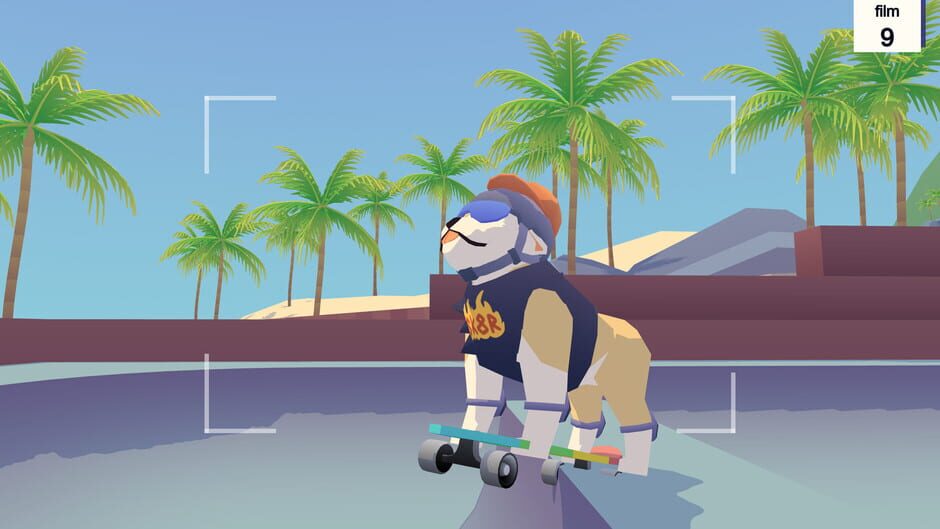 Canine Canvas
The artstyle is bright and colorful, making everything easy to see. The dogs are well rendered, with a lot of different movements and activities to discover them doing. The levels change slightly when entering them at different times of the day, which is unlocked by progressing further into the game. You can also view the levels through different lenses and with different films unlocked for the camera, changing how the levels look even more, like with a pixelated lens for example.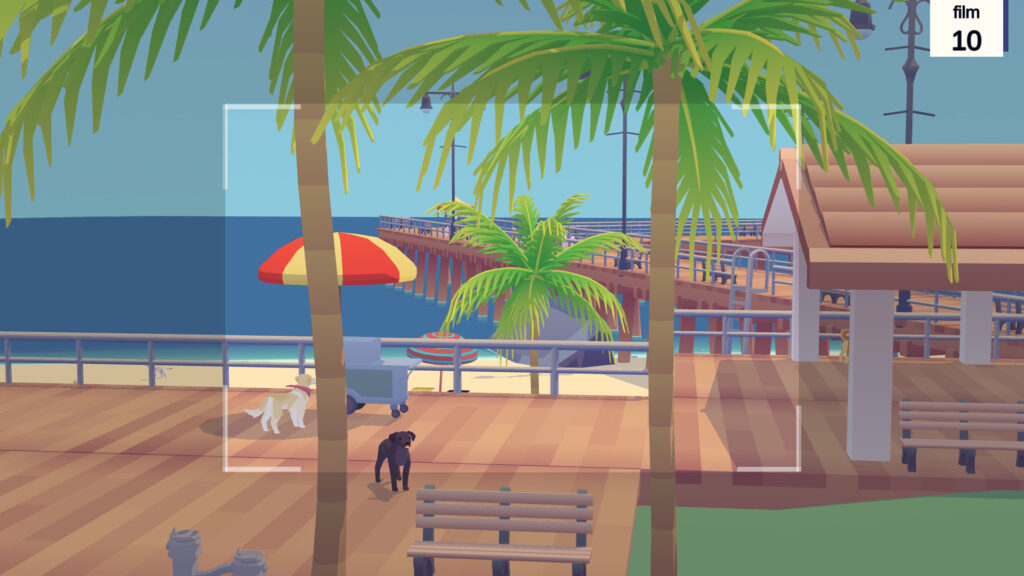 Canine Conclusion
Overall, I enjoyed the four hours or so I spent playing on my Series X. I will be returning to the game to unlock more camera parts, times of day, and to fill in the puppypedia soon. I would recommend it to anyone with Xbox Game Pass, as it is currently on the service, or anyone that likes dogs and/or photography. My only complaint is that the game could have been longer, with more areas and special requests to fulfill. I rate the game a four out of five.
4 out of 5
4
You can buy Pupperazzi from the Microsoft Store.