Planet Zoo: Tropical Pack Review
Reading Time:
5
minutes
Fast Facts
Planet Zoo: Tropical Pack

Developer: Frontier Developments
Publisher: Frontier Developments
Website: DLC – Planet Zoo (planetzoogame.com)
Genre(s): Simulation
Platform: PC
Age Rating: PEGI 3
Release Date: 04/04/2023
Price: £7.99

A code was provided for review purposes
Welcome to the Jungle
Since Planet Zoo came out in 2019, Frontier has kept the game alive with regular free updates and DLCs. I was very lucky to spend time with the Planet Zoo: Tropical Pack, the latest DLC; but is it worth getting your paws on, or best left somewhere deep in the jungle? Let's find out!
5 New Animals
As the name suggests, this pack visits animals from tropical rainforests spanning Africa, South America, and Southeast Asia who love the jungle biome. We have the Red River Hog, the Fossa, the Lar Gibbon, the Asian Water Monitor, and the Brown-Throated Sloth. What I like about the Planet Zoo packs is that they cover not just the classic zoo animals but more niche species that could actually be someone's favourite animal! This pack is no different, featuring some weird and wonderful creatures.
Frontier's ability to make the animals as realistic as possible with not just their appearance but the way they move breathes life into them. Though none of these animals are particularly my favourite, I grew attached to them as soon as I added them to my zoo. I loved the howling of the gibbons and the funny way they walked around, as well as the sloths who slowly ambled across their enclosure and lounged in hanging chairs. The facts in the Zoopedia also help you learn about these animals too, so having unique species opens you up to information you might not have found out otherwise.
I would say, however, that the Asian Water Monitor is similar to the Nile Monitor already in the base game, and there are a large number of primates in both the base game and other DLCs. It could have been a chance, perhaps, for Frontier to cover some even more unique animals, such as the Fossa, who many people only know from Madagascar!
A Tropical Paradise
The Planet Zoo: Tropical Pack also includes over 200 scenery pieces for you to decorate your zoo. This included parts to make temples, animal statues, plants, and props. I started a sandbox zoo to create a totally tropical-themed zoo and use these to decorate. I'm not the best at using the individual parts to build something myself, but I loved the prebuilt temples and props to turn my zoo into a jungle paradise. One of my favourite additions was the enclosure for the sloth, which is an exhibit animal; these are usually box-like buildings surrounded by glass, with sliders to include extra things such as lamps and rocks. However, this pack came with a whole walkthrough enclosure for the sloth, which felt way more interactive, adding hanging chairs and climbing posts while watching the visitors walk beneath them.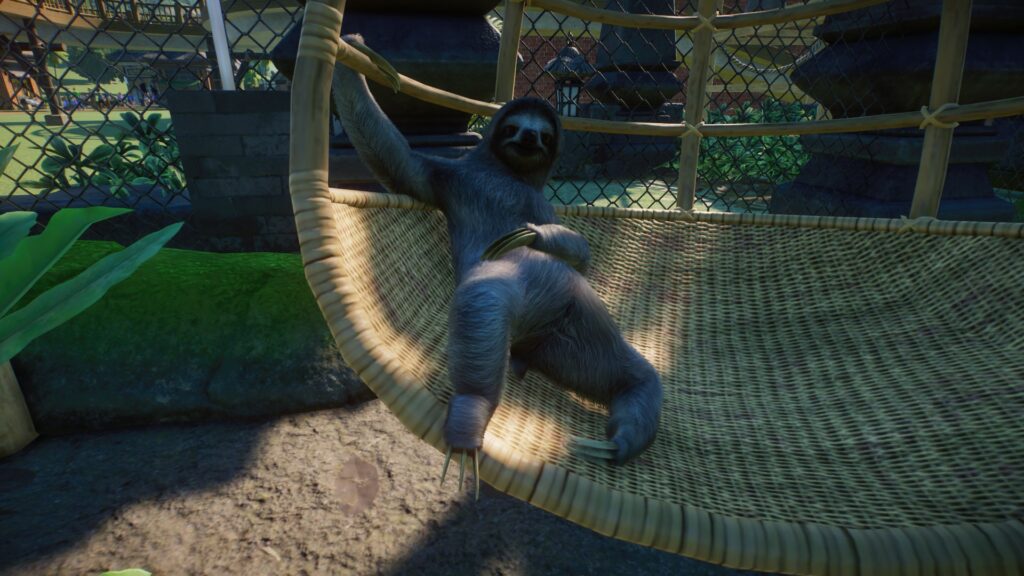 For the more creative, there's plenty to fulfil your needs to create amazing habitats. However, there were a few extra things I would have liked to be included. For example, there weren't any themed shelters that have been included in some other DLC packs, so I had to settle for wooden ones when maybe a temple-like one could have been added. It's nothing major, but just something I picked up on when browsing through the scenery pieces to build my tropical-themed zoo. There weren't an awful lot of plants either, so I ended up using general tropical plants included in the base game.
A Tricky Scenario
Lastly, the Planet Zoo: Tropical Pack features a campaign scenario set in Indonesia, where the wealthy Tiffany needs a hand with the zoo she has been gifted by her father. You are given certain goals to succeed to achieve a bronze star in the scenario before you can then try your hand at getting silver and gold, which are more difficult. I did find this campaign quite challenging; the zoo had walkthrough habitats for the lemurs who were very stressed, and one of the goals was to have three happy species in the same exhibit. Adding some shelters for the lemurs to hide in did the trick!
You also had to get all the lakes to be clean, meaning having a water treatment machine nearby. However, these had to be accessible by the staff, which was hard when the zoo was quite hilly, and there were a lot of lakes. This odd layout makes it quite hard to build off and carry on the zoo; everything was quite compact in one area with the walkthrough lemur habitat. You had to delete sections or mess with the terrain to build paths properly. Overall though, the campaign makes a nice difference from running your own zoo with specific goals to achieve and gives you something else to do for those who have perhaps exhausted other content. They are also some inspiration for the decorative features you can build in your own zoo!
Jungle Fun
The Planet Zoo: Tropical Pack is a solid addition to your DLC collection if you're looking to play around with a jungle-themed zoo or build a tropical section in your existing zoo. The thing that stops me from rating it higher is that Frontier has brought out other packs that I prefer, with animals that are my favourites. However, do not let this stop you from discovering new animals that could fast become your favourite! I also didn't like the campaign scenario as much as others because of the odd layout of it.
The five species included are very fun and intriguing to watch so they will capture your heart. I think though, that people who already have many of the packs may be a little disappointed and find they already have similar animals, as mentioned earlier. For me, I don't have many DLCs, so I was more than happy with this pack's animals. So, if you're someone who is happy with new content, why not go deep into the jungle?
Rapid Reviews Rating


3.5 out of 5