Building
,
Game
,
Gaming
,
Indie
,
New
,
New Release
,
Nintendo
,
Nintendo Switch
,
Nintendo Switch Lite
,
Rapid Reviews
,
Reviews
,
Simulation
Mini Motorways Review
Reading Time:
4
minutes
Fast Facts
Mini Motorways

Developer: Dinosaur Polo Club
Publisher: Dinosaur Polo Club
Website: https://dinopoloclub.com/games/mini-motorways/
Genre(s): Simulation, City Building
Platform: Nintendo Switch (Also available on Steam and IOS)
Age Rating: PEGI 3
Release Date: 11/05/2022
Price: £11.99

A code was provided for review purposes
Mini-Based Meandering
From the moment I started Mini Motorways on the Nintendo Switch, I had a nagging thought of familiarity in the back of my mind. A scratching déjà vu sensation like I had been here before. When I did some research, I quelled that feeling and realised I had played the developer Dinosaur Polo Club's previous outing Mini Metro on my phone. They both feel similar and the mechanics are very much aligned. Phew, I am not going mad!
In Mini Motorways you have a very simple, in premise anyway, task to perform. Design roads to connect houses and buildings, and transport little invisible people between the two. Simple? Hell no! While the premise is a straightforward one, to get high scores and complete the extra objectives is quite the opposite. Everything always starts nice enough but after a few minutes, you have lots of different coloured commuters wanting to go all over the place and a noodle-fest of roads unable to support them. Fun times!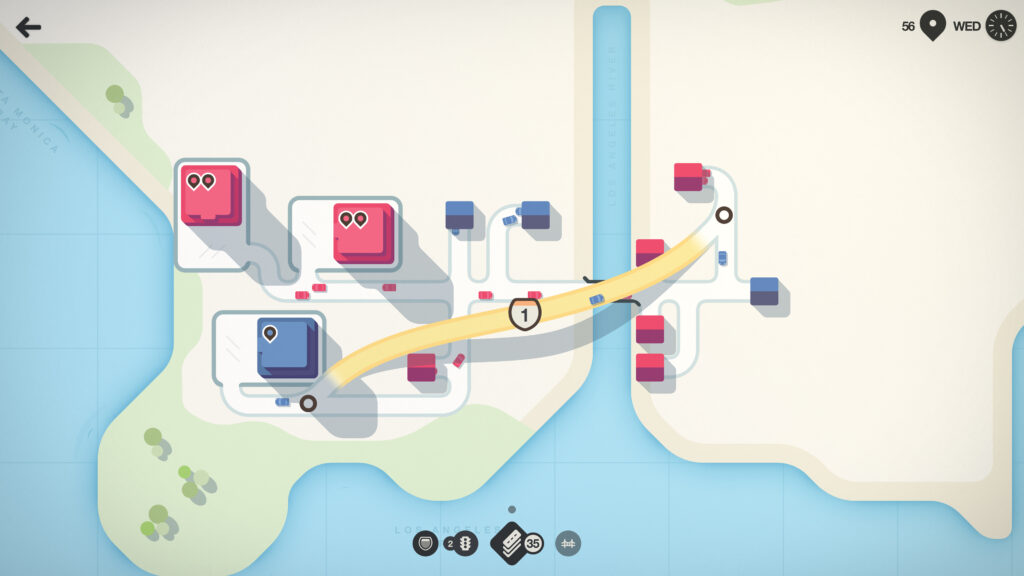 Fail to Prepare, Prepare to Fail
You will be planning and routing on various different maps which have some small twists but overall follow the same system. Over time, more and more destinations of differing colours get added to the map along with various dwellings to support them. You must plan your motorways and roads to make sure the houses can dispatch cars and pick up commuters from these destinations. As the map gets more complicated over time it gets more and more difficult to plan and keep things running fluidly.
Every in-game week you will be offered one of two upgrades and extra road sections to help with your asphalt-based ponderings. Do you want a bridge to get routes over water, a roundabout to better serve busy junctions, motorways to zoom across the map with ease or even traffic lights to thin out choke points in your city? These choices, while quite small, do really affect what you can do to squeeze out those vital last few points.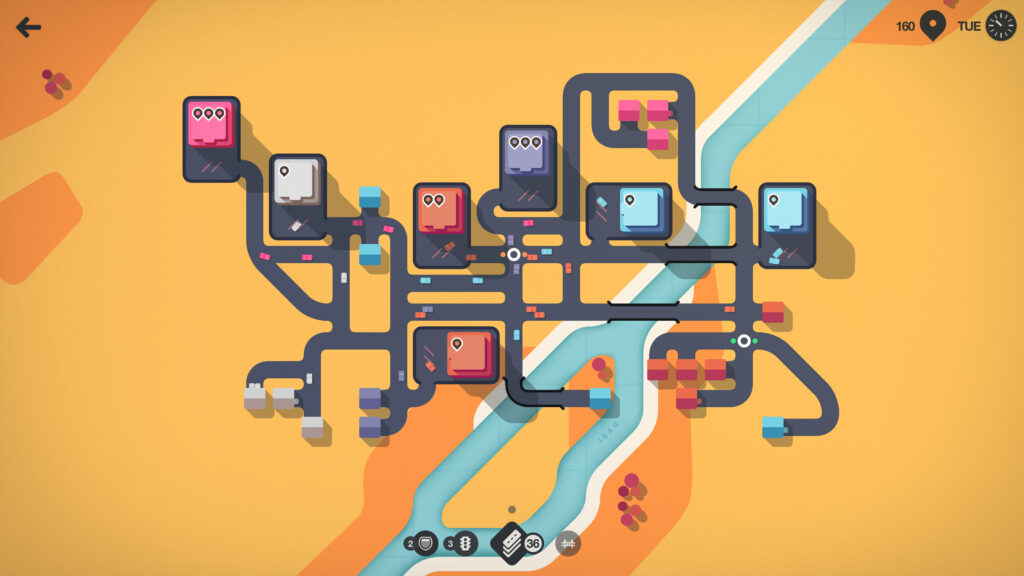 Difficulty and Variability
After 1000 points on a certain map you get treated to a few challenges to spice up the gameplay. Getting to 1000 points is no easy feat though. You must be willing to redesign on the fly, use motorways to reroute troubled traffic and always be on your toes. One thing I really like about Mini Motorways is that it can be as easy or as difficult as you like with speed settings, challenges and a low bar to unlock the next stage, good if you're looking to just chill while playing and take your time.
Content-wise you get 14 maps, based on real-world locations, global scoreboards and challenges. For its low price point, you get quite a bit of content and it will last a while, especially if you are a scoreboard chaser. The Nintendo Switch version is the most up to date version, the definitive version if you will, and is also the most content-rich available at the moment. You certainly get the bang for your buck with this one.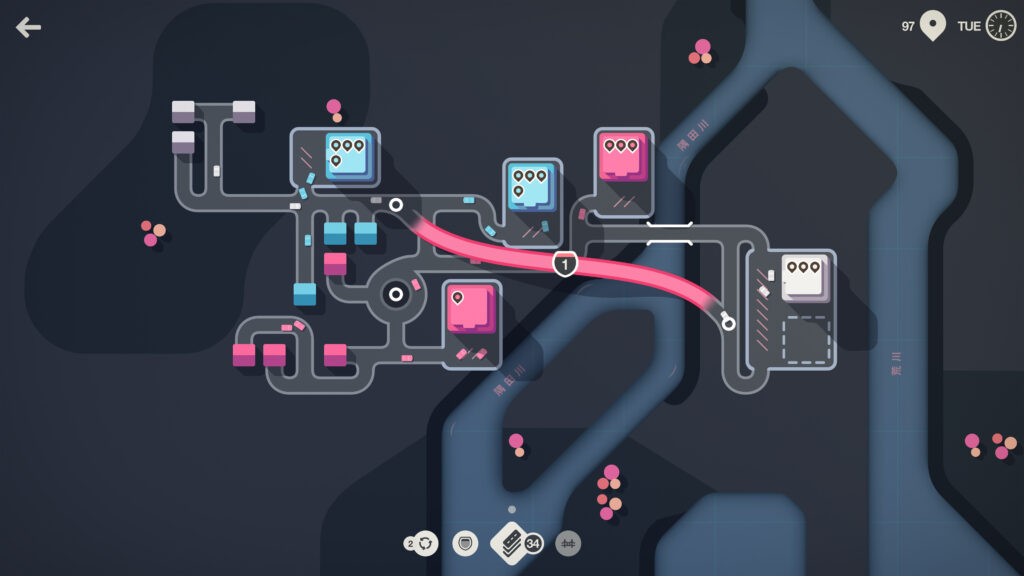 Short, Addictive and Sharp
Games Like Mini Motorways feel at home on the Nintendo Switch. It's short, sharp and very addictive. You can pick it up, play a few quick rounds and then return to it as you see fit. Build motorways in bed, plan routes at lunch and even lay down some asphalt while you're on the loo. It's the perfect pick up and play title that fits with the Nintendo Switch's form factor and portability.
Graphically, Mini Motorways is very minimalistic. It really suits the gameplay style though. The bright colours, the crisp lines and the watered-down presentation really give it a flavour and look all of its own. It's the same with the music side of things, it's light but the little beeps and bloops as you drop off passengers, layered on top of really light, chilled music tracks really give the game a light breezy feel. The graphics and sound design work perfectly with the gameplay to create an addictive and rewarding experience.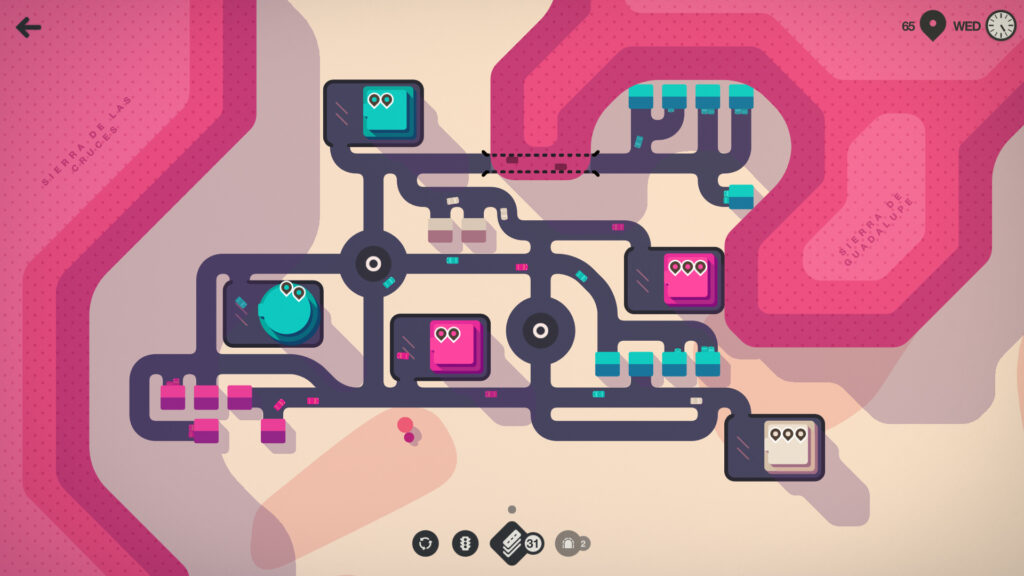 Touch-Screen for The Win!
I have to give props to the control scheme too, I played on a Switch Lite so was totally in handheld mode and the touchscreen options and tuning were spot on. I played the whole game via touch screen and it was near perfect. Every touch of my finger was recorded, drawing roads and routes was easy and responsive and I never felt for one second that the controls got in the way of the gameplay. In fact, the whole game ran perfectly, I had zero issues and not a single thing detracted from this brilliant yet quirky title.
Conclusion – At Home on The Switch!
I loved Mini Motorways. It's light, quick games fit perfectly on the Switch and there is just enough content to get through before you start to get bored with it. It looks lovely, it looks unique and the whole presentation, paired with the simple yet rewarding gameplay creates something truly addictive. Mini Motorways runs like butter, does not cost a lot and is well worth your time. Right, I am off to get some red cars to some red buildings which is more fun than it sounds. Mini Motorways gets four roundabouts out of five from me!
Rapid Reviews Rating
4 out of 5
4
If you are interested in buying Mini Motorways, you can from the Nintendo eShop here.