18W
,
4K
,
4K HDR
,
Apple
,
Apple Arcade
,
Charging
,
Dolby Vision
,
Gadgets
,
Hardware Reviews
,
HDR
,
iOS
,
iOS 14
,
iPhone
,
iPhone 12
,
iPhone 12 mini
,
MagSafe
,
Mobile
,
Mobile Gaming
,
New
,
Phones
,
Product Reviews
,
Rapid Reviews
,
Reviews
,
Tech
,
Tech Review
,
USB-C
,
Wallet
,
Wireless
,
Wireless Charging
iPhone 12 mini – The Rapid Review
Reading Time:
7
minutes
Despite COVID-19 having a significant impact on product launches and supply lines globally in 2020, Apple managed to launch four new iPhone models this year. I was thrilled to have some hands-on time with the smallest and most affordable of the bunch, the iPhone 12 mini. Read on for my Rapid Review of this miniature marvel.
What's Not In The box
Somewhat controversially, Apple has decided that new iPhones won't include a charger or headphones. If like me, you're already an owner of an Apple device, it won't be a problem. However, if it's your first iPhone, having to fork out for a charger and headphones might be a dealbreaker.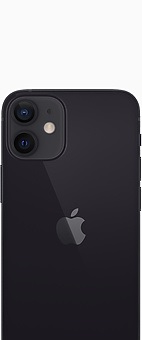 Design
Apple surprised everyone with the announcement of the iPhone 12 mini. Lookswise, it's a mini-me of the iPhone 12. My review unit came in a black finish, which looked very smart. However, if I were buying the phone myself, I would have chosen blue or red. Other colours available are green and white.
The look and feel of the 12 mini reminded me of the iPhone 4, which was one of my favourites. The flat edges make the phone comfortable to hold and are not sharp at all. Size-wise, I would say that it's comparable to the iPhone SE. The 12 mini feels solid in hand and doesn't weigh too much.
Apple has said that the new iPhone 12 mini has improved splash and spill resistance, and while I haven't spilt liquid over the phone, I have used it in the rain at times, and it had no impact on the phone whatsoever.
Delightful and Durable Display
The 5.4" Super Retina XDR OLED display of the iPhone 12 mini is very nice. Colours are vibrant, text is incredibly clear and crisp, and it's bright. Scrolling through menus, websites, and apps is a very smooth experience. Furthermore, watching Apple TV programmes like the excellent Ted Lasso and Netflix shows in HD and Dolby Vision is a real treat.
While I can't speak for the real strength of the ceramic shield coating, as thankfully I haven't dropped the phone, I can say that I've been using the iPhone 12 mini every day for about six weeks now, and I haven't seen a single scuff or mark on the screen.
Powerful Performance
The new iPhone range is the first to offer 5G connection. While other manufacturers have included 5G, even on much cheaper handsets, for a while now, Apple has probably waited until now as 5G coverage increases. Unfortunately, 5G isn't available in my area, but it's great to see Apple finally offering this. Apple has managed to include the new A14 Bionic chip found in its flagship iPhone 12 Pro, inside the 12 mini, and as a result, the mini performs exceptionally well.
I have an iPhone 11 Pro as my primary device, and the 12 mini was noticeably faster. I found myself pleasantly surprised at the speed of the 12 mini. Even with many apps open in the background, I didn't notice any drop in speed or performance.
Gaming on the iPhone 12 mini was a great experience, and power-hungry games, like Call of Duty, performed brilliantly. The ever-growing library of excellent Apple Arcade titles shines on the mini. My current favourite Apple Arcade games include; Alba: A Wildlife Adventure, Butter Royale and WHAT THE GOLF?
iOS 14
I've joked with my longterm iPhone user friends that iOS 14 is the most Android iOS ever, and while I jest, there are many features that Android users will be very familiar with. This includes, finally, the ability to customise your home screen in a more meaningful way. I found the new widgets very useful, especially smart stack.
This gives you an overview of the most used apps on your iPhone. It also learns your routines and gives you suggestions based on your location and time of the day. For example, every morning, I would be prompted to check my WordPress app. This was because I always check my site stats in the morning.
Another new feature is the App Library. Apps are automatically sorted into relevant folders, e.g. Social Media. You can search the App Library, as well as scroll through them by alphabetical order. In all honesty, I hardly used this feature. Mainly because I've had iPhones in the past, and it felt a little alien to me. I think that Apple has done this to encourage Android fans to make the switch to iPhone.
Privacy Progression
With more and more stories coming out about the misuse of data, people are taking notice of their privacy settings more than ever.
Thankfully, Apple has stepped up its privacy game with iOS 14. You now get prompts telling you precisely what information apps can access, and you get a visual alert on the screen when your camera or microphone is being accessed. If it's your camera, you will see a little green dot, and if it's your microphone, you'll see an orange dot.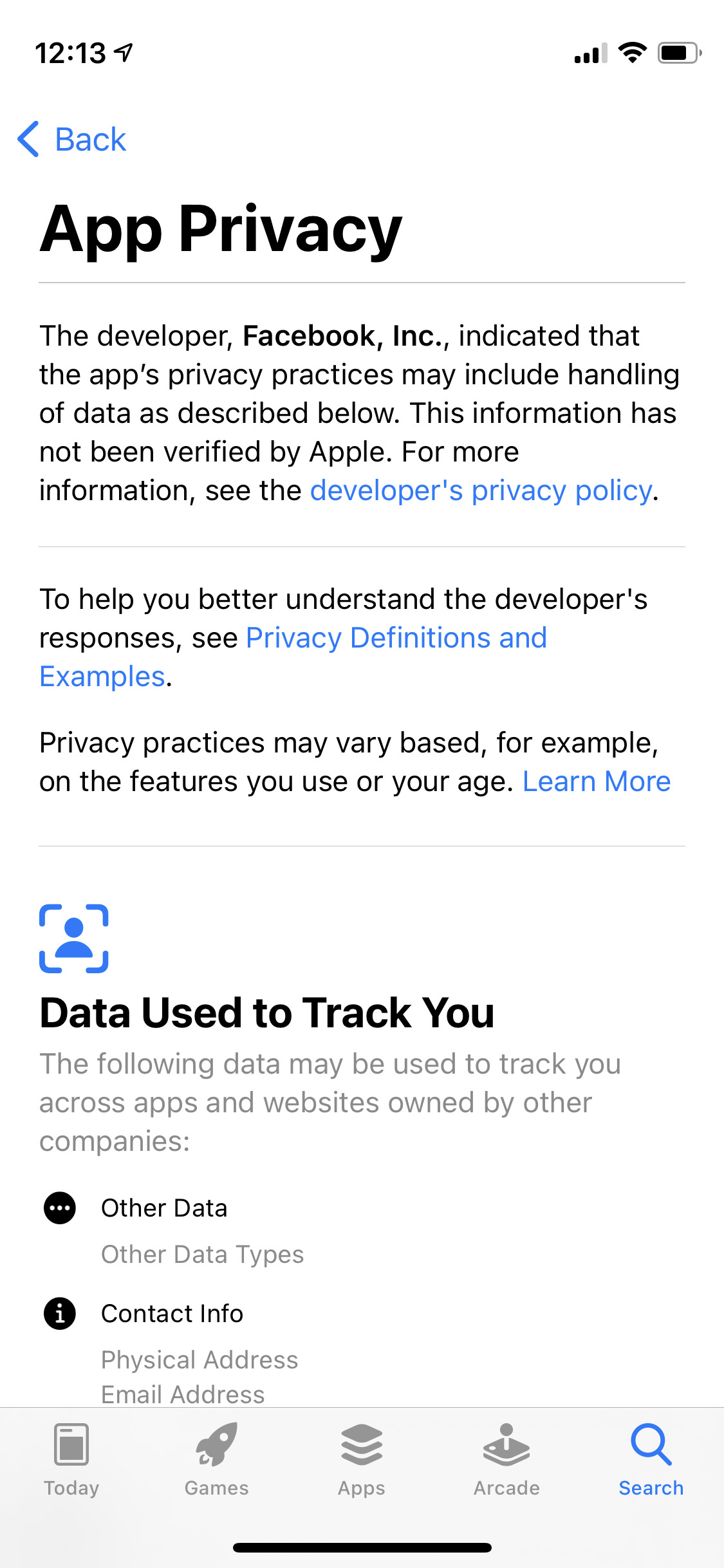 Other notable privacy features include the option to allow or deny apps the permission to request to track activity across different apps, detailed privacy reports from Safari, and perhaps most importantly, you can see what data an app wants to access from the App Privacy information that is shown when downloading an App.
You can see in the screenshots below, that Apps like Facebook track an awful lot of data. This allows users to make more informed decisions before downloading an App.
Battery and Charging
The iPhone 12 mini's battery did provide enough power to get through a whole day. This included using the phone for social media, emails, listening to music and podcasts, and playing the occasional Apple Arcade game. While I've reviewed phones whose batteries power through for a few days, the MagSafe wireless charger's ease of use made the battery life a nonissue in reality.
When connected to the 18W USB-C charger that came with my iPhone 11 Pro, the MagSafe wireless charger could fully charge the iPhone 12 mini in just a couple of hours.
When Apple announced the MagSafe feature, I did feel like it was an unnecessary feature and a way for Apple to sell more accessories. However, now that I've used it, I can see the benefits. The click it makes when it connects to the phone is so satisfying. It also ensures a strong connection between the phone and the wireless charger.
Magnificent MagSafe
Talking of MagSafe accessories, I was sent a Leather Case with MagSafe and a Leather Wallet with MagSafe, both of which would set you back £118. Again, this is quite a premium price, and again, something that I felt might be unnecessary. However, after using both for a while, I loved how the wallet snapped to the case.
I was able to store two cards in the wallet, and I got into the habit of snapping the wallet to the case when I went shopping and then detaching it when I got home. People who will be using the MagSafe wallet daily will be glad to learn that the connection is extremely secure, and won't come off without force. True to form, Apple has a way of creating a product that you never thought you needed.
Capable Cameras
The iPhone 12 mini features the very same dual-camera system that you find included in the iPhone 12. This consists of a Dual 12MP Ultra Wide and Wide cameras and a front-facing 12MP TrueDepth Camera. I was impressed with how easy it was to take good quality pictures using each camera. The new addition this year is night mode on all cameras. You can see that the iPhone 12 mini is more than capable of taking some excellent shots in the gallery below, even in low light settings.
For budding filmmakers, the iPhone 12 mini can record video in Dolby Vision and 4K 60 FPS. This is incredible for a device that fits in the palm of your hand and will be very useful for recording those special moments.
In Conclusion
They say that good things come in small packages, which is undoubtedly true with the iPhone 12 mini. If you're already in the Apple ecosystem, you'll be glad to know that everything, well, works. The App Store continues to be brilliant, and as expected, the build quality is excellent. With the addition of 5G and capable cameras, the iPhone 12 mini is very easy to recommend.
Rapid Reviews Rating
You can find out more about the Apple iPhone 12 mini, and purchase it from Apple.