Reading Time:
5
minutes
Fast Facts
HP Omen 17-ck0013na Gaming Laptop

CPU: Intel® Core™ i7-11800H
Memory: 16GB RAM
SSD: 1TB SSD
Graphics: GeForce RTX™ 3070 (8GB)
Price: £1,499.99


A unit was provided for review purposes
Introduction
I've not been a "PC gamer" for a number of years now. In fact, my desktop PC is in such need of an upgrade, I may as well throw it in the skip and purchase a whole new unit. While I'm content with console gaming (Xbox Series X, PS5, and Switch), that urge to join the somewhat "elite" that call PC gaming their home is a constant.
Anyway, over the last few months I've been host to the HP Omen 17 gaming laptop, and oh boy! I'm hooked. Since testing this powerhouse I've rediscovered my long-neglected Steam account and even delved into a side of gaming I'd forgotten about. As my consoles start to gather dust, the HP Omen 17 has become my gaming machine of choice. And let me tell you why…
Size does matter!
Where most manufacturers concentrate on ease of portability for their hardware, HP has thrown this trend to the wind. In reality, the Omen 17 is a chunky beast. Sporting an impressive 17.3in screen with a resolution of up to 2,560 x 1,440, the Omen 17 really immerses you in whatever game you're playing. While it lacks the adaptive sync of other gaming hardware, it more than makes up for it with a decent response time of 3ms, and a refresh rate of 165Hz.
For those who want more technical jargon, the ample screen also caters for a brightness level of 375cd/m² and black point of 0.31cd/m². Add a contrast ratio of 1,210:1, and you'll find it difficult to find a game that this screen doesn't make look detailed!
Under the hood
Popping the hood of the Omen 17, you get a real sense of power and quality. There's a lot of high-end internals that give a lot of bang for your – £1,499.99 – buck. The GPU is a GeForce RTX 3070 which features 8gb of memory and a whopping 5,120 stream processors. Storage is of no issue either with the task being given to the Samsung P89A1 1TB SSD. With an SSD that's capable of read and write speeds of 7,046MB/sec and 5,140MB/sec – you're in great hands. Moving on and the included processor is the powerful Intel 11th generation Core i7-11800H running at 4.6GHz with 16GB DDR4 RAM (2X 4GB). Completing the inner workings is a standard duel-band WiFi adapter provided by the Intel Wi-Fi 6E AX210, and a hearty 130W power supply (that can be boosted to 140W in performance mode).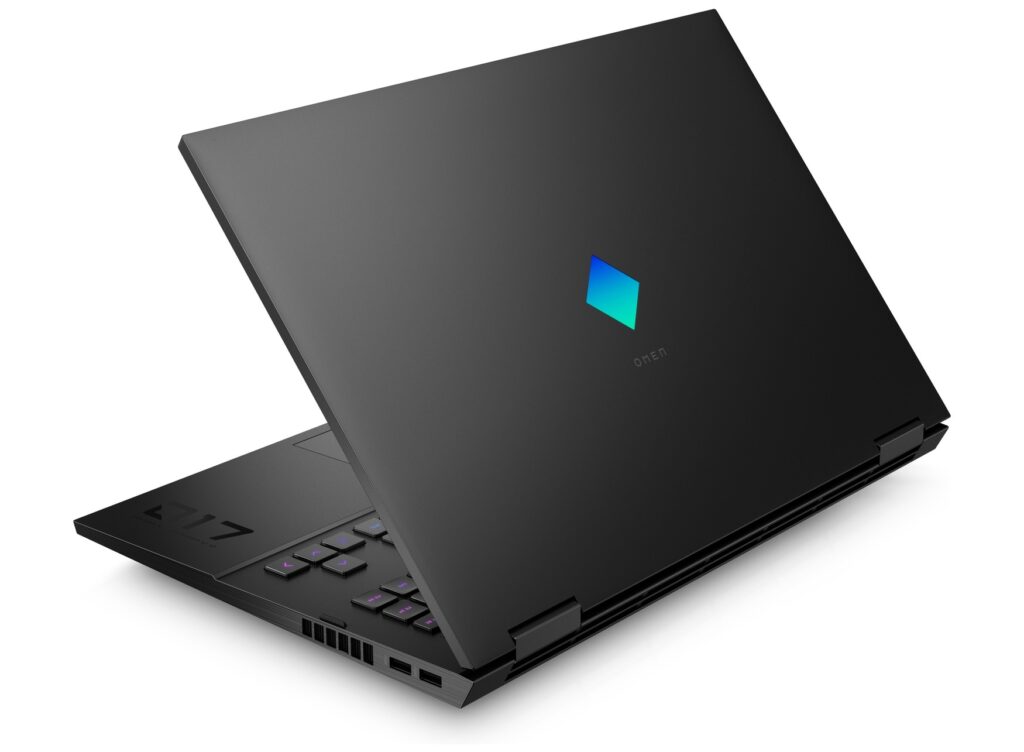 Sleek Design
Moving to the external design and the Omen 17 is a gorgeous-looking piece of kit. Its aluminium and plastic casing is finished with a matt black coating finish that just accentuates the smooth elegance of the machine. While the casing is naturally chunky due to incorporating the 17.3″ screen, HP hasn't squandered the space. Adorning the edges you'll find a single Thunderbolt 4 port that supports DisplayPort as well as charging. Accompanying this is three Type-A USB ports, a standard HDMI 2.1 outlet, a mini-DisplayPort, an SD card slot, and an RJ-45.
Keyboard Warrior
When it comes to the keyboard, the Omen 17 doesn't really do anything different to others. Aside from six programmable macro keys, and a dedicated key to open the HP Omen Gaming Hub, there isn't anything different to what you'll find on any other laptop keyboard. While it's perfectly suitable for gaming – if you're like me – you'll already have an external keyboard as your go-to weapon of choice. Sorry HP Omen 17, you don't quite beat my battered retro Zboard!
The mouse pad is also your standard run-of-the-mill offering. Much like the keyboard, it's good for standard tasks but doesn't quite hold up for gaming. While it's feasible for a solo game of StarCraft 2, attempting CS:GO, or even Fortnite does become a chore. But what did you expect?
The built-in speakers offer a pretty robust sound experience. They're loud and punchy, but do suffer from a lack of bass. Sound levels are also decent, with a great distinction between those quiet footsteps, and booming explosions.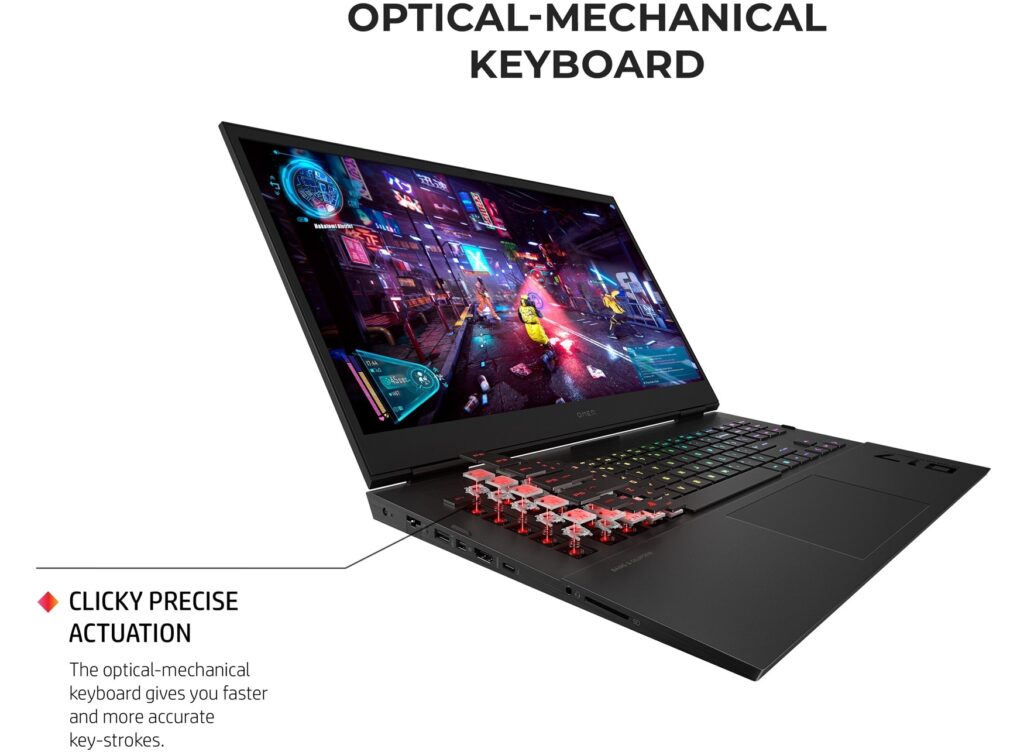 Downsides
While the overall quality of the Omen 17 is pretty good, it's not entirely flawless. The keyboard lacks any form of number pad, which considering the Omen 17's size is quite surprising. The Power button is also positioned right in the middle of the keyboard too. While it's not an issue if you use a USB keyboard, it is in a position that could see the machine get accidentally shut down.
The final downside is that the built-in webcam doesn't come with a privacy screen. Considering that we live in a world where cyber-security is paramount, you would think that a simple shutter would be a must?
Performance
As I mentioned in my introduction – I'm not much of a PC gamer. As such, I didn't have access to a wide range of games to really put the Omen 17 through its paces. But the games I did test on it performed with no issues. Free-to-play titles such as Fortnite and Apex Legends performed well at their "high" levels with a sustained FPS of 60-90. StarCraft 2 also played flawlessly on its highest performance settings too, with no noticeable drops in graphic quality or FPS. The one game I had to test was Crysis, and yes! the Omen 17 handled the once-PC powerhouse perfectly.
One issue when it comes to gaming and laptops is both temperature and noise levels. As mentioned above, the Omen 17 supports two power modes – standard (130W) and boosted (140W). After an hour's worth of gaming using both modes, there was only a minimal difference in both noise and core temperature. With both modes, the noise levels remained consistent and never got higher than what you would expect with an Xbox Series X or PS5. Meanwhile, GPU temperature remained at a steady 50⁰C during 130W, with a slight increase of 54⁰C during 140W.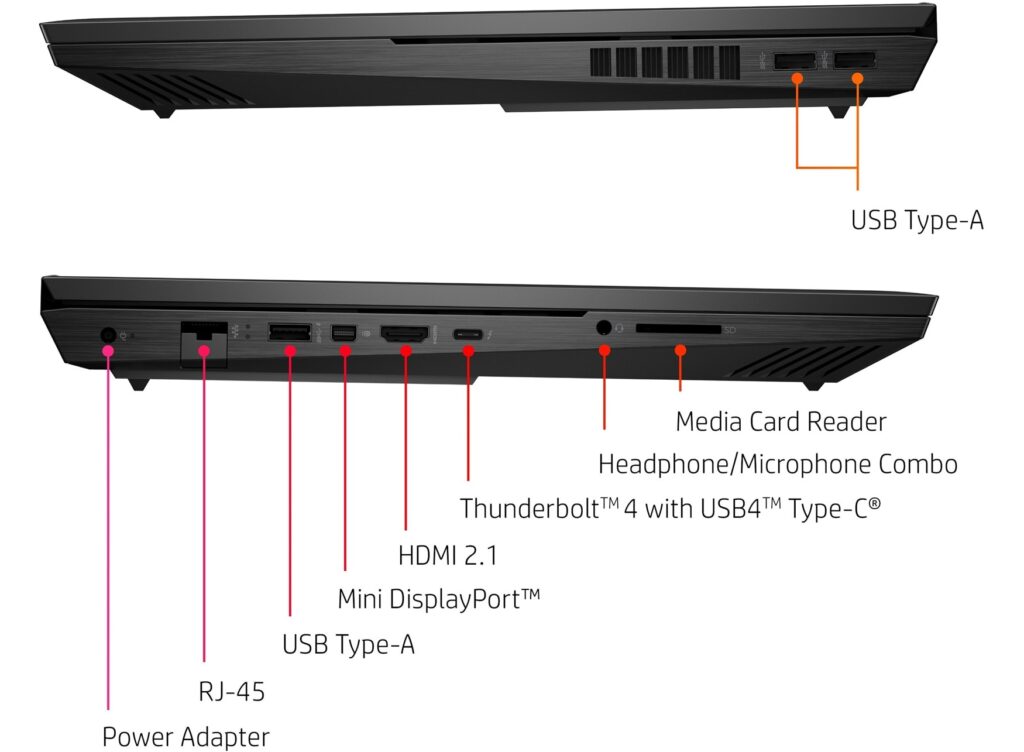 Final Thoughts
All in all, the HP Omen 17 is a decent piece of hardware. Its 17.3′ screen offers an immersive experience, whilst its bulky casing keeps the unit well-ventilated and relatively noise free. The keyboard, webcam, and wealth of external ports also cater for those looking for the best of both gaming and work tasks. However, if you're after a solid gaming experience then the HP Omen 17 is the perfect choice.
Rapid Reviews Rating
4.5 out of 5
4.5
The HP Omen 17 is available to purchase via the HP web-store by clicking here.