Eleven Table Tennis VR Review
Reading Time:
3
minutes
Fast Facts
Eleven Table Tennis

Developer: For Funs Labs
Publisher: For Fun Labs
Website: https://www.oculus.com/experiences/rift/989106554552337
Genre(s): Simulation, Social, Sports
Platform: Oculus Rift S (Also available on Rift and Quest)
Age Rating: PEGI 3
Release Date: 14/12/2017
Price: 14.99

A code was provided for review purposes
When it comes to playing sports in VR, table tennis makes a lot of sense. The sport needs a small playing area, two paddles (or touch controllers) and you don't need to be in a large team. Does Fun For Labs' Eleven Table Tennis serve well as a VR title? Find out in this Rapid Review.
Like table, like tennis
It almost seems redundant to say but Table Tennis Eleven is exactly that; pure refined table tennis. There are no power-ups, magical powers, or a campaign featuring paddle-wielding monsters or foes (although I wouldn't say no to that kind of experience). Instead, the game employs a very impressive physics system where the ball responded exactly how I imagined. The strength of the hit, the location of the paddle and the proximity to the table all play a part in where the ball ends up. In fact, as much as it pains to admit it, Eleven's physics system is so life-like that as-usual, my games almost always resulted in a loss. It's the very definition of "virtual-reality", a realistic experience portrayed in the real-world.
The light-weight Oculus controllers strongly felt like paddles in my hand and the three playing environments were very immersive, especially the stadium where the empty seats are shrouded in darkness.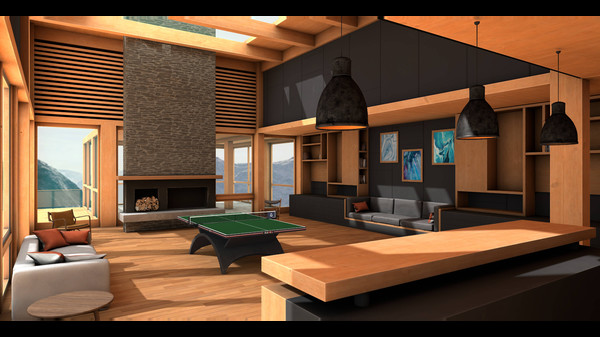 Ways to play
Upon first playing, there's a short tutorial and then the option to start a match with your chosen difficulty bot, play online, start a minigame or report a bug. I started by playing against the bot and found it to be receptive to my moves and keeping me on my toes (quite literally so make sure you have plenty of space to move side to side). In one of my games, a pop-up appeared with an invitation for a 1-1 against a random player. I accepted this invitation and had one of my favourite moments in VR. We rallied the ball to each other with non-vocal communication. Pointing at who should serve or jokingly victory dancing after a successful hit.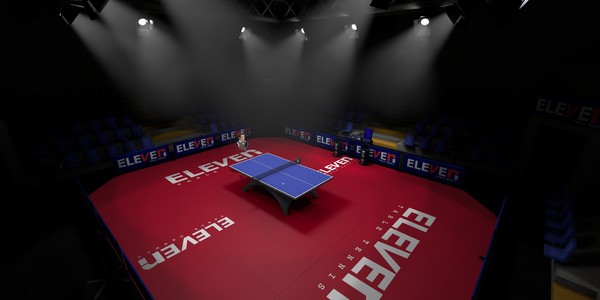 After that, I tried out some of the mini-games. These modes once again fully utilise the physics system of Eleven with a ball machine, a wall to rebound off or even cup pong! They're perfect for practising your skills away from a traditional one to one game. Compared to more cinematic VR experiences, sound plays a small part in Eleven. A stereo provides spatial audio dependent on the room type and the ball making suitable noises come hit or bounce. Nevertheless, if I was to give one improvement for the game, it would be the addition of new music tracks. Alternatively, the option to integrate a custom soundtrack by using players own music files within the game; especially for those who prefer to play alone.
Whilst I silently played multiplayer, the option for microphone use is there and the idea of rallying or competing with a friend whilst talking with each other sounds very appealing.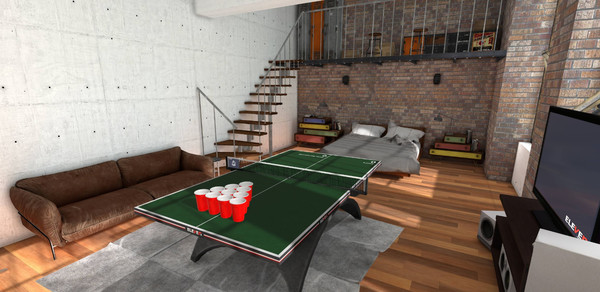 Hit or Miss
Overall, Eleven Table Tennis excels as a game from the VR sports genre. With realistic physics, refined control and responsive movement, I genuinely struggle to think of a feature that would improve the minute to minute gameplay. It's the perfect VR table tennis title!
Rapid Reviews Rating

You can purchase Eleven Table Tennis for £14.99 on the Oculus Store