Adventure
,
Game
,
Game Pass
,
Gaming
,
Rapid Reviews
,
Reviews
,
Role-Playing Game
,
RPG
,
Simulation
,
Xbox
,
Xbox Game Pass
,
Xbox Games Pass
Disney Dreamlight Valley Early Access Review
Reading Time:
8
minutes
Fast Facts
Disney Dreamlight Valley

Developer: Gameloft SE
Publisher: Gameloft SE
Website: Disney Dreamlight Valley
Genre(s): Simulation, Role Playing, Adventure
Platform: Xbox Game Pass PC/ Xbox Series X | S (Also available on PlayStation, Nintendo Switch and PC)
Age Rating: PEGI 3
Release Date: 06/09/2022
Price: £24.99

Played through Xbox Game Pass
A Sprinkle of Magic
The announcement of Disney Dreamlight Valley in April 2022 sparked a lot of interest; a life sim with Disney characters was an intriguing concept. In particular, many Animal Crossing players perked up. With Nintendo stopping updates for New Horizons, and many finding the game has gone stale, Disney Dreamlight Valley had potential to fill the cozy life sim void.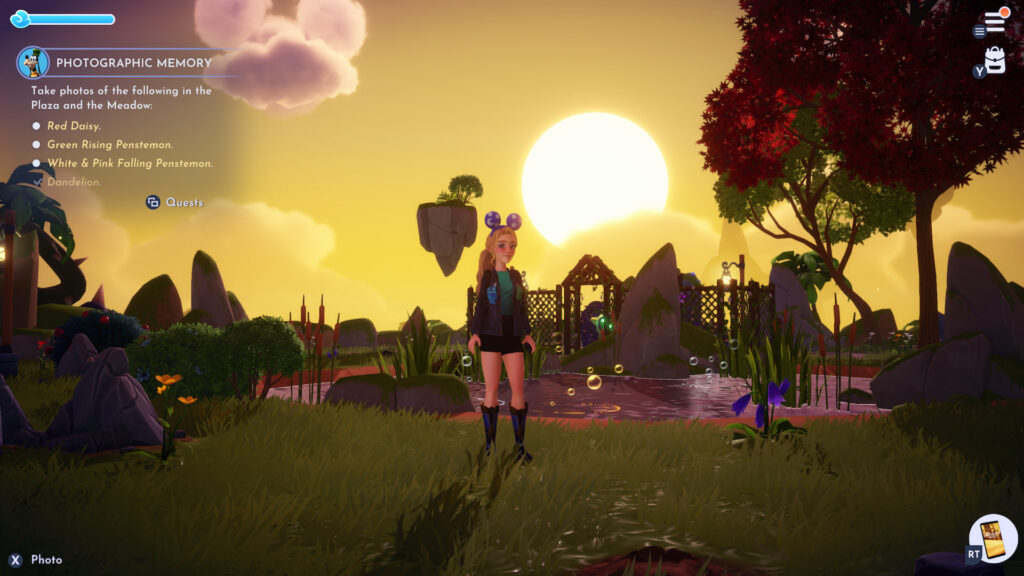 The game has release in Early Access, available for free through Xbox Game Pass or with prices starting at £24.99. Though Dreamlight Valley is set to release sometime in 2023 as a free to play game, you're essentially paying now to play it early and access items that I'm not sure will return (more on that later!). I've spent some time with the game both on PC and Xbox through Xbox Game Pass Ultimate; is Dreamlight Valley the most magical place on earth, or a nightmare?
Becoming a Disney Character
You started the game by creating your character; character creation being one of my favourite things, I do like to take my time! There was a basic number of facial options for eyes and nose for example, and a variety of hairstyles and colours to choose from. You couldn't quite go into a tonne of detail adjusting specific features like on The Sims 4, but with it being a Disney style character I felt it didn't need that, and it was easy to use.
The best thing about the character creation was that you did not have to pick a gender. Instead, there were two basic body types, which you could then change further, for example to have a muscly build. Then, you could have any hairstyle or any type of clothing. It's an easy implementation that other titles should pick up on, so people can reflect themselves however they choose in game. I would say however that there isn't really a plus size option, which is a shame though sadly not a shock. It would not be hard to include this to further reflect how people want to look.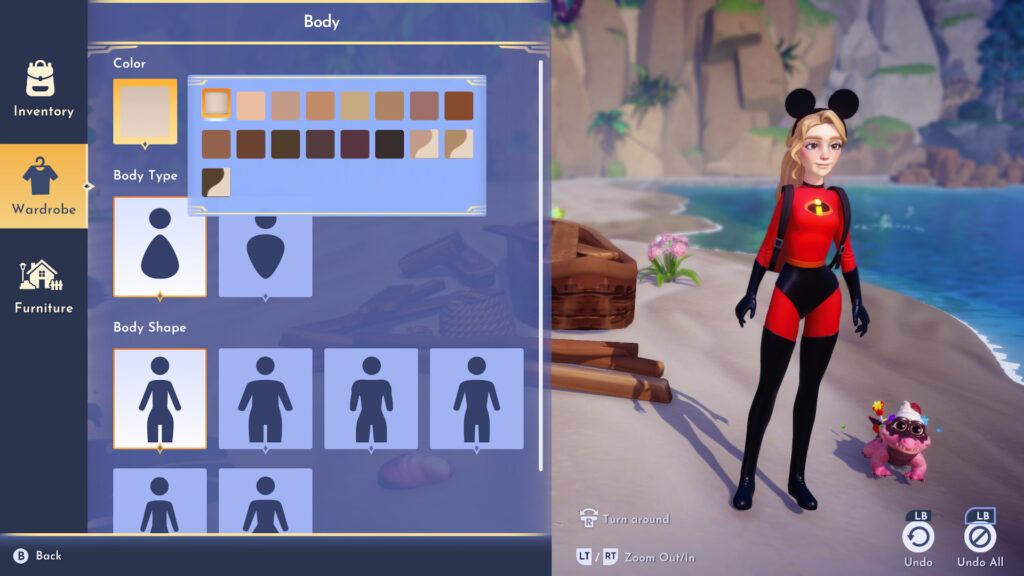 Other than this, the character creation suits its purpose well, turning you into a Disney character with big, bright eyes and perfect hair!
The Forgetting
Your trip to Dreamlight Valley is implied to be, as the name suggests, a dream, after revisiting your favourite childhood place. After arriving in there and meeting Merlin from The Sword in the Stone, you quickly realise there's something off about this place. Merlin seems to be very forgetful, and purple thorns writhe around the castle and the surrounding area. It's revealed that an event called The Forgetting occurred; the ruler of the realm disappeared, and most of its inhabitants went missing. Those who remain – Merlin, Goofy, Mickey and Scrooge McDuck – have had their memories affected by the Night Thorns.
Naturally, it's up to you to help bring magic back to Dreamlight Valley, restoring memories and bringing characters back home. I liked that there was an overall purpose and backstory, as it felt much more immersive and gives you an end goal to strive towards. I would say it's predictable (I think I've guessed a part of the story very early on!) but it's fun and fantastical, just like a Disney film.
Finding Friends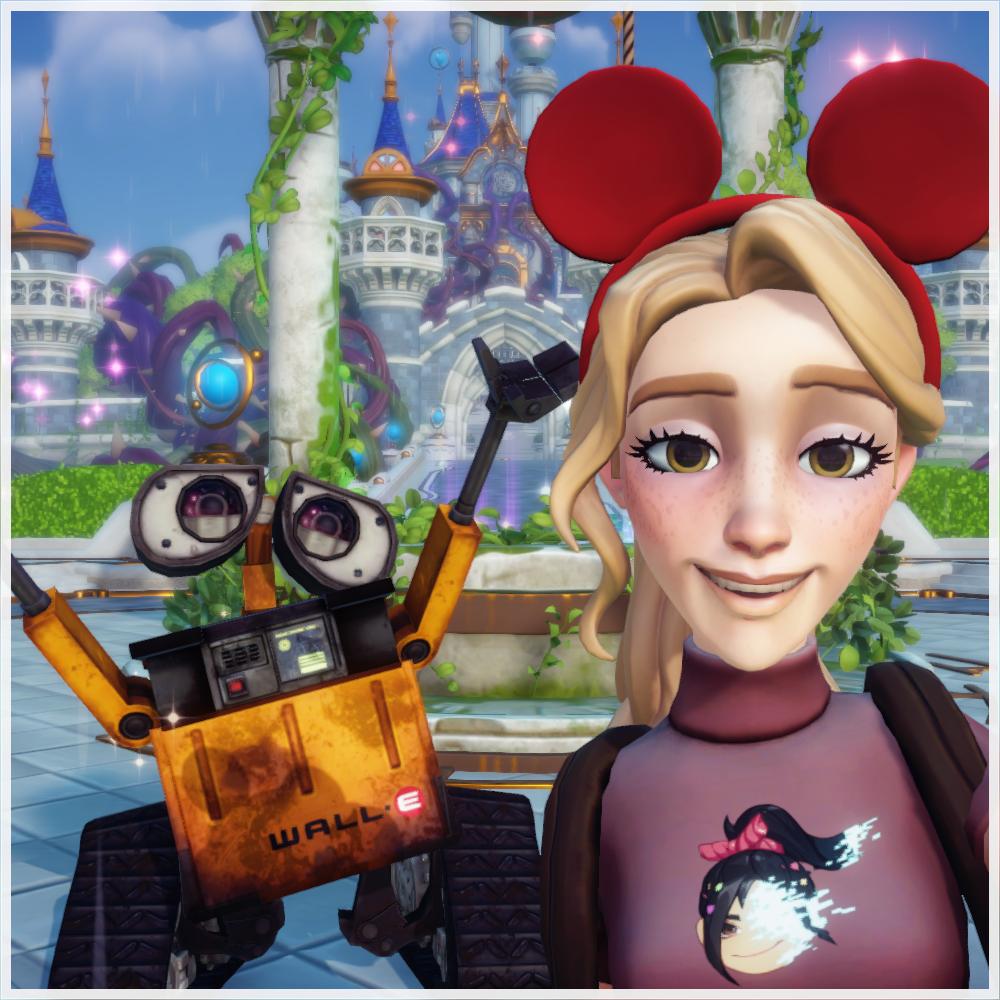 One of the biggest and most exciting parts was being able to interact with Disney characters and bring them back to live in the valley. As mentioned, you begin with four characters, but eventually you open the castle where the rest of the characters can be unlocked. Straight away I was relieved to hear the voice acting, bringing the Disney charm to the characters that we love and giving that impression that we really are interacting with them. Some aren't the original voice actors, such as The Rock as Maui, but they were still fairly close.
Before bringing a friend home from the castle, you must visit their realm behind their door and complete a story arc in order to do so. Their realm is usually only a small area to walk around, but it's still quite cool to step into that world for a moment. Usually, much like most of the tasks in the game, these story arcs involve bringing items or cooking recipes. However they do relate to their particular film, for example making ratatouille for a food critic at Remy's restaurant, or bringing WALL-E a boot.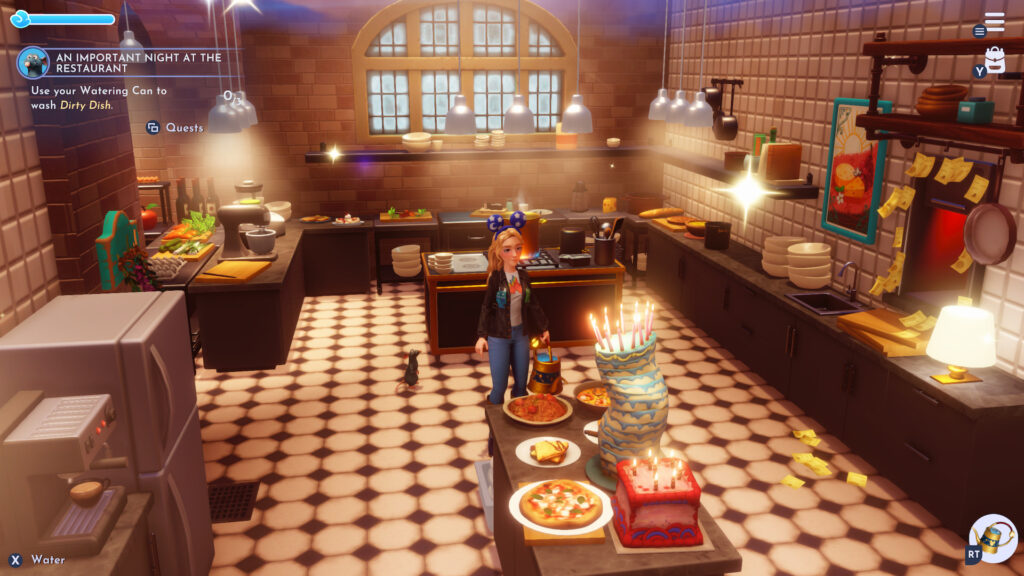 This aspect of the game is undoubtedly a hit for Disney fans, and will spark nostalgia in those who perhaps aren't as big on Disney anymore. Including characters from classic Disney and modern Disney films caters for everyone young and old. Though you'd think a Disney game may be just for children, this is not the case. In fact, Dreamlight Valley is a serious grind.
The Grind
One of the currencies on Disney Dreamlight Valley is Dreamlight. You can earn this by doing certain tasks, similar to the system of Nook Miles in New Horizons. These include Daily Duties, as well as overall goals, such as catching a certain amount of fish or mining a particular mineral. Dreamlight can then be used to unlock characters in the castle and clear night thorns to new areas. There are then coins, which can be earned by selling items and spent on clothes, building villagers' homes and more.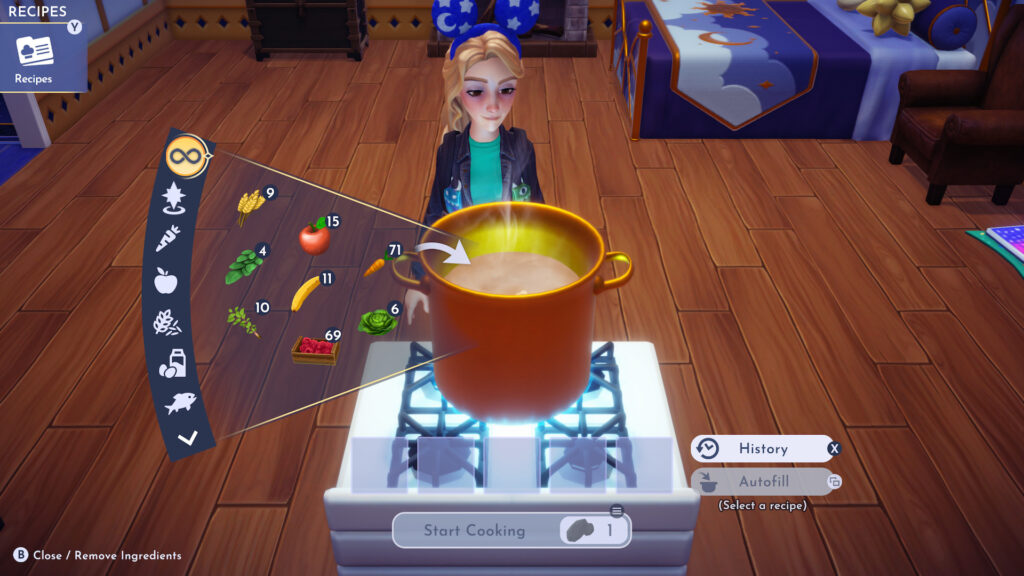 Since you need these currencies to progress through the game, most of the gameplay is spent earning them. The gameplay itself is not dissimilar to other life sims; mine, grow, harvest, fish and cook, but these actions deplete your energy bar. Nothing a quick munch on some apples or a gourmet meal can't handle! You'll need to collect items for quests, or there are daily favourite items that you can give to characters and increase your friendship level with them. Increasing your friendship, through chatting to them as well, will give you rewards and new quests.
A lot of items in the game cost a substantial amount of coins. There's a daily rotation of clothing and furniture in the shop, so FOMO does kick in! I'm an absolute sucker for cosmetic items, so pair that with cute Disney themed clothing and I'm desperately selling dozens of fish just to get Belle's bridal dress…
A Whole New World
Disney Dreamlight Valley runs on real time, but no matter what time it always looks stunning. This dreamland is a world of colour, each new area you unlock featuring not just new items but a new biome too. My personal favourite is the beach, where there's a shimmering turquoise sea, seashells and bright hydrangeas scattered on the sand. There are sun beams gracing the village when the sun is setting, and a star studded sky at night.
The characters all looked great, moving the exact way they would in their corresponding films. Mickey strolls happily everywhere and Goofy runs, well, goofily! They talk to each other, go fishing and sit on benches, each having their own daily schedule. With the dialogue too, which can be super wholesome like Mickey saying he love his neighbours, it's charming and really feels like you're living among your favourite characters.
The soundtrack of course features your favourite Disney tunes as well as instrumental music which changes between different houses or areas. It added to the magic, and the sound effects were also satisfying too. For example, picking up rocks or minerals with a clink, or your footsteps changing slightly depending what you were walking on.
A Bug's Life
Since Dreamlight Valley is in early access, I wasn't expecting perfect performance. Luckily, I only experienced a few. A camera bug occasionally would occur, zooming your camera out for a second or so before returning to your character. There's also a certain memory in a cave that gets stuck in a rock, and you can't access it. These are both bugs that have been widely reported, so should be fixed with the upcoming update.
I've spent time on both Xbox and PC, and the only other bug I experienced while playing on Xbox. For some reason when I went to use the map, I couldn't exit out or tab over to the other menu options, so I had to restart the game. I'm also having some issues with getting my cloud save to transfer over, despite making an account and saving to it. I had to reinstall it on my Xbox to be able to load my cloud save on there. Then, when I played on my Xbox and wanted to continue from my PC, it would only let me load from the last time I played there. Hopefully this can be resolved too. Other than this, performance has been smooth.
The Dreaded Microtransactions?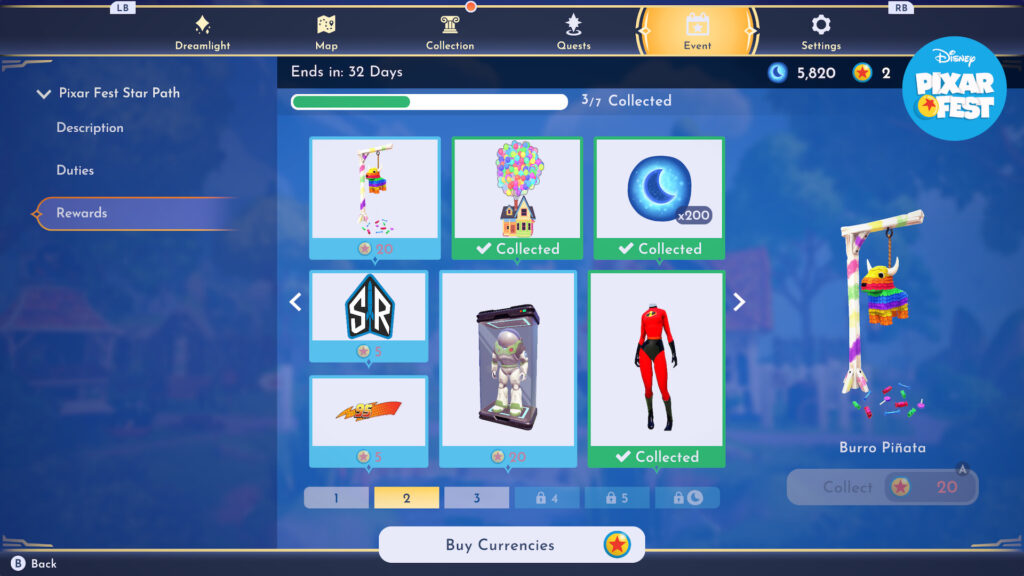 At the moment, there is a Pixar event with a type of 'battle pass' which can be fully unlocked by Moonstones, another currency. My heart dropped and I thought "Uh oh, here's the microtransactions!" However, the game actually gives you more than enough to unlock it, and I couldn't see a way to use real money to pay for them. Then, you need to do certain tasks to earn Pixar balls to buy items such as a Lightning McQueen bed and an Incredibles outfit. This is where I'm not sure whether these items will be returning, or whether if you really want them you have to buy the game now in early access. I guess we will have to see!
This isn't to say though that microtransactions will be introduced in the future. Since it's going to be free to play, it would not be surprising. People are keen to spend their money when Disney is involved, so I have no doubt that they'll be willing to buy extra cosmetics. Again, time will tell.
Your New Favourite Life Sim
Disney Dreamlight Valley has captured my heart and held it hostage, an addiction to the game swiftly taking shape! Having similar gameplay elements to other life sims is familiar and comforting. Combine this with your favourite Disney characters and an overall story, and this is what makes it stand out. It's undeniably a grind, and if you want coins you will have to spend time selling things.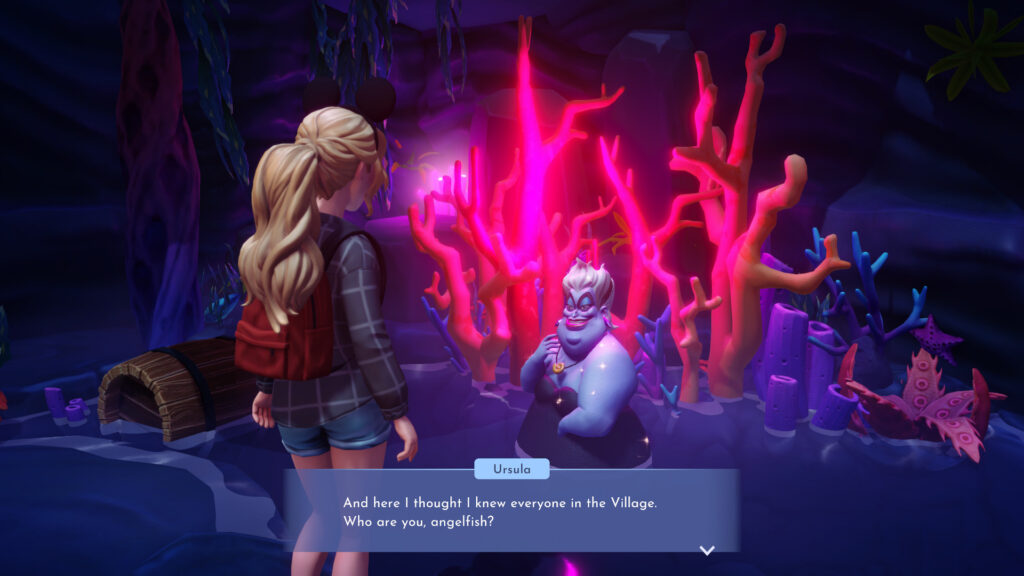 However there is so much to do. From doing the story quests and friendship quests, to unlocking new characters and areas. There are moments where you'll have to wait for plants to regrow, or progress further in the game to get a certain material. Nevertheless, it was rare for me to have nothing at all to do. Considering it's going to be a free to play game, I am very impressed! The amount of Disney content hopefully means content for years to come too (we're getting The Lion King and Toy Story this Autumn!). If you're in the market for a wholesome life sim, and happen to be a Disney fan too, I see no reason why you wouldn't enjoy Dreamlight Valley!
You can purchase Disney Dreamlight Valley from the Microsoft Store here.