Reading Time:
5
minutes
Fast Facts
Cleo – A Pirate's Tale
Developer: Christoph Schultz
Publisher: Christoph Schultz
Website: http://www.cleogame.com/
Genre(s): Adventure, Puzzle
Platform: Nintendo Switch (also available on PC)
Age Rating: PEGI 7
Release Date: 10/08/2022
Price: £11.29

A code was provided for review purposes
Sea How this Pirate Tale Fares
Cleo is a point-and-click adventure about a girl on an adventure throughout the ocean. This game featured a plethora of puzzles to solve, engaging character arcs, and vibrant locales to explore. Was the journey an experience I would recommend? Find out in this Rapid Review.
As I began my escapade I was introduced to Cleo, her family, and a bunch of others as I explored the sea. I was consistently impressed by the writing, and I liked how charismatic each of the characters was. The characters also resonated with me because the writer consistently paid homage to moments in the past. Even though the adventure itself was relatively short, I was constantly reminded of cinematic moments, important character statements, and the unique identities of those I got to meet. Cleo had some excellent characters and the writers leveraged them wonderfully to make each one impactful.
Moreover, Cleo herself goes on an adventure that is both cute and invigorating. From her unrelenting determination to her struggle with her parental figures, I was both excited and motivated to see her succeed. Even outside of the characters, the writing was funny, and I was engrossed all throughout. This carried over into the odd scenarios I encountered too. I liked seeing the different problems Cleo had to face, and thought the solutions were somehow impractical and so clever simultaneously.
Both the character design and overarching story were a lot of fun to explore. I enjoyed the lively characters and the modern tonality in the writing. Cleo's story was incredibly effective.
Puzzles for a Pirate
In addition to solid writing, I was pleasantly surprised by the puzzles. Having played a couple of point-and-click adventures for the site, I often find that the puzzles can be either hit or miss. Cleo however always seemed to strike the sweet spot. I liked how while there were plenty of inventive uses of items, it never took me an overwhelmingly long amount of time to figure them out. In fact, I found myself enjoying the way obscure objects were implemented. They often made the game more fun.
For example, I was impressed by the way the world features dynamically react to the puzzles. For example, during the day, in one section a fireplace is lit whereas, at night, the fireplace had been extinguished. Simple implementations such as these greatly enhanced my experience, as it felt like each puzzle was thought out specifically.
I also enjoyed how many assets were used in more than one scenario. While I sometimes would not need to reuse some things, I had a lot of fun figuring making a new cocktail in each level and figuring out how to make use of the information on items. Even the descriptions of items were helpful in solving puzzles. Each part of the many assets were used effectively and I enjoyed seeing how they implemented the puzzle designs.
Curated and Clearly Tested
Another thing I thoroughly enjoyed about Cleo is how difficulty is handled. Honestly, I found most of the puzzles to be understandable. However, there were certainly some that forced me to think for a while. In those cases, I liked how the developer included information in the description of items or made their animations expressive enough to represent a potential solution. The developer never seemed to want to confuse me, instead pushing me to find the solutions. I thought it was a great balance of difficulty.
I also greatly appreciated how the game seemed tailored for the Nintendo Switch. First, the game performed wonderfully. There were no bugs, errors, or glitches of any kind. However, more importantly, the minute-to-minute gameplay was fun, and the controls were cohesive. Instead of controlling a cursor, my main character was fully mobile. I could walk around stages to interact with things myself. When there is no mouse, this is by far a more enjoyable experience. The same thing went for inventory selection.
Instead of moving a cursor to select an item, it was as though the experience was tailored for use with a controller, and slight movements just selected the next item on the menu. These simple implementations made this point-and-click adventure substantially more engaging on the Nintendo Switch.
Sights and Sounds of the Sea
In addition to the lovely story and gameplay, I was further impressed by the details in the pixel art. As I mentioned before, the characters are expressive and detailed. I was always able to decipher what each asset was, so I never had to guess or wrongly assume what a key item was. Plus, the locations themselves were easy to traverse. It was always obvious what ground I should navigate and how I could progress.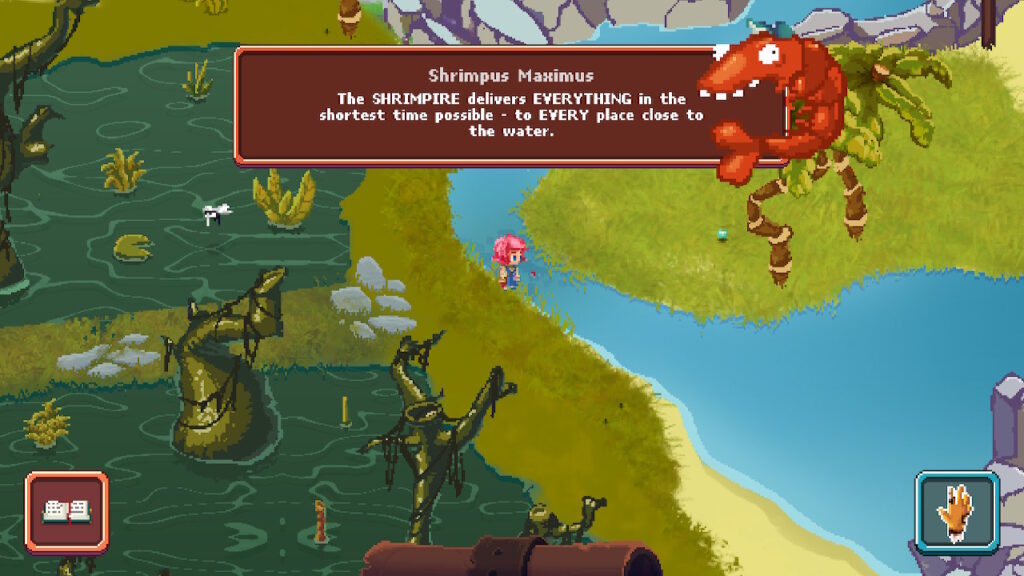 Moreover, the audio in Cleo was great too. First, the game is completely voice-acted. It makes the whole experience much more polished. I thought the voice lines were easy to understand and helped give each character just a bit more character. Further, the music in the game was atmospheric yet easily enhanced the title. Each location had its own soundtrack, so I got to experience a couple of different arrangements throughout my playthrough. The music and voice acting worked well to keep me engaged.
Wrapping Up
While I enjoyed Cleo a lot, I was disappointed that I was able to finish the game in just over three hours. Though the puzzles and dialogue are excellent, I was hoping for a bit more content. One of the reasons Cleo is so enjoyable is because the brief story was filled with puzzles that could be understood and tackled. It is short but engaging throughout.
Overall, Cleo is a great adventure to take. I liked meeting engaging characters, viewing the visually enticing world, and solving intense puzzles. The game was clearly handled with care and there is an immense amount of polish seen all throughout. I can easily recommend giving this game a shot.
Rapid Reviews Rating
4.5 out of 5
4.5
You can purchase Cleo – A Pirate's Tale on the Nintendo eShop here