BS11-PRO Office Chair Review
Reading Time:
3
minutes
Fast Facts
The Flexispot BS11-PRO Office Chair is a chair designed with ergonomics in mind, but is this chair a supportive addition to your home office? Find out in this Rapid Review.
Set-Up
The Flexispot BS11-PRO Office Chair arrived in a very large cardboard box displaying an illustration of the chair and its item number. Inside were several non-labelled cardboard boxes, each taped up and ranging in size. After taking out box after box like a game of pass-the-parcel, I discovered the instructions and building tool. The unboxing experience was certainly functional, but it missed the 'wow factor' of other chair manufacturers, such as Razer, where I could tell that each step of the unboxing was carefully designed.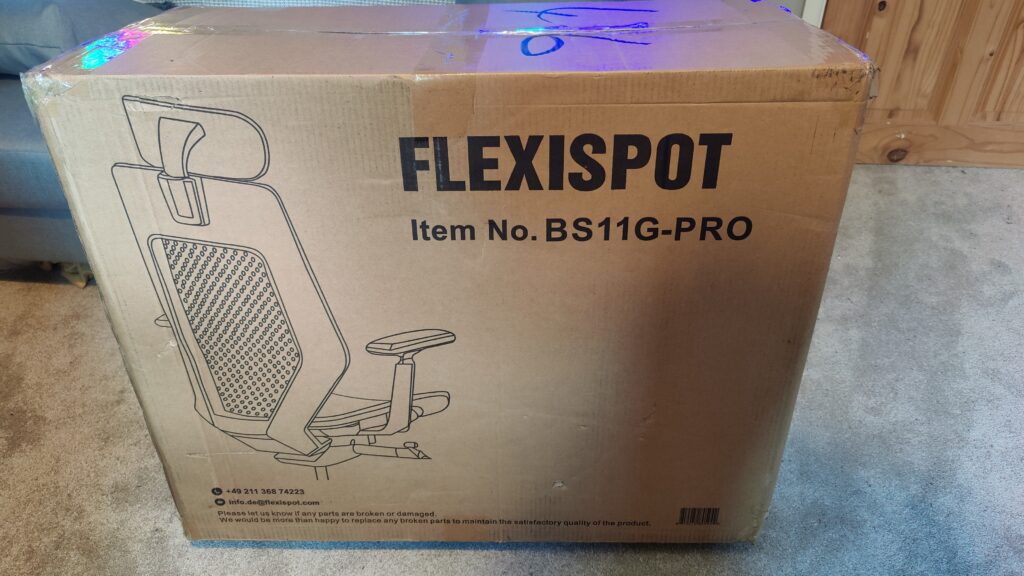 From start to finish, it took me about forty minutes to assemble the Flexispot BS11-PRO Office Chair. Whilst I mostly assembled it solo, I required an additional pair of hands to attach the backrest to the heavy metal centre.
Marvellous Mesh
Attaching all the pieces together, the final product looked fantastic. The grey mesh – also available in blue and black – was perfectly accented by the white frame of the chair. From behind, the straight, angular lines and matte white edges wouldn't look out of place in the home office of a Stormtrooper.
Taking a more detailed look into the chair, you'll notice a variety of holes on the back which are paired with the fabric mesh to encourage a comfortable and breathable seating experience. This mesh works slightly differently from a traditional office chair. Rather than offering a solid cushion, the mesh used for both the seat and back of the chair is a very thin material. This material responded to my body position by moulding to pressure, offering support to my back to ensure it was upright. If you've ever laid down on a trampoline, the Flexispot BS11-PRO Office Chair supports the body in a similar fashion.
Design Thoughts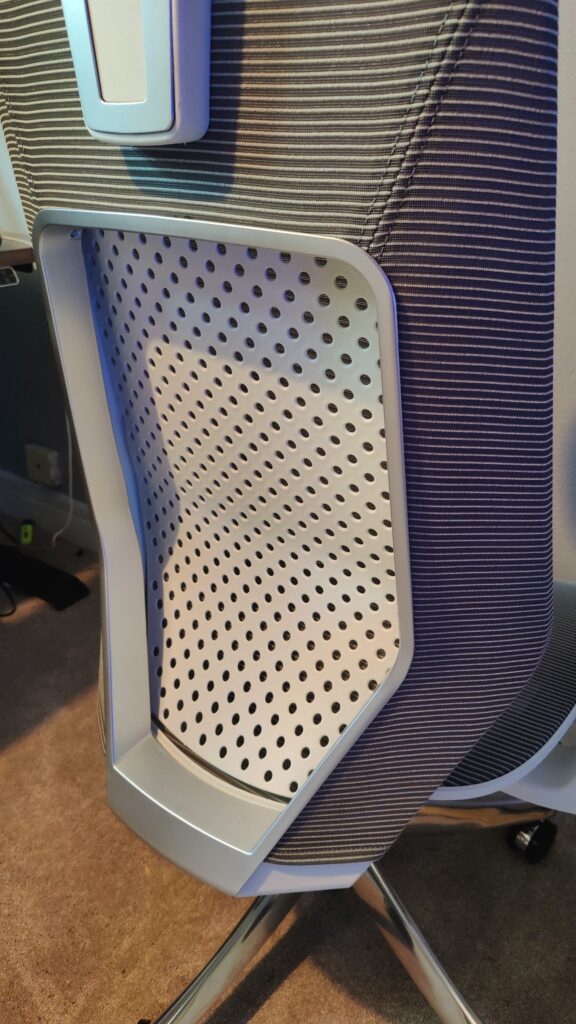 The mesh of the chair is coupled with various levers and toggles to ensure maximum comfort. Typical switches, such as height and backrest adjusters, are joined by configurable armrests. There's even a slider to move the chair seat back and forward. Indeed, it took me a while to discover this slider, and I originally found myself uncomfortable as the seat and back compacted into each other. This was no fault of the chair, so after a quick slide forward, the Flexispot BS11-PRO Office Chair became significantly more comfortable. Additionally, the mesh's adaptable nature meant that I could sit comfortably in my chair for multiple hours at work without being slouched.
Whilst the Flexispot BS11-PRO Office Chair is indeed comfortable, I did not find the experience revolutionary. Even when compared to a traditional cushioned office chair. Nevertheless, alongside the E7 standing desk I reviewed in March, this pairing helps me maintain a healthy work-from-home posture. Perhaps this chair has been designed to support long-term back health rather than short-term comfort.
Final Thoughts
In summary, the Flexispot BS11-PRO Office Chair is a well-designed chair with a stylish design. Additionally, the responsive mesh material encourages good posture. Although the chair looks great, the comfort level doesn't give the B11 PRO enough value for its £429.99 price tag.
You can purchase the B11 Pro on the FlexiSpot store with a current sale price of £359.99
Rapid Reviews Rating


3.5 out of 5