4K
,
4K HDR
,
AAA
,
Accessories
,
Android
,
Atmos
,
Audio
,
Dolby Atmos
,
Dolby Vision
,
E3
,
Google
,
Hardware Reviews
,
New
,
Product Reviews
,
Rapid Reviews
,
Reviews
,
Sound
,
Speaker
,
Streaming
,
Tech
,
Tech Review
XGIMI Halo+ Projector Review
Reading Time:
4
minutes
Fast Facts
XGIMI Halo+ 1080p Portable Projector
Manufacturer: XGIMI
Resolution: 1080p (Capable of streaming 4K content)
Brightness: 900 ANSI Lumens
Audio: 2 x 5w Harmon Kardon Speakers
Connectivity: Bluetooth 5.0, Wi-Fi
Battery Life: 2.5hrs Portable or Mains Powered
Operating System: Android 10.0
Price: £749

A unit was provided for review purposes
Endless Versatility
Having a projector has always been a dream of mine, yet the practicality of having one as a daily driver has always been a bit of a blocker. I mean unless you have a giant 10ft projector screen it can't work.. right?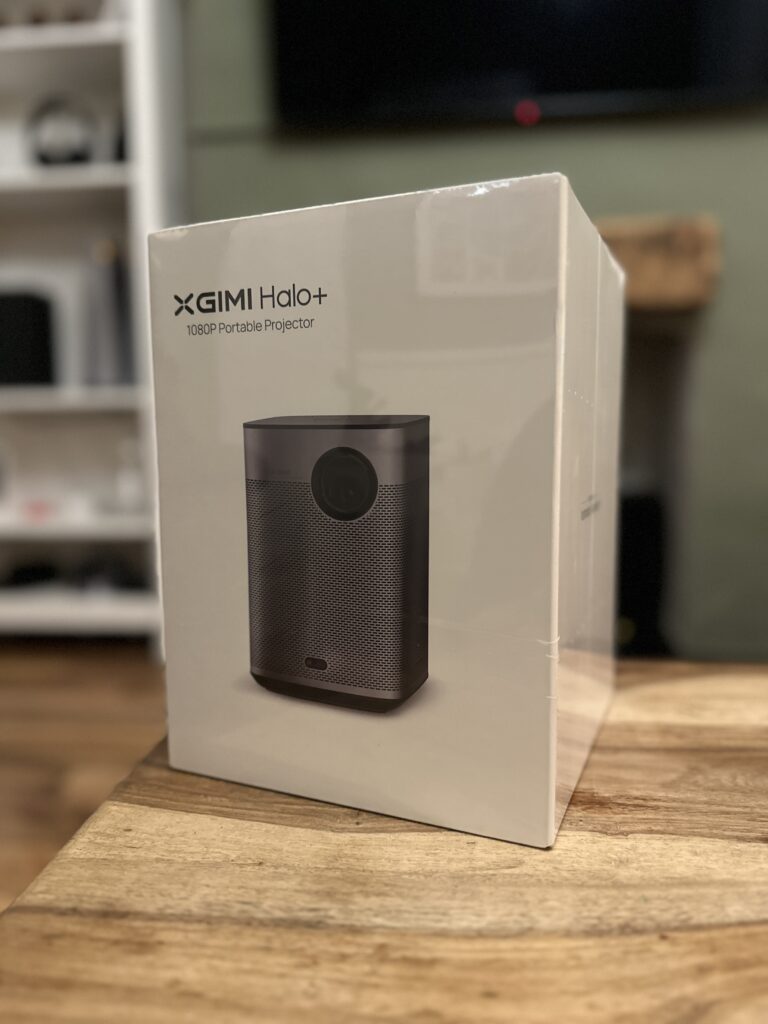 Well that's where XGIMI are looking to seize the opportunity to prove you wrong. With the XGIMI Halo+ Portable Projector it feels like a board room brainstorming session. Where one team listed all the reasons why consumers don't typically buy projectors for home use and the other had the mission of overcoming every single obstacle. The end product being this Swiss Army knife of media consuming technology.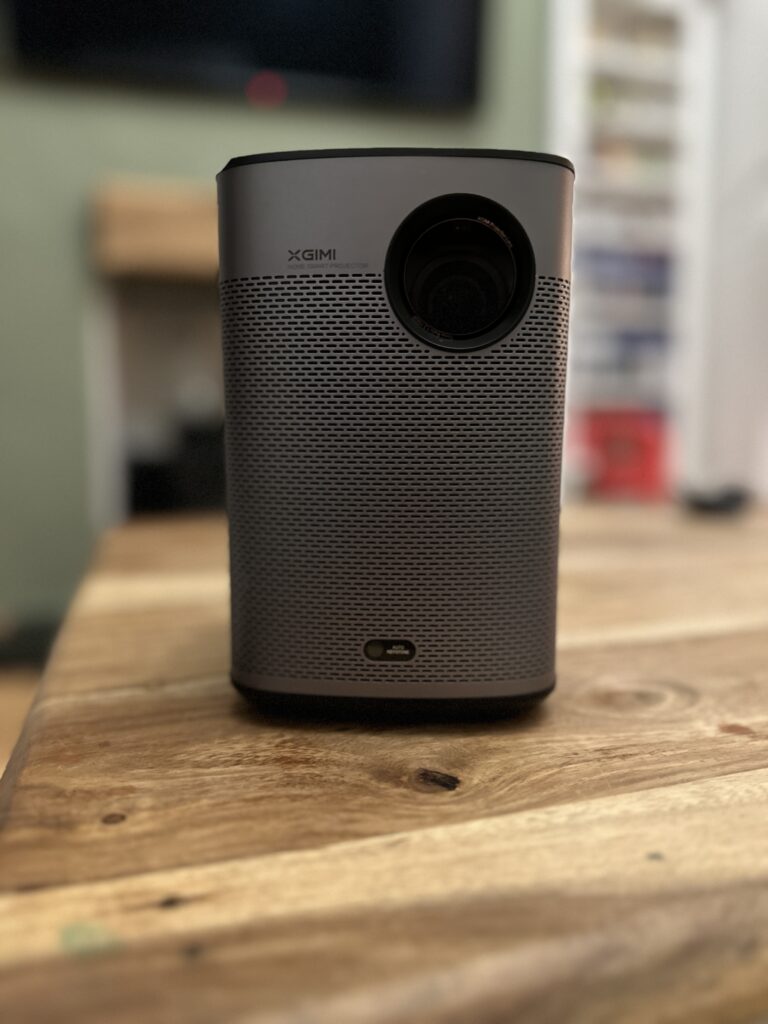 From the very moment you unbox the XGIMI Halo+ it feels incredibly sturdy and has a really robust design. The outer shell of the projector is textured steel, with the lens on the front set back into the unit enough to avoid any knocks or scrapes through typical use. It feels like a lens protector is missing but I can see this was probably considered and overcome with the design decision.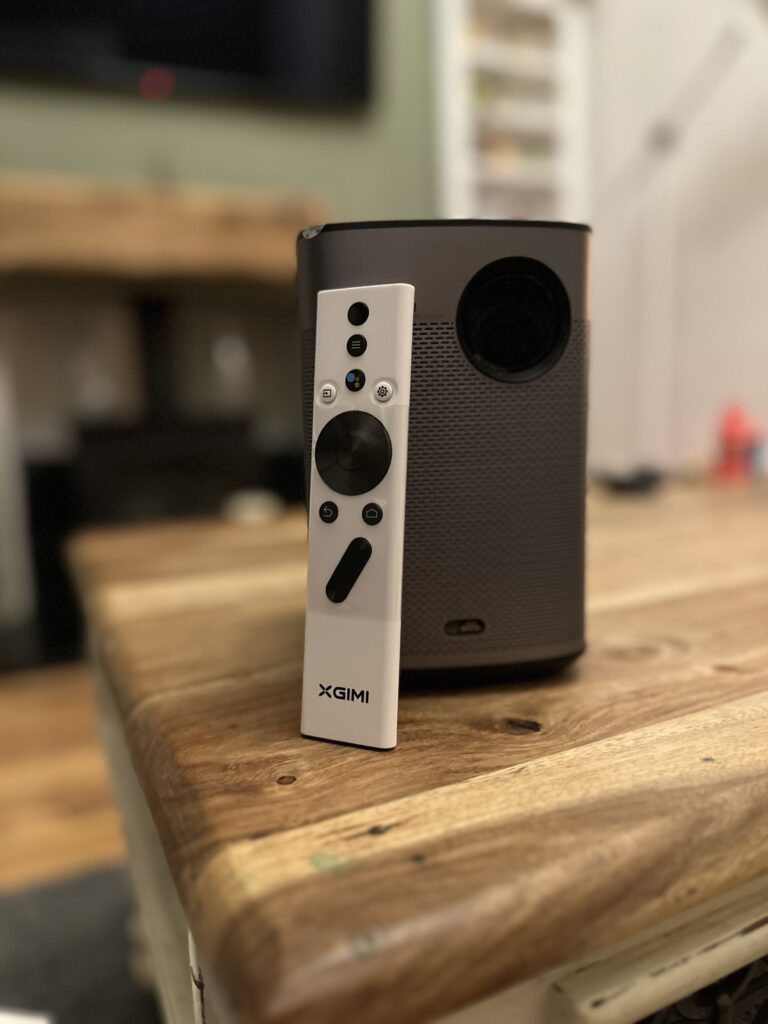 The contents of the box are a simple set of goodies, the Projector itself, a snazzy remote (minus the batteries), a power cable and an instruction manual thicker than a novel. No frills here. I decided to first try out the projector in the bedroom. We have a very large lightly painted wall that's around 10ft x 8ft so I deemed this an ample size to start the initial setup.
Up And Running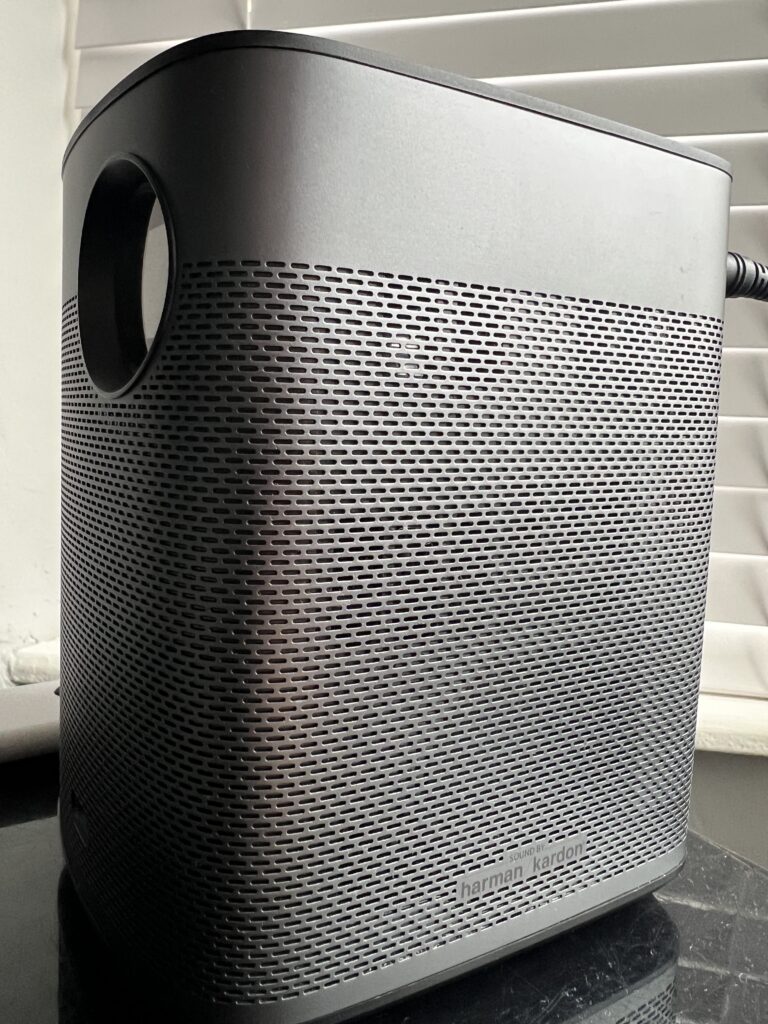 Perched on a side table, and with the power cable inserted, I booted the projector up for the first time. There were two stand out features that blew me away! Firstly the fans contained within the projector were unbelievably quiet and gently hummed throughout its entire use. Secondly, the projector automatically keystone calibrated the environment. It scanned the wall space it was being directed at, and perfectly mapped a screen against the wall. It filled the entire space, and past the initial android setup of feeding it my google account details, doing system updates and giving Google permission to harvest all of my personal data we were in.
I was absolutely in awe of the brightness and resolution this tiny box was pushing out. At a native 1080p it was crisp and sharp no matter what we threw at it, and throw we did. We watched a host of Christmas movies (yes this review is 3 months in the making!), Disney galore, Bluey episodes with my daughter, Netflix binge sessions and even tried out some Fortnite gaming sessions with a HDMI connection straight from the Xbox.
Atmos-pheric
The XGIMI Halo+ did not miss a beat. It ran cool even after hours of use, and even using for gaming the latency was perfectly acceptable throughout. Unbelievably, it isn't even the visuals that stand out as the best feature for the Halo+, in fact far from it. It's the incredible sound system integrated into this tiny little package that packed a mighty punch. The Halo+ houses 2 x 5w Harmon Kardon speakers, that are tuned to support Dolby Atmos.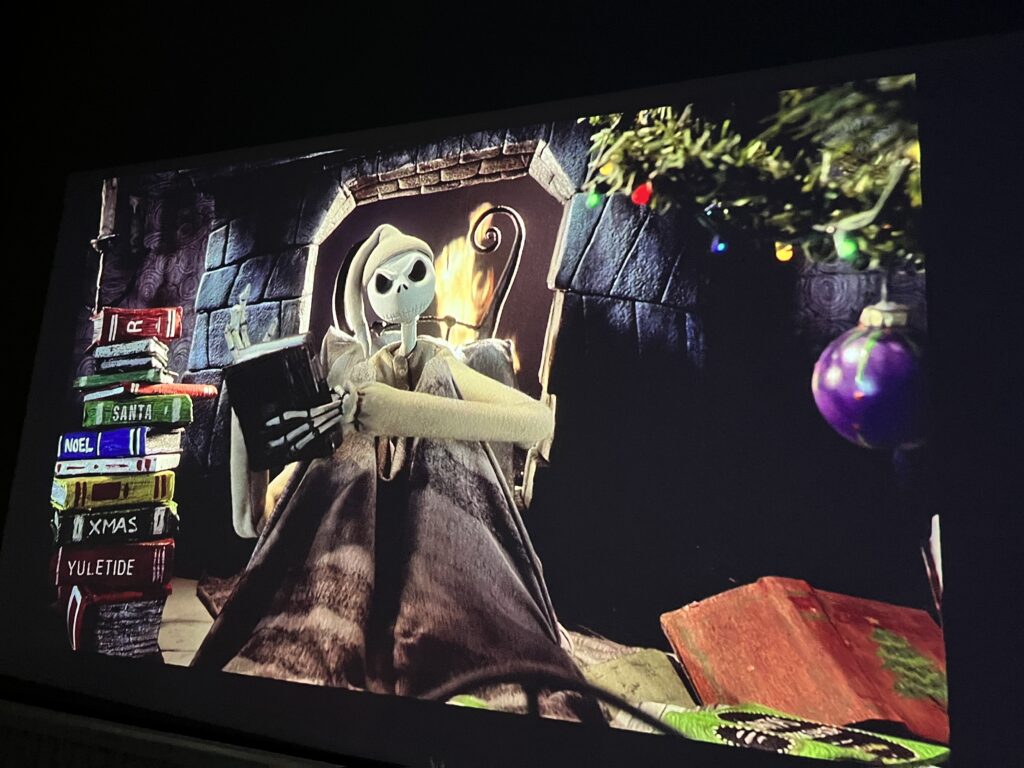 This create a level of surround sound stereo separation that throws voices and sounds around the room like a soundbar 20 times its size. It feels like witchcraft and for anyone that may have felt the need to pair up a bluetooth speaker to see if you can improve the sound. We went ahead and did just that and the outcome was a far better experience with the integrated Harmon Kardon speakers contained within.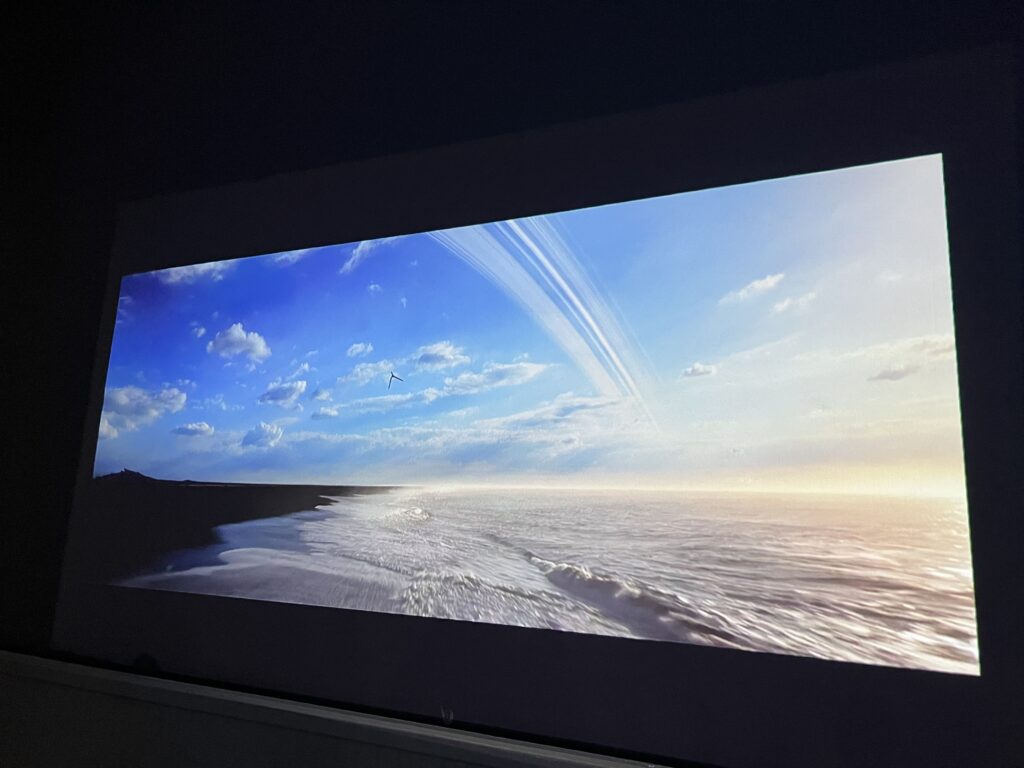 Field Testing
One thing that I hadn't tested yet was running on battery power. With a touted 2.5 hours of battery life when not plugged in, I decided to stress test this with a weekend away. We spent the early part of February in a hotel for a couple of days. With the tiny TV that's often on offer and the limited options of Bargain Hunt and Homes Under The Hammer to watch, we upgraded. Beamed up on our hotel room wall, we managed to watch the entire 2hr 39min runtime of Baz Luhrmann's Elvis at 50% volume with 11% battery life to spare. Great film and even greater experience using the XGIMI Halo+.
It's impossible not to sing the praises of this marvellous device. The price may be out of reach for those that see this as a hobbyist device. However if you consider what this clever little projector can replace in your household, whether that's a sound system to stream your music, a TV to stream your shows or a monitor to play your games. It's a serious piece of kit, one that will offer you hours and hours of enjoyment!
Rapid Reviews Rating
5 out of 5
5
You can purchase the XGIMI Halo+ Portable Projector here