Action
,
Family
,
Game
,
Gaming
,
Indie
,
Multiplayer
,
Nintendo
,
Nintendo Switch
,
Party
,
Rapid Reviews
,
Reviews
,
Simulation
Very Very Valet
Reading Time:
5
minutes
Fast Facts
Very Very Valet

Developer: Toyful
Publisher: Toyful
Website: https://www.toyfulgames.com/very-very-valet
Genre(s): Indie, Simulation, Action, Party, Multiplayer
Platform: Nintendo Switch
Age Rating: PEGI 3
Release Date: 25/05/2021
Price: £19.99 Digital / £29.99 Physical

A physical copy was reviewed
Dream Parking Lot!
Very very valet is unique blend of quick decision making and even quicker reflexes as you strive to deliver parked cars to a parking lot and then back to your customers again once they decide to leave – as quickly and as efficiently as possible in this mad-cap parking experience.
Customers don't enjoy waiting and depending on your chosen difficulty each customer vehicle has a waiting bar that appears underneath them when their owners arrive and when they're ready to leave. Going from green to red depending on how long you're taking to pick their vehicles up and drive them to the drop-off-spot on the stage.
Leaving parked cars too long or not delivering them will have a penalty which sees your car being whisked away by unknown forces which will make you lose one of the precious stars that you'll earn at the end of each stage. Stars unlock more levels so it's important that you try to deliver all the cars to their destinations on time.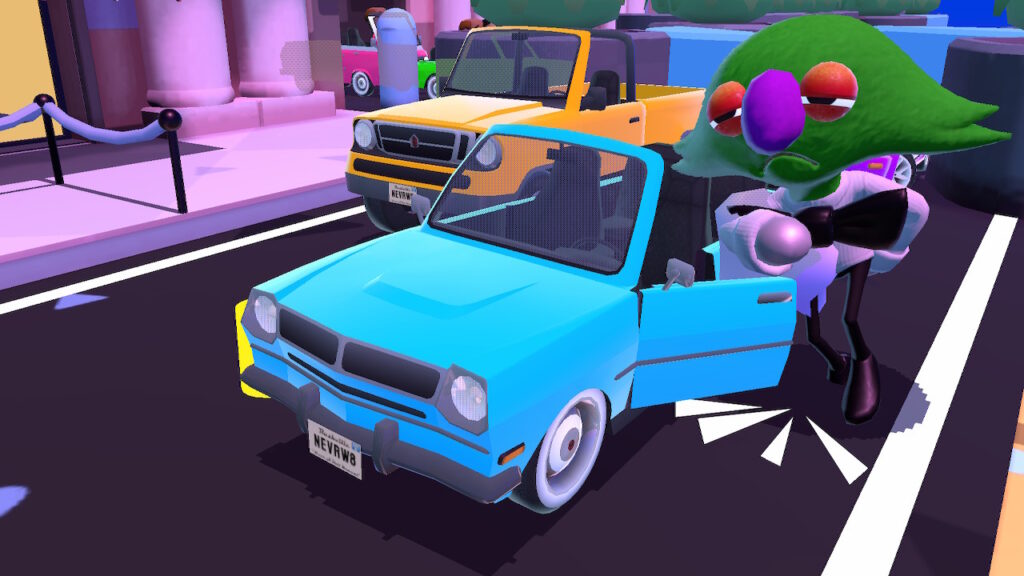 Collect, Park, Deliver!
Each of the twenty stages has many different layouts and terrain. Some will have rather quirky mechanisms at play, but all will involve the following three steps: collect, park, deliver!
As soon as the stage begins you need to collect one of the many vehicles types that will appear. There are multiple points of entry here and vehicles can appear anywhere so be aware of your surroundings. Running toward a vehicle with the left analogue stick and pressing the A button will allow you enter the vehicle while using left stick you can drive, reverse, brake all with the same stick. This can be tricky at first, but once you've got the hang of it, it'll be second nature.
Next, you'll need drive it to a suitable area remembering that while doing this more cars will appear. So you need to park your current vehicle quickly and return to others before customers get angry. You can also shove cars about with the Y button and jump with the B button, allowing you get where you need to go quickly!
But be aware that as soon as a customer wants to leave, their current car will become highlighted. You'll need get their vehicle to a yellow arrow, i.e. the check-out spot, as quickly as possible. Some stages have short-cuts like portals, jump pads or ramps. There are even less useful things like hazards that slow you down such as planes leaving a run-way or moving platforms that can knock or even throw your vehicles all over the place, making some deliveries very challenging indeed.
Colour Bubbles!
To give you a little helping hand, when you meet a new customer they will mention what they're doing via a speech bubble. Depending on its colour you'll be able to tell if they're taking their time, which is normally displayed by a green bubble, or if they're in a rush which will be a red bubble. This can help a little in deciding where you want to park their car, closer to the check-out spot or further away if they're in no rush to leave.
Solo, Multiplayer Madness!
Very Very Valet can be played in solo mode which can make some of the later stages a lot more challenging as technically you need to manage more cars and space as well as car timers – meaning you're going to need to bring your A-game if want keep your 3 star ratings. However, I can report that I played game through to the end in solo mode and while it can be challenging it is still fun.

Nevertheless, Very Very Valet shines in multiplayer and is absolutely one of the most funny, crazy co-op experiences I've played on the Nintendo switch. When you have 4 players (locally) all trying to park and deliver cars it becomes a complete and utter madness of flying metal, carnage. This is definitely a game for the family or people like myself who are looking for a unique experience, which Very Very Valet delivers on!
Bonus Stages, Characters, Unlocks
As you progress through stages you'll come across a few that focus on either knocking over bowling pins with a car or even garbage collecting… through a series of waves against the clock. These are fun distractions but I just wish there where more of them. There also a few different characters to play that remind me of the muppets and each have their own colour palettes to pick from.

There's also one extra character to unlock that's only available in the physical edition. He comes in the form of a DLC code that you enter into the eShop to unlock. And at this time of writing I am unaware if he will ever be available in the digital version.

Apart from unlocking stages there's one final unlockable character available after completing all the stages. Also I'll point out that apart from standard gold stars you also unlock red stars if you play on the highest difficulty. Even though I've got a lot red stars I am still unsure if they actually unlock anything, it may be purely to brag to your friends and family that you've completed that stage in the expert mode…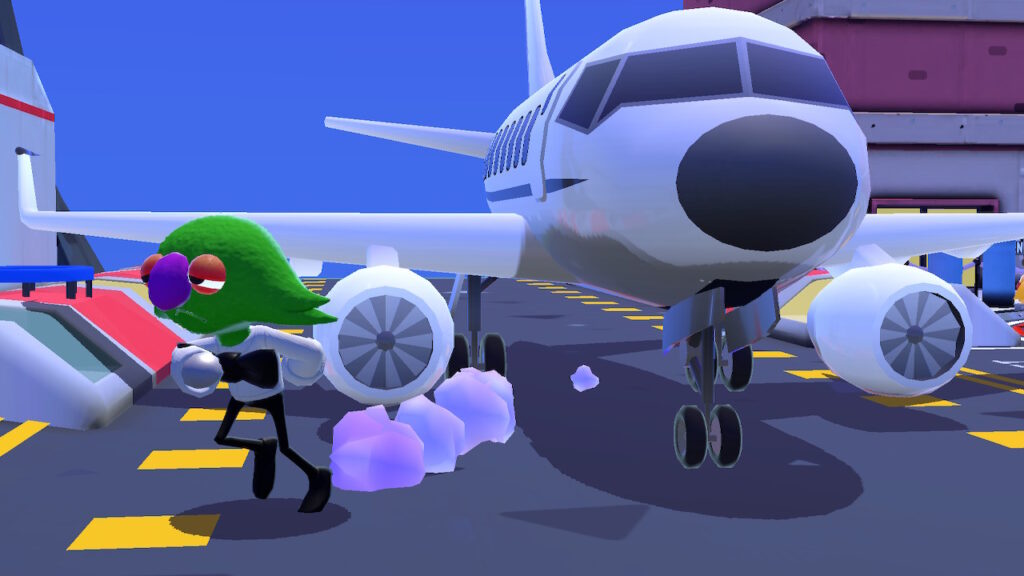 Final Thoughts
Looking for a co-op experience to play with the family and friends? Look no further than Very Very Valet! Even solo mode is fun and proves some challenge for those who seek it. My only issue is that I wish there were more stages available as unlocking them is pretty easy, you can see everything within a 3-4 hour mark. However, Very Very Valet is fun to replay locally and I am invested in acquiring all those red stars and taking more hilarious photos.
Who thought parking cars could be this much fun?!
Rapid Reviews Rating
4.5 out of 5
4.5
You can purchase Very Very Valet from the Nintendo eShop here.