Game
,
Gaming
,
Music
,
New Release
,
Playstation
,
PlayStation 4
,
PlayStation 5
,
PS VR
,
PS4
,
PS5
,
Rapid Reviews
,
Reviews
,
Rhythm
Synth Riders PSVR Review
Reading Time:
4
minutes
Fast Facts
Synth Riders

Developer: KLUGE STRATEGIC, INC.
Publisher: KLUGE STRATEGIC, INC.
Website: https://synthridersvr.com/
Genre(s): VR, Rhythm, Beat Matching
Platform: PSVR (also available on PC and Oculus Quest)
Age Rating: PEGI 12
Release Date: 10/08/2021
Price: £19.99 (standard) – £44.99 (all-inclusive); the full music edition was reviewed

A code was provided for review purposes
Drift to the Beat
Everyone knows how much I love PSVR. It may be a bit outdated now but it is still a very enjoyable experience. The Move controllers are now three generations old but still, it was a great, affordable entry point to quality VR gaming. I used to write a monthly PSVR column and I really miss it. Anyway, enough of the pointless rambling, let's talk about my Synth Riders PSVR review.
One of the genres I really enjoy in VR is rhythm games. There is something about getting sweaty and throwing yourself around like a loony. Beat Saber is one of my favourite PSVR titles and quite rightly, Synth Riders takes a massive amount of inspiration from everyone's favourite beat matching slice 'em up. I do think Synth Riders is easier and for my other half especially, was more enjoyable on that front. Personally, while I enjoyed the game it did not make me feel as badass as Beat Saber does.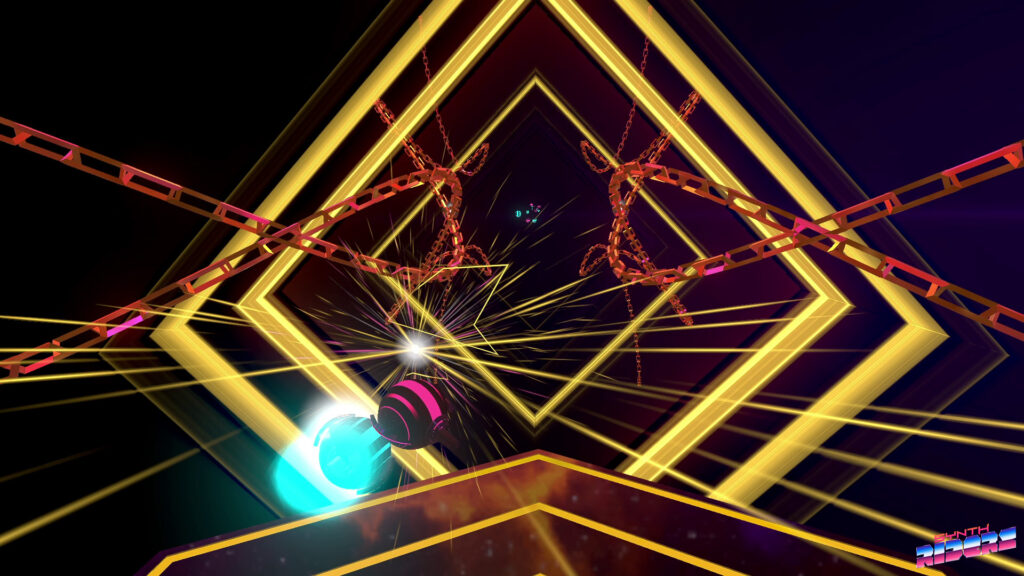 Settings for Everyone
So, in Synth Riders, you can play solo or in party mode. Party mode just seems to be a single-player, pass-the-headset style mode with local leaderboards. After you have picked your mode, you pick your song and its varying options and you're away. Even the song and option selection screen is an exact replica of Beat Saber's but again, why mess with greatness?
Your options, both in difficulty and gameplay are numerous. This makes sure that anyone who plays Synth Riders can find their 'sweet spot' where they feel comfortable. Everyone in my house from me, being a VR and rhythm game veteran, to my kids who play now and again can have fun and enjoy the experience that Synth Riders offers. You can make it easier and work your way up to your required experience difficulty, which is marvellous.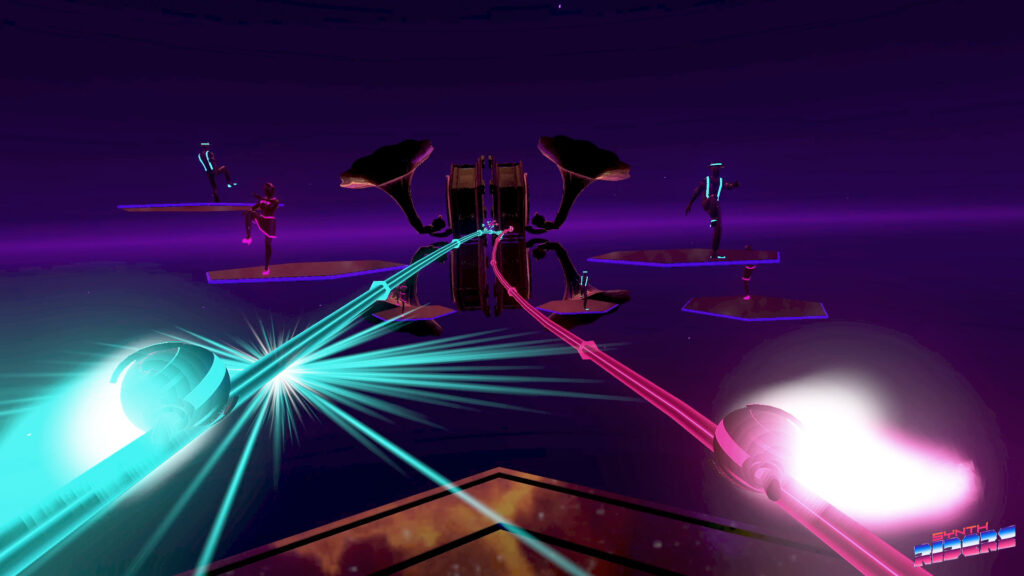 When you get into the music track you have picked the gameplay is relatively simple. Your hands are transformed into brightly coloured orbs and you have to place them, in time to the music to match incoming screen-based prompts. These prompts range from single notes to rails you have to 'grind' down, golden notes you have to use both hands together for and green notes you must hit in a row with the same hand. There are also obstacles you have to duck under and lean around thrown into the mix to keep you on your toes.
Euphoric Dance Energy
When the difficulty is just right and when you get into the music tracks, Synth Riders can feel great. My whole household had a lot of fun playing this technological rhythm game. We really liked the mix of music on offer too from EDM dance music and rock to old school electro-swing. There is a style of music and pacing to match any player and I really enjoyed trying different genres and musical styles.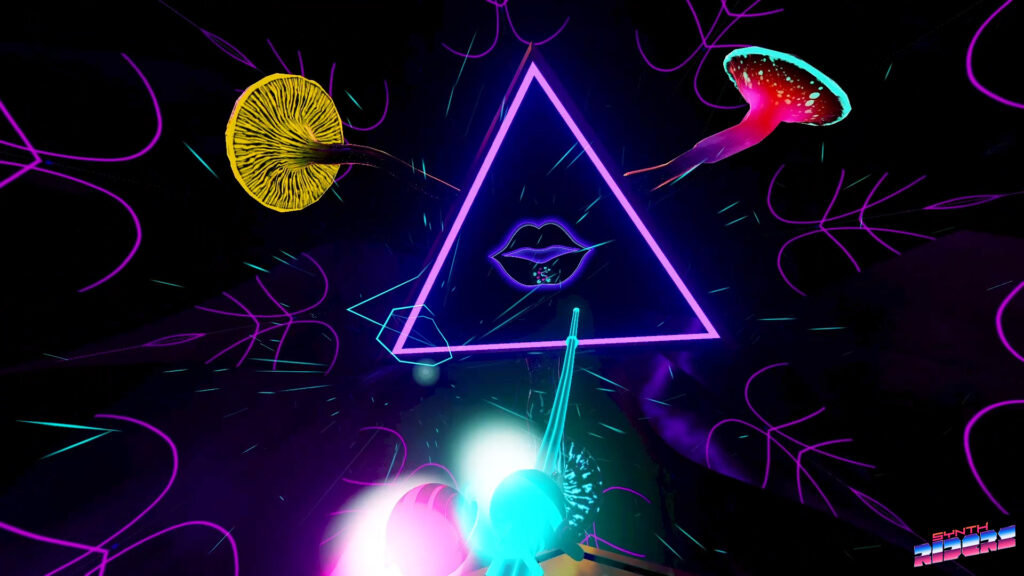 On the graphical side of things, I think Synth Riders is a very attractive title. Everything is crisp, clear and even on the low-resolution PSVR headset, it looks extremely clean. I have previously mentioned the music but games like this live and die by their soundtrack. Synth Riders has a superb range of music, genres and tracks to bop along to and it should be applauded for including some types of music previously unseen in games of this ilk.
The issue I have with Synth Riders and it is only a small one is that the matching of the beats and completing epic note sequences does not feel as good as Beat Saber. I know it is perhaps unfair to compare them but they are so similar it is hard not to. Also, I don't get into the music as much and sweat it out as much in this game. Even when I turned on 90-degree turning, which did help a bit, there is something not quite as satisfying with just hitting notes with your hands stationary as there is in cutting them with a lightsaber. That is not to say that Synth Riders is bad, it is anything but.
An Easy Going Rhythm Game For Everyone
Synth Riders is a great rhythm game. It may not, in my opinion, hit the heights of Beat Saber but it is very entertaining nonetheless. In fact, a few people in my house preferred it. It's easier to approach, more chilled and sits better with virtual reality users of all ages. Synth Rider is a great introduction to the genre, has a great soundtrack and at times, feels euphoric. This is a game I can happily recommend, for all ages and VR experience levels.
Rapid Reviews Rating
4 out of 5
4
If you want to buy Synth Riders on the PlayStation store you can here.