Action
,
Arcade
,
Classic
,
Game
,
Gaming
,
Multiplayer
,
Nintendo Switch
,
Party
,
Rapid Reviews
,
Retro
,
Reviews
Space Invaders Invincible Collection Review
Reading Time:
6
minutes
Fast Facts
Nice Planet, We'll Take It
1978 was a good year for arcades and for anyone that could find room in their business for a Space Invaders machine. The simple machine was an immediate hit and people couldn't shovel their quarters, ten pence pieces (and every other currency) into them fast enough; creating a global phenomenon that kick started the dominance of video games over the all-conquering pinball tables that now found themselves playing catch up forevermore. The heartbeat-like thud of the invaders as they slowly but inexorably inched down the screen was hypnotic. The joy of wiping the last of a bunch from the playing area unmatched. What I'm saying, is that Space Invaders deserves every plaudit ever heaped on it and I was one of those caught in the game and loving every minute.
In Space, No One Can Hear You Pew Pew Pew
Space Invaders Invincible Collection is a pricey beast at £54.99 in the UK. It comes roughly a year and a half after Space Invaders Forever, still available at £24.99. Though it has to be said that the new release packs significantly more punch and if you thought £24.99 was justifiable for three games, then you'll probably agree that the extra thirty quid for eleven games may not be as gasp inducing as it first appears. Well, it did to me anyway, as it's Space Invaders! What's that you say? It includes the often forgotten classic Lunar Rescue as well? Ah… to hell with it – take my money!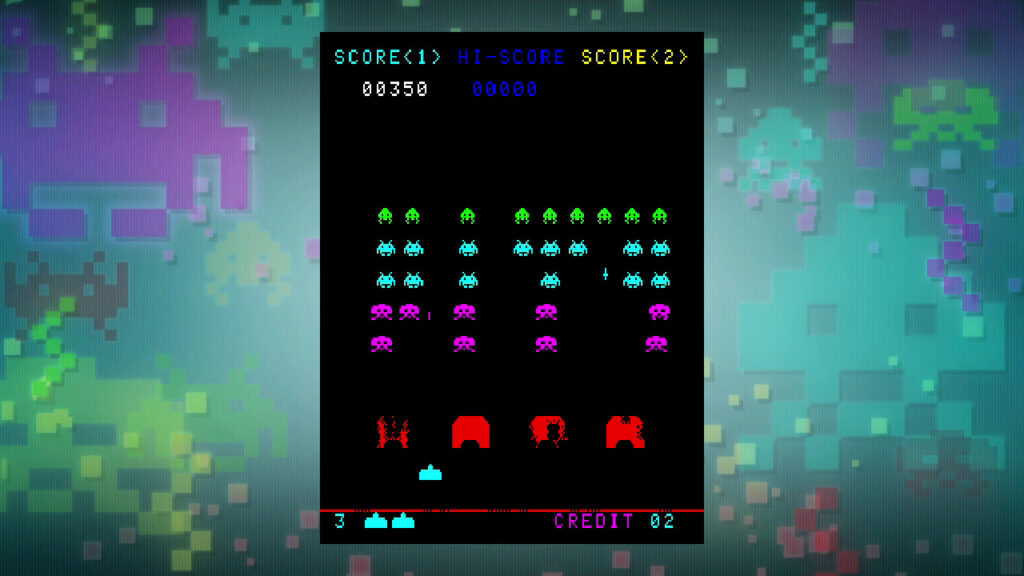 The Only Good Bug Is a Dead Bug
At first glance, the inclusion of eleven games is a nice prospect, but you have to take into consideration that some of them are essentially the same game with tweaks. For example, the first two games are the original Space Invaders and the same game but in colour. You then get Space Invaders Part II, which added scoreboards and invaders that might split in two.
What this version adds though, is a single Challenge Mode for each game. So, for the original game you have to clear the first wave in under ninety seconds, in the colour version you have three minutes to get as high a score as possible. In Part II you have to finish the first wave with a rainbow effect trigger, done by leaving a ten point invader until last. I have to say, this really appealed to me, and I found myself replaying the challenges trying to creep up the leader board. Badly.
Roughnecks… Rico's Roughnecks
The fourth entry here is one of my all time favourite classic arcade games, Lunar Rescue. A distant cousin of Space Invaders, it's an inventive and original game where you first have to manoeuvre a shuttle from the top to the bottom of the screen to pick up one of a number of stranded astronauts, taking care to avoid the asteroids zipping across the playing area. Once you pick up an astronaut, the asteroids turn into alien ships and you have to return to your mothership whilst avoiding their fire and also blasting as many as you can. Like Space Invaders, it gets progressively harder and is a tricky one to master but lots of fun, with a nice Challenge Mode that sees you trying to get 1500 points as quickly as possible.
The last classic game is 1980's Space Cyclone, an odd mix of Space Invaders and Galaxian that is very tricky and, if I'm honest, the weakest game here. Invaders perch on rocks, drifting left and right, and will occasionally dive down in an infuriatingly erratic pattern, most often to destroy anyone daft enough to try and zap them. Let enough down and they transform into a giant boss ship which is also tough to beat. This is the one I'll be coming back to the least, but it was nice to see something new to me.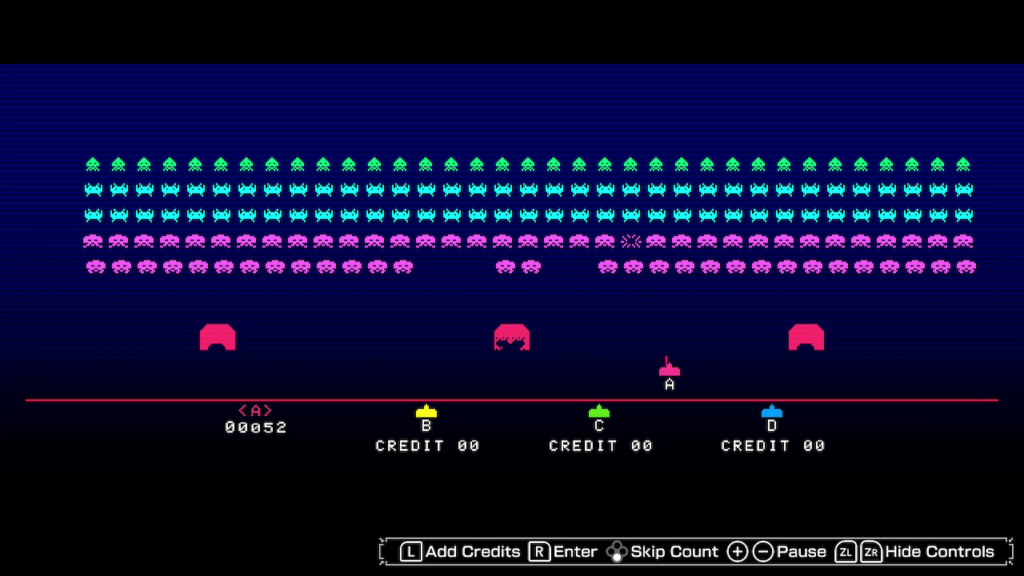 Show Me Everything
The next two games again are very similar to each other. Space Invaders 91 is a cool update I remember loving in the arcade. It features updated backgrounds and graphics plus different stages, and the ever popular bonus level where you stop spaceships abducting cows. That bonus level forms the Challenge Mode in Majestic Twelve, the companion game that allows you to choose from a branching path of stages, but is otherwise the same game. Interestingly, Space Invaders 91 does not have its own Challenge Mode. They're two versions of a cracking Space Invaders variation though, released on home consoles as Super Space Invaders.
Do You Want To Know More?
Space Invaders DX is next, an early 90s remake of the original game that added a pretty cool split-screen two-player battle, where doing well messes up your opponent. In addition, there's a 'parody' mode, where the characters are replaced by other Taito properties, and instead of the usual ship you can play as the kiwi from The New Zealand Story. It doesn't add anything else, but it's a fun diversion.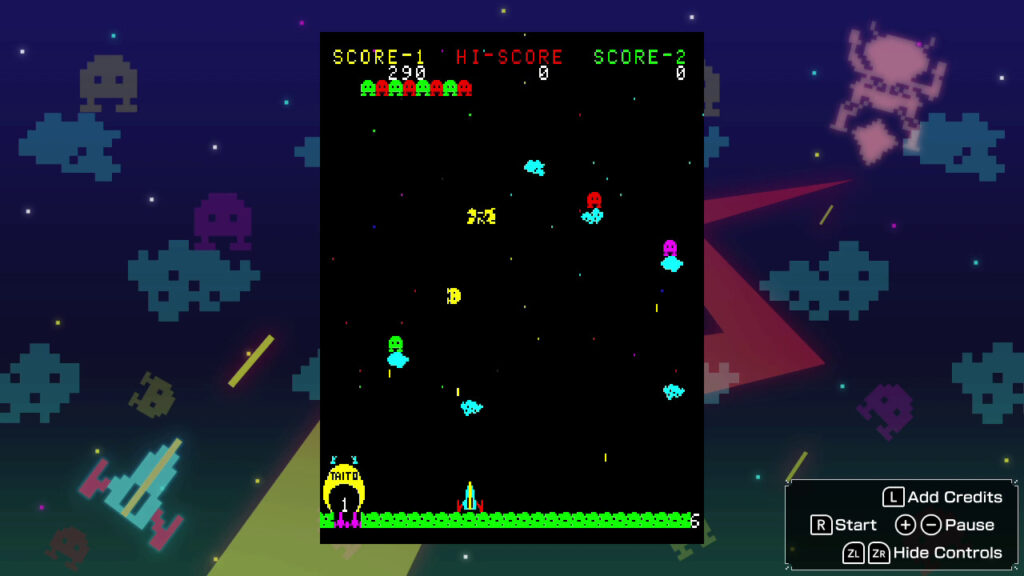 There's a bit of a time jump to Space Invaders Extreme, which is a quite bonkers version of Space Invaders mixed with the colourful backing visuals and the sound of something like Lumines. It's a cracking game that will have you wondering if someone's slipped something into your coffee, with power ups and boss battles seemingly lobbed in at random. My very first play lasted twenty minutes or so, and this one is designed to be easy to get into, but it's got a lot to get through before you reach the end. Luckily, there are continues that reset your score, but as ever the fun is in seeing how far you can get on one credit. On this one, turning the sound right up makes it that much better to play.
Game Over, Man!
Finally, we have Space Invaders Gigamax from a few years ago, which was just used at special events. It uses the full width of the screen and you can have four players at the same time, though the original had up to ten. Sadly, I couldn't play this with anyone else, but I imagine it's a great laugh.
Each game in this collection is supported by an online high score system, and there's also a ranking for the Challenge Modes if applicable. Graphically it's Space Invaders, so no challenge for the Switch. Only Extreme asks anything of the sound chip, and even then nothing that isn't easily handled.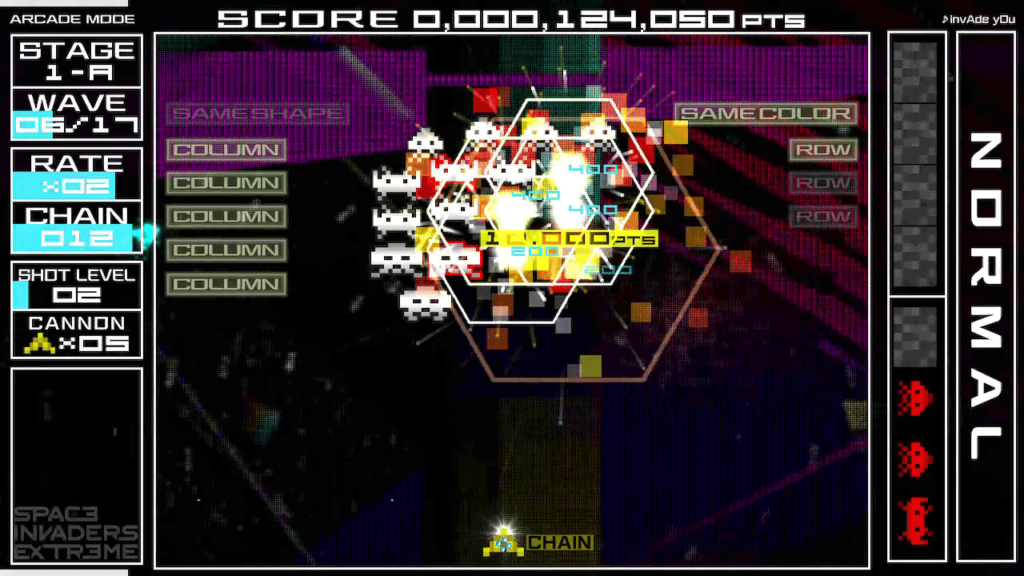 Conclusion
Space Invaders Invincible Collection is more than enough to scratch any retro gamers itch, and I really enjoyed revisiting some of the versions here. The online high scores are a perfect addition to aid replayability, even of the oldest version. The Challenge Modes are almost all a very welcome bonus as well. Whilst I understand that the price may deter some, this is still an excellent collection and well worth keeping an eye out for in future sales if you can't bring yourself to fork out for it now.
Rapid Reviews Rating
4 out of 5
4
You can buy Space Invaders Invincible Collection in the Nintendo eShop here.