Reading Time:
6
minutes
Key Specs
| | |
| --- | --- |
| Dimensions | Height: 160.46mm Width: 74.5mm Thickness: 8.29mm Weight: 178.8g |
| Display | 6.43" AMOLED DotDisplay |
| Processor | MediaTek Helio G95 |
| Rear Camera | 64MP wide-angle camera, 8MP ultra-wide angle camera, 2MP macro camera, 2MP depth sensor |
| Front Camera | 13MP front camera |
| Audio | Dual speakers, 3.5mm headphone jack, Hi-Res Audio certification |
| Security | Arc side fingerprint sensor, AI face unlock |
| Operating System | MIUI 12.5 based on Android 11 |
| Storage & RAM | 6GB+64GB|6GB+128GB|8GB+128GB |
Redmi to Go!
After Mike reviewed the Redmi Note 10 5G, we were lucky enough to have the opportunity to review another product in the Redmi Note 10 Series line. This time, it's the Redmi Note 10S in the limelight. Though similarly priced, this pair do have differentiating features. So, why should you choose, or avoid, the 10S? Find out in this Rapid Review.
The Redmi Note 10S comes in Pebble White, Ocean Blue and Onyx Grey (which is what I was sent). It's not my first choice if I was personally going to buy the phone (blue is my favourite colour!) but regardless, it's sleek and professional. Its weight is ideal, feeling solid in my hand but not too heavy, though not light enough to fumble and drop it. This is ideal for using the fingerprint sensor on the side, giving you a firm grip. The curved back (though as Mike said it does feel a little plasticky) is nice to hold in your palm. The tapered edges and curved corners complete the look, making it a lot softer on the eyes. It's nothing too out there or exciting, but it all depends on where your priorities lie!
Blow Mi Away
Now more than ever a phone's display is a make or break factor. As we all use our phones for watching videos or Netflix, taking photos and even gaming, we want to be viewing them in high quality. Thankfully, the Redmi Note 10S' 6.43" AMOLED DotDisplay is crisp and bright, bringing out vibrant colours. I put this to the test by watching some 4K videos on YouTube, and the phone had no problem with accentuating the high quality. The screenshots obviously can't do it justice but hopefully give you some examples.
A higher brightness can drain the battery quicker as with all phones, and you may be concerned about eye strain. Not to worry though, as you can turn on dark mode or even schedule it for the times your eyes need resting. There's also a reading mode, adjusting to warmer colours and textures to reduce either blue light or eye strain. Anti-flicker mode also reduces flickering in low light conditions.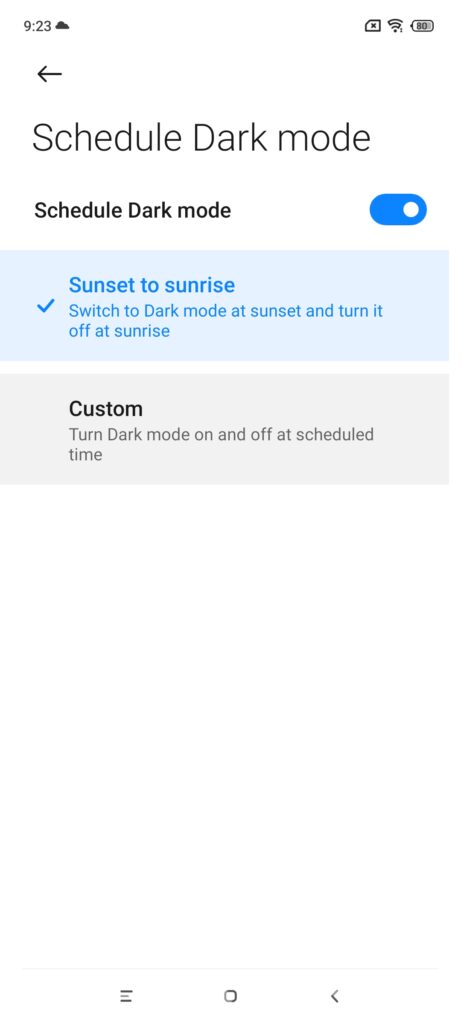 I was extremely impressed by not only the brilliant display but the variety of options to help your eyes, particularly as someone who often has to wear blue light glasses.
Lights, Camera, Action
For shutterbugs out there, the Redmi Note 10S is more than readily equipped to satisfy that need. With a 64MP main camera, an 8MP ultra wide camera, a 2MP depth sensor and a 2MP macro camera, the result is clear photos in a range of environments. However the night mode wasn't too great when I tried it out late at night, only making it a little brighter. Though, I imagine it would work well with somewhere like a fireworks show with more light against the dark, or somewhere quite dim.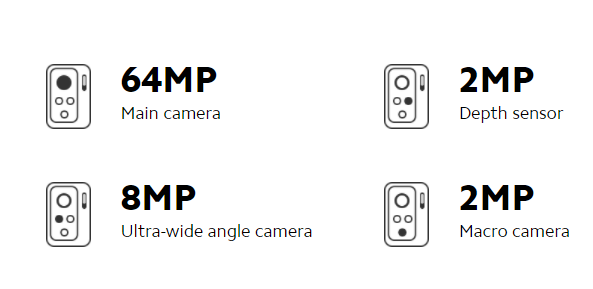 You could get some really nice depth of field adjusting the shutter in portrait mode, as well as add a camera filter. An option I really liked was the 2x zoom, which allowed for a closer image without losing the quality. The wide angle lense also offered a much larger view for those photos where you just can't fit everything in.
Filming up to 30FPS in 4K was also a pleasant surprise for a phone of this price range. Add in the option to do slow mode videos, time lapse and a variety of pro camera options, and you can't really ask for much more!
Gaming Boost
Though perhaps not a priority for everyone, the ability to play games on the go is important here at Rapid Reviews. The Redmi Note 10S has you covered though, with a processor that ensures "a CPU clock speed of up to 2.05GHz, and a GPU clock speed of up to 900MHz." I decided to put this to the test playing Dead by Daylight Mobile, since the PC version is one of my favourite games.
Though not the most graphically challenging game (that's a whole other review), it does have online play. I was concerned about dropping frames or lag especially in this game where you have to act fast. Thankfully, I experienced none of this at all and everything ran smoothly.
The bar at the top of the screenshot above could be brought out by swiping from the top left corner of the screen. Here, you could see how your game was running as well as access some neat features. This included being able to screenshot or start screen recording at the touch of a button, which is great for sharing clips. Or, you could quickly switch over to other apps like your internet browser or Facebook. Game Turbo is perhaps not an interest to everyone, but it's certainly worth mentioning for gamers and I appreciated it myself.
Enough Juice?
I rely on my phone to last me throughout the day like many of us, so battery life is one of the most important things in a phone. The Redmi Note 10S claims to have 33W fast charging, with the device reaching 54% in 30 minutes. I kept an eye on my first time charging it from around 10%, and to full charge it took under two hours. I think this is perfectly reasonable, particularly when it lasts as long as you can see in the image below!
Of course though, various factors affect the battery life. I got to put it to the test while on a day out, and my partner wanting to use it to watch the football using data. Despite being on for a good couple of hours, it lasted significantly longer than his own Samsung Galaxy.
Pick Mi?!
So, is it time for you to upgrade to the Redmi Note 10S? I believe it's a great mid-range phone with a surprising amount of high-end features, such as game turbo and camera quality. It is well worth the money and honestly rivals the more expensive (or overpriced…) phone brands such as the iPhones. If you're someone who uses Android phones you'll feel right at home with the OS which is easy to use. There are also some cool themes to use to personalise your phone, both paid and free, for example I used a more minimalist free theme!
Though I hadn't heard much about the Mi range of phones before, they should definitely be on your radar. For the Redmi Note 10S, it's a fantastic choice for a mid-range phone that isn't brimming with premium features you'd have to pay a lot more for, but goes above and beyond what you'd expect.
Rapid Reviews Rating


3.5 out of 5
3.5
Visit the Mi store to purchase the Redmi Note 10S here.
If you enjoyed reading this review, you can find more of our tech reviews here.