MF200 Portable Speaker Review
Reading Time:
3
minutes
Fast Facts
Dimensions: 293mm ×45mm ×53mm (W X H X D)
Weight: 0.5kg
Connectivity: Bluetooth / USB-C Sound card / 3.5mm AUX
Battery Capacity: 2200mAh
Noise Level: ≤25dB(A)
Playtime: Up to 10 hours (Bluetooth)

An Edifier MF200 Portable Speaker was kindly provided for review
Edifying Out Loud
Edifier, the Chinese purveyors of audio brilliance, are back with the MF200 Portable/Tabletop Speaker. I had the pleasure of reviewing the WH500 Headphones and absolutely loved them, so I'm excited to review this speaker. Does the MF200 also sing loud and proud, or does it trail off with a whimper?
What's In The Box?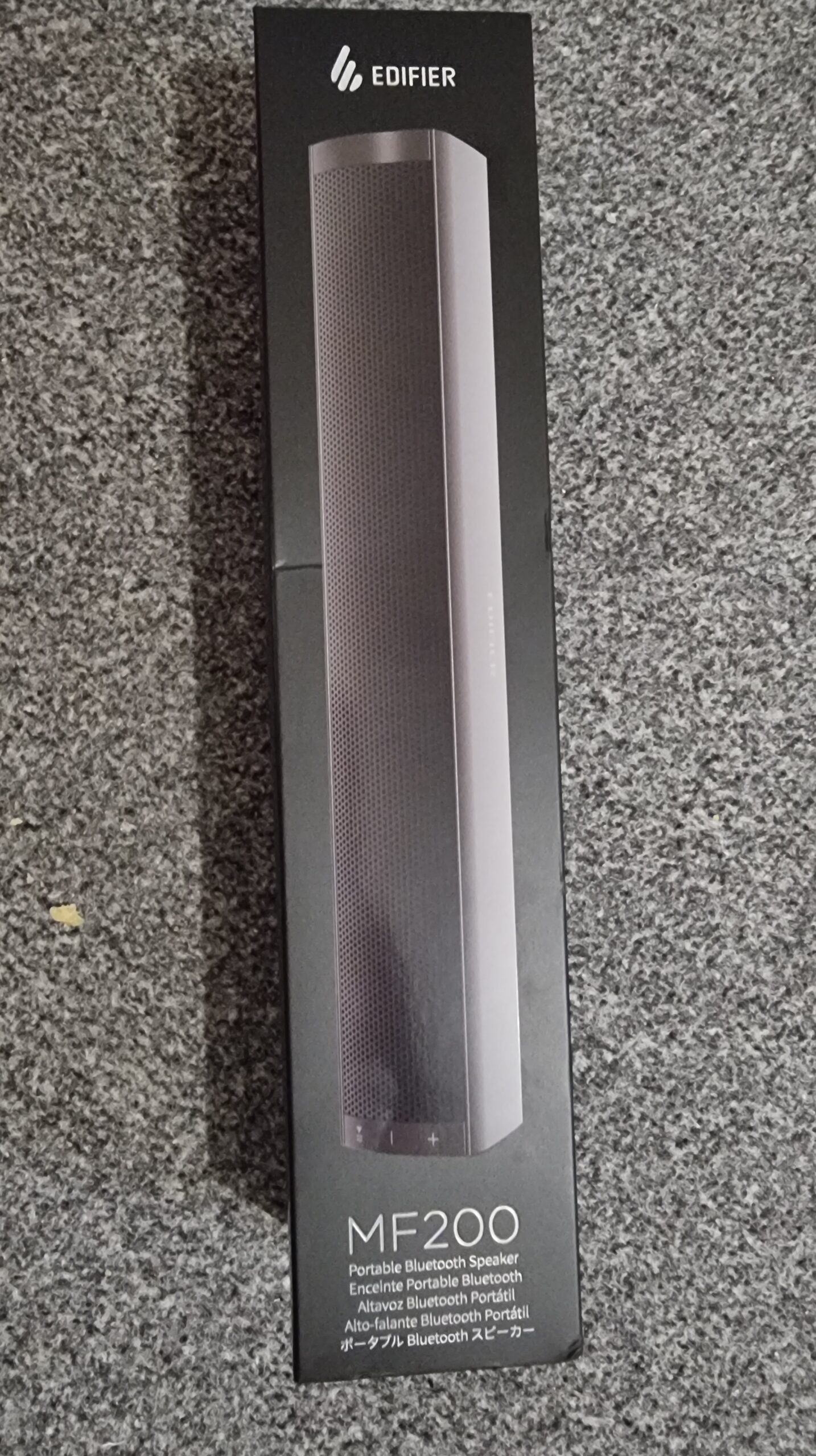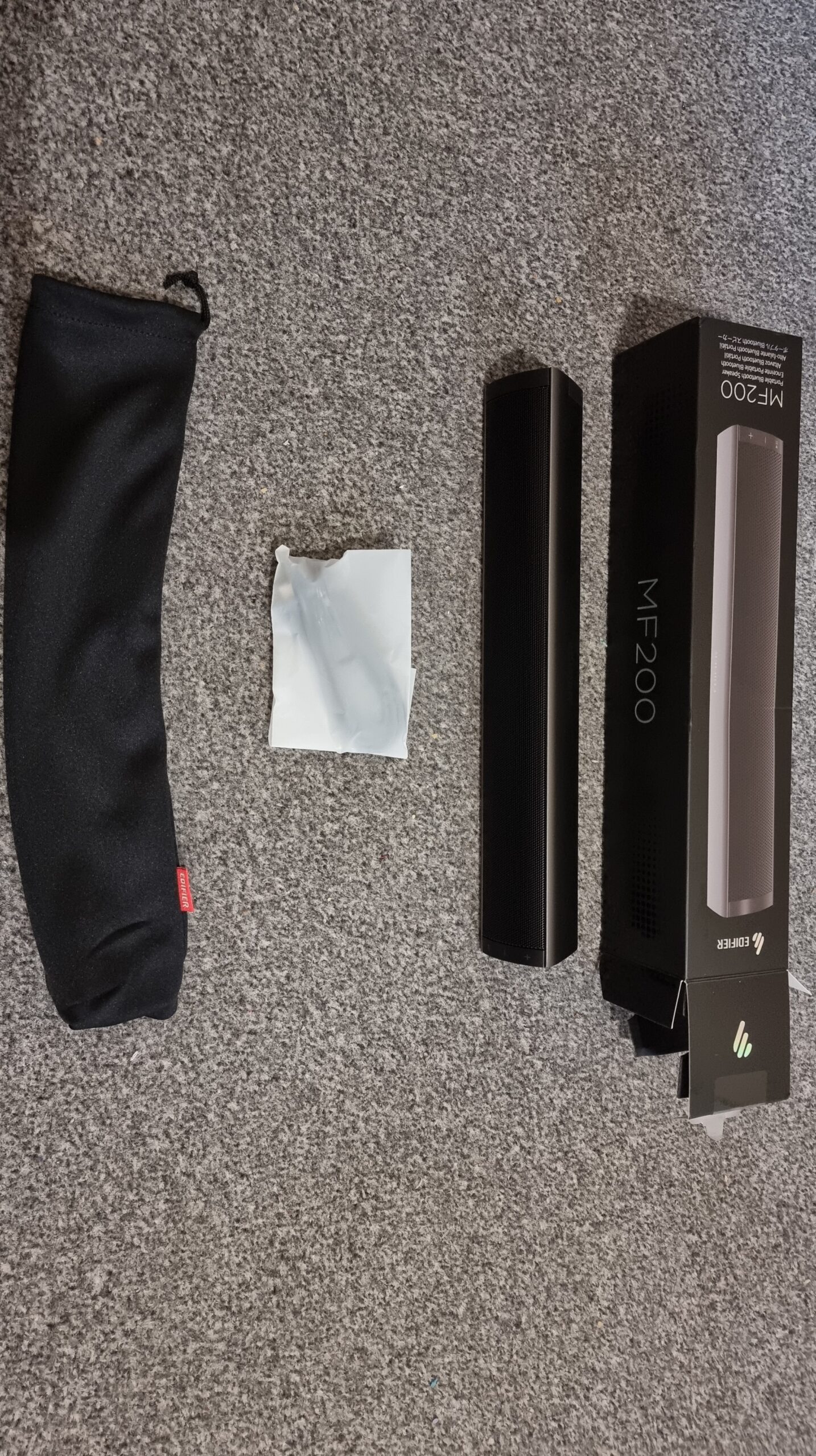 The MF200 box is really well presented and, just like the WH500, is very simple yet still gives a good amount of details. The Speaker comes with instructions and a carry bag (pictured), and a USB-C to USB-C charge cable (not pictured). The carry bag, in particular, is a nice touch and will help ensure your shiny new MF200 will stay in pristine condition.
Metal Body, Mellow Heart
This is definitely a premium-looking device. The MF200 has a brushed aluminium body that feels just as good as it looks. It also boasts a large power button on top and touch controls which are explained in the provided instructions. The MF200's wedge design also adds to the premium feel of the speaker, and, for those worried the metal may scratch their surfaces, it also has a couple of rubber 'feet' on the bottom to keep said surfaces unscathed.
The Bass-ics
The MF200 speaker has very simple 3 'button' touch controls that do just about everything on the device. Obviously, there is volume up/down and play/pause, but multiple presses on these consecutively do different things. You also manually change the connection type by pressing the power button. It takes a long press powers the MF200 down. The touch interface is where the MF200 falls down, though, as it's very easy to catch it if you have to move the speaker for any reason, and it can cause all sorts of weird and wonderful things to happen. The connectivity is very easy, however, and it took me no longer than a few seconds to pair.
The MF200 audio quality is nothing short of excellent. The tones come through crystal clear, and the two drivers really show their class even at louder volumes where details are usually lost. This is true for all of the connectivity modes where you can feel the deep bass and soaring melodies. Not just music stands out either, with even spoken audio and movie audio coming out nothing short of immaculately.l
The Crescendo
The Edifier MF200 Portable/Tabletop Speaker is a genuinely beautiful speaker in both its looks and audio quality. The battery lasts an ample amount of time and charges relatively quickly. The touch controls are quite intuitive, though a touch too sensitive for my liking, and the build quality of it is absolutely outstanding. The touch interface problem can be entirely bypassed by just controlling whatever device you have connected to it. All in all a very, very good speaker.
Rapid Reviews Rating
4.5 out of 5
4.5
You can purchase the Edifier MF200 Speaker here.
Did you enjoy this review? You can find more of our hardware reviews here. If gaming is more your thing, we also have you covered! You'll find our video game reviews here.