Marvel's Spider-Man: Miles Morales Review
Reading Time:
4
minutes

Developer: Insomniac Games
Publisher: Sony Interactive Entertainment Europe
Website: https://insomniac.games/game/marvels-spider-man-miles-morales/
Genre: Action
Platform: PS4, PS5
Age Rating: PEGI 16
Release Date: 12/11/2020
Price: £49.99 Standard Edition / £69.99 Ultimate Edition

The reviewer purchased their own copy of the game.
Perched atop the Empire State observing the snow-covered streets of Manhattan, I put the controller down and take it all in. So, this is what next-gen gaming is all about. The streets are alive with the hustle and bustle of downtown Manhattan. The visuals offer a crispness and clarity I have never seen before. And, there's an affinity with the story that took hold from the off. As I dive off to protect the citizens of my city from the next crime in progress, it dawns on me.
Marvel at less being more
Marvel's Spiderman: Miles Morales is one of, if not, the most tightly curated and perfectly paced video games of the last 10 years. Surrounded by other open-world RPGs that offer upwards of 100 hours' worth of gameplay, Miles Morales has released at a time when many are calling for shorter, more impactful gaming experiences that can fit around their working week. Evidence suggests we aren't there yet – 'Miles Morales DLC content' it has been dubbed by many. However, if ever there was a game to advocate the sentiment that 'less is more', this is it.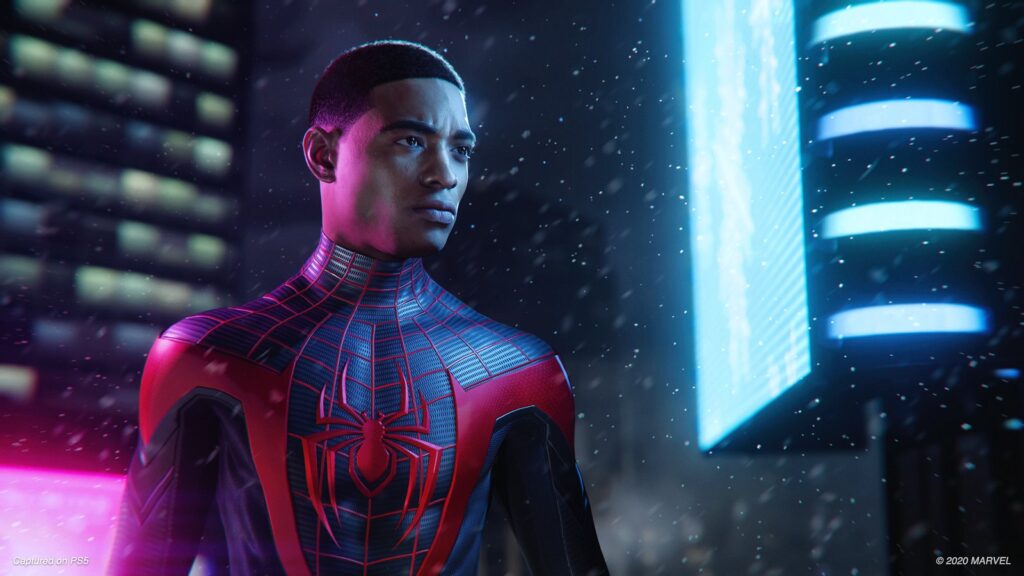 Clocking in at anything from 7 to 17 hours, the main story packs some serious punch. Additional collectables and side-missions bulk out an otherwise 'short' campaign, but it's most apparent that this story just doesn't miss a beat. Benefitting from the events laid out Spiderman 2018, there's an investment in the characters from the off. As a protagonist, Miles Morales carries such a weight of significance to so many, and this game does incredibly well to celebrate this.
Whilst the story can be heralded for its delivery, the content toes the line between tried and tested and tired and tested. We can't pretend we haven't seen this before. With that being said, the way it's flung at you with just the right amount of animation and action ensures you enjoy the ride. At every juncture, I just wanted to keep playing and playing. When the pop-up appeared to ask me if I wanted to start the final mission, I wasn't disappointed, nor had it been a slog to get there.
A superhero showcase
Sharing a release date with the PS5, Miles Morales represents the beginning of 'next-gen' gaming. What a start it is. It's fair to say they've knocked it out of Central Park. Groan. The team have done an incredible job of creating an inspired fictional setting. One can't help but be awed by. The lighting, depth of field and attention to detail in both environment and character design is a sight to behold. This game is a real showcase of what can be achieved.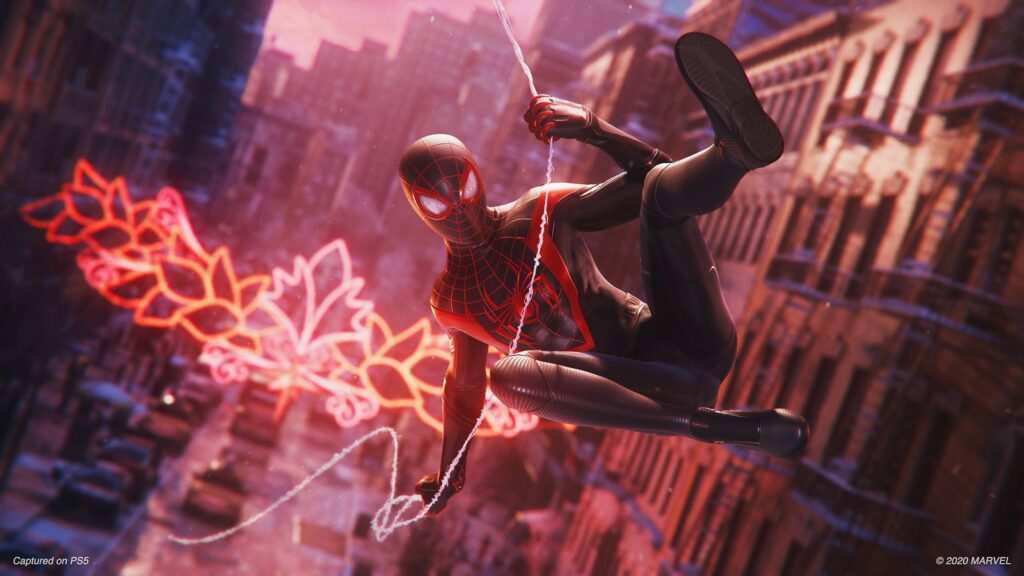 The same can be said for the inclusion of the Dualsense's functionality. There's no doubt that two years from now this will be considered a meek and mild attempt, but for a first outing, the manner in which the adaptive triggers are altered as you swing between buildings feels fantastic. Equally, the haptic feedback provides a level of immersion not felt before. Every punch, kick and web shot being truly 'felt'.
Cinematic combat
It is these improvements, coupled with some absolutely astounding cinematics, that allows the combat in Miles Morales to ooze class. Every action is meaningful. Each combination is exciting. The way it all comes together in such slick and silky-smooth fashion is reminiscent of a film on the big screen.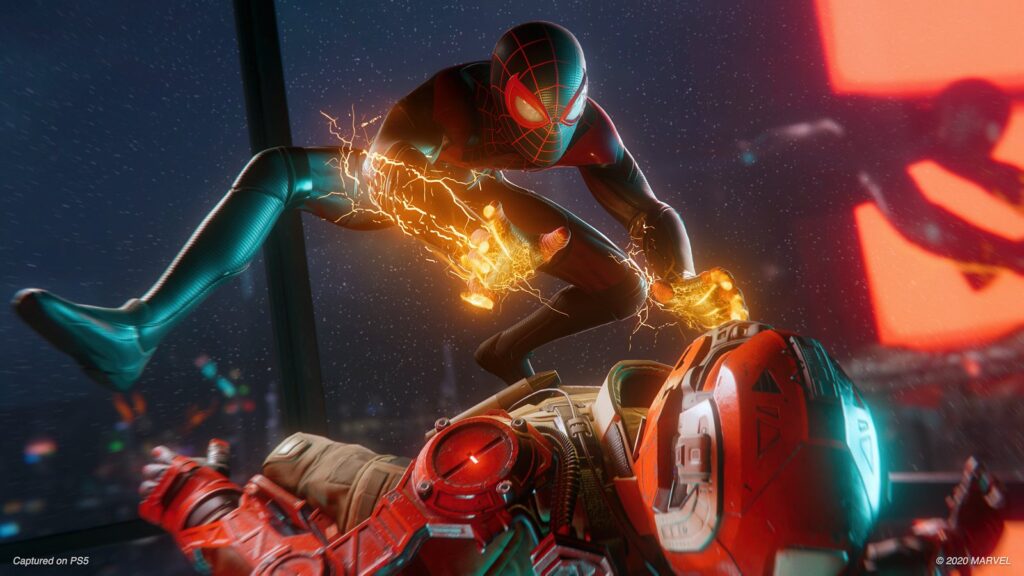 However. And this one hurts a little to write. The AI is a little too formulaic, resulting in some fighting sequences that feel all too familiar. They don't respond in ways they should. Some encounters are very predictable and become much more a case of proactively anticipating the simplicity of the enemy movement than it does a reactive approach to the unpredictability of the enemies.
Unfortunately, the level of immersion is limited somewhat by this. It is further affected by other examples that were prevalent throughout. A remote bomb doesn't detonate if you manage to pull off a finishing move on an enemy within the vicinity is one such example. Small though it may seem, a game of this level of polish means that blemishes are easier to spot.
Friendly Neighbourhood New Game Plus
Small blemishes aside, Miles Morales is an incredible example of how development teams can make the best use of their IP's. Likewise, with the inclusion of New Game Plus and all that it entails (additional difficulty, numerous mods, and a few new suits), the game has players crawling back for more. That's after you've achieved 100% completion by seeing all the sights, collecting every collectable, and tending to every crime. It's a truly stellar performance that warrants a playthrough from anyone even remotely interested in open-world, superhero, or action games. Or video games in general for that matter.
Summary
Respecting both your time and your money, Marvel's Spiderman: Miles Morales offers an experience that cannot fail to bring a smile to your face. The credits may come a little quicker than most were hoping for, however, it's better left wanting more than feeling burnt out… 
Rapid Reviews UK Rating
You can purchase a copy of Marvel's Spider-Man: Miles Morales from the PSN Store here.

If you need any more convincing, Miles Morales makes a 2020 GOTY appearance which you can find here.