Reading Time:
5
minutes
Fast Facts
Jet Set Knights

Developer: FobTi Interactive
Publisher: Ratalaika Games
Website: https://fobti.itch.io/jet-set-knights
Genre: Adventure, Action
Platform: Xbox One (Also available on Nintendo Switch, Playstation 4 and PC)
Age Rating: PEGI 18
Release Date: 23/09/2020
Price: £9.99

A code was provided for review purposes.
Introduction
There's a wide spectrum of old-school retro-style games out on the market that are waiting to be discovered. Being a gamer with thirty years of experience has taught me that graphics don't always make a game and that some of the classics remain fun even today.
Jet Set Knights published by Ratalaika Games and developed by FobTi Interactive, is the latest indie title which is inspired by classics from the golden age of gaming such as Mario Bros amongst others.
Ratalaika Games publishes some very unique experiences, some of which are the most unusual games you'll ever play. However, Jet Set Knights is perfectly playable and enticing rather than out of the ordinary. Jet Set Knights is essentially an action platformer with some subtle RPG elements involved. With simplistic controls and little in the way of a tutorial, it is easy to pick up and play for some short, intense gaming bursts. You'll get to choose one of four knights all of whom boast a set of unique abilities. I'll clear the fact that it is local couch co-op enabled early on in the review, so if you're a fan of playing with friends and family in the vicinity of your home then Jet Set Knights is worth a look for sure.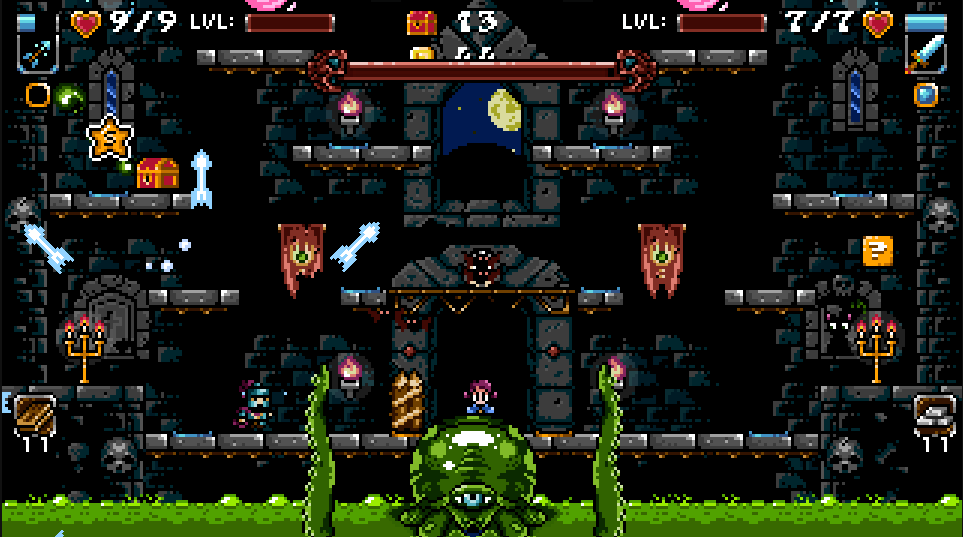 Story
So the premise is very simple, you must slay all the monsters that have crept out from the underworld and protect the princess from death along with the villagers. You'll want to focus your time on keeping these critters away from even getting remotely close to the princess, as once she passes away it will be game over for that run.
You will start with a small map that will only grant you one level to select as you start your journey with Jet Set Knights. To unlock the other levels you'll have to work through the game beating the bosses as you progress.
With no hand-holding in the way of a tutorial, you will be on your own figuring out how to negotiate enemies and how the different abilities and powers work. The three different options of difficulty, easy, medium, and hard, will suggest how hard your playthrough will be. Medium is what I went with and it presented me with a challenge and took me several attempts to reach the boss fight. Expect to die countless times as you test your patience.
Gameplay
There are also hints of a tower defence game here as you'll be able to build walls to defend the princess and also mini turrets that automatically fire at the enemy. You'll need to pick up time-limited pickups such as stone or wood to construct this much-needed assistance. On top of these, you'll find treasure chests that will serve you with arrows to go alongside your bow. Utilising the bow and arrow is key as you engage the enemies at a distance. You also have a sword which is effective but this requires you to get close and personal with the monsters. This will risk your health if there are large clusters of enemies approaching at once.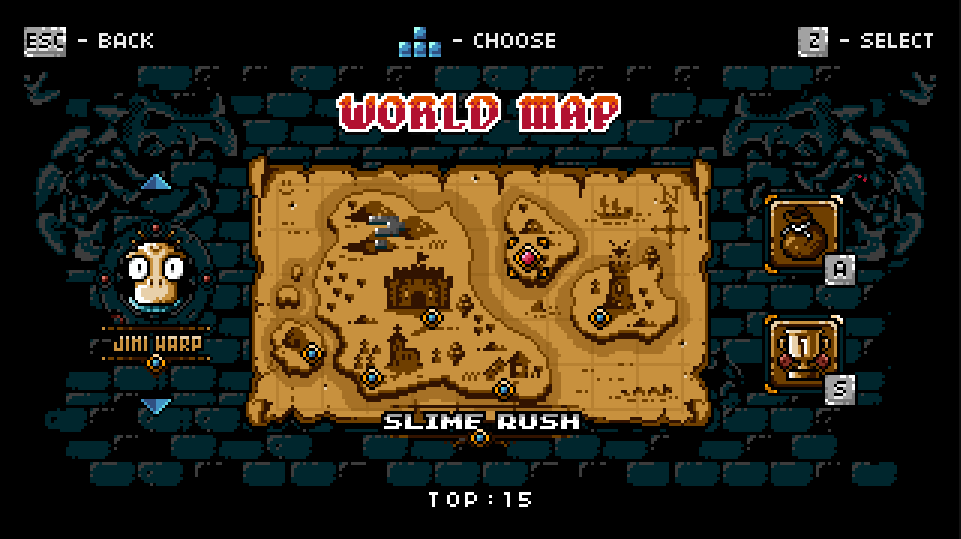 The power-ups on each map are randomly generated and it's really fun to try and obtain these quickly to make the playthrough as easy as possible. Killing enemies rewards you with experience points which in turn will allow you to level up your knight. This makes you stronger in terms of strength, accuracy, speed and health. If you die this progress is wiped and then you start the process again, so depending on how you level up no two plays of the game are ever the same. This unlocks the potential for longevity and replayability with some depth to which on the surface looks like a basic retro title.
The monsters always start from the top of the screen and work their way to the bottom, almost in a more complex Space Invaders kind of way. But you'll want to keep your eyes on all areas of the screen as some critters move quicker than others. The more you play, the more organised you become as you'll know how to plan, engage and build defences to keep the Princess safe. I was surprised at how engaged I was and Jet Set Knights sucked me in and spat me out, bringing about my addictive nature. So yes, I was hooked and three hours passed me by and I was still trying to master the first boss.
Stats and More
Now I'm a sucker for stat tracking on games and I love seeing data on personal performance so I was delighted to see a statistics menu. This displays how many kills, deaths, coins and tokens you have accumulated along with how many of the unlocks you find in the game. Unlocks are a combination of weapons and artefacts. For instance, you'll evolve from firing a basic arrow to ice or flame arrows. Also hidden away in the menus are a few mini-games such as Skull Breaker, Bug Raiders and Chicken Walk. I'll leave you to discover the fun you can endure during these bonus modes.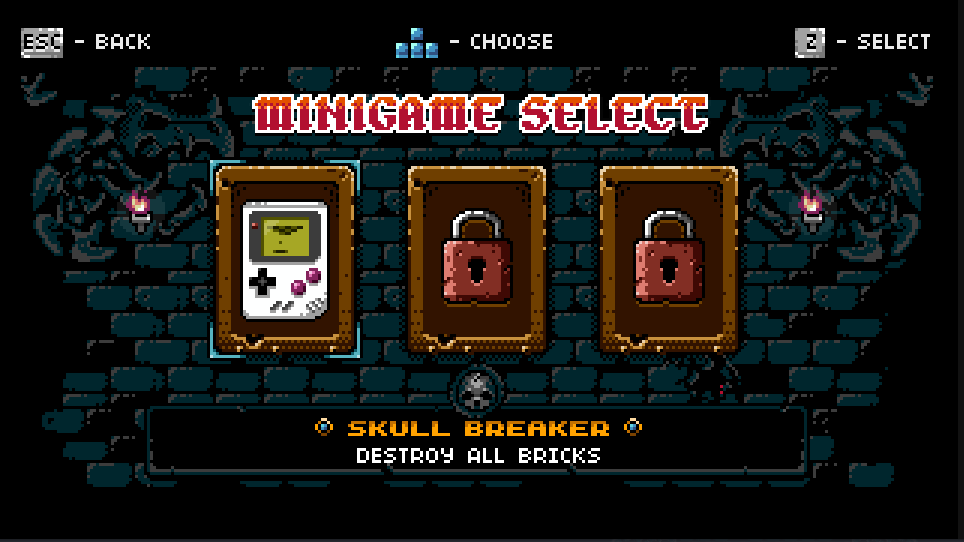 In terms of graphics, the variance of colours and the pixel shaded backdrops are well achieved and what you'd expect from a title of this calibre. Sound effects gave me the vibes of old Atari titles such as the already mentioned Space Invaders and old gems similar to that. The music complemented the intensity of the game and blended in nicely with the overall fluidity of the gameplay.
Conclusion
Jet Set Knights surprised me as I went in with not much in the way of expectations and came out with something I have poured over fifteen hours of gameplay into so far. Its fast and frantic addictive aura will honestly have you plugging away for hours or just a speedy session if you'd prefer. Whilst I didn't have the opportunity to experience the local modes, there is the opportunity for two of you to play through all the levels together or even 2-4 multiplayer battles. There is something for all ages and abilities here, and I struggle to find any negative points.
Overall Jet Set Knights is a game I wish I had discovered sooner and I will more than likely return to in dribs and drabs. It would have been nice to see some online multiplayer functionality potentially and some more levels added into the title at some stage, as it can be short if you manage to blast through all the levels. Jet Set Knights gets a big thumbs up from me!
Rapid Reviews Rating


3.5 out of 5
You can purchase Jet Set Knights for £9.99 on the Microsoft Store