4K
,
4K HDR
,
AAA
,
Action
,
Adventure
,
Marvel
,
PlayStation 5
,
PS5
,
Rapid Reviews
,
Reviews
,
Role-Playing Game
,
RPG
Guardians Of The Galaxy Review
Reading Time:
6
minutes
Fast Facts
It Takes A Village
You'd be forgiven for associating this Guardians of The Galaxy game with the 2020 hulk-smash hit Marvels Avengers. For many I think there was almost a belief it would play and feel like a DLC or expansion of the former. Despite it being published by the absolute juggernaut Square Enix akin to Avengers. GOTG wasn't developed by the Gex-famed team over at Crystal Dynamics in California, and instead was helmed by those delightful Canadians at Eidos Montreal.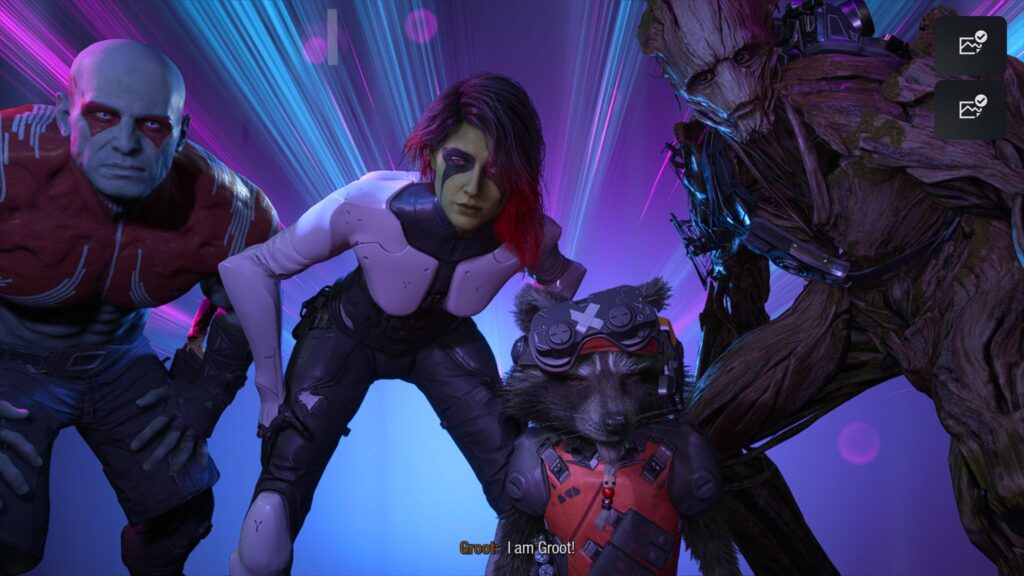 In June 2021 the world was introduced to the latest iteration of Marvel Universe based gaming in the form of Guardians Of The Galaxy. With mediocre fanfare at the time, it was impressive to see the announcement and release just 4 months apart. Even more intriguing was the decision to focus on a single player, story driven adventure. The narrative squarely focused on our renowned Star Lord hero protagonist Peter Quill.
A Unique Blend
Taking a truly unique approach the team at Eidos Montreal have blended a story inter-woven across the comic books and movies. This builds an origin story truly unbound from the limitation of on screen movie making. It's an incredibly brave step to adapt a marvel game and story that doesn't try to replicate character models, voice acting or the oeuvre of James Gunn.
From the moment you wake up as a 13 year old Peter, lazing in your bedroom, with a mullet and a black eye. Blue Oyster Cult, Don't Fear The Reaper flows out of your walkman and you sense this game is different. Graphically it really shines on the PS5 with a solid frame rate. Character models are detailed and expressive, colours pop and shimmer and the script is sublime. Within minutes you are so invested in these characters, and 17 hours later I can assure you, it does not change one bit. I feel more connected to these versions of Drax, Peter, Gamora, Groot and Rocket than I ever felt to the characters portrayed in the movies.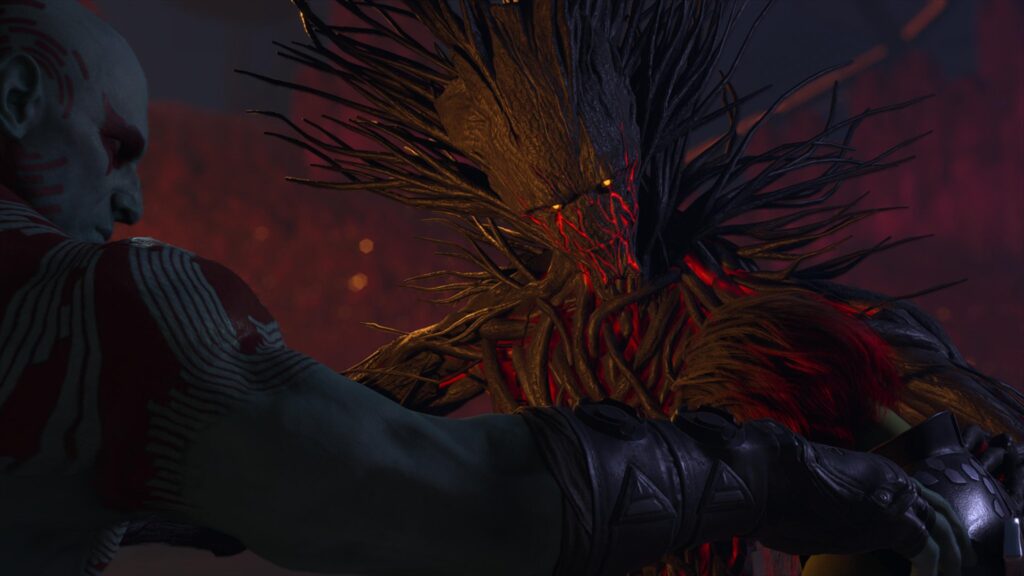 Raising The Bar
The extended cast just blows you away too. On offer there is exceptional voice work, razor sharp dialog and emotional connection throughout. Particularly Mantis who comes in at a whole new level than her role in the movies. I could share more but its a journey you really must take yourself and I wouldn't want to share the expanse of characters to our comic book fans that may be reading.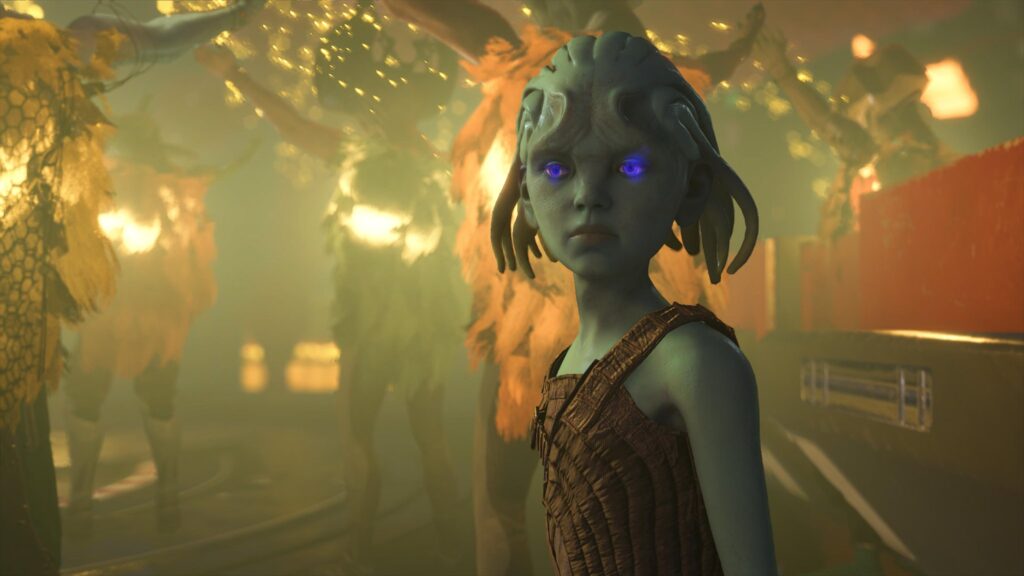 The mechanics are typical 3rd person action adventure by style. You play a central role as Peter Quill, however the whole team play their part when it counts. As the player there are often puzzles to solve. Giant rock needed to climb across that chasm? Drax can help with that. Metal pipes blocking your path? Gamora will slice her way through. A gap too large to jump across? Groot will weave a bridge for you. The list goes on, with each of your team mates showing their value contribution throughout. It takes a village to raise a child.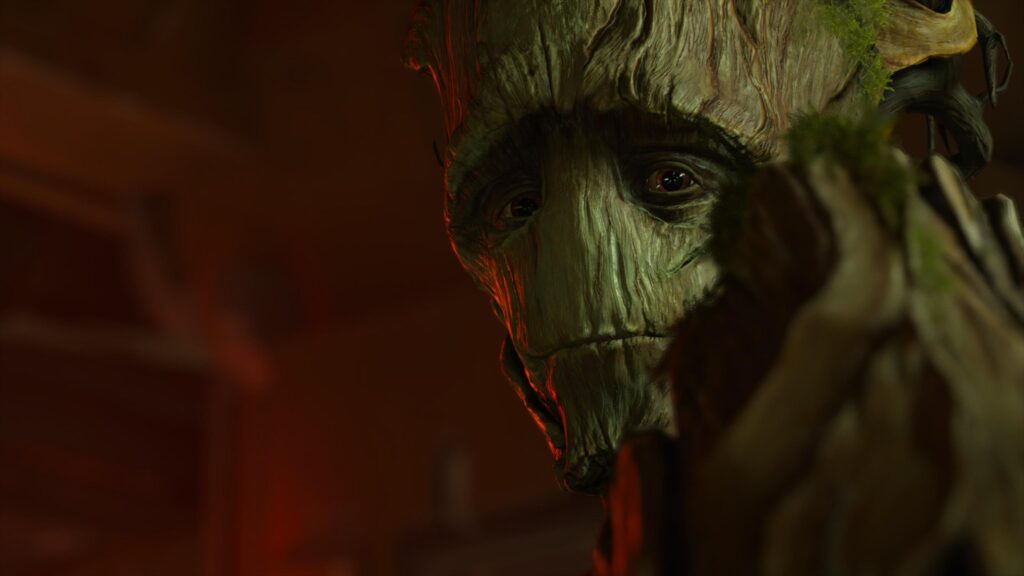 The Best Of Boys
Across these adventures you also take control of your team mates to initiate their special attacks and moves during battle. These serve almost like final fantasy esq. limit breaks, and are very welcome during the most difficult of times. In a style familiar to players of Astral Chain, linking together sequences create bonuses in battle and this can often lead to damage multipliers and if you're lucky a team huddle.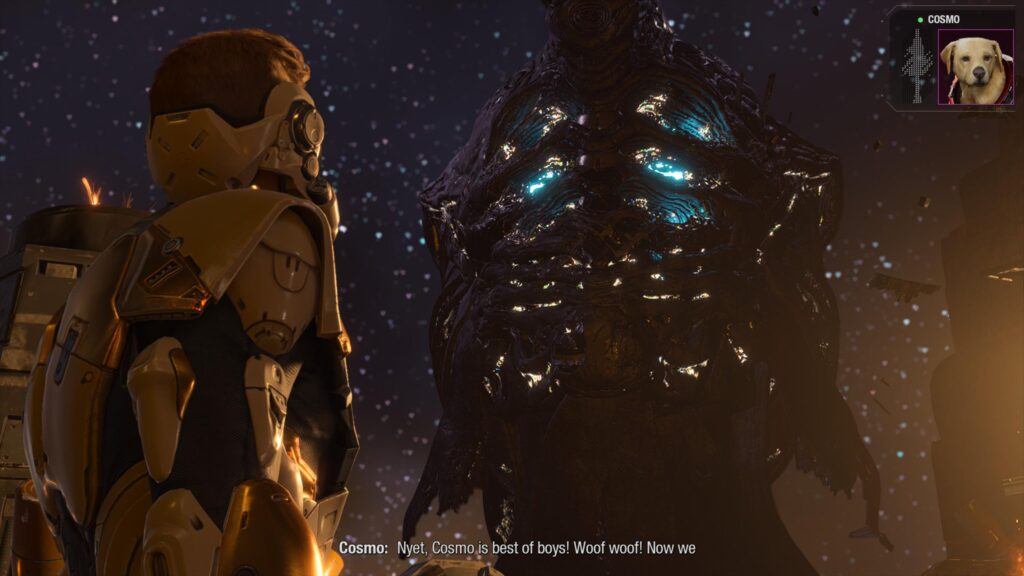 These huddles are a chance for the team to pause for a moment, group together and allow Peter a chance to offer some motivational words of wisdom. Choose well and your team are fully-maxed to go and give your enemies hell. Choose poorly it doesn't quite work out that way.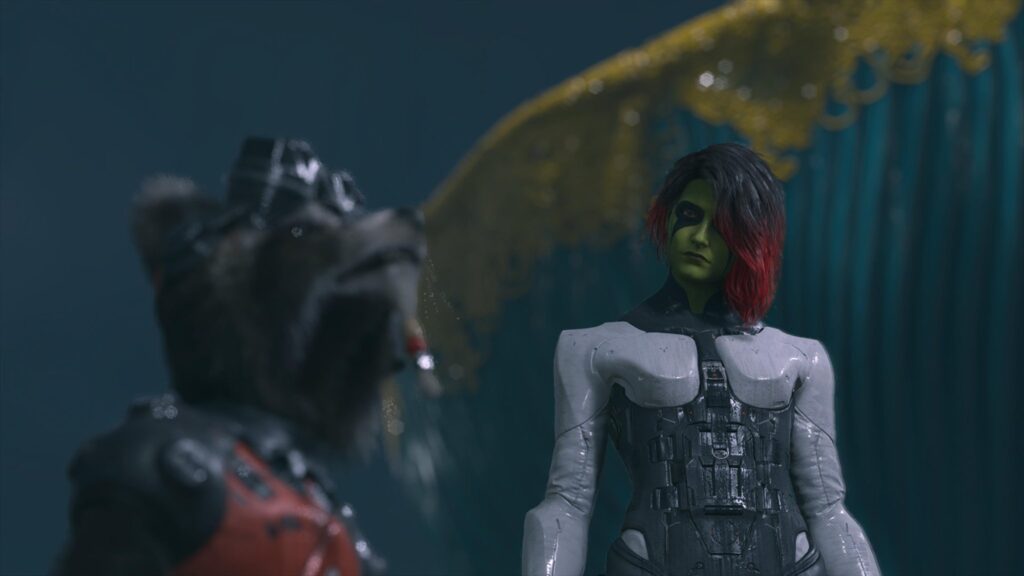 A Tough Choice
The element of choice is present throughout, and you'll often be faced with an important decision that will affect how the narrative plays out. For context I sided against Rocket one too many times in group debates, and he ended up packing his bags with Groot and ditching the Guardians. Luckily we kissed and made up by the end, but it was a clever way of allowing the player to steer the journey and affect the destiny of all involved. It has really left me wanting to replay and make some different decisions next time.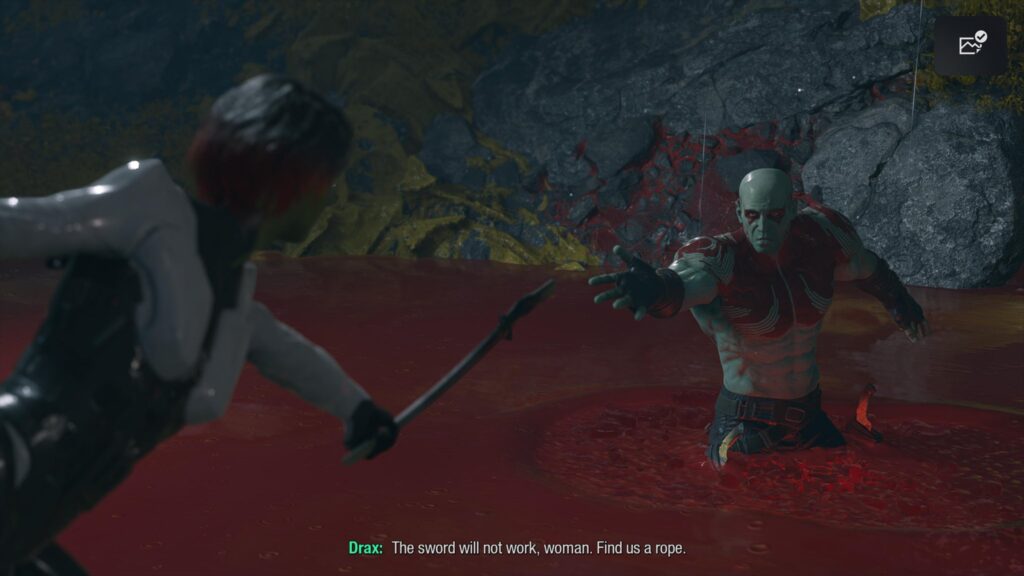 Replayability may be a key consideration in a game with a total run time of approx 16-20 hours, across 16 chapters. It's a total rollercoaster throughout and the time breezed through.
An 80's Love Story
Musically, this game has the undisputed king of soundtracks, and it's cleverly woven into every scene and stream of the game from start to finish. Steve Szczepkowski as the Senior Audio Director at Eido's Montreal is an absolute flarking genius. He brought together every key pop or rock song from the 70's and 80's that wasn't previously included in the movies themselves and loaded it into this soundtrack. Rick Astley – Never Gonna Give You Up? Check. Take On Me – Aha? Check. I Ran – Flock of Seagulls? You betcha.
Musical Powerhouse
Impressively he also took the next step, and striking an incredible partnership with Yohann Boudreault formed the fictional super rock band Starlord. Together this partnership created several original tracks exclusively for this game only. If that's not attention to detail and a total labour of love, I don't know what is. In fact… here's the playlist so you can see for yourself.
There were some gameplay elements that were lacking at times throughout the game. The character upgrade and progression model was incredibly shallow and because of this it didn't feel like it made a whole lot of difference. There were also a few times where the team accumulated units (currency) with no obvious place to spend them. I later found post-credits that these could be spent only when visiting Knowhere. So, for prospective players there's a top tip right there!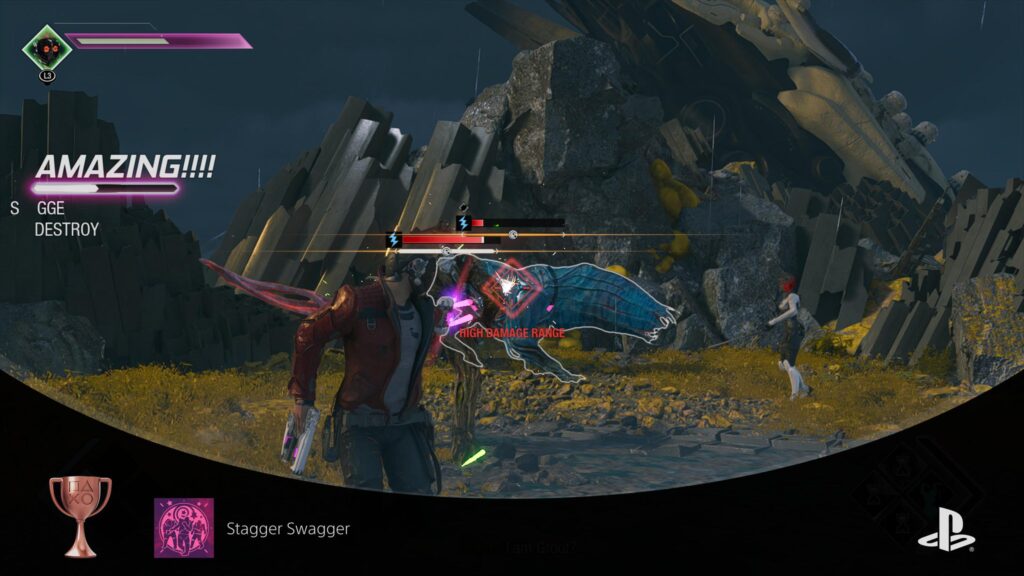 The huddle mechanic whilst charming to perfect earlier in the game, felt a little tedious toward the end. It also felt like it pulled you out of the action to the point of resentment in the final 3-4 chapters.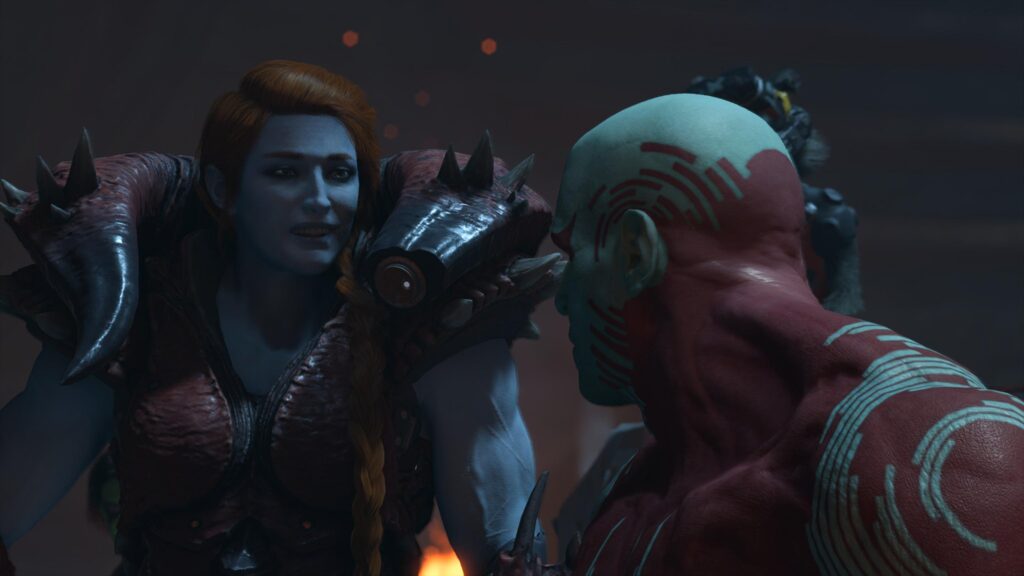 These teeny tiny frustrations though were just an absolute blip when you weigh them up against, a truly heartfelt, action packed rollercoaster of a story that stands proudly and honestly as my Game Of The Year in 2021. Nothing has come close to the way this game made me feel. How the characters pulled at my heartstrings (looking at you Drax). Nor the investment I felt the team at Eidos Montreal put into every tiny moment of this game for fans and newbies alike. Just flarking buy this game!
Rapid Reviews Rating
4.5 out of 5
4.5
You can purchase Guardians of The Galaxy on the Playstation Store here