Action
,
Adventure
,
Game
,
Gaming
,
Playstation
,
PlayStation 5
,
PS5
,
Rapid Reviews
,
Remaster
,
Reviews
,
Rockstar Games
Grand Theft Auto: The Trilogy – The Definitive Edition Review
Reading Time:
6
minutes
Fast Facts
Grand Theft Auto: The Trilogy – The Definitive Edition

Developer: Rockstar Games, Grove Street Games
Publisher: Rockstar Games
Website: https://www.rockstargames.com/GTATrilogy
Genre(s): Action, Adventure
Platform: PlayStation 5 (also available on PC, PlayStation 4, Xbox One, Xbox Series X|S and Nintendo Switch)
Age Rating: PEGI 18
Release Date: 11/11/2021
Price: £54.99

A code was provided for review purposes.
Introduction
Rockstar Games' Grand Theft Auto series has been a staple of the action-adventure genre since the release of its first instalment in 1997. Many main series titles, spin-offs and expansions have released since, including the ever continuously releasing Grand Theft Auto V, which doesn't seem to stop appearing on new platforms. With Grand Theft Auto VI now finally confirmed to be in development, there is no better time to catch up on the series if you're interested in giving it a try.
Late last year, Grand Theft Auto: The Trilogy – The Definitive Edition was released. This bundle packages together fan-favourites Grand Theft Auto III, Grand Theft Auto: Vice City and Grand Theft Auto: San Andreas. These three games are considered to be some of the series' most iconic releases. Having never played them properly before, I was keen to give them a try. So did I have a grand time playing, or did it feel like a theft of my precious gaming hours?
A Life of Crime
Before diving into the experience of playing the three games, I'll provide a summary of their overall plots. In Grand Theft Auto III, you play as Claude. This silent protagonist is betrayed and left for dead by his girlfriend after a robbery. Seeking revenge, he becomes deeply entangled in a world of crime, gang warfare and drugs. Thus, he starts to take on the various jobs that the crime bosses around Liberty City have to offer him. In Grand Theft Auto: Vice City, you take on the more active role of Tommy Vercetti. After being released from prison, he seeks to establish a drug-peddling empire and dominate the scene by eliminating other criminal gangs around the city.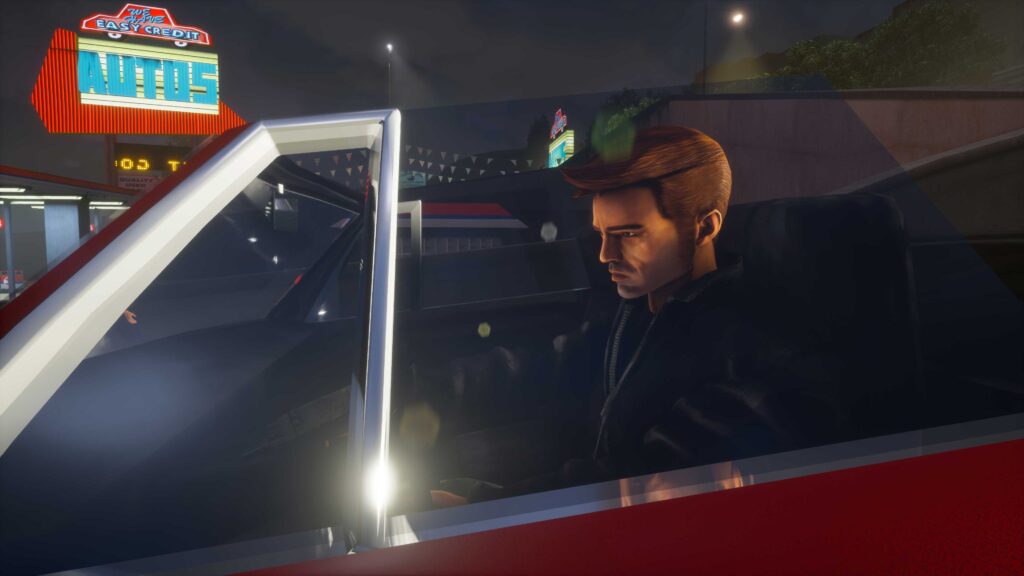 Last, but certainly not least, Grand Theft Auto: San Andreas sees you playing as Carl "CJ" Johnson as he returns to Los Santos after his mother is murdered in a drive-by shooting. Drawn back into the dealings of his old gang, and facing off against powerful criminals and corrupt authorities, you'll travel across the fictional U.S. state of San Andreas in order to re-establish the reputation and influence of the Grove Street families. The world of San Andreas is much more substantial, with additional activities and features compared to the previous two games, and is commonly considered to be one of the most ambitious and entertaining entries into the series.
Same Old, Same Old
If you have played any of the games within Grand Theft Auto: The Trilogy – The Definitive Edition before, then the style of gameplay and mechanics won't surprise you. The missions, activities and collectables are exactly as they were in the original games. Some aspects — such as the controls — have been somewhat modernised to better suit a present-day audience. While you're out living it up as a top gangster, you'll also find that there are some welcome improvements in terms of autosaving and checkpointing which should help to retain your progress and enable easier reloading if something goes wrong. Particularly in San Andreas, there is a vast game world to explore, and plenty of vehicles, weapons, collectables, and locations to discover. As such, it's well-worth making frequent manual saves and ensuring that your favourite vehicle is safely stored away in the garage at the end of each play session.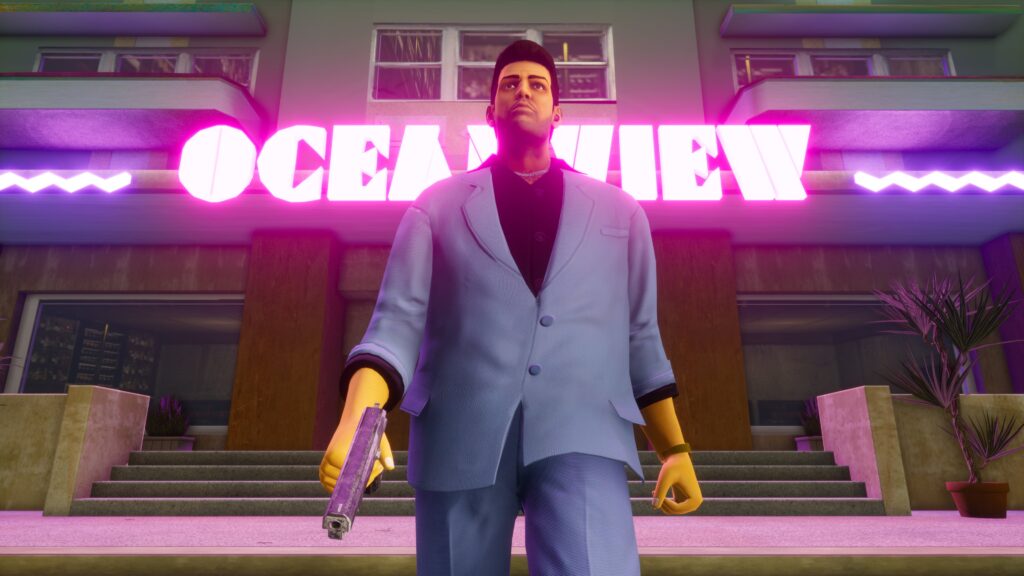 This lack of fresh ideas and innovation does make for some repetitive and dull gameplay, however. While I can fully appreciate the appeal of the Grand Theft Auto series, for me, the missions and activities get tiresome. After completing a few in each game, it strikes you just how mundane they are, with little variation or flexibility. You're either killing someone, stealing something, plotting some kind of criminal activity or completing a getaway. Even the side activities such as performing stunts, finding hidden packages or completing off-road missions are largely formulaic. A life of crime has never appealed to me in real life, and as it turns out, being a criminal in a game doesn't do it for me either.
Not-So-Definitive Editions
To me, it made the most sense to dive into each game in their original release order, so that is precisely what I did. Having played before any of the patches for the games were made available, however, my excitement quickly turned to despair when the many technical issues hit like a tonne of bricks. In Grand Theft Auto III, the poor character models, blinding rain animations, clunky vehicle controls, and constant crashes made enjoying the game nigh on impossible. The poor aiming mechanics also made shooting and collecting items a frustrating endeavour, particularly when attempting rampages or doing tricky parkour moves to gain access to far-flung hidden packages. Let's not even talk about trying to do the Paramedic, Firefighter and Vigilante missions, as all of these were a nightmare to attempt with the haphazard NPC drivers, aggressive gang members and glitchy environments to contend with.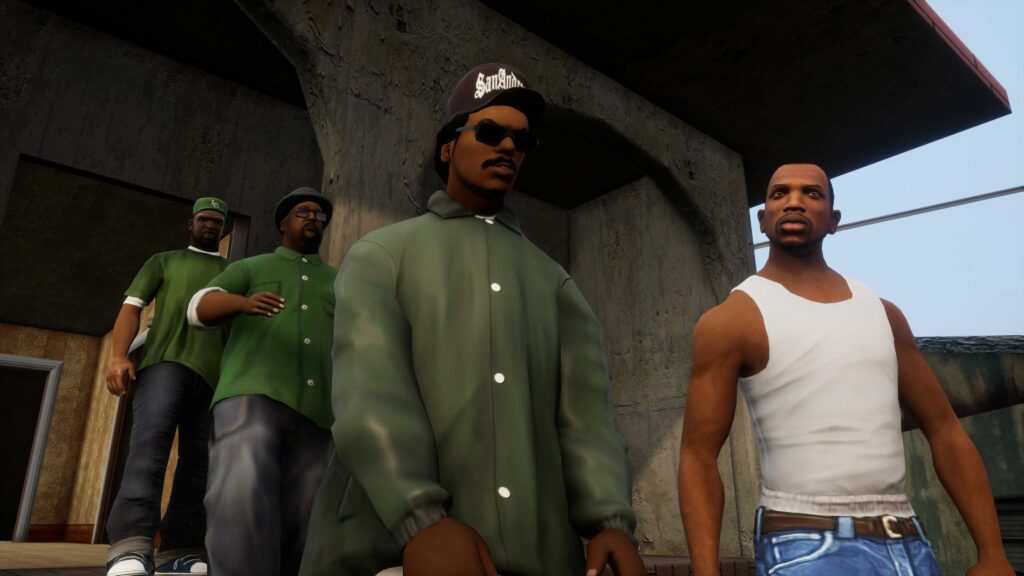 Vice City and San Andreas are not without their flaws, either. They share the substantial frame rate and crashing issues, as well as noticeable screen tearing and bugged missions. Many visual assets don't load properly, and the textures look inconsistent in places. The iconic pool in Vice City has a botched Rockstar logo rather than an accurate one. San Andreas' increased draw distance creates a much uglier, stretched view of the whole in-game map. Where in the original release the limited draw distance allowed for an illusion of a giant map, here there is no doubt about how restrictive and self-contained the game world really is. Expired licensing agreements on some of the music used in the original games means that these so-called "definitive" editions are missing a significant part of what made them so enjoyable in the first place, and have lost part of their charm. All of these issues across all of the three games makes for a very unsatisfying and largely unplayable experience, beyond the already repetitive and tiresome gameplay.
A Grand Disappointment?
It's safe to say that, playing this collection, my first experience of playing a Grand Theft Auto title was a rather underwhelming one. In order to best revitalise these three games with the attention to detail that they deserved, manual development should have been prioritised over automated updates. This likely would have helped to negate the reappearance of old bugs, as well as the introduction of new ones that didn't exist in the original versions. Visually, these remastered classics also deserved better treatment. Many assets seem to have taken a turn for the worse as described previously, rather than being improved upon or truly improved upon ready to be experienced by a potentially brand new audience.
In short, if you're looking for the definitive Grand Theft Auto experience, then this Definitive Edition is sadly not it. The three games included in this package deserved a much more thorough remaster, and to be brought to a modern audience in a much more refined way. Although several bug and graphical fixes have been applied through subsequent updates, the games are still rough around the edges, control poorly, and look not much better than they did upon their initial releases. If you're a diehard fan of the franchise, they may be an enjoyable journey into nostalgia, but for new players like myself, I'd advise waiting for a heavy discount if wishing to pick them up at all.
Rapid Reviews Rating
2 out of 5
2
You can purchase Grand Theft Auto: The Trilogy – The Definitive Edition from the PlayStation Store (UK).