Glyph – Nintendo Switch Review
Reading Time:
4
minutes
Fast Facts
Glyph

Developer: Bolverk Games
Publisher: Bolverk Games
Website: https://www.bolverkgames.com/
Genre: Adventure, 3D Platformer, Puzzle
Platform: Nintendo Switch
Age Rating: PEGI 3
Release Date: 11/01/2021
Price: £17.99

A code was provided for review purposes.
Story!
At beginning of the game you meet Anobi who will appear with a pink gem and summon you into the world of Glyph, telling you to find the lost temple of AARU… Here you'll be taken through a series of tutorial stages to learn the basics of movement and your unique abilities.
Marble Madness!
Glyph reminds me of some of my experiences with older games such as Kororinpa, Marble Madness and newer ones like Marble It Up! on Switch. It's here where you can see the inspiration for the creation of Glyph. Glyph's main mechanic has emphasis on controlling a ball, moving it around a serious of tricky stages and trying to reach the exit without falling off.
However, Glyph adds some complexity to the mix. Instead of merely trying get to the exit you have a serious of tasks to do while trying to get there. Your first task is to collect all the keys to unlock the exit gate. This sounds pretty simple to do but you'll find most of the keys are in out of reach areas and require some good platforming skills to nab. Secondary objectives will see you trying to locate a scarab artefact. Once collected it will allow you to unlock special stages in the hub world that focus less on exploration and more on time trial events. These, if completed, will unlock gems and unique trails for a character. Gems will allow you to expand the hub world gradually, making the temple grow and giving you access to new stages and content. There are also coins scattered about, collecting these will allow you to purchase new stages in the hub world as well.
And finally there is a secret switch hidden away in all stages. If that switch is located, pressing it will uncover a secret path which can lead you to some very cool unlockable skins to change your character's appearance. However, these paths will push your platforming skills to new heights of frustration. The challenging aspect here is navigating around these stages trying to nab everything, as all the collectibles have a purpose and allow you unlock further content.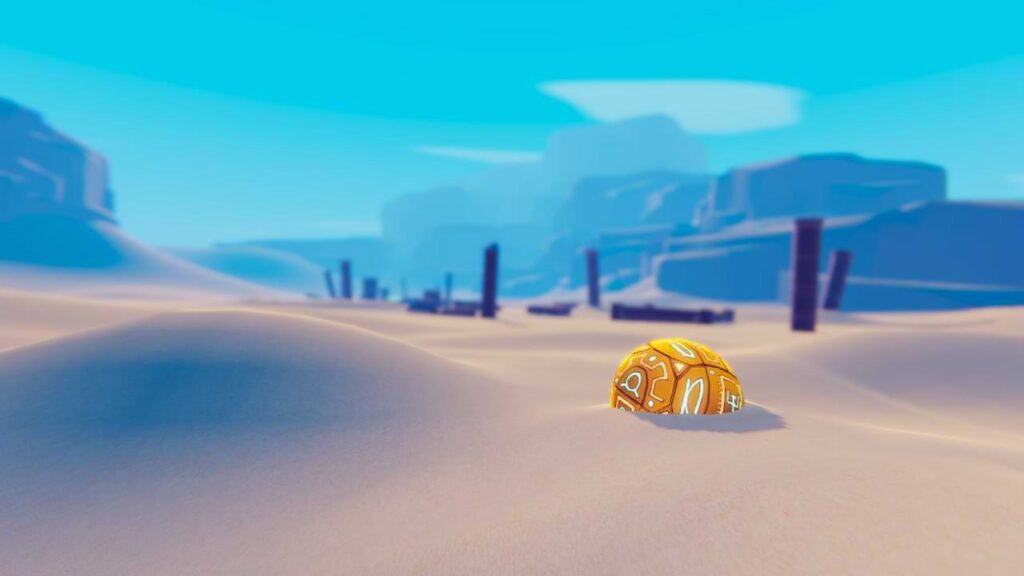 A Tricky Road
What makes this all the more challenging is that you're a spherical object. This means that movement requires momentum to allow you to reach tricky jumps and dodge traps which progressively become more abundant in latter stages of the game. Some traps, however, can actually help you out like the bounce pads and launchers. These are normally a lighter blue colour while anything red is usually dangerous. Thankfully the controls are very responsive in Glyph and come with some added abilities to help you progress such as: wall climbing, double jumping, stomping and a useful glide ability allowing you to cross large gaps at a moment's notice. The road may be treacherous but you're more than capable of handling it.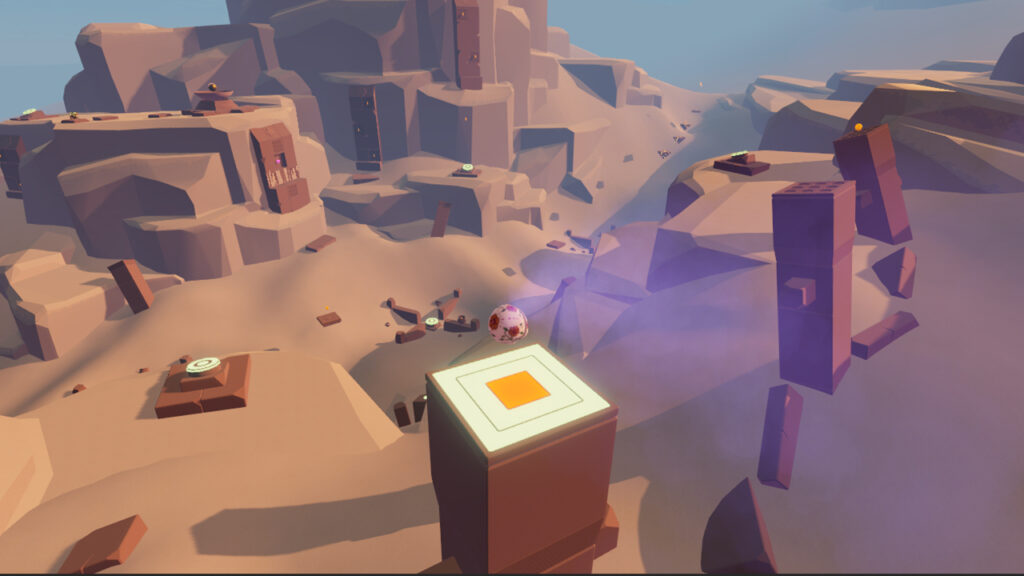 The Floor is Lava!
Think of the sand in every stage as lava because touching it will mean your instant demise. To stay alive you'll need stay on the blocks and platforms that are solid. Whatever you do don't fall off, because you'll start right back at beginning of the stage. There are no check-points here! This can make some of the larger areas a little frustrating when you miss a platform or block. But there is little helping hand at your disposal such as all collectibles like gems. Coins remain collected which is a little saving grace. There's also a small circle that will appear when you jump showing you where you will land. When you come back down to earth this will allow you to time your stomp ability so you will land exactly where want to and not in the sand. I found that the best use of this was when jumping to lift the camera above my head so I could see the best place to hit my target.
Time Trials and Unlockables
Not only are you able to play a host of different, challenging stages that will test your dexterity and precision but you can also unlock time trial courses for the speed runner in us all. This will allow you to unlock more gems and expand areas in the hub world. Locating all skins and secrets will definitely take a fair while. All this definitely adds to the replayablilty as there's a lot to do here which was a pleasant surprise.
Graphics and Sound
The graphics in Glyph are really nice with a shimmering desert and ruins littering the landscape. Your character, while a ball for the most part, is a creature. It looks great with a vivid colour palette, and looks especially nice when it goes into its glide mode. The sound is equally relaxing in stages that focus on exploration and more upbeat during time trial events. It's all very well done.
Verdict
Glyph offers a lot of content and a glimpse into its sandy world through its 80+ stages. Though the world is fraught with danger you'll want to venture into the unknown regardless.
Rapid Reviews Rating

You can buy Glyph from the Nintendo Switch eShop here.