Reading Time:
4
minutes
Tech Specs
Edifier QD35 Speaker
Bluetooth Version: V5.3:
Audio Inputs: AUX, USB-A, Bluetooth
Frequency Response: 60Hz – 40kHz
lnput Sensitivity: AUX: 600±50mV, USB-A: 600±50mV, Bluetooth: 600±50mFFS
Driver Units: 3″ (Mid-bass) + 1″ (Treble)
Total Output Power (RMS): 25W (Mid-bass) + 15W (Treble)
Signal-to-Noise Rate: ≥ 85dB (A)
Dimensions (W x H x D): 277.8mm × 164.8mm × 141.7mm
Price: £189.99

A unit was provided for review purposes
Introduction
The Edifier QD35 makes a very good first impression. It's its stylish design not only appeals to those of us who live and breathe content creation, but it also has enough neon lights to make any Cyberpunk experience blush. That being said, my 13-year-old already has the unit provided set up in her bedroom – this may also foreshadow some of my own personal thoughts on the QD35 too!
While the Edifier QD35 may look the part, there's something about it that I can't quite shift. Could it be the lack of its punchy bass? Or that I'm not a teenager anymore and, as such, not in the target demographic? Well, come with me as I delve into the workings of this Bluetooth speaker.
Design
As mentioned in my introduction, the Edifier QD35 has a look that feels very much inspired by the Disney film, TRON. It's a mid-sized unit that features a transparent frontal panel that houses both the speakers and the unit's neon light show. Meanwhile, a corrugated top, emblazoned with the Edifier logo and similarly designed side panels completes the speakers' industrial/futuristic look.
In keeping with the swish design, the speakers' bottom facing also features a digital clock and a light-up Edifier logo (just in case you'd forgotten). While the whole design does scream out "influencer", it does carry an air of admiration too. Wherever this speaker sits, it demands your attention. Whether it's nestled inside a cabinet or in the background of a YouTube or TikTok video, the QD35 is extremely eye-catching. Edifier has made it "edgy" enough that it will capture anyone's focus, which naturally will lead to questions about the unit – and appeal to pre-teens and teenagers alike.
While I don't necessarily agree or disagree with the overall look of the speaker, it is pretty sturdy, and those of us with inquisitive pets need not worry. My only real complaint is that the speakers are exposed, which may cause issues if you have small children who like to press things.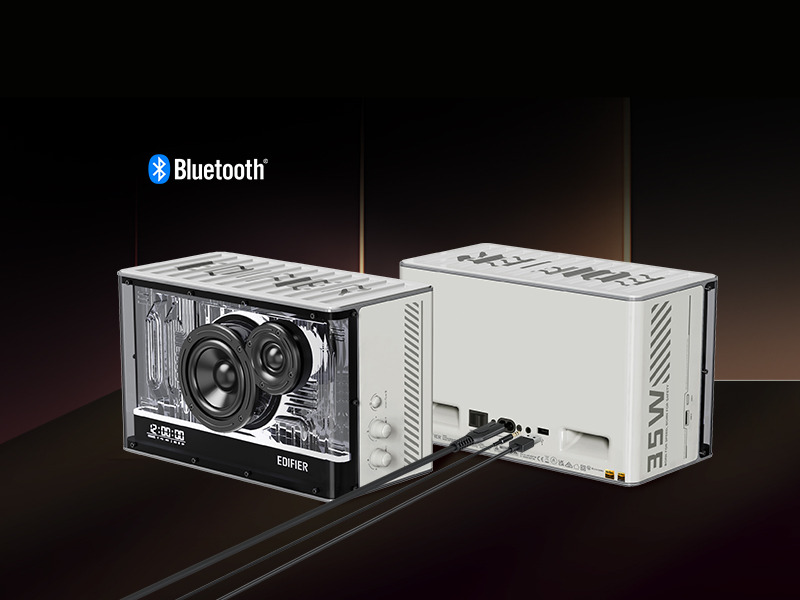 Features
As a whole, the Edifier QD35 does have quite a lot of interesting features. Chief of these is the seamless integration with the Edifier Connect app. Away from the standard settings, such as volume adjustment, you're able to update the speakers' firmware and sync the clock display. The app also gives you control over the speaker's lights and their patterns. However, there is also a button on the side of the unit that does this too. One thing I did like about the Connect app is that it also provides a link to the manual – quite handy if you need it in a pinch.
Moving forward, while the easiest way to use the Edifier QD35 is via its Bluetooth connectivity, Edifier has also included a couple of "simplified" connectors. Located on the speakers' rear, you'll find the on/off switch, the connector for its power supply, and a USB-A connection. Meanwhile, on the side of the unit, there are both USB-C and an additional USB-A port – both perfect for charging other devices. Speaking of charging, while the speaker does utilise the efficiencies of GaN (Gallium Nitride), it does need to remain connected to a power supply to function. For those of us who have no need for a portable speaker, this isn't exactly an issue. But it's worth mentioning, especially if you're in the market for such a speaker.
Sound
The selling point to any speaker ultimately falls down to how it sounds. When it comes to the Edifier QD35, it's a bit of a mixed bag. Sound comes courtesy of a 3" mid-bass driver that can reproduce down to a 60Hz frequency and a 1" silk diaphragm dome tweeter that gives a crisp treble. To an extent, both speakers work well in tandem, and sound quality remains consistent even at full volume. Curiously max volume is set at 16, which is something that puzzled me. However, this does mean that the speaker is loud enough without being over the top. Using the Edifier QD35 isn't going to annoy your neighbours if you use it during unsociable hours, and it's not going to cause an issue in the home either.
Where the sound quality falls flat is with anything that has a punchy bass and an intense mid-line – so most rock songs in my playlist. However, if you use the Edifier QD35 as a substitute for a standard television speaker, the experience is far more enjoyable. Using the QD35 during a session of Destiny 2 was a breath of fresh air. The ambient noise was brought to the foreground, and the orchestral tones of the game's soundtrack sounded great – a far cry from my earlier experience. This also further reinforced my thoughts that the target market for this speaker is the teenage gamer/influencer wannabe.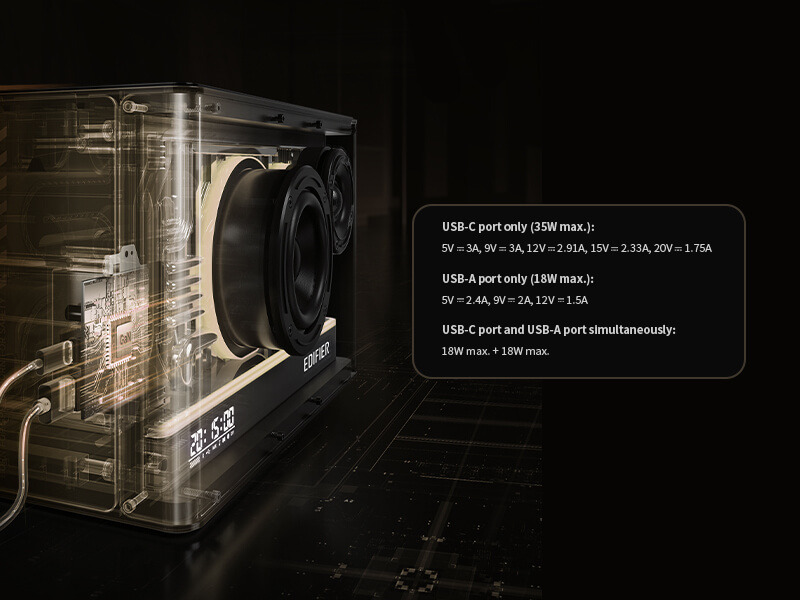 Final Thoughts
Overall, while the Edifier QD35 looks high-end with its robust design and futuristic light show, it sadly lacks in its sound department. If you're in the market for a portable speaker that has a punchy bass, and the ability to rile your neighbours, the Edifier QD35 won't be a suitable solution – but Edifier does have a few speakers under their belt for exactly this.
However, if you're looking for a speaker that's a Jack of all trades and isn't going to outstay its welcome, then you can do far worse than the Edifier QD35. Its personality and general features are a great addition to a bedroom or gaming room, and the light show looks great in the background of your latest TikTok video.

So, is the Edifier QD35 a Bluetooth speaker worth buying? Well, in my opinion, it all boils down to who's buying it.
Rapid Reviews Rating


3.5 out of 5
You can check out the Edifier QD35 yourself by heading over to the Edifier website by clicking here.