Adventure
,
Game
,
Gaming
,
Indie
,
Indie Dev
,
Nintendo Switch
,
Rapid Reviews
,
Reviews
,
Role-Playing Game
,
RPG
,
Strategy
Cardpocalypse Rapid Review
Reading Time:
4
minutes
Fast Facts
Title: Cardpocalypse
Developer: Gambrinous
Publisher: Versus Evil
Website: https://versusevil.com/cardpocalypse/
Genre: Strategy, RPG, Adventure
Platform: Nintendo Switch
Age Rating: PEGI 12
Release Date: 12/12/2019
Price: £17.99 on offer until 19/12/2019, usually £22.49 – Rapid Reviews was very kindly provided with a review code for this title.
Cute, clever, charming
Cardpocalypse starts off with Jess, a ten-year-old little girl who is starting her first day at a new school in the '90s. She soon discovers that "Power Pets," a card game based on a TV show, is the popular game at her new school. The teachers hate this game, and you end up getting it banned accidentally. You must also try to discover the mysteries occurring at your new school.
Beginning the game, it is important to note that the protagonist is not only female but also uses a wheelchair. This is a great representation for girls, and for those who use wheelchairs. There is an option to turn off "screen shake," and an option to use large card text as well. There is also story mode, where you can skip main story battles you find too difficult, as opposed to challenge mode, where you can't skip battles. Great representation and accessibility options.
There is also voice acting, which is an unexpected yet nice touch. You can also use the touch screen.
You start the game by playing against another little girl on the bus. Your card is your "champion." You must reduce the HP of your opponent's champion to win. There is a mechanic where you must use "pet food" in order to play cards from your hand. This pet food replenishes at the start of each turn. In addition to champions, you have minor cards, or "minions," to help you play Power Pets. When your champion's HP goes below a certain point, they turn into "mega" versions with higher attack and various other effects.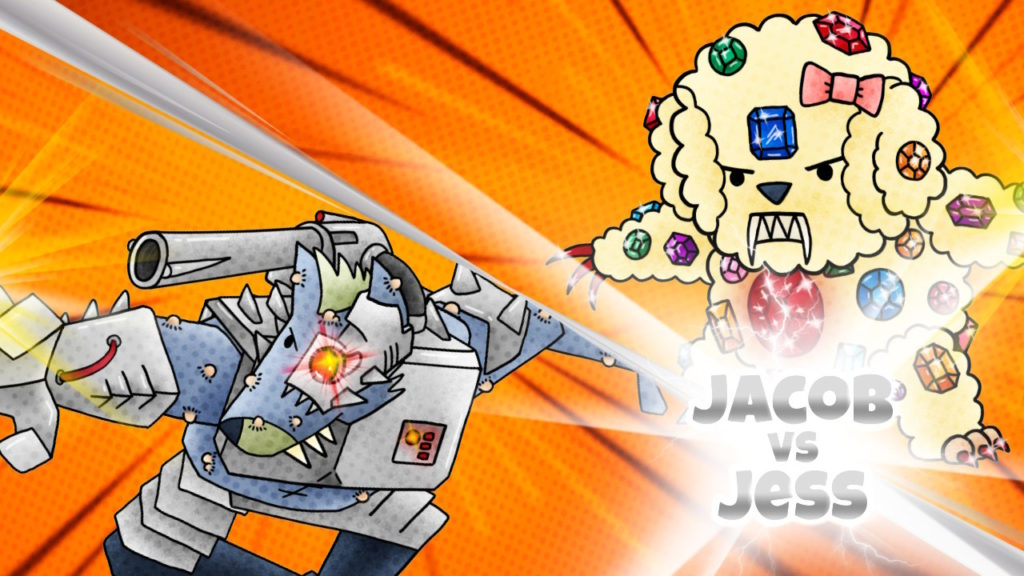 You are able to trade other kids for new cards, using either cards or snacks from your lunchbox to sweeten deals. You eventually gain access to stickers, which you can use to rename or edit your cards' stats. You also eventually gain the ability to change the game's rules one at a time.
There are cute references here and there in the background, whether it's Barney or Yoda or the "Backstreet Babes." The drawings are adorable and the card designs are all interesting and well done. (Personally I was quite fond of Precious the Gilded Purebred!) You can even make your own cards by going to a girl in the art room and having your choice of parts combined; you can then name the card. Overall I found the graphics, the music, and voice acting quite charming.
Something I wish was different is that whether you win or lose a card battle doesn't seem to matter much. You don't seem to always get rewards for winning, but fortunately, if you lose you don't lose any of your cards as punishment (unless it's specifically mentioned for a tournament quest). There are various quests you can do to earn rewards (cards) though. I was displeased to discover that I couldn't challenge another player again in the tournament quest on day two, as I would have liked to be able to try to win the tournament.
But I suppose it is more realistic to have me permanently lose when I lose. You may lose access to a quest if you lose a card battle or make the wrong decision, so be careful. Sometimes your opponent can take too long on their turn as well. Another issue was that it seemed like it didn't matter how "good" your deck was – if you lose, you can usually challenge your opponent again, get different cards in your hand the next time, and then you can win.
Another issue I came across was some spelling/grammar issues ("your" versus "you're," "abilitity," "exploison," "wierd," etc.). I also experienced the game freezing more than a dozen times throughout my maybe ten-hour playthrough. Additionally, for those who care, there is mild swearing (i.e. "dammit").
What I like is that before you end each school day, the game lets you know that you're about to do that and abandon any remaining quests. That way you don't miss anything unwittingly. After each school day, you get to choose whose house you want to go play at. You can get cards for going to someone's house. I also like that you have the ability to "fast travel" when looking at the map so you can quickly get to those that have given you quests. Also, if you reach game over, you have the option of retrying a card battle instead of losing your progress.
The game is cute, clever, and charming. The characters' expressions are so animated and the art, in general, is well done, the music was well executed (with theme songs for each champion character), and the references were very clever. The game could have been a great game but is hindered by frequent freezing, winning battles having more to do with luck than skill, and a short, somewhat weak plot. I will say it's a good game, but not great, due to these flaws.
Rapid Reviews Rating
You can purchase Cardpocalypse from the Nintendo eShop at the following link: https://www.nintendo.co.uk/Games/Nintendo-Switch-download-software/Cardpocalypse-1694307.html#gameDetails