Sam & Max: Beyond Time and Space – Remastered Review
Reading Time:
5
minutes
Fast Facts
Sam & Max: Beyond Time and Space – Remastered

Developer: Skunkape Games
Publisher: Skunkape Games
Website: https://skunkapegames.com/samandmax/season2/
Genre(s): Adventure, Puzzle, Party
Platform: Nintendo Switch (also available on PC and Xbox)
Age Rating: PEGI 12
Release Date: 08/12/2021
Price: £15.49
A code was provided for review purposes
Introduction
Sam & Max are back to their old tricks again with a brand new adventure across five unique and exciting episodes. You might end up talking to aliens, defending against a zombie apocalypse, or trying to summon a demon from the beyond to scare a crazed Santa with an uzi – there's never a dull moment.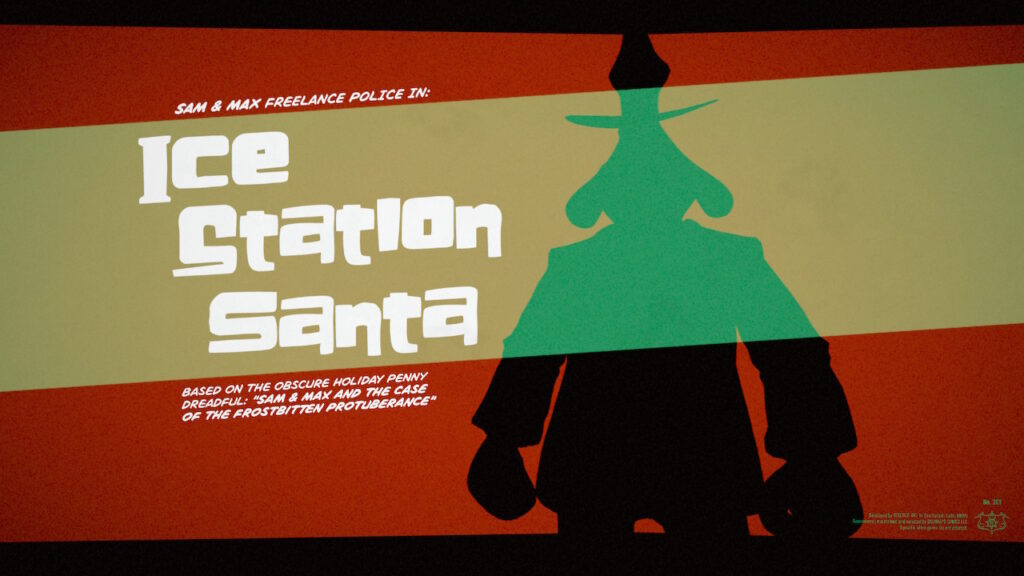 Remastered Adventure
Well, the legendary duo Sam & Max are back with brand a new coat of paint on the Nintendo Switch, and what a transformation it has been. The developers have really gone above and beyond with loads of added changes such as new cinematics, improved music, brand new character models and lighting. Plus they have even re-recorded the dialogue, making the game feel completely new, like a fresh reveal. Can you believe it's been fifteen years since the original appeared on Microsoft windows? Anyway, the new look has added a whole new shine to the title.
Sam & Max: Beyond Time and Space was originally split into episodic adventures back in the day, so it's nice to see all episodes being brought together in a single package for a new audience to enjoy. And while I never got to play the game in its original state, I've seen the side by side comparisons of the old game and there seems to have been a pretty big overhaul. I think it's great that the developers have updated the title for a whole new generation to appreciate.
I've never been a huge fan of point-and-click games before if am honest. Mainly due to the slow pace nature of this genre. But saying that, after I tried the demo for Sam & Max Save the World on the Nintendo eShop, I was pretty surprised by the accessibility and charming character interactions which instantly drew me into this world. The demo from the first game was a great entry point into the franchise which I immediately enjoyed playing and was excited to try out the next instalment which happily fell into my lap few days later.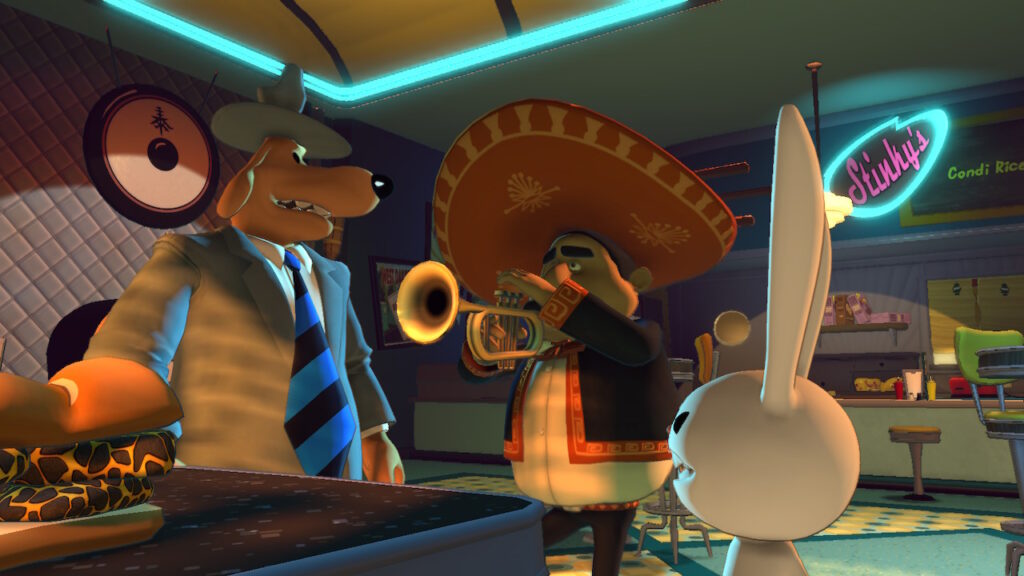 Up to Their Old Tricks Again…
Just like in first game, Sam & Max: Beyond Time and Space – Remastered comes with five unique episodes, each following different story arcs but keeping the world and story consistent with a cast of familiar faces from the previous games. I thought this tied the world together making everything feel connected.
Starting with Santa's workshop, you're introduced to some weird character interactions that were quite amusing. Such as the interaction with the large killer robot sent from Santa's workshop whose only goal is to destroy Sam & Max's apartment building. He has an appetite for songs from the 80's such as Micheal Jackson's "Bad" and Queen's "Another One Bites the Dust". Speaking lines from these songs and more during conversations with him instantly put a smile on my face.
Thankfully that comedic dialogue was splashed across the adventure. While not every line landed, I did enjoy the fully voiced dialogue which brought to life the weird and wonderful cast, giving each one of them their own unique motivations and personality. The interactions between Sam & Max were also rather endearing as Sam was a very laid back, slow talking wolfhound, whereas Max was a hype and slightly crazed rabbit. It made each conversation unpredictable.
Some point-and-click games can become overbearing with a lot of nonsensical dialogue but I am happy to report I never felt that way about Sam & Max: Beyond Time and Space – Remastered. Each interaction helped flesh out the unfolding story and the world around them. Let's just say I was really impressed. The game also has a number of quirky mini games to keep things interesting and engaging through your journey.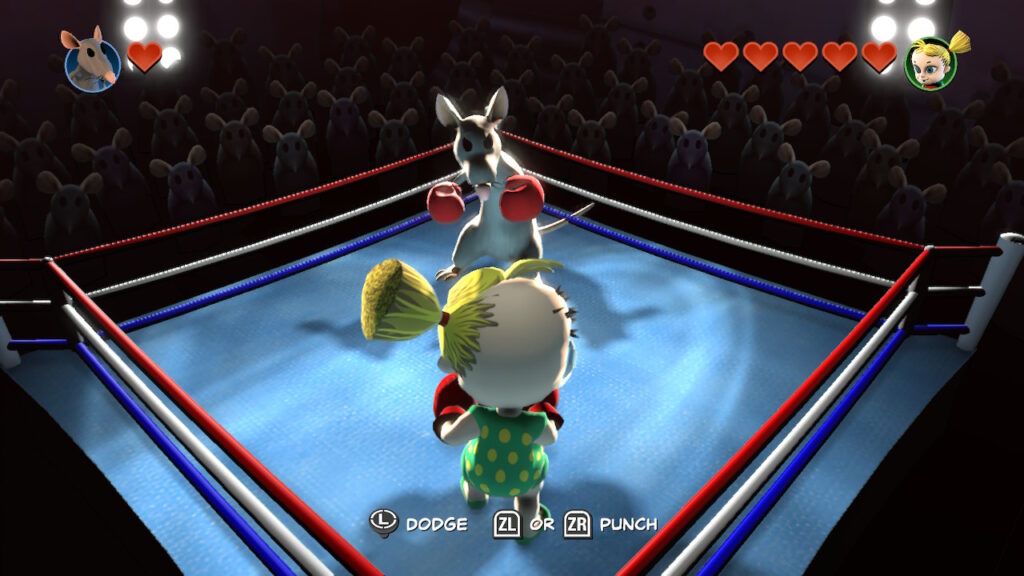 Point-&-Click
One thing that made game easier than most point-and-click adventures was the controls. Sam can be controlled with the left analogue stick allowing him to move freely around the environment (which I loved) and the right analogue stick can be used to cycle through all the interactive items. I found this quite refreshing compared with your normal point-and-click control set-up.
You can also tap the Y button to open up your inventory, picking or examining items which can be activated by simply pressing either A or X buttons and being able to run with ZL trigger. Having that extra freedom to move around each environment, allowing you to explore every nook and cranny was great and environments looked nice with a lot of hidden details that can be interacted with.
There was some back-tracking that slowed the game down a bit but it was never something that detracted from the over all experience – it's just something to be aware of. Also, some of the puzzles can be a little complicated for no reason, e.g., having to do something silly for a result to happen, only to have to return to another area to see the outcome. It's not a huge deal but some people will dislike the back-tracking regardless.
One of most helpful things I found was the ability to have Max (who is a AI controlled) spit out helpful hints every now again which helped me immensely. Like I said, I am not fantastic at these sort games but I do enjoy them. Having this feature available was a huge help (it can be switched off in the options menu).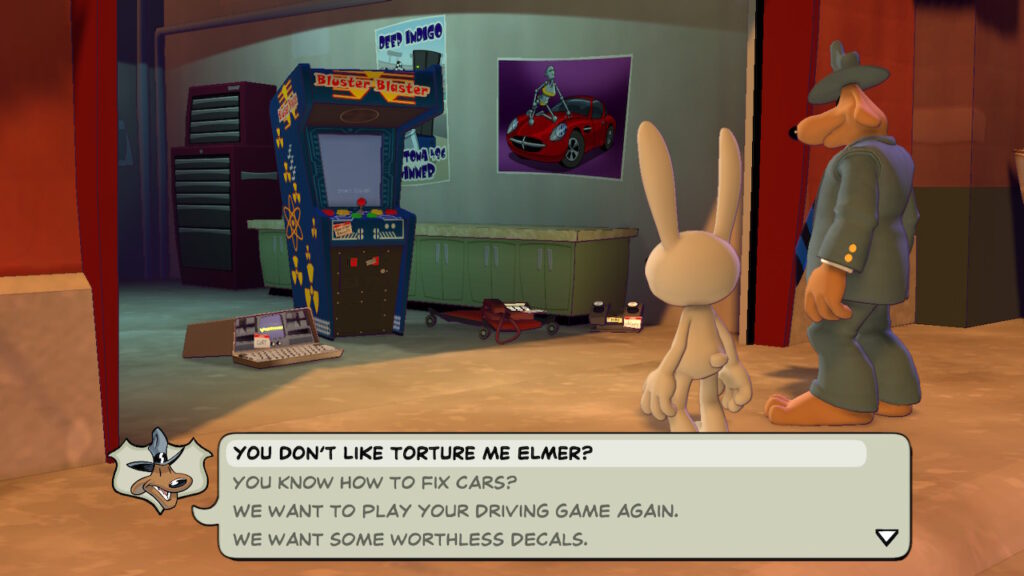 Verdict
Sam & Max: Beyond Time and Space – Remastered is a delightful point-and-click adventure that anyone could pick up and enjoy. Each of the five episodes are unique and fun to play through. The connection between them allowing characters from previous games and episodes to make appearances keeps things consistent and connected.
Sam & Max: Beyond Time and Space – Remastered is a great title to play on the go for few minutes in handheld or docked and it can be enjoyed by many different ages thanks to the helpful hint system. Yes, there are some moments where you'll need to backtrack, and there are some puzzles that are overly complex with weird logic. However, they never detract from overall experience and I have to say this is definitely one of best point-and-click adventures on the Nintendo Switch that you can buy right now!
Rapid Reviews Rating
4 out of 5
4
You can buy Sam & Max: Beyond Time and Space – Remastered in the Nintendo eShop.