Adventure
,
Crime
,
Game
,
Gaming
,
Mystery
,
Nintendo Switch
,
Rapid Reviews
,
Reviews
,
Sci-Fi
,
Suspense
,
Switch
,
Trailer
,
Visual Novel
Angels with Scaly Wings Nintendo Switch Review
Reading Time:
4
minutes
Fast Facts
Angels with Scaly Wings

Developer: Radical Phi
Publisher Ratalaika Games
Website: https://www.ratalaikagames.com/games/scalywings.php
Genre(s): Visual Novel, Adventure, Indie, Simulation
Platform: Nintendo Switch (also available on PlayStation, Xbox and PC)
Age Rating: PEGI 16
Release Date: 30/04/2021
Price: £9.99

A code was provided for review purposes
Is there More than One Universe?
From our younger days, the idea of there being parallel worlds or mythical creatures are highlighted amongst many tales. Witches brewing cauldrons and dragons flying high above the clouds could possibly exist, according to the stories you were told. One game that brings the idea of dragons to life is Angels with Scaly Wings. This visual novel takes you on an adventure as you travel to a different dimension through a portal. This is a world of dragons going about their day to day life, but your arrival looms trouble. As you find yourself in the deep end, now trying to solve a murder mystery, the story takes you on a whirlwind adventure. Meeting new people, solving crimes, and discovering new locations, all come together to tell a tale unique to Nintendo Switch.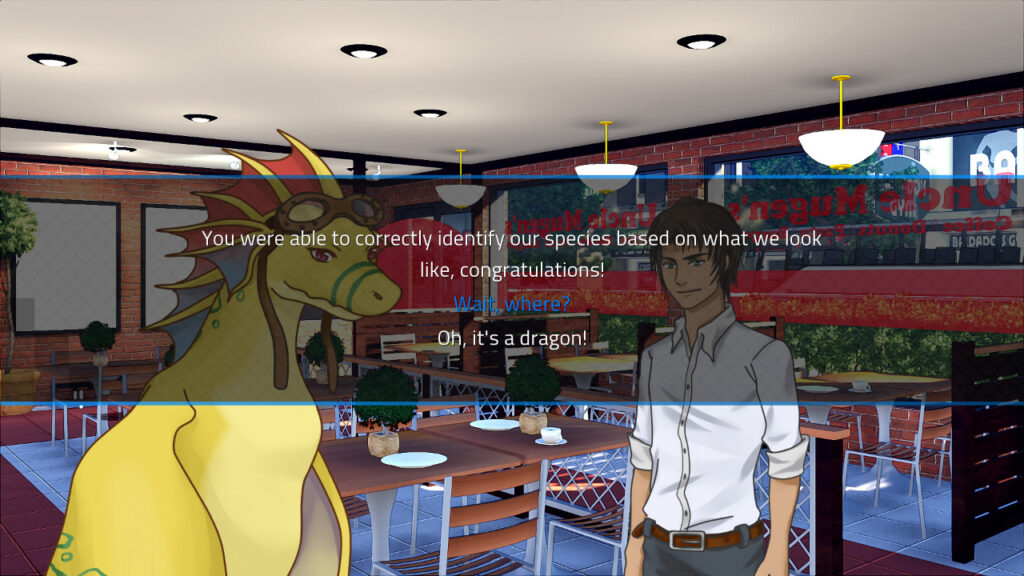 A Unique Story
I have never played through a visual novel before, so it was quite unique to be able to experience Angels with Scaly wings. For one, the story took you on a rollercoaster of emotions. Meeting new dragons, going on dates and suddenly having to face dead bodies. It really does throw you off guard with the variety of events taking place throughout this visual novel. The overall story to this game is that you need equipment from the dragons for your civilisation back home, but during your time in this world a lot of events happen that keep you around. Let's dive into how the story is told.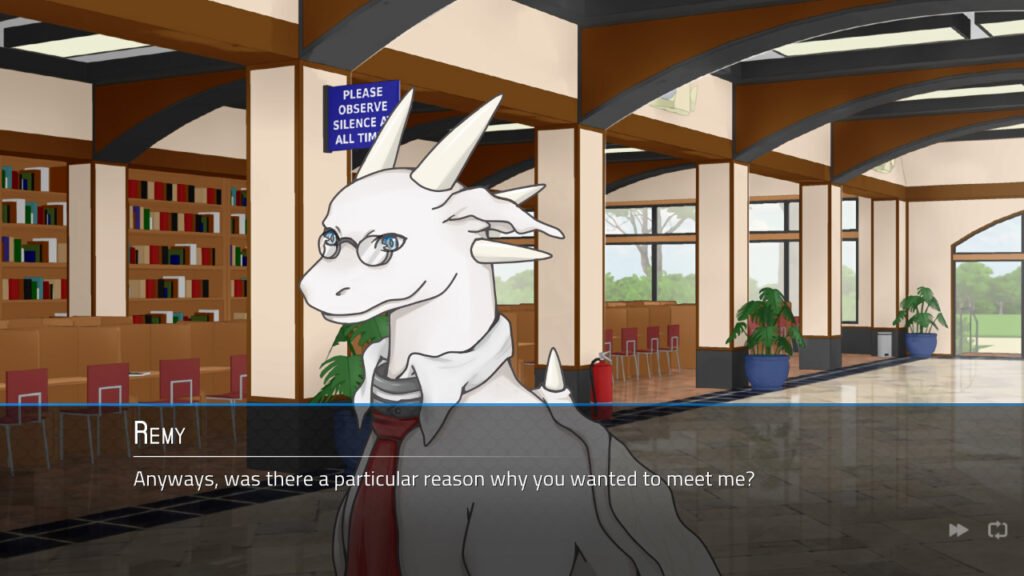 I have never written a story before, so I'm no expert, but I will say that the way in which this story is written is not the greatest. During some moments, I was captivated by events that were about to unfold, but most of the time I found myself trying to skip through the dialogue. Some scenes involved too much chatter and not enough progress in the story. One example, that happened often, is when I would have a free day and you were invited to go and speak to whoever you choose in the community. This would often be for lunch or coffee, with another dragon. However, these events were merely chit chat with others rather than actual story progression, or the chance to gain information.
I found these events dull, and the writing style lazy as it was very bland chit chat compared to conversations where the story would progress. I didn't feel motivated to sit and read through every section and feel it would have been better for there to be reasons to speak to these dragons, such as being able to unlock achievements, or gain objects or knowledge that would be of benefit later on. For example, one moment saw me meeting with another dragon called Anna. Although this gave me an insight into Anna's work, the conversation itself was long-winded and lacked detail. It felt as if this entire scene was unnecessary as all the information was repeated later on through other conversations with dragons, or parts of the story.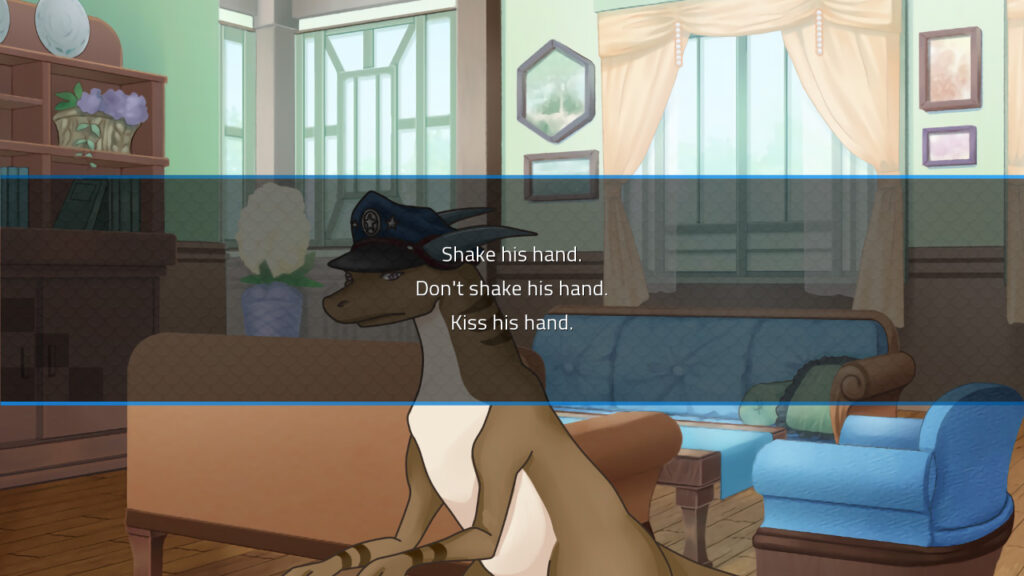 Shocking events
During intense moments which saw the story take a new turn, the writing felt more intriguing. A crime had been committed, I was suddenly overwhelmed with different ideas as to how it could have happened. My brain flicked through all the possible ideas as to what could have happened here. Being a visual novel, this game carries more than just a story being told. It allows you to play your own part and carry out investigations. After reading about what has happened, you are presented with options to look over the body and see what you notice. Or you could go and look for clues in different locations and report all your findings back to the police. This was quite a nice little interaction section that popped up frequently while reading the novel.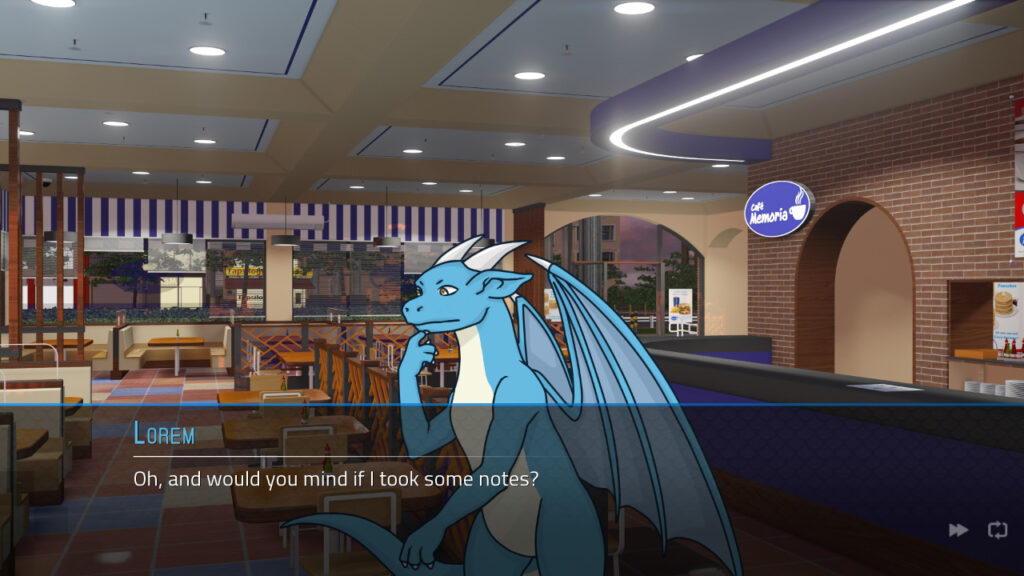 Along with police investigations, where you take charge, the novel also offers you the chance to choose your own dialogue from a selection. How you choose to respond also impacts how the story is delivered. You choose whether to be on the side of the police or working with the criminals; whether loved or hated by everyone in town. By including this during your readthrough it keeps the novel interesting because you are able to continuously alter which avenue you go down.
Final thoughts
Overall, for my first visual novel, I don't think I chose too badly. It definitely wouldn't be a recommendation to friends who want to try something different. However, I can see if you are a fond fan of the visual novel genre, that this is a story you may enjoy. I found the writing style difficult to keep me intrigued, but it quickly caught my attention with a dramatic story event. If you enjoy visual novels, then it's worth trying out Angels with Scaly Wings, but you won't have missed much if you don't venture through the portal.
Rapid Reviews Rating
2 out of 5
2
You can purchase Angels with Scaly Wings via the Nintendo Store here.