Reading Time:
3
minutes
Thief Town

Developer: Rude Ghost
Publisher: Skymap Games
Website: https://www.nintendo.com/games/detail/thief-town-switch/
Genre: Party, Arcade, Multiplayer
Platform: Nintendo Switch
Age Rating: PEGI 7
Release Date: 11.02.20
Price: £6.79

A code was provided for review purposes.
Don't Stand Out
Thief Town, a strictly local multiplayer arcade game, has one simple instruction: don't stand out. You and your friends (or enemies) play as thieves who look identical to your NPC acquaintances. It's a game about blending in, but does Thief Town do enough to stand out from the crowd?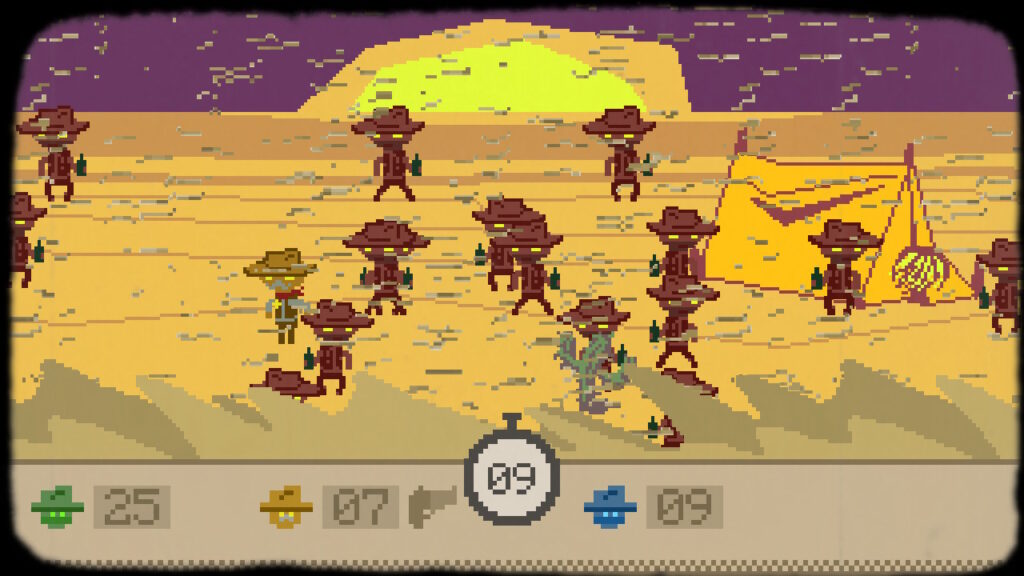 The Basics of Backstabbing
First off, Thief Town is strictly local multiplayer: there is no online availability and two joy-cons are required to be connected before you can start the game. Couch co-op games usually feature an easy to grasp mechanic to allow accessibility for all players no matter their experience with gaming. Thief Town does not differentiate from this and thus offers controls that are very easy to pick up. You use the joystick to move and the "right" button to stab. There are certain game modes which allow you to use the "down" button for power-ups but I'll talk about them later.
The gameplay of Thief Town very much reminded me of the "Sneaky Assassins" minigame on the Mineplex Minecraft server. All players and NPCs look identical and the main objective is to stab your friends without harming the NPCs. The screen is full of identical thieves so players must move and behave inconspicuously. If you notice any odd behaviour, then you stab the player, but be careful as a wrong move can expose yourself for an attack.
The basic gameplay meant that we didn't play for hours and hours on end, but the game offered enjoyment in the smaller rounds that we played.
The Visuals and Sound of the Old West
Visually, Thief Town features a retro pixel design with a few western movie touches. Upon loading the game, there is film grain and a jittery screen with a dusty overlay. The pixelated design works well with the western aesthetic and overall I was impressed with the visuals of Thief Town. There's a basic cowboy tune which plays throughout the game but the music wasn't very memorable. In a couch co-op game like this, music isn't too important as the shouts of the players overwhelm the level of noise.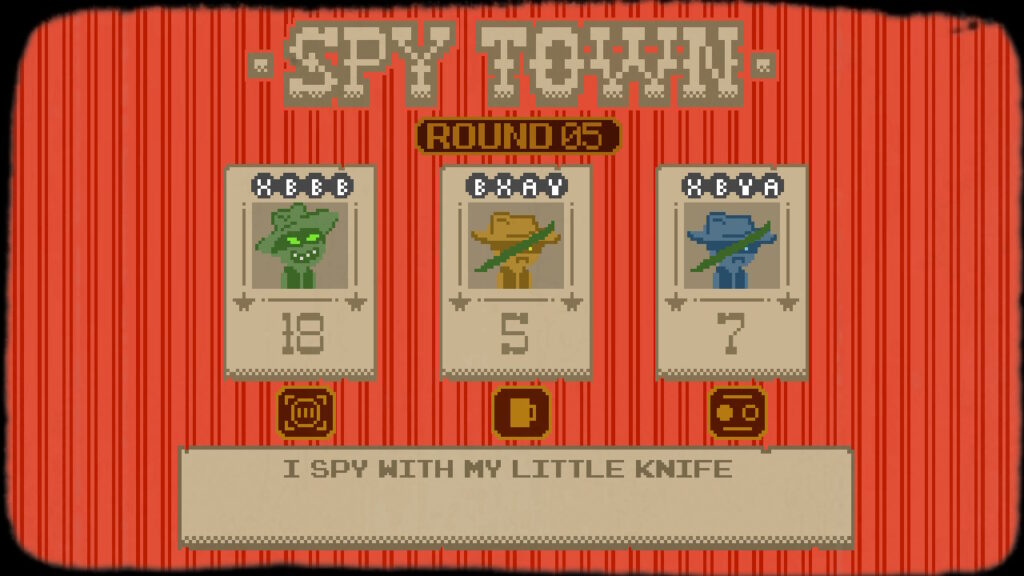 Changing the Formula
The base game mode of Thief Town is by far my favourite. The simple goal of hiding in the crowd and attacking provides a lot of fun. Thief Town does, however, add two bonus modes: Drunk Town and Spy Town. And whilst these modes do not reinvent the game, they do add some fun touches. In Drunk Town, one player is a sheriff whilst the others are without weapons and must blend in to avoid the sheriff's gun.
The third mode, Spy Town, equips players with a unique power-up. Power-ups such as smoke bombs help to achieve your assassination goal. This mode was my least preferred as although there is some explaining on the powerups function, the explanation disappeared after the first loading screen. The players and I were left confused about what our power up actually does as it varies for each competitor. Nevertheless, this did cause some funny moments as I switched with an NPC and completely lost sight of which character I was playing as. The selected mode can be changed before starting a round but as there are only three options, I was looking for a little more variety in gameplay.
Final Roundup
Overall, Thief Town is an enjoyable couch co-op game although the lack of online multiplayer is disappointing.
It will not provide hours and hours of gameplay, but with a group of friends, the quick game rounds, low price and easy to grasp gameplay means that Thief Town offers some backstabbing fun for all!
Rapid Reviews Rating
You can purchase Thief Town for the Nintendo Switch at the following link: Nintendo eShop