Reading Time:
5
minutes
Grindstone

Developer: Capybara Games
Publisher: CAPY
Website: grindstonegame.com/
Genre: Arcade, Puzzle
Platform: Nintendo Switch
Age Rating: PEGI 16
Release Date: 15/12/2020
Price: £15.09

A code was provided for review purposes.
Announced and then immediately released in December's Indie World Showcase, Grindstone immediately piqued my interest. With its colourful art style and combo-puzzling, is this a game worth climbing up Grindstone mountain for? Find out in my Rapid Review.   
A Mountainous Task
The overarching goal of the game is simple. It is a linear fare where players vertically traverse the Grindstone mountain, finishing levels as they do so. A brief opening cutscene uses a comic to detail the story: climb up the mountain, kill 'creeps' (the enemies in Grindstone) and earn money to go on a holiday to the muddyflats. This is a basic premise but for an arcade puzzle game, it certainly gets the job done and adds a touch of sympathy towards the otherwise non-reasoning rampage of the titular Viking.
Snake-like Sword Slashing
The best way to explain the gameplay of Grindstone is "snake-like sword slashing" (try saying that 10 times quickly). All the gameplay takes place in a grid-based format with plenty of obstacles and twists across the 200+ levels. Enemies of a matching colour must be lined up to create the largest combos and the game gave unlimited time to experiment with different routes. Travelling in all directions, some serious combos can be unleashed; enhanced further by the titular Grindstones. Grindstones are coloured gems which once hit, allowed me to continue my chain but with a different colour.
For example, I created a chain of nine neighbouring red enemies; then hit an enemy which allowed me to switch my colour. I switched to blue for two enemies before hitting a Grindstone and ending the chain with five hits of yellow. This is just one example of many and the combos feel highly satisfying especially with the varying HD rumble features providing suitable feedback dependent on the size of the enemy. It's worth noting that this switch port allows for both joystick play with the original touch screen controls found on mobile also being present. As for me, I played with the Joy-Con and controlling Grindstone was seamless.
Great Grindstone
Visually, Grindstone looks superb and is full of colour and charm. The game uses an art style that wouldn't look out of place in a cartoon TV channel yet remains distinct in such a way that I struggle to find an existing animation series to compare this game too. Grindstone can be as gory as you'd like thanks to a three-point gore slider. You can opt for no-gore which makes Grindstone's enemies consist of all manner of different treats; spraying out baubles, bells, gingerbreads and candy canes. (I'm unsure whether this seasonal offering varies over time). There's a middling gore offering which adds some red to the mix and a third tier that offers all the trimmings expected of a sword-wielding blood-thirsty Viking.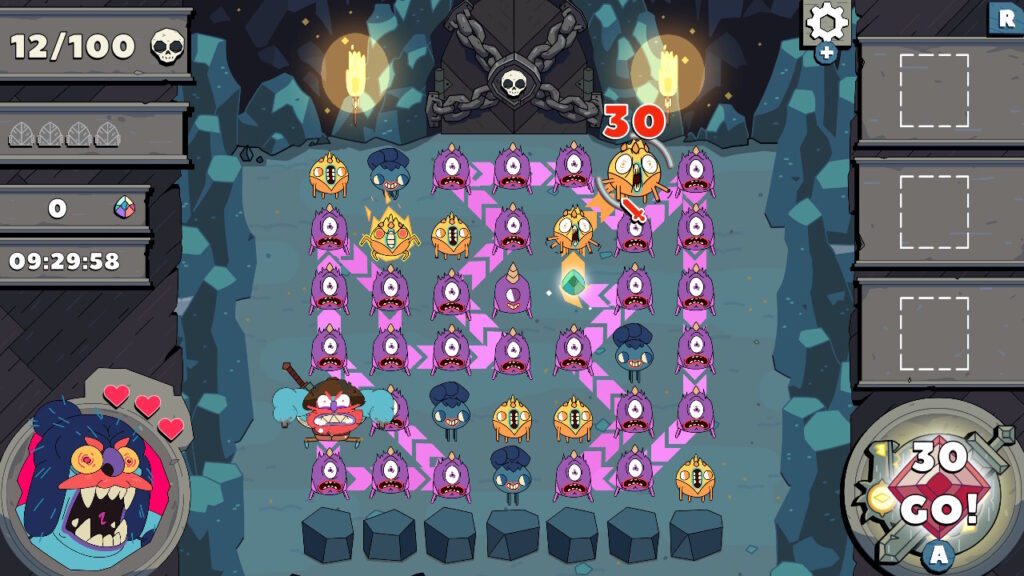 Personally, I went for the middle tier but it's great that the developers have implemented this slider; making this title accessible for all. Slicing through all the enemies is great fun thanks to the fluid animations but I must confess that the non-intimidating smiles of the enemies made me feel a little guilty.  
Audio-wise, Grindstone is a real treat but it makes my job as a reviewer hard as I struggle to attach a genre to the audio. In some parts it's low-fi hip hop, in others it takes on an industrial quality. Usually, I play arcade puzzles such as this on mute whilst I watch television or listen to a podcast. The music here was so good that sitting in the living room when the TV adverts came on, I slid up the Nintendo Switch volume and took in the sounds of Grindstone. I'm sure for the rest of family, low-fi and insurance adverts aren't the best pair but this anecdote speaks volumes about how much of a gem Grindstone is.
Return Home
After a busy day at the Grindstone, it's time to return to the bottom of the mountain and visit the inn. Here, any lost health can be brought back via Grindstones and new items, both with limited and unlimited uses can be bought. I found myself collecting so many Grindstones that after playing fifty levels and the daily mode, I've never needed to backtrack to collect more Grindstones to grow my health.
On offer at the inn are also costumes which both cosmetically alter your character in addition to providing gameplay perks. I spent my time with the game donned with Santa's suit; both as an ode to the season and the unique perk on offer. Dressed as Santa, plenty of riches appeared throughout the levels which gave me more currency to spend on other items at the inns but also making it easier to chain a combo as the treasure replaced an enemy who – in the wrong colour- could have blocked my route altogether.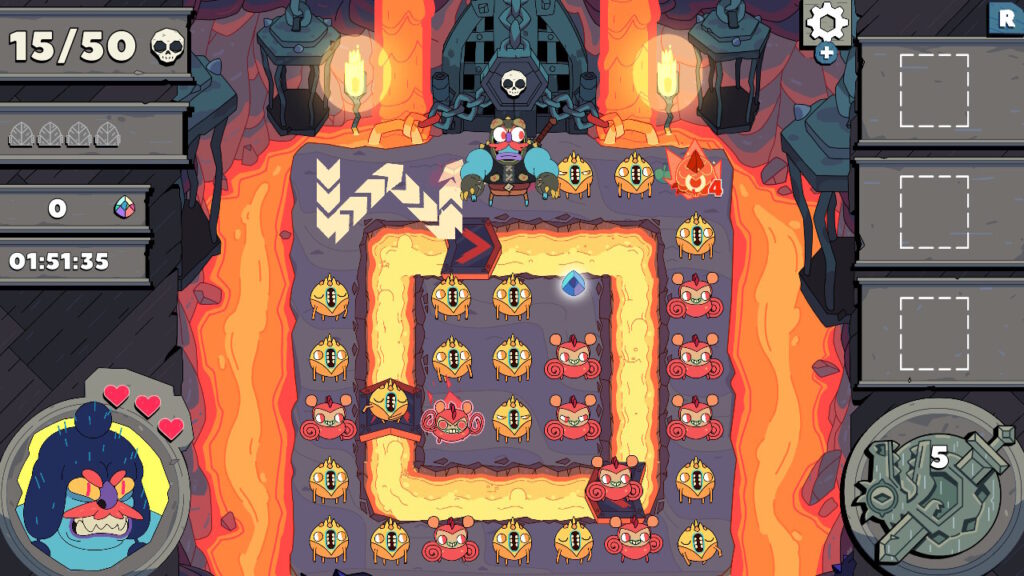 In addition to the goods served, the inn area also offers two modes which change daily: a mode that provides a limited number of turns and one that focuses on survival across levels. Both of these are a battle to the top of the leaderboard. This daily cycle provides a multitude of content with Grindstone and I was happy to say that I was a top 100 player, even if this was only for a few hours.
A Hidden Gem?
Like the Grindstones themselves, this arcade puzzler is truly a gem. With gameplay both refreshing yet welcoming, Grindstone has quickly become my go-to puzzler and one of my favourite Switch games in general.
Rapid Reviews Rating

You can purchase Grindstone for £15.09 on the Nintendo eShop.