Gaming
,
Indie
,
Indie Dev
,
Narrative
,
Nintendo Switch
,
Nintendo Switch Lite
,
PS4
,
PS5
,
Rapid Reviews
,
Reviews
,
Visual Novel
,
Xbox
,
Xbox One
,
Xbox Series S
,
Xbox Series X
Reminiscence in the Night Review
Reading Time:
4
minutes
Fast Facts
Reminiscence in the Night

Developer: Team SolEtude
Publisher: Ratalaika Games
Website: https://www.ratalaikagames.com/games.php?id=reminiscenceinthenight
Genre(s): Visual Novel
Platform: PS5 (also available on PS4, Xbox One, Xbox Series X|S, Nintendo Switch, and PC)
Age Rating: PEGI 7
Release Date: 22/10/2021
Price: £3.99

A code was provided for review purposes
Memories are such important aspects of our lives, both the good and bad. From cherished times with loved ones, hardships, to periods where we persevered and succeeded. These all help to mould and define us as individuals, as well as shape our actions going forward. To lose all of that is a distressing thought. Reminiscence in the Night confronts this very topic.
Developed by Team SolEtude, this short visual novel will guide you through a somber tale with some twists and turns. Featuring simple gameplay mechanics, does the game provide enough to leave its mark? Keep reading our review to find out!
Forgotten Memories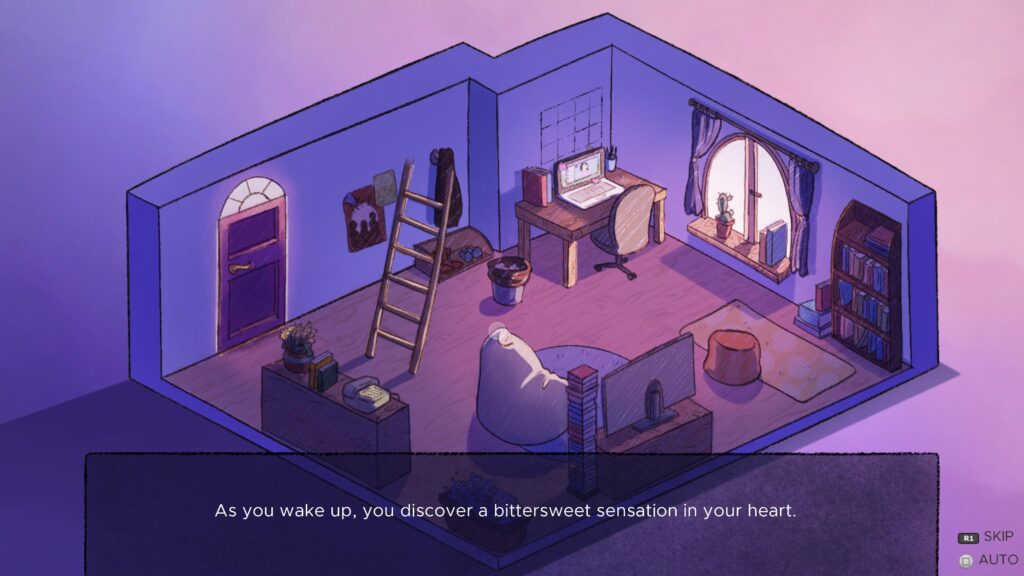 The game begins with our character waking up. However, they appear to have lost all memories of the past and of themselves. Taking place in the protagonist's apartment, you're left to put the pieces together and uncover the truth. By interacting with your surroundings and conversing with a few individuals, you'll slowly gain an understanding of what's happening. I'll admit, the mystery of it all really intrigued me.
In terms of gameplay, it sticks with a simple design to keep the focus on narrative. Given the title's very short runtime, this was a smart move. Its point-and-click aspects are straightforward. You'll be able to click on a decent selection of objects across the two rooms. Doing so might lead to little, but it often provides insights into our character and their memories. There are also various dialogue choices throughout for you to pick. That's really it. Interact with objects and choose dialogue options. Simple but appropriate for this type of experience.
Confront the Past
Dealing with serious topics is always going to be tough to work with and get right. Reminiscence in the Night does an adequate job, but it often blunders its execution. Several themes are explored, as well as having a level of ambiguity. Without spoiling much, it quickly becomes apparent something traumatic happened in the past. It's this past trauma that fuels the narrative. While there are themes of hope and perseverance, it also tackles dark states of mind. As a word of warning, the subject matter might be too much for some.
The game features multiple endings dependent on a range of different actions you make throughout. How you talk with your mother over the phone, your friend Sofia, or the entity in the mirror can impact what ending you get. Also, if and when you interact with certain objects will have an effect as well. It's a worthwhile approach, where choices and their outcomes feel natural for the most part. It also adds replay value for those that want to experience every ending.
The biggest issue I have with the game is how short it is. It can be beaten in about 30 minutes. Unfortunately, this just doesn't leave enough time to provide much depth for certain aspects. The few characters you engage with don't have room for much growth and development. This makes it harder for me to feel invested in what's going on and those around me. Overall, I applaud the developers for tackling such serious topics, even if it spreads itself too thin.
A Charming Surface Hides Darkness Below
Reminiscence in the Night features such a beautifully, artistic aesthetic. The rooms of the apartment are imbued with a colourful glow, while the world in the mirror is given a dreamy and unclear setting in black and white. That hand-drawn style fits the vibe and is surprisingly adaptable for different tones. The accompanying music is subtle but calming.
But this initial, pleasant presentation hides an unsettling layer below. Towards the end of the story, things start to take a sinister turn. The apartment and mirror world transform to the point that it feels like they have been ripped straight out of a horror game. The stark visual contrast and eerie music nail the more ominous themes presented. It's unexpected, but it works so well and genuinely made me unnerved.
Final Thoughts
Reminiscence in the Night needs to be praised for a number of things. The visuals are charming, yet they can change to disturbing with ease. The same can be said for its music. It strives to tackle various issues, such as confronting trauma, and the potential dangers of blocking it and everything else out. However, the game ends up being held back from its full potential. The very short runtime leaves its storytelling feeling uneven and lacking depth, especially the characters.
Unfortunately, despite its goal of telling an impactful story about the importance of memories, Reminiscence in the Night kind of fades away shortly after finishing it. Having said that, there is a solid amount here to enjoy if you're looking for a brief, narrative adventure.
Rapid Reviews Rating

3 out of 5
3
You can buy Reminiscence in the Night from the PlayStation Store.