Elgato Stream Deck + Review
Reading Time:
5
minutes
Fast Facts
Stream Deck +

Eight customisable LCD keys
Four customisable dials with integrated buttons
Customisable LCD touch panel
Smart profiles
Multi actions

A Stream Deck + was provided for review purposes
Elgato's Stream Deck + is a device that makes content creators' lives much more accessible by offering a single interface to customise various types of content – right at their fingertips. But how can this help? And more importantly, does its functionality outweigh its cost? Let's find out in this rapid review.
A Content Creators Best Friend
Elgato is well known for its various pieces of technology that ultimately make streamers, and content creators, lives easier; capture cards, mics, and cameras are among the many items they lovingly craft to add to our beloved setups. But it's their latest version of the Stream Deck that really shows what Elgato are capable of.
The Stream Deck + features eight completely customisable LCD buttons and four (slightly less) customisable dials that double up as buttons. On top of that, there is a customisable LCD touch panel, allowing you a whole bunch of ways to really make the Stream Deck your own.
Although it doesn't sound like a lot, all of these things make streaming incredibly easy. With the ability to trigger almost any action you want just by pressing a button, the possibilities are endless.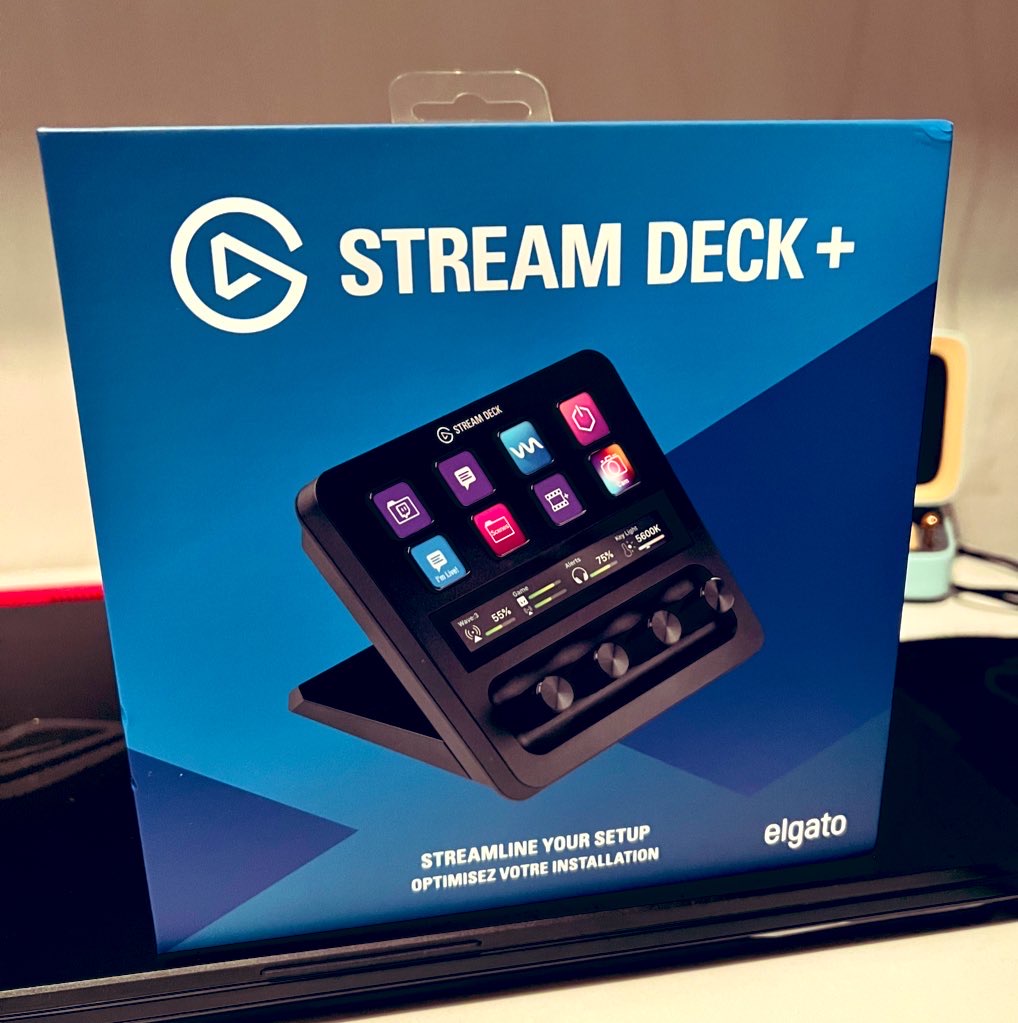 Functionality At Its Finest
So, we know that the Stream Deck + has all these buttons and dials, but what do they actually do? Well, they do whatever you want them to – within reason. There are many ways that the eight LCD buttons can be customised, and if you can think of it, chances are you can alter the Stream Deck to do this for you. Want to push a button to begin your stream? Done? Want a control for each screen your stream shows? Done. Even setting up a button to open certain web pages can be added. The possibilities really are endless.
On top of being able to change the functionality of the buttons, you are also able to customise what they look like, whether that be a still image or a moving image, using hundreds, if not thousands, of pre-made images found in the Stream Deck software, but more on that later. You can even create your own custom images or GIFs to use on your buttons, giving you endless customisation.
Similarly, the four dials can be customised to quickly alter things like your desktop volume, your stream volume or even to modify the brightness of a smart light you may have connected! These dials can be clicked to make another button, to do things such as quickly muting your mic or audio source, or even to cycle through various other settings you have, so they're incredibly useful.
Touch Bar Technology Makes Everything Easier
Finally, the LCD touch bar is another beautiful addition to the latest Stream Deck, and it adds even more options for making your streaming life easier. The touch bar will display the four items you have set to the dials, so you know exactly what you're altering and by how much. You can tap the icons to mute or unmute audio, turn lights on or off and many other things, as well as being able to swipe across to change which page you are on. What's more? You can also change the look of the touch bar by selecting from the few options Elgato offers within its software.
These things make the Stream Deck + a force to be reckoned with and make fiddling about with various tabs on your PC not a problem anymore. It's lovely how effortless it is to get the desired setup.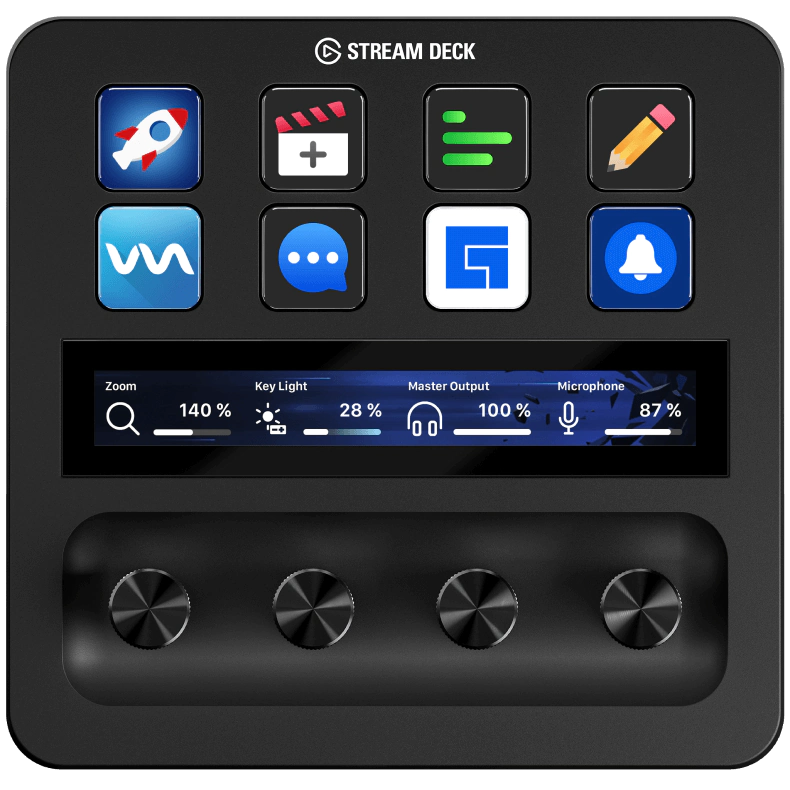 Easy as Pie
As I mentioned above, you must first download some software to use the Stream Deck +, or any Deck for that matter. This can be easily downloaded from Elgato's official website. You need to use this to customise any aspect of the Deck.
This software will essentially be your Stream Deck 'hub'. Anything you want to do to it, you will do it through here. It can be found in this software, whether changing button uses or downloading plug-ins. And the best thing about it is it's straightforward to use. It doesn't require you to know everything about technology to set it up; it just requires you to understand what you are looking for.
The software is also the place where you can download hundreds of customisation options. Plug-ins, new icons, music and even various sound effects can be found and downloaded completely free of charge. It's as simple as a click of a button. No stress is involved.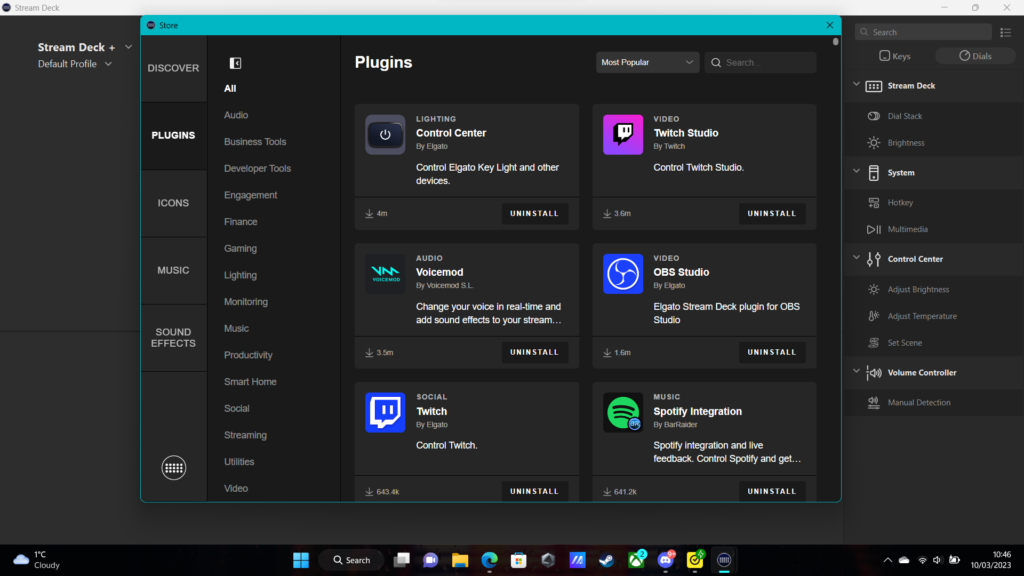 A Premium Feel For A Premium Product
In terms of how it looks, the Stream Deck + is visually stunning. It looks like a premium bit of kit, and it looks great in almost any setup too. It would be nice if Elgato could offer a colour range on them sometime in the future. I'd imagine people with a white setup wouldn't want something black mixed in with that, but other than that, it's fantastic.
The buttons feel good quality, and the dials feel more premium, too; instead of plastic, they appear metal. The touch bar is highly responsive, only requiring a light touch to activate it. Overall, everything works as it should.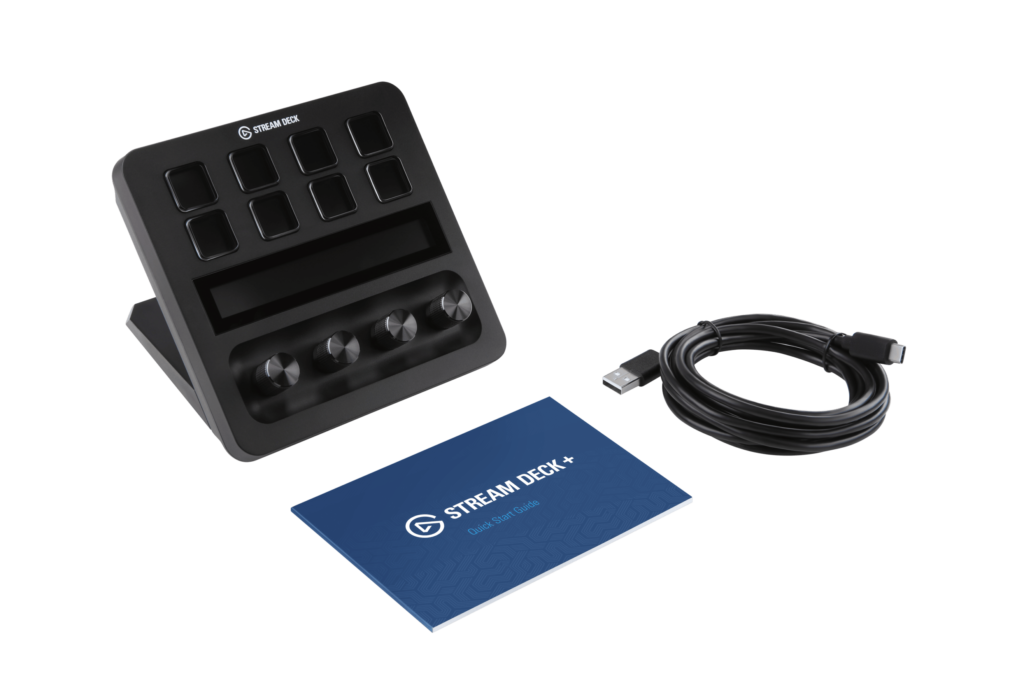 Summary
Overall, the Stream Deck + is a fantastic bit of kit that makes streaming, or any kind of content creation, exceptionally easy. It is a little pricey, but it makes everything much quicker and more accessible. There's no better feeling than simply turning a dial to lower your stream volume instead of going into OBS (or whatever software you use) to alter the settings.
If you can afford to set aside the £199.99 required to purchase the Stream Deck+, it's 100% worth doing so.
Rapid Reviews Rating
5 out of 5
5
You can purchase the Stream Deck + by going to the Elgato website here.