Reading Time:
4
minutes
Title: Puyo Puyo Champions
Developer: Sega
Publisher: Sega
Website: http://puyo.sega.com/champions/
Genre: Puzzle, eSports
Platform: Nintendo Switch
Audience: PEGI 3+
Release Date: 07/05/19
Price: £7.99 – Rapid Reviews UK were very kindly provided with a review code for this title.
What the Developers say
Easy to learn, tough to master! Jump straight into fast-paced puzzle action with features fit for both friendly rivalries and competitive tournaments in Puyo Puyo Champions. Challenge your friends and family in local multiplayer or compete against players from around the world through online matchmaking. Built for all ages, this classic puzzle game comes with a surprisingly competitive edge.
Introduction
Puyo Puyo is a super simple game that you can learn to play in seconds, but that will take hundreds of hours to master. Better known outside of Japan as "Dr Robotnik's Mean Bean Machine" this game has you matching sets of Puyos (beans) in groups of four. Ideally, you want to match a set of four in a way that will chain together multiple matches, with each successive match dumping more and more trash Puyos on to your opponent.

Puyo Puyo has a lot in common with Tetris (so much so that they released a crossover game for the Switch at launch). A big tall box that you fill with objects that fall down at a slow speed while you rotate them. But it's also different enough that it feels like a distinct game with its own tactics.

Champions is an eSports and competitive multiplayer-focused Puyo Puyo game. It's very cheap and slim on features but it is perfect for getting a quick game in where you can.
Looks and Sounds
Having played 2017's Puyo Puyo Tetris I can tell you that this game lifts the majority of its looks and sounds straight from there. This isn't a bad thing at all though as the design is excellent and cohesive across the whole experience. The game is clear and easy to read in handheld or docked mode, and the character designs are great.

Incidentally, my favourite characters are the scientist teddy bear and a flamboyant fish.

The music is pretty standard Japanese puzzle game fare and honestly not very memorable. Playing for a few hours no songs that came up struck me as Jpop-style bangers. The characters also announce every time they make a combo or chain more combos, which I did find a bit annoying. I'm sure in tournament play it's super helpful to know when your opponent is making combos, but I'm not at that skill level yet, and I could have done without.
Gameplay and Replayability
It's hard to talk too much about this beyond "it's just really good Puyo Puyo". Champions are called Puyo Puyo eSports in Japan, and it shows, as the game is purely designed to be an excellent multiplayer game. You can practice against the CPU, but I think the longevity here in this game is either that you get super into it online or you whip it out at parties.
Returning after being absent in Puyo Puyo Tetris is Fever Mode. When playing with the Puyo Puyo Fever rules, every chain you make fills a meter in the middle of the screen. When this is full, you go into Fever mode, where your playing field is taken away, and a preset layout of Puyos appears in their place. You're then given the exact Puyos you need to chain together every single Puyo on screen with a short time to decide where you should place it. You continue to be shown puzzles like this over and over until Fever ends.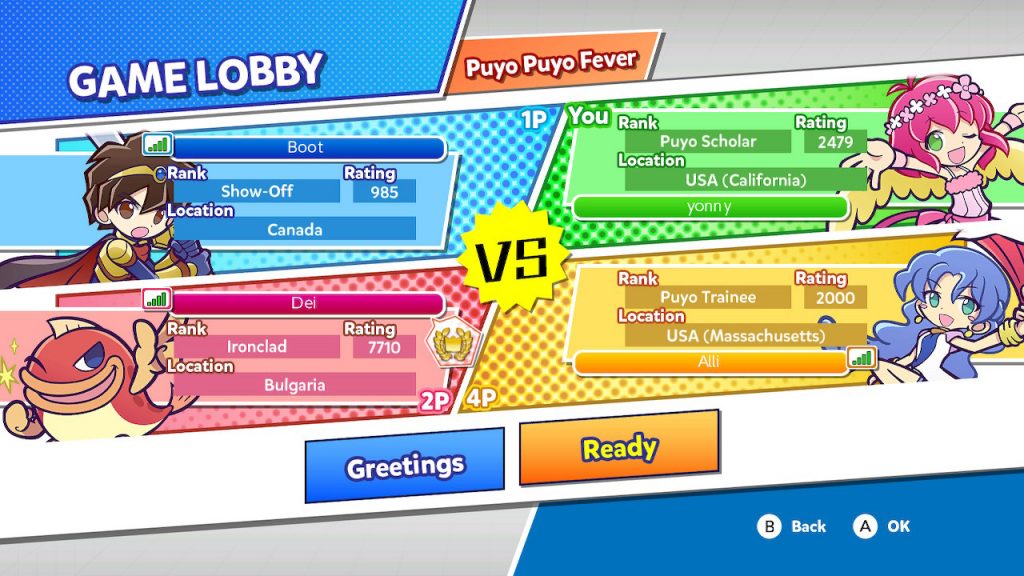 If you're a solo player, I would probably recommend Puyo Puyo Tetris over this, as that's a much more complete package, even including a fully voiced story mode. The Fever mode is a cool addition, and if you're a big Puyo Puyo fan, are looking for a game to play competitively, or in a tournament setting then this is a fantastic game for you.
Conclusion
When reviewing games, I don't like to say "If you like X you will like this X game" but honestly, I think if you are on the fence about whether you'll like this game, it's only £7.99 at launch, which is insanely cheap for how polished the gameplay is. Also at the time of writing, Puyo Puyo Tetris can be bought for £20 or less at multiple outlets, which is a damn fine multiplayer Puyo Puyo game but also adds a single player story and Tetris.

For Puyo Puyo Champions though I think the price justifies the slim content, and what is there is really good. I had no trouble matchmaking with players either, even before the game was officially out. Fair warning though that you might want to practice a little, as the Japanese players I faced off against beat me in under 20 seconds most of the time.
Rapid Reviews UK Rating
If you'd like to buy this game you can do so here: https://www.nintendo.co.uk/Games/Nintendo-Switch-download-software/Puyo-Puyo-Champions-1549862.html