OneOdio Studio Pro M Wireless Headphone Review
Reading Time:
5
minutes
OneOdio Studio Pro M Review
Welcome to my review of the OneOdio Studio Pro M wireless headphones, OneOdio is a name you may not be familiar with especially in the UK so hopefully, this review will give you a little bit more information on the products supplied by this company.
OneOdio says that they are a manufacturer with over 10 years of audio production experience, they state what is most important is the power of music and bringing DJ quality sound to the masses with high quality at an affordable price.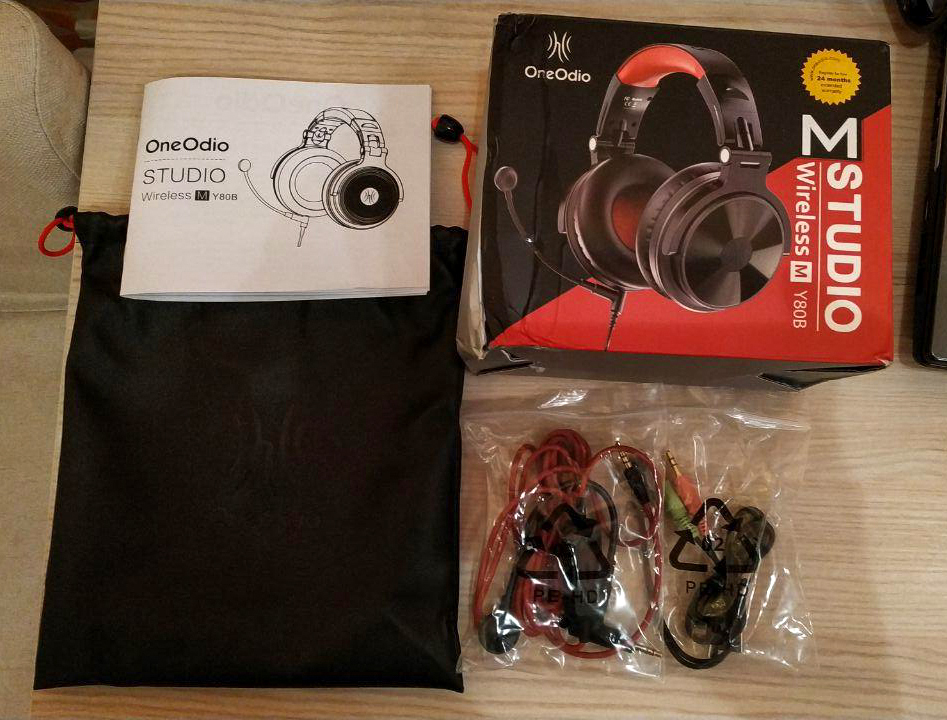 Out Of The Box
On opening the box to these (you can see the unboxing video linked at the top of this review) you are greeted with a pleasantly surprising package, The box is very small but inside it comes a pair of over the ear headphones which reminded me a lot of the Beats By Dre in colour and the finish to the touch feels top quality.
You also get a boom mic that connects to the base of the headphones turning them into a gaming headset, A small black pouch for storage and an audio lead to connect to a stereo or tv for better sound.
You also get a 24-month warranty and a voucher for a free gift from the company for purchasing the OneOdio Studio Pro M.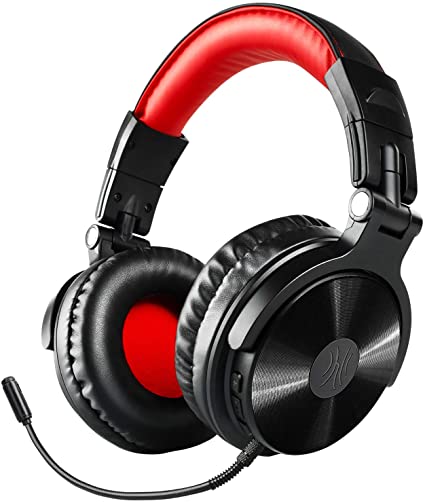 Design and Comfort
The headphones feature a great brushed metal earpiece with a red and black styled headphone, They are sleek and if you didn't know the price point you would think they are much more expensive. They come with some of the best-cushioned earphones and headband I have experienced in a long time leaving me happy to use them for extended periods without any pain or discomfort.
The audio lead is great but my only downer is that it has the huge mouth boom mic built-in so if you wish to use these as wired headphones you will need this mic in front of your face which puts you off slightly anywhere that isn't indoors.
Features
The headphones feature Bluetooth and wired connection options, the Bluetooth claims to last 30hrs at full charge (i have yet to run out of power), unfortunately when connected to a games console you have to use the wire so those with an Xbox will need to buy a standard 3.5mm adapter for the joypad.
They feature some amazing noise cancellation and leakage, I tested the headphones at full volume next to my wife using the Bluetooth audio from my phone and she could hardly hear anything. Once the volume was down at a more comfortable level she heard nothing.
Likewise, even at low volume, I was shocked at how well they drown out the outside, the earpieces really hug your head and stop any sound getting into them.
Audio Quality
Now I am no expert, I have friends who work in music and have experienced various levels of headphones in nightclubs and in recording rooms but these felt amazing.
I owned the over-ear original Beats By Dre and these sound wise reminded me of them, The bass is punchy and the vocals really pop. It feels amazing to listen to your music on these headphones and I was shocked at just how good an under £45 pair of cans were.
Now gaming-wise these headphones appear to have no surround-sound ability with the sound being constant in both ears in standard stereo, Playing Call Of Duty I struggled to tell where enemies were when I heard footsteps and the sound of distant gunshots just surrounded me. The quality though of my gun noises was again great and on other single-player games on both the PS4 and the Switch these headphones really sucked you in (Wonderful 101 soundtrack sounded amazing on these)
Gaming
The boom microphone was very clear, This mic considering it is attached to a headphone picked up audio from me when talking extremely well and I have since stopped using a mic on my computer to capture audio when I can use this instead.
It has great noise reduction which goes along with the companies claim it has 360' noise reduction for clearer audio when speaking.
If you can stomach the attached lead for the joypad in single-player these headphones are better than even the Sony PS4 Wireless official headphones, Multiplayer wise though the 7.1 surround sound they offer is far superior to the stereo option on the OneOdio Studio Pro M.
Verdict
I would not hesitate to recommend these headphones for multiple jobs, I can see them being great for your Zoom calls or Streamer along with the ability to use them as music cans and gaming headphones these could be your all-round headphones and at such a cheap price point for such quality build I would actually buy these myself.
If you want a dedicated gaming headset then maybe these are not for you as the surround sound does let them down on games that use it to its advantage, but then if you have a switch lite or something they are a great way to get lost in the worlds your playing.
The lack of wireless gaming compatibility and the fact you don't get an audio lead without the boom mic attached might put some people off, but for an overall jack of all trades headphones, these are great.
If OneOdio made a newer version of these headphones and added 7.1 surround sound and wireless compatibility with consoles along with a detachable boom mic they could potentially be the go-to headphones for most people.
Rapid Review Score
The Headphones featured can be purchased in the UK via Amazon and at the time of writing retail for £43.99, This pair was supplied by OneOdio