Action
,
Game
,
Gaming
,
Indie
,
Indie Dev
,
Nintendo
,
Nintendo Switch
,
Nintendo Switch Lite
,
Nintendo Switch Online
,
Rapid Reviews
,
Reviews
,
Strategy
,
Tactical
Narcos: Rise of the Cartels Review
Reading Time:
4
minutes
Fast Facts
Title: Narcos: Rise of the Cartels
Developer: Kuju Entertainment Ltd.
Publisher: Curve Digital
Website: http://www.curve-digital.com/en-gb/games/detail/38/narcos-rise-of-the/
Genre: Action, Strategy
Platform: Nintendo Switch
Age Rating: PEGI 18
Release Date: 21/11/2019
Price: £24.99 – A code was kindly provided for review purposes.
When Fire Emblem: Three Houses released in the second half of 2019, it thrust tactical RPGs into the spotlight once again. Named in many Switch owners top three games of the last 12 months, fans new and old enjoyed all that Fire Emblem had to offer. It's only natural then to see interest rise in similar titles that are subsequently released. Queue Narcos: Rise of the Cartels.
Released a mere 4 months after the aforementioned turn-based tactical powerhouse, Narcos: Rise of the Cartels had the opportunity to profit off the surge of interest that Fire Emblem had created. The game was made all the more inviting with its connections to the similarly named hit Netflix series, and it could have been argued that Rise of the Cartels would have owed some of its success to these two greats of their respective fields. It's those very same influences which prove instrumental in its failings as a video game experience.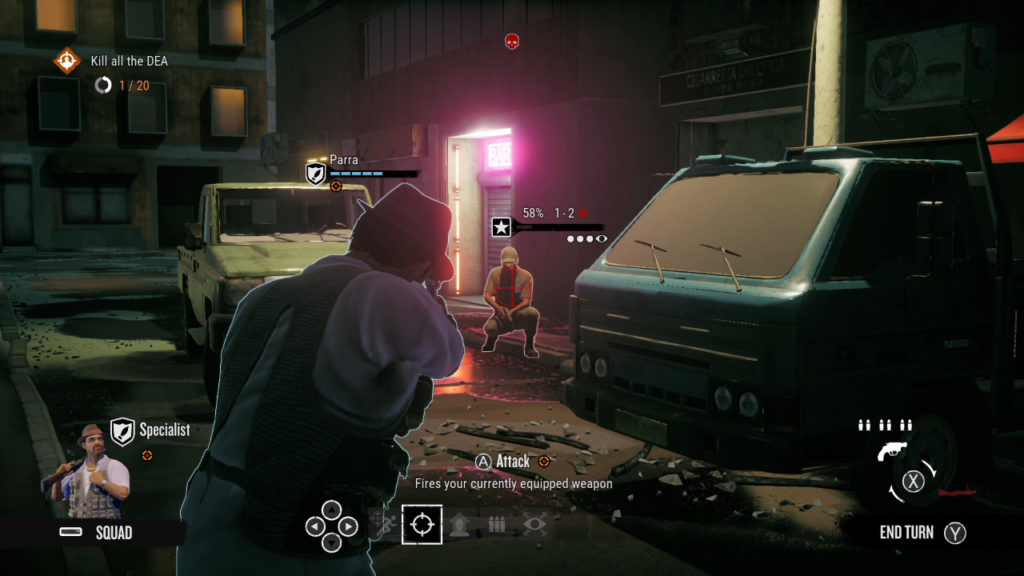 The early signs with Rise of the Cartels are promising. The UI is smart, and the control scheme fluid and the cutscenes and links to the Narcos show make for an exciting prospect. All of this is introduced to the player through a tutorial which showcases the untapped potential of Rise of the Cartels.
You begin as a member of the DEA who is looking to secure intel. It's a relatively straightforward introductory mission whereby you manoeuvre your controllable player to a building, collect the evidence, and then move on to team up with another member of the crew. You then proceed to engage in combat and learn the ropes of this turn-based, tactical shooter. After the mission is complete, you gain access to the missions.
There are two mission pathways: DEA and Narcos. Each follows a similar format whereby you assemble a team, each with their own distinctive traits, and embark on the next objective. The mission begins with a 'Deployment' phase where you can determine the positions of your team. You then proceed to take turns to engage in combat with the opposing team, moving your characters across a grid-based system before then choosing to shoot at a target.
There are a variety of missions to complete from both perspectives and offer both functional and conventional turn-based action. Far from groundbreaking, Narcos: Rise of the Cartels offers little to get excited by. In between missions, the cutscenes taken from the Netflix series of the same name provide some context which could keep people engaged, but it is unlikely.
The concept is brilliant and offers up a much grittier and life-like turn-based, tactical video game than most. Unfortunately, it fails to capitalise on all that it has going for it. Poor controls, texture pop-in, and blurry visuals all contribute to an overwhelming feeling that Narcos: Rise of the Cartels didn't receive the care and attention that it deserved. Having played this several months after its release, it is clear that it still hasn't to this day.
What seems to be the most glaring issue with Narcos: Rise of the Cartels is that even if all of the other issues didn't exist, the slow and strategic approach is at odds with a shoot-em-up focussed on the drug trade. It just doesn't sit right. Couple this with a lacklustre, inactive and disengaged enemy AI and it loses any and all atmosphere that it had immediately inherited from the gritty crime drama that the show is synonymous with. The use of 'Counteractions' – the ability to thwart an enemy move in its tracks by aiming down a first-person sight and taking shots at the moving target – does attempt to breathe life into it, but it isn't successful.
Narcos: Rise of the Cartels had ample opportunity to be considered an inspired, inventive and engaging take on the turn-based tactics genre. It is disappointing then to see none of it come to fruition and only serves to highlight the wealth of other tactics-based games available on the Switch that are much more deserving of your time.
Rapid Reviews Rating
You can purchase Narcos: Rise of the Cartels from the Nintendo eShop on the following link, https://www.nintendo.co.uk/Games/Nintendo-Switch/Narcos-Rise-of-the-Cartels-1680228.html#Overview