Monster Energy Supercross – The Official Videogame 4 Review
Reading Time:
5
minutes
Fast Facts
Monster Energy Supercross – The Official Videogame 4

Developer: Milestone S.r.L
Publisher: Milestone S.r.L
Website: https://4.supercrossthegame.com/
Genre(s): Racing, Sports, Simulation
Platform: PC (Also on Xbox One, Xbox Series X|S, PS4, PS5)
Age Rating: PEGI 3
Release Date: March 11th, 2021
Price: £24.99

A code was provided for review purposes
Have you ever wanted to ride on motocross courses set inside of stadiums on some of the fastest bikes in the world? Well, Monster Energy Supercross – The Official Videogame 4 might be for you.
Recognizable Spectacle
I should start with this, I'm not a motocross fan, I just know that the sport exists, that it was part of founding BMX style racing, and that Travis Pastrana competed in it in the early 2000s. However, the game itself looks good, there are lots of fireworks and explosions, the tracks look pretty hardcore, and there are not a lot of post-processing effects, which honestly works in this game's favour. Tracks usually take place inside Baseball and Football stadiums, with the exception of the track at Daytona International Speedway and those in the SX Compound.
Journey to Motocross Superstar
So as you enter the game, you can create a character that you can use throughout your races. From there, the career mode goes as such, you start out in the Futures series, where you drive on three tracks in the game, Angels Stadium in Anaheim, California, Oakland-Alameda Coliseum in Oakland, California and AT&T Stadium in Arlington, Texas. As I played through these tracks for the first time, I did feel there was a bit of a steep learning curve. While I think the control of the bikes is great – everything feels the way you would expect it to – learning the jumps felt quite tricky. It's kinda a science in of itself, and it honestly felt pretty tricky to learn, even with flow-aid on. Think of flow-aid as a racing line but for jumps.
After finishing the Futures series of racing, you have a choice, go to the 250 East or 250 West categories. The only real difference in this is the tracks you race on, West you go to places like State Farm Arena in Phoenix, Arizona and San Diego Stadium in San Diego, California and 250 East you go to places like Mercedes-Benz Stadium in Atlanta, Georgia and Daytona International Speedway in Daytona, Florida, and it's one of my favourite tracks personally. It feels easier to get used to, there's more of a focus on breaks and gas, and the jumps aren't nearly as frequent. It's honestly quite fun to ride.
No matter what series you race in, the last three races end at Rice-Eccles Stadium in Salt Lake City, Utah, where a champion is crowned. I finished… dead last out of all the full-time competitors, which is bad, but as I said before, the jumps are tricky to get used to in this kinda racing. From there, if you finish in the top three, you can go up to the 450 class, but I never got the chance to do that.
Training and Extra events help your rider improve, but they are also locked behind the classes you are racing in, as Level 3 upgrades are locked behind the rookie series (the 250 classes) and Level 5 upgrades are locked behind the Pro series (the 450 class). It's a unique way of doing things, I do appreciate the training mode in this game in particular, as it helped me to go faster, and I also like that you have a journal that keeps track of some things that you do, that you might not notice, like jump distance and whips.
Extras Are Actually More Fun
If you're not doing career mode, the things you can do are somewhat limited. You can obviously, do a single race, or a time attack mode where you can set times on the tracks in the game, as well as some custom-built tracks, where I found the AI a little bit slow for my liking, but it was still cool to see what people could come up with. You can change race distances from short to full-length and also choose how many races you want to do. In a rush? Do just the main event race. Have a lot more time on you're hands? Do "The Real Thing",  where you can do timed qualifying, heats, where the top nine go through to the big show, the last chance qualifier, where to top four go through, and, of course, the main event.
The big thing I liked about this game though is the free roam mode, as here it's a lot easier to learn the game as you go around collecting things and looking for tracks hidden in this open world. One of those tracks is Tracciato MX, and this is my favourite track in the game, as the jumps are more spread out and the track itself is less about nailing jumps and has a bit more of a focus on a traditional racing experience. There's also DLC based on the 2011 season of Supercross, but I didn't get the chance to try that out.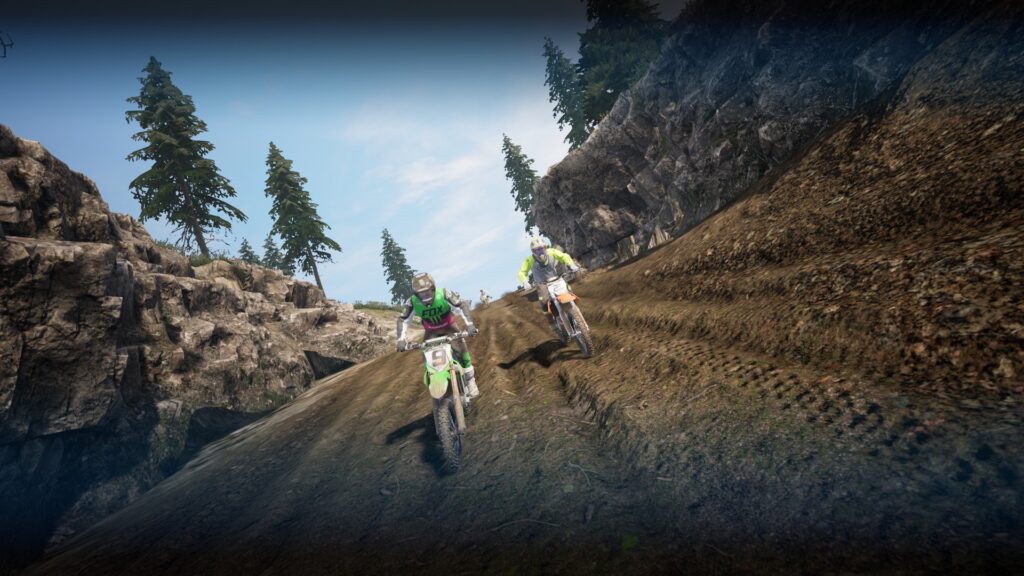 Final Thoughts
I do think this game has it's audience, but the problem here is that the Supercross games have somewhat moved on from this, as Supercross 6 is already out, so if you just want the latest tracks and races, go get that one, it's the current game that's supported. Outside of that? I can only recommend Monster Energy Supercross – The Official Videogame 4 to people who are into Supercross already and that just want to try some tracks that might not be in other games, as the gameplay doesn't feel super accessible. It's a fine game honestly, but if you're looking for something to pass the time and don't care about Supercross, there are better options on the market right now I think.
Rapid Reviews Rating

3 out of 5
3