Logitech Brio 300 Webcam Review
Reading Time:
4
minutes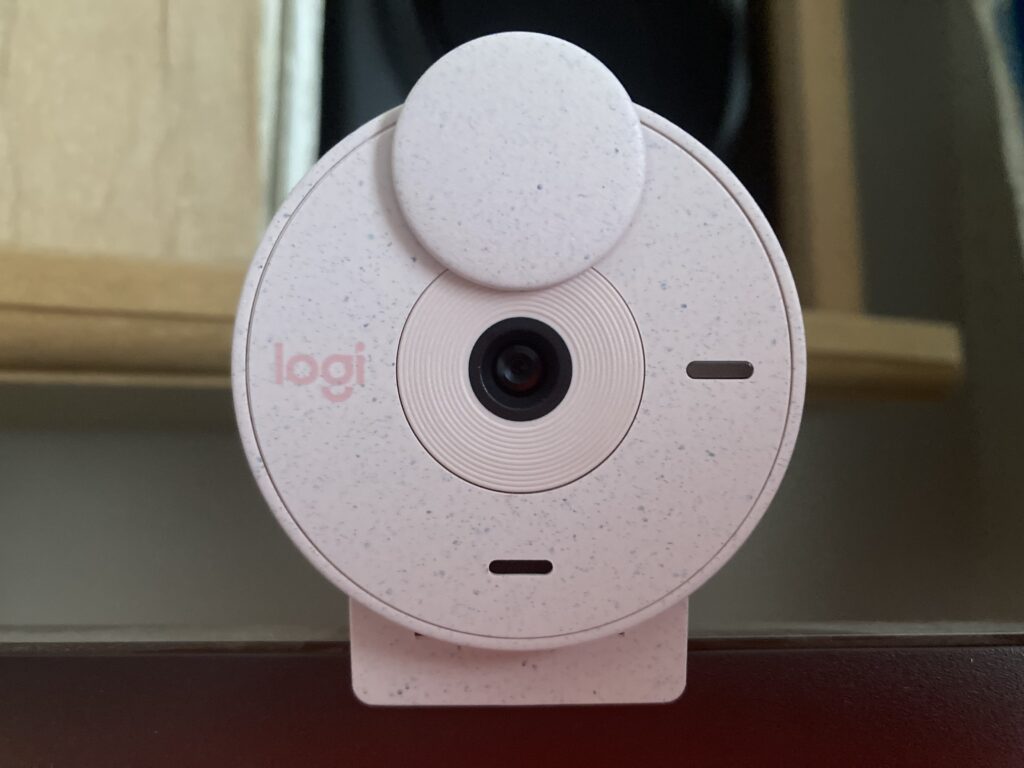 Tech Specs
Product:
Logitech BRIO 300
Details
Multiple resolutions
1080p/30fps (1920×1080 pixels)
720p/30fps (1280×720 pixels)
Camera megapixel: 2MP
Diagonal field of view (dFoV): 70°
Hardware zoom: 1x Digital zoom
Focus type: fixed focus
Lens type: Custom Logi 4 element lens with anti-reflective coating Integrated privacy shutter USB-C plug-and-play connectivity Supported in Logi Tune
Built-in Microphone type
Mono microphone
Mic range: Up to 1.22 m
RightLight 2 automatically balances brightness, adjusts contrast, and compensates for challenging light environments to create a natural presentation.
Website:
https://www.logitech.com/en-gb/products/webcams/brio-300-webcam.960-001448.html
Price:
£74.99
An Essential Piece of Kit
These days, a webcam is a must for a multitude of jobs – whether you're in the workplace or working from home. It's one of the pieces of tech I use every weekday, as a large part of my job involves teaching in an online classroom. Therefore, I couldn't pass up the opportunity to test out the Logitech Brio 300 webcam. Find out how I got on in my Rapid Review below.
Easy-peasy
As I've come to expect with Logitech products, set-up was a breeze. I could have used the webcam straight out of the box if I had needed to. As with the Logitech Zone Vibe 125 headset I reviewed, you can update firmware for the device using Logitune. It's a quick and simple process. Other features are also available in this app, such as a calendar.
One thing to check before you purchase the Logitech Brio 300 is the type of connection ports you have available on your computer. This is because it uses a USB-C connection – some older PCs might not have this port fitted. In my case, I was able to use the webcam with my Mac Mini but I wasn't able to test it with my Windows laptop as it doesn't have a USB-C port.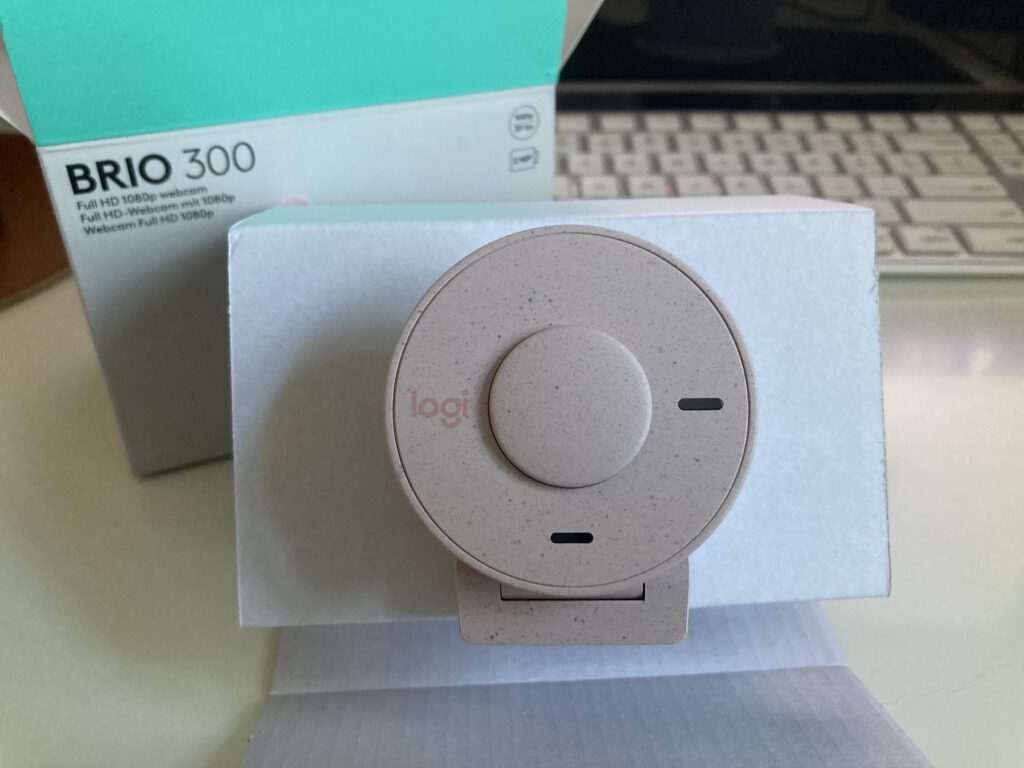 Lemon Squeezy
In terms of meeting platforms, the Logitech Brio 300 is certified to work with Microsoft Teams, Zoom and Google Meet. I had the opportunity to test it with two of these – Teams and Zoom – and it functioned faultlessly. I used it the most with the bespoke online classroom created by the tutoring platform where I deliver most of my lessons, again it worked here without issue.
The colours in the images produced seemed bright and the overall picture was clear. I felt that while using the Logitech Brio 300, the lighting in my office created less glare in the video of me on the screen. I use warm yellow/orange tinted, low lighting with lamps, as bright, white lighting is a migraine trigger for me. Glare on a screen can also create the same kind of light stress for my eyes that causes a migraine, so I found the reduction in glare extremely welcome.
Design
The Logitech Brio 300 comes in three colours; off-white, rose and graphite. I tested out the rose version. Whilst I'm not a massive fan of the colour pink – bar neon pink – the mottled effect over the base colour meant that the webcam was relatively unobtrusive. I do think that the graphite colour is a great option and would fit in well in most offices.
As well as its main function as a webcam, the Brio 300 has an integrated microphone. Due to my house being quite small, and therefore sound carrying easily from downstairs to my office, I wear a headset (with microphone) to teach so that I can hear my students clearly. It wasn't an option for me to use the Brio as my primary mic in my lessons, but having this as a back-up was a much better option than the default mic on my Mac.
When you attach a webcam to your computer, one thing that can cause worry for some people is your webcam being hacked and images being taken without your consent. The Logitech Brio 300 comes with a built-in answer to this. There's a small, circular piece of plastic that you can swivel over the camera any time that you're not using it. You can't record what you can't see.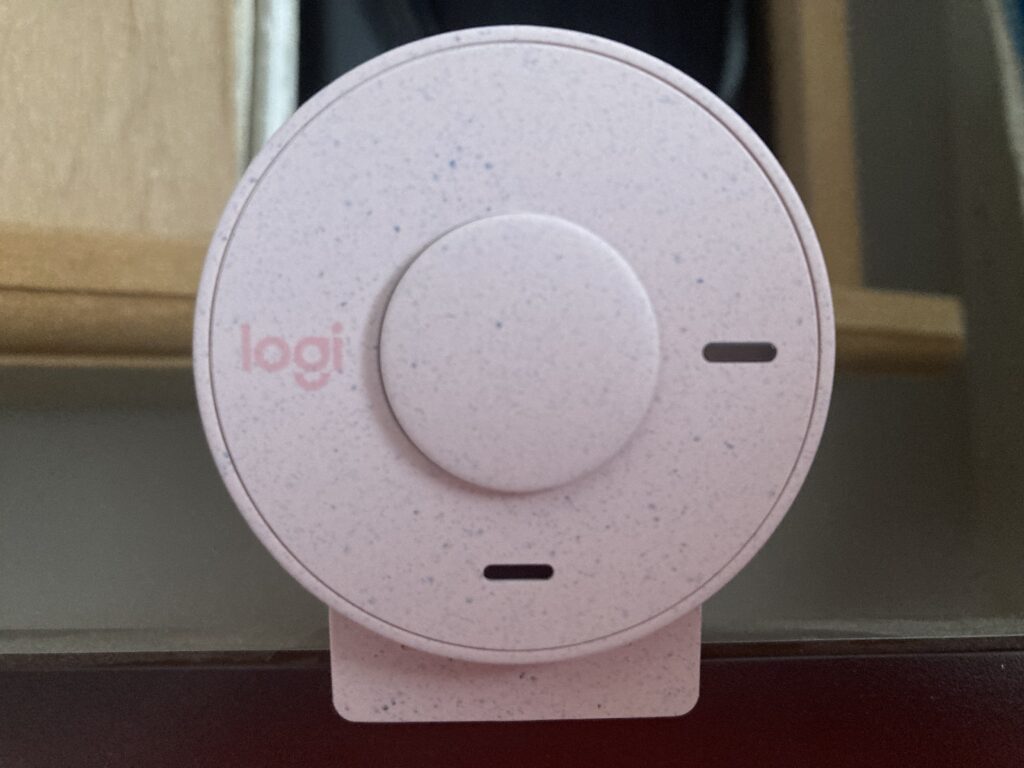 Final Thoughts
The Logitech Bio 300 is easy to set-up, comes in a range of colours to suit a variety of tastes, and has a useful privacy feature. It provides accurate, clear images and in my opinion, it reduces the glare from lighting that other webcams pick up. In addition, it works seamlessly with a range of platforms and has a built-in microphone. The only caveat I can see, is that you must have a USB-C port available for it to be compatible with your PC. At £74.99 it's not the cheapest, but if you're looking to upgrade from a basic webcam, I can happily recommend the Logitech Brio 300 as a step up.
Rapid Reviews Rating
4.5 out of 5
4.5
You can buy the Logitech Brio 300 webcam from the Logitech website here
If you enjoyed reading this review, check out more of our tech review here