Reading Time:
3
minutes
Fast Facts
Fledgling Heroes

Developer: Subtle Boom
Publisher: Subtle Boom
Website: https://www.fledglingheroes.com/
Genre: Platformer
Platform: Nintendo Switch
Age Rating: PEGI 3
Release Date: 07/05/2020
Price: – £7.99

Rapid Reviews was kindly provided with copy of this game for review purposes.
Fledgling Heroes at a glance looks like your typical mobile pass-the-timer, but this game proved me wrong on that initial judgment. Despite that, this game runs beautifully in both docked and undocked modes and has an equal skill level using both controller and joycon.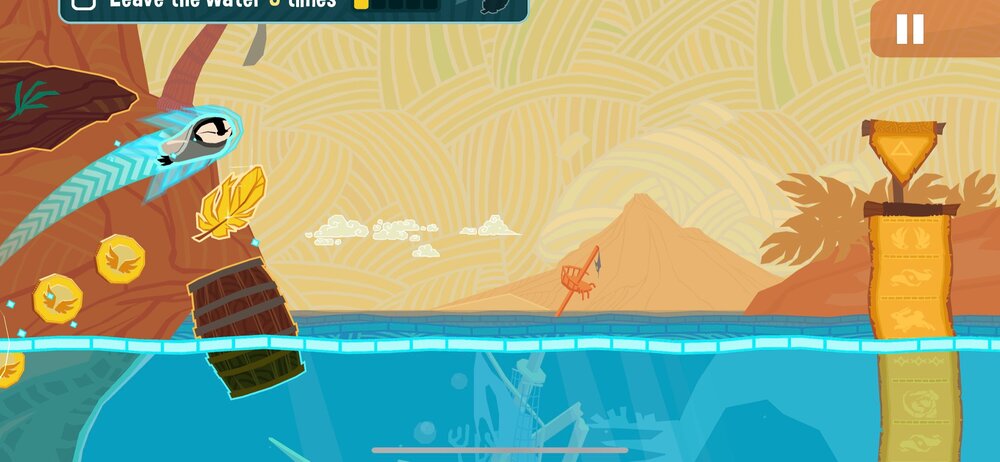 I didn't really know what to expect after seeing the trailer, but upon booting it up I was already met with absolutely beautiful artwork that could've passed for a children's book, and the colours felt a lot more vibrant. As expected, it was a really small download completed in minutes and the cut-scenes and gameplay ran really smoothly without issues.
In terms of story there wasn't much in a larger context per se, but every dialogue was written in rhyme and puns, which was strangely heart-warming and actually left me wanting to play more.
The gameplay itself is very similar to the old Jetpack Joyride or Helicopter game that we all know and love – if you keep clicking, it keeps you afloat. The game involves two different level paths you can follow, an "in the air" setting with the main parrot character, or an "underwater" setting with the side character, the most adorable runaway penguin. The aim of each level is to pass as many missions as possible, be it "collect 5 of ___" or "jump on the head of a shark". Whilst the game is built on a simple setting, it's not one for those completionists who like to do it in one turn. The game gets cooler, as you unlock the level and character editor – but it doesn't simply provide you with the fresh new colours to customise or the obstacles to place in your new level, they come as items you need to catch in your levels to unlock them. The possibilities are endless, and I did manage to thankfully transform my parrot into a pink and purple beautiful being.
The underwater levels are built with a lot more of a beginner level focus, whereas the overground levels provided more of a challenge, with more enemies and the requirement to think faster. The underwater levels are more of a jump and glide. The levels are short and sweet, whilst not just being under the guise of mission based, there are also time trial levels and endless levels which, due to the short and sweet element really contribute towards the replayability factor.
This game is perfect to play both with friends and family due to the multiplayer mode, but also perfect for younger children through the ease and storytelling set throughout. A thoroughly enjoyable game at a really reasonable price.
Rapid Reviews UK Rating
You can purchase Fledgling Heroes from the Nintendo eShop using the link below:
Nintendo