Fights in Tight Spaces Early Access Review
Reading Time:
3
minutes
Fast Facts
Fights in Tight Spaces Early Access

Developer: Ground Shatter
Publisher: Mode 7
Website: www.fightsintightspaces.com
Genre: Strategy, Action, Deckbuilding, Early Access
Platform: PC (Steam)
Age Rating: PEGI 16
Release Date: 24.02.2021
Price: £19.49

A code was provided for review purposes.
I'm a big fan of deckbuilding and action games so when I saw the stylish gameplay of Fights in Tight Spaces appear on my Twitter timeline, I fought (or at least asked) for the opportunity to review. Is Fights in Tights Spaces a game that won my heart, or is this deck builder worth dis-card-ing? Let's find out my early access thoughts in this Rapid Review.
Make or Break
The premise of Fights in Tights Spaces is simple: provide the player with a deck of cards and place them in a small room surrounded by enemies. It's a battle to be the last man standing, right up to the very end of five missions. The game wastes no time in getting into the action; I was briefed by my boss and then chose the style of deck I'd prefer. After a brief tutorial, it was straight into the first mission, confronting a biker gang.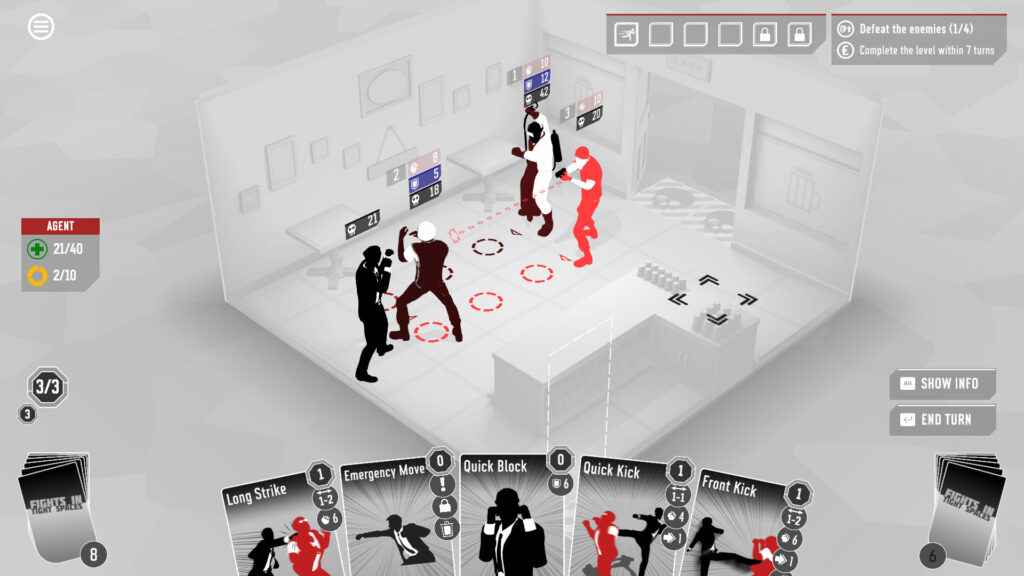 Although five missions may sound like a small selection on paper, the roguelike nature of the game means you'll be replaying the same missions repeatedly and, as is typical with roguelikes, the layout will be random each time. When playing in similar rooms or against enemies of the same type repeatedly, the core gameplay of a roguelike can make or break or game. Fortunately for Fights in Tight Spaces, the only "breaking" is the enemy's bone structure after a particularly powerful punch!
Dance or Fight
Whilst Fights in Tight Spaces is a fighting game, the team behind it could have just as easily worked on a dance game. In the deck are two types of cards; those that lean towards aggression and others towards defence, more specifically evasion. Slipping and sliding around enemies is just as important as hitting them.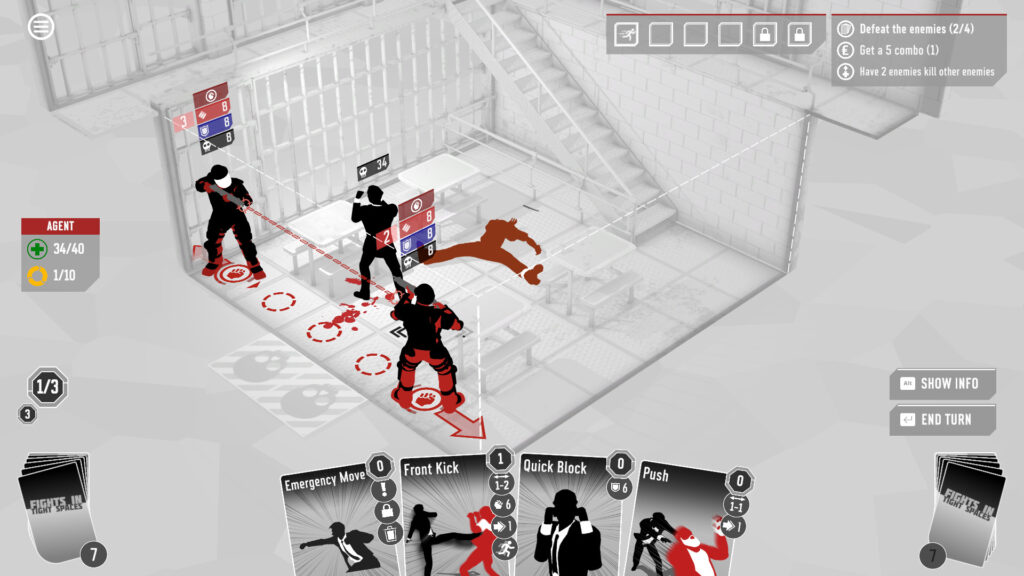 Stuck in a corner, with no way to escape, my thirty-minute attempt could suddenly end in one wrong move. As such, each turn requires meticulous planning, a carefully planned dance moving to and from enemies. My preferred deck is weighted towards aggression with one of my favourite moves being the "wall kick". Using the wall as a springboard, this card let me deal a near-fatal amount of damage. Combos are key with Fights in Tight Spaces so by combining the wall kick with a 2x damage multiplier, enemies stood in my way no more.
Contrast of Colour
Stylistically, Fights in Tight Spaces uses a contrast of colour where the red blood splash of the enemies really pops out from the white backgrounds of prison cells, vans or gangways. Kicks, pushes and evasions all come to life with animations that magically connect in such fluidity no matter the combo. The sound design is also good with a nice-sounding spy soundtrack that wouldn't be out of place in an action film. The spy thriller style continues into "events" where a question-mark appears on the map. These events boast all manner of different outcomes, losing health to sharks or gaining currency thanks to a successful operation.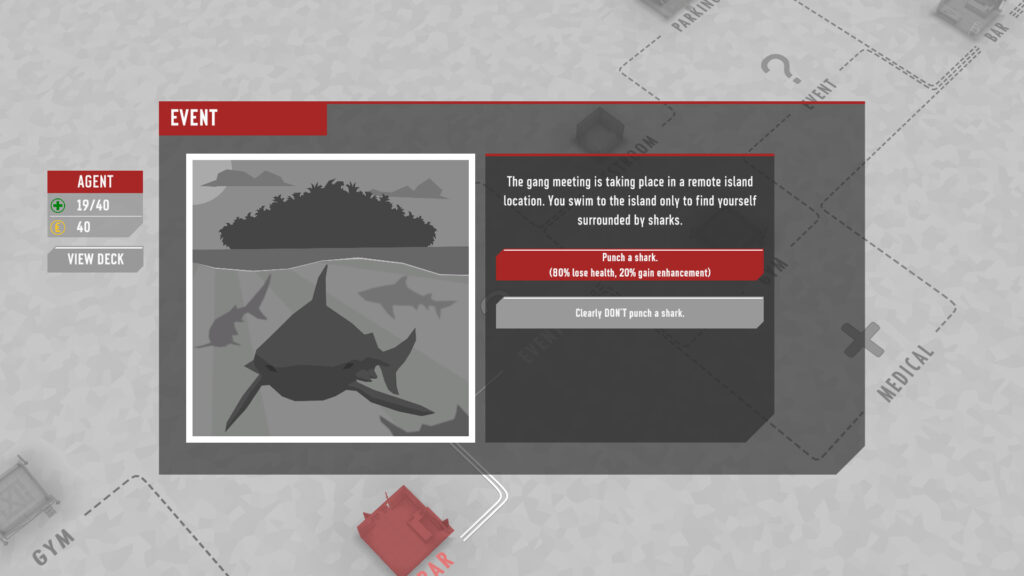 Speaking of currency, in between enemy encounters, I found time to visit medical to increase or maximise my health. Likewise, a gym offers new cards or upgrades for a surprisingly high fee. In the future, it would be nice to see the high costs of the cards decreased a little or perhaps new ways to earn currencies aside from the per-level objectives.
A Fight Worth Having
Overall, I greatly enjoyed my time with the early access of Fights in Tight Spaces. It's incredibly well polished that if it didn't bear the "early access" tag on steam, I'd have thought it to be a full game release. The update roadmap promises new levels, enemies, music and cards; in addition to better events and general polish as is common with an early access title. Fights in Tight Spaces may have more features in the future but it's certainly worth playing now!