Reading Time:
5
minutes
Fast Facts
BodyQuest

Developer: Artax Games
Publisher: Artax Games
Website: http://www.artaxgames.com/bodyquest/
Genre: Adventure, Puzzle, Educational
Platform: Nintendo Switch
Age Rating: PEGI 3
Release Date: 25/March/2021
Price: £5.39


A code was provided for review purposes.
Variety is the spice of life, or so they say. Personally, I prefer paprika, but what do I know. That said, when it comes to video games, I do enjoy playing a variety of titles. The reason I love the Xbox Game Pass so much is that it opens so many different genres to gamers. However, I digress. Today we are going to look at a game that is very different to my normal fare.
BodyQuest is an education-driven game more aimed towards a younger audience. It takes them on a trip through the human body. Learning about biology, anatomy, and general human-related biological functions in a fun and entertaining way. Plus, you have a laser gun to shoot germs and bacteria.
So, what did I make of BodyQuest? Keep reading this rapid review to find out.
A Game for Younger Audiences
At the start of the game, you are asked to enter your age. This is done because the game has age-based difficulty levels for the questions that are asked. This also applies to the information that is taught. Being an honest man, I painfully entered my real age. The questions I encountered ranged from basic to fairly complex, given the words and terminology involved.
I did have to keep telling myself that the game is built for younger audiences, but more about that in a second. However, I commend the developers for keeping parents in their thoughts when they built the game. The little pop-quizzes you needed to take in order to move through each level were fun and a great way to incorporate learning into gaming time.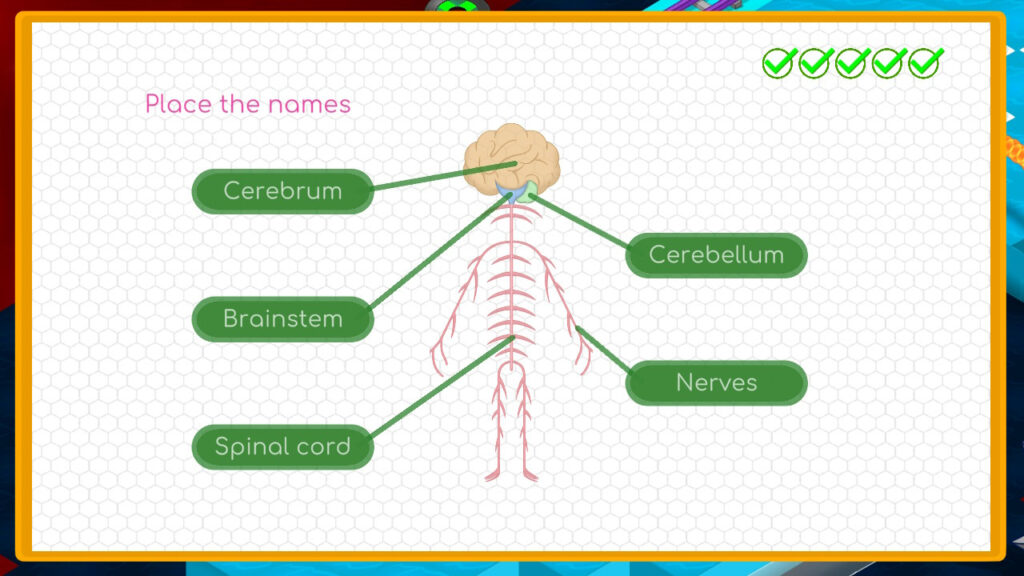 An Important Medium for the Future
The video game industry is booming, with an estimated worth of $180 billion and climbing each year. With a market as strong as this, it is only a matter of time before more and more attention is paid to building truly educational gaming experiences. I know there are lots of 'educational' games out there, but I mean a far more in-depth and valuable experience. Both in terms of gameplay and learning potential.
The team over at Artax Games already have one other education title available called Math Land. If they continue the way they are, I can see them becoming a real name in the world of educational video games.
Simple Fun Gameplay but Repetitive for Adults
There is nothing mind-blowing about this game. There are 25 levels and each one lasts anything from a minute to maybe five if you really explore and collect everything. Keep in mind, however, that this game is intended for children to play and learn. I did need to keep reminding myself of this as I played the game.
The gameplay itself is fun and simple. Again, perfect for younger audiences. You travel inside the human body on a hoverboard (nanoboard) solve some basic puzzles, answer questions related to the body part you are in and collect the nanobots that are going to cure the disease. It teaches kids the basic controls of a game, puzzle-solving logic, and of course, comes with a blaster/laser that allows you to shoot things too.
As an adult playing this, the level design was too repetitive, yet they do get full marks for their creativity and the way they introduced different control dynamics to help solve things like muscle cramps. For a child playing this game, I can imagine it to be quite a fun adventure.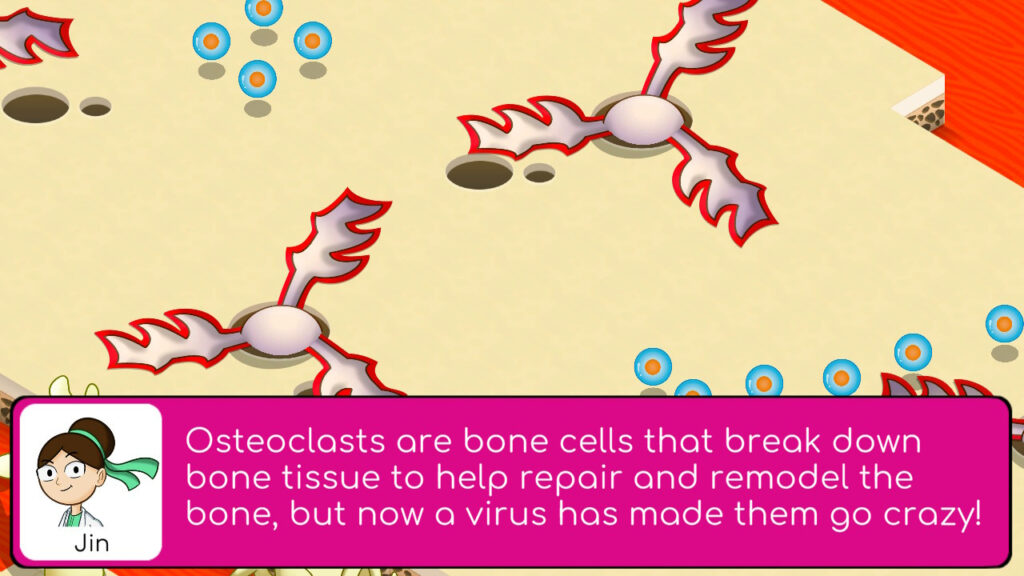 Lots of General Knowledge to be Gleaned
The game does a great job at asking you multiple-choice based questions and allowing you to make mistakes when answering them. However, I do kind of wish more effort was taken to teach the player what they needed to know as they played the level. Especially as a kid, having some simple, fun hints as I go around the level would help make the questions less daunting and tie them more into the gameplay element.
I liked that before you started each level a different biological fact came onto the screen, however, I started to get duplicate facts before I was even halfway through the game. I don't know if the generation is random or not, but I would have expected there to be more than enough interesting bits of information out there to cover the five levels in each of the five different locations.
Colourful Graphics Make a Fun Experience
Even as an adult, I enjoyed playing BodyQuest. Yes, it got repetitive, and I didn't play it all in one sitting, but I am not the intended audience and can separate myself from the review. The game is bright and colourful, and I think the team did a really good job at depicting not only the different systems but also their way of working. The enemies were simple but also interesting. In short, the game offers everything a budding young gamer could ask for while throwing in a learning experience to boot.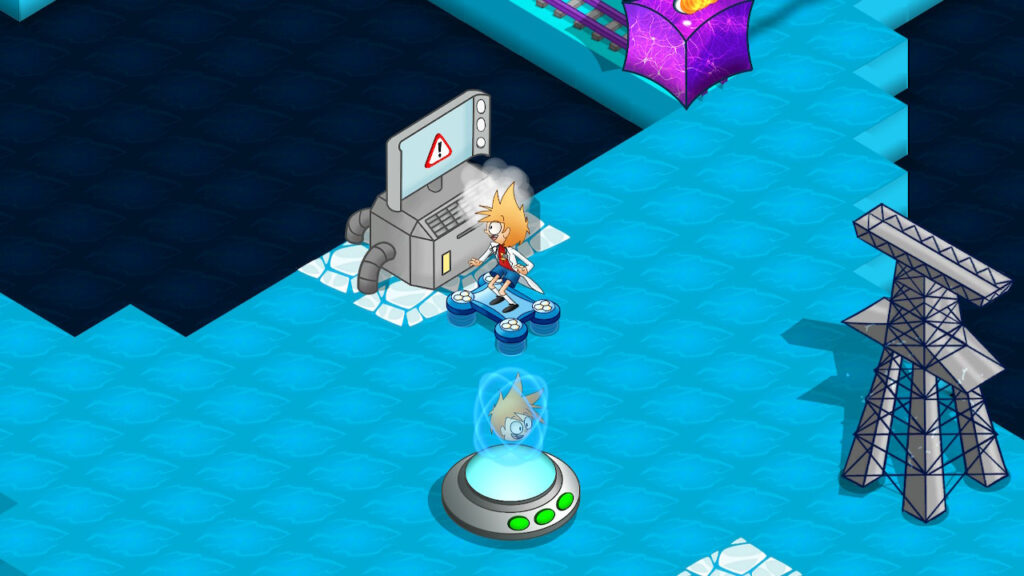 Conclusion
Praise is due to the Artax Team because they have created a very fun and interesting game that is sure to get a lot of people more interested in the human body and learning through play. While there is nothing ground-breaking about the game, and I doubt that it will be remembered for long, even if my prediction of education games is correct. I think it is certainly a title that the developers can be proud of and look to build even bigger and bolder learning games as a result.
Consequently, rating this game is a little trickier than normal. I need to consider both the intended audience along with what it delivers as a game. I feel the score below is a fair representation that captures both the possible enjoyment across all ages, with a heavier slant of consideration for younger minds. Not a perfect game, but a great attempt.
Rapid Reviews Rating
You can get your copy of BodyQuest on the Nintendo eShop now.