Another Fisherman's Tale – Meta Quest 2 Review
Reading Time:
5
minutes
Fast Facts
Another Fisherman's Tale
Developer: Innerspace VR
Publisher: Vertigo Games
Website: Meta Store
Genre(s): Adventure, Puzzle
Platform: Quest 2
Age Rating: Teen
Release Date: 11/05/2023
Price: £24.99

A code was provided for review purposes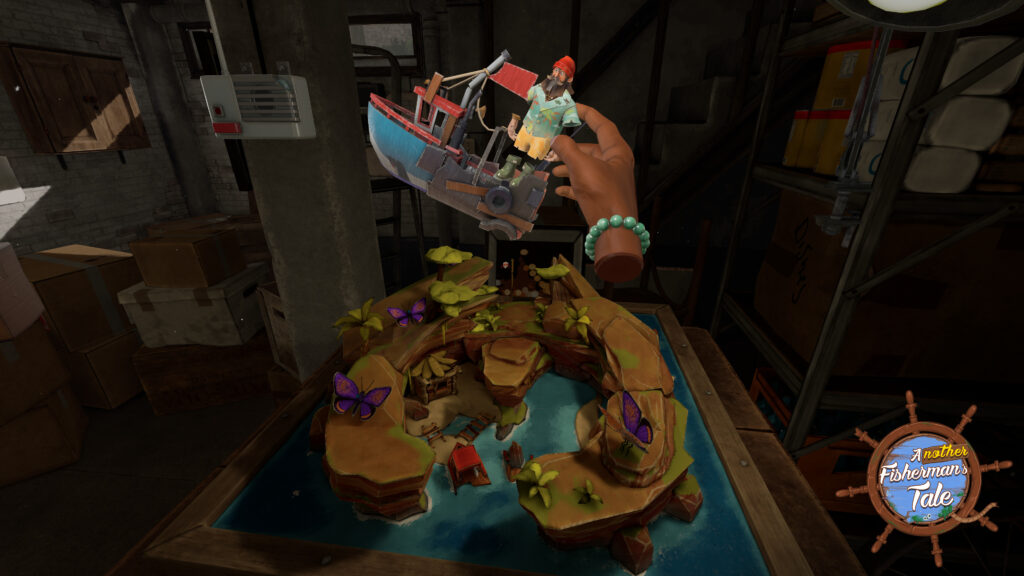 A Tale Worth Telling
Innerspace, the talented team behind A Fisherman's Tale, has once again demonstrated their mastery of creating visually stunning worlds. Another Fisherman's Tale takes players to new and unique locations, each brought to life with meticulous detail and artistic flair. Each distinct chapter has a varied look and feel. Characters in the world look like woodcut puppets with rope-like arms and a cell-shaded painterly style. There are several objects you will interact with throughout the game like opening up boxes, pulling levers and switches, steering your boat or a crane, and more.
What truly sets Another Fisherman's Tale apart are its mind-bending VR puzzle mechanics. In this game, your own body becomes the primary puzzle to be solved. With unconventional gameplay centered around dismantling and reinventing yourself, you'll detach and control your limbs, finding new attachments to progress through the challenges. The puzzles are cleverly designed, pushing your creativity and problem-solving skills to their limits.
In the opening section of the game, you have to use your head, literally, by throwing it to various bird's nests to give yourself a birds-eye view of the island. By doing this you can then see various parts of the island, and later a ship's engine room, cavern, and more, to get a clue as to how you need to navigate your hands around the map to pull levers and turn cranks. Seeing the world from various viewpoints helps you uncover secret pathways and find your next object. Your hands scurry around the world much like The Adam's Family, Thing runs across floors and countertops.
Another Fisherman's Tale innovative puzzle solving comes at the expense of thinking outside of the box and thinking differently in multiple directions and even dimensions sometimes. Much like its predecessor A Fisherman's Tale, which I reviewed several years ago, Another Fisherman's Tale is creative in its gameplay and world-building. There were more 'ah hah' moments for me playing the sequel and figuring out and solving a puzzle genuinely made me feel smart.
Using Your Head and Hands
Another Fisherman's Tale is a captivating VR puzzle game out now for the Meta Oculus Quest 2. The game takes players on an unforgettable journey into a world of mind-bending puzzles and poetic storytelling that hit me in the feels throughout and especially in the game's final chapter. As the highly anticipated sequel to the award-winning A Fisherman's Tale, this VR game pushes the boundaries of immersion and creativity. Developed by the talented team at Innerspace, the game offers a captivating experience that is unlike any other.
The poetic storytelling in Another Fisherman's Tale is a standout feature and is told both through in-game narration and during the end-of-chapter sections where you play as the sailor's daughter. The overall story cast you as both Bob and his daughter, where you embark on a quest to uncover the truth about Bob's past, delving deep into the memories of Nina's childhood and following the enigmatic threads of Bob's own history. The narrative weaves together beautifully, immersing players in a rich and emotionally resonant tale.
At the core of the gameplay in Another Fisherman's Tale is using your own body as the primary puzzle. Manipulate your limbs in unconventional ways, adding complexity and creativity to the engaging experience.
Handy Puzzle-Solving Mechanics
The game features puzzles where you detach and control your limbs independently, allowing inventive problem-solving and unique interaction in virtual reality. Explore beautifully crafted locations, discovering helpful attachments along the way. These attachments serve as tools or mechanisms to solve puzzles and unlock further progress. Finding and utilizing these attachments adds an element of discovery and strategic thinking to the gameplay, encouraging players to explore and experiment with their surroundings.
As a VR experience, Another Fisherman's Tale shines. The game fully leverages the capabilities of virtual reality, allowing players to truly immerse themselves in its world. The sense of presence is heightened as you interact with the environment using your own body, making for an incredibly engaging and immersive adventure.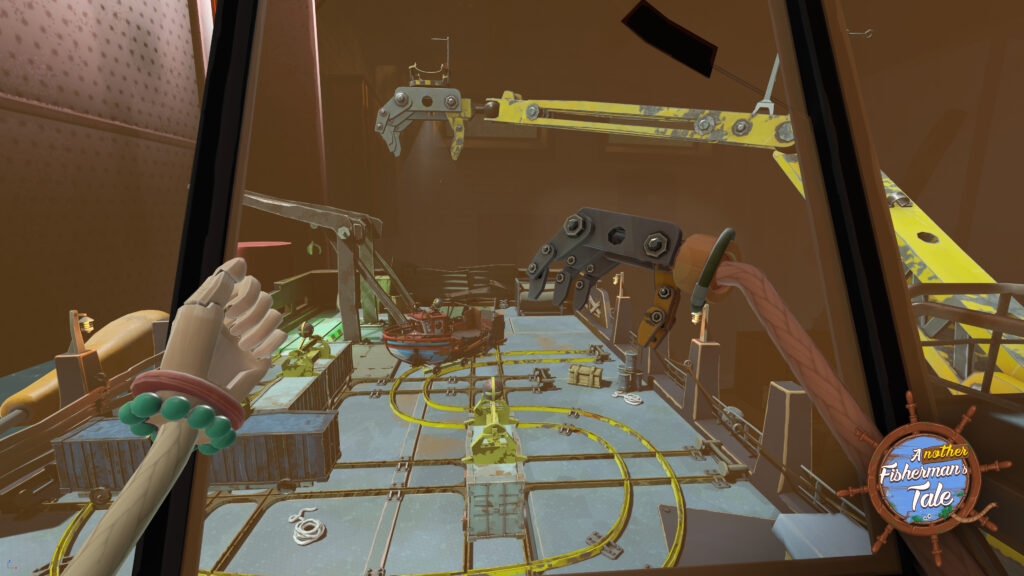 Tactile Objects Shape the World
During my playthrough, I encountered surprising items, vehicles, and puzzles, requiring creative usage. One section involved navigating the 3D plane, and even exploring the ceiling. Underwater and surreal dream segments added moments of awe and occasional jump scares.
Another Fisherman's Tale offers seamless gameplay, blending puzzles, exploration, and storytelling. Uncover Bob's past and Nina's memories, solving puzzles that reveal the heart of the narrative. The poetic storytelling weaves intricately into the gameplay, creating an immersive experience that engages players throughout.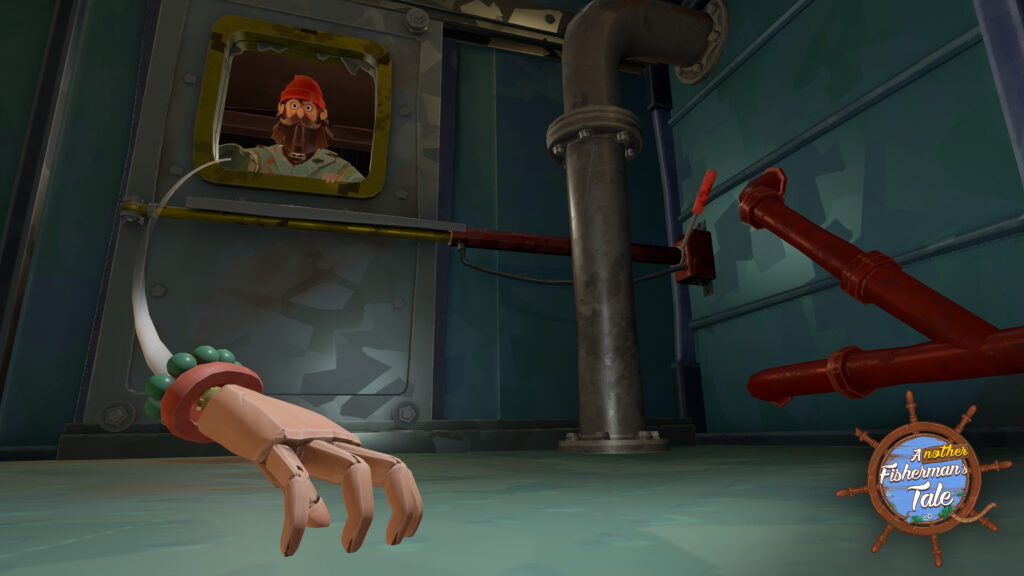 The Thing(s) You Do
Another Fisherman's Tale introduces players to a gameplay experience that is both innovative and mind-bending. Building upon the foundations of its predecessor, the game takes full advantage of virtual reality technology to deliver a truly unique and immersive adventure.
Another Fisherman's Tale offers a delightful blend of inventive puzzles, immersive exploration, and captivating storytelling. With the innovative use of VR and body manipulation, it creates an intellectually stimulating and emotionally resonant experience. Prepare to challenge your mind, push boundaries, and embark on an extraordinary adventure that showcases VR's true potential. Get ready to be amazed by Innerspace's masterpiece.
A Fisherman's Tale stands as a shining gem in the realm of virtual reality gaming, offering an experience that is as enchanting as it is innovative. From its clever puzzles to its immersive storytelling, this game is a must-play for VR enthusiasts and puzzle lovers alike.
The game's standout feature is its mind-bending gameplay mechanics, manipulating your environment by interacting with different-sized versions of yourself. The ingenious twist keeps you captivated, with cleverly designed puzzles that challenge perception and problem-solving skills.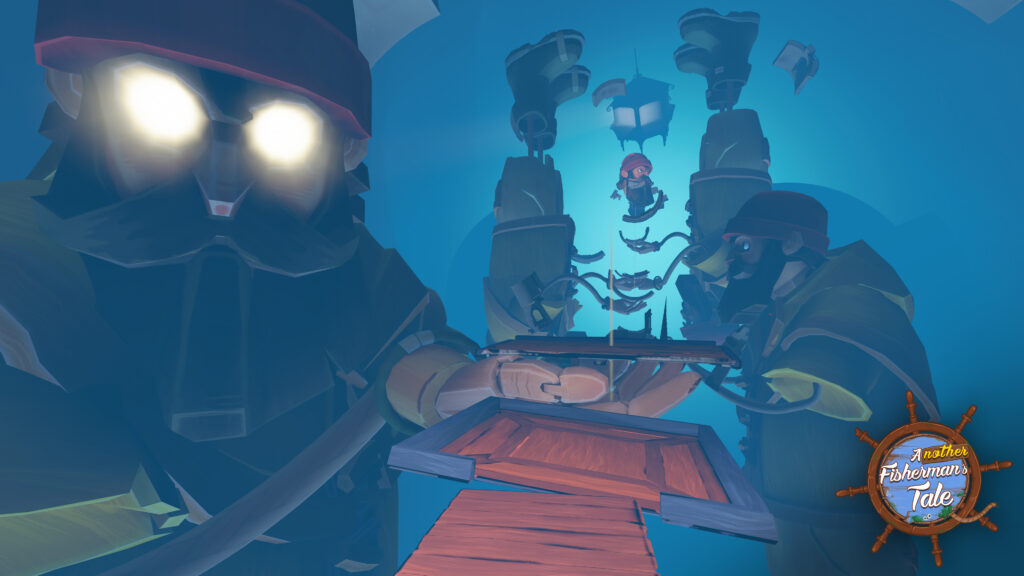 A Must-Play Gem for VR Enthusiasts
A Fisherman's Tale stands out with poetic storytelling, blending past and present, exploring identity, self-discovery, and reality. The game showcases commendable polish, craftsmanship, and attention to detail, delivering a seamless and enjoyable gameplay experience. A must-play gem for VR enthusiasts, offering innovative mechanics, an immersive atmosphere, and intellectually and emotionally resonant gameplay. Prepare to be captivated, challenged, and moved by this VR masterpiece. Dive into the enchanting world of A Fisherman's Tale for an unforgettable adventure.
Rapid Reviews Rating
4.5 out of 5
4.5
You can buy your copy of Another Fisherman's Tale VR from the Meta Store today.