The Sims 4 Horse Ranch Expansion Pack Review
Reading Time:
7
minutes
Fast Facts
Sul Sul!
At one point or another in a gamer's life, they've ventured into the Sim world. Making their Sim fall in love, get married, and have a baby in the space of ten minutes, or trapping their Sim's enemy in the basement and setting it on fire. The base game comes with its own fun as long as you're imaginative, but expansion packs open up a whole new level. The Sims 3 expansion packs had me in a chokehold, and I still have my disc collection on my shelf.
The Sims 4 has introduced a variety of expansion and item packs since its release, eagerly awaited (and critiqued) by Sims fans. The latest release is The Sims 4 Horse Ranch Expansion Pack. Personally, as that girl in school who was desperate for my very own pony, this was right up my street. Is this a pack worth horsin' around with, or is it a strong neigh (ouch)? Let's take a look.
Welcome to Chestnut Ridge
This pack takes us to Chestnut Ridge, with rivers flowing through country trails and mountainous tracks, exactly how you'd imagine a ranching community. There are ten lots altogether across the three neighbourhoods, with 6 of those being free lots to move a new Sim family into. The rest feature families already living there, which you can take control of. These range from an empty lot to have full creative freedom and humble one-floor ranches to massive country homes.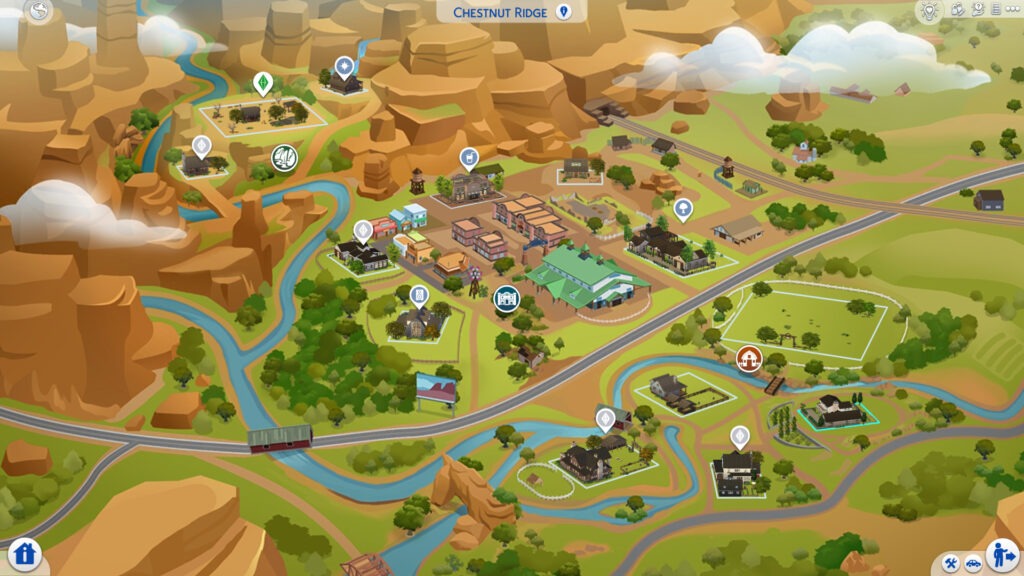 Central to Chestnut Ridge is a nightclub, a bar, and an equestrian centre. Both the nightclub and bar suit the cowboy lifestyle so well, with the locals going out to hoedown throwdown. There is also a national park-type area where you can take your horse for a ride. Personally, I am really happy with this new world!
Creating Your Cowboy Family
The Horse Ranch Expansion Pack comes with 148 Create a Sim items. These include a range of shirts, denim, boots, and of course, a cowboy hat to transform into the ultimate rancher, and I think there was a good amount of outfits to choose from. I really love the side plait hairstyle, but although there are a decent number of new hairstyles, there is nothing super exciting. There are also two new aspirations: Championship Rider and Expert Nectar Maker.
You can also add a horse to your family when creating it, which is really fun! There are breeds to choose from, but also coats too, as well as the mane and tail style. It felt like you could go quite in-depth to create your unique horse however you wanted. There were also some cute accessories too, such as flowers and a little hat! Like with your Sims, you can choose your horse's personality too; will it be an intelligent star jumper or more free and skittish who needs some love? I really liked this inclusion as it brought more character to the horses and another level of customisation.
There are then 199 build mode items. I am terrible at building houses on the Sims that don't look like prison blocks from the outside, but I love designing the inside! It was fun to design an old Western-style interior, and there's lots of inspiration out there to create cabins and barns. I do like using the prebuilt rooms on the Sims, and I feel like this pack did lack in this area. Overall, I think people will have a lot of fun in creating both their Sim families and their homes.
The Ranch Lifestyle
The Horse Ranch Expansion Pack introduces the ability to run your very own ranch, which almost becomes a job in itself. You have to keep your horses' area clean, clean manure, and harvest prairie grass to feed them. And it's not just horses to look after; this pack included goats and mini sheep, too! They are absolutely adorable, hopping around your home and curling up to sleep by your horses. However, they also need looking after, so don't go buying them willy-nilly. If they're not looked after properly, they will threaten to leave! Luckily, you can hire a ranch hand to help out if you're struggling.
Like with Sims, you have friendship levels with your animals, too. If you don't have a high relationship with your horses, they won't cooperate either and may boot you off when you try and mount! For some reason, I struggled to up my friendship level with the sheep and goats; when I'd try to pet them, they would refuse, and my friendship would decrease. So, I'd recommend being a bit more patient and perhaps just continuing to only talk/joke with them for a while before anything more.
Attending your ranch alone doesn't earn you any money, but there are ways to do so. You can shear or milk your sheep and goats for a little sum or sell Nectar. Horse riding competitions come with prizes for the top three places, and there's a community jobs board to teach riding lessons, for example. Unfortunately, there was no official career, which I thought might be professional horse jumping or something along those lines. I would have liked to see this since taking care of your ranch for no money and doing little jobs in between was difficult, especially for a single cowgirl struggling to pay bills! However, I appreciated there were other ways to make money along the way, and a real rancher would indeed spend most of the time on their ranch.
Horse Whisperer
Of course, besides having your own ranch, having horses is the major selling point of this pack. For some people, this is what we'd been asking from Sims 4 for ages! As mentioned, a significant part is bonding with your horses and increasing their skills (temperament, agility, jumping, and endurance). As with the mini sheep and goats, you must be patient by going from speaking to them before going in for a cuddle. Then, when your relationship is high enough, you can train at barrels and jumping using the build mode items on your own ranch. Alternatively, you can head to the equestrian centre in the heart of town, and your horse can train there on their own.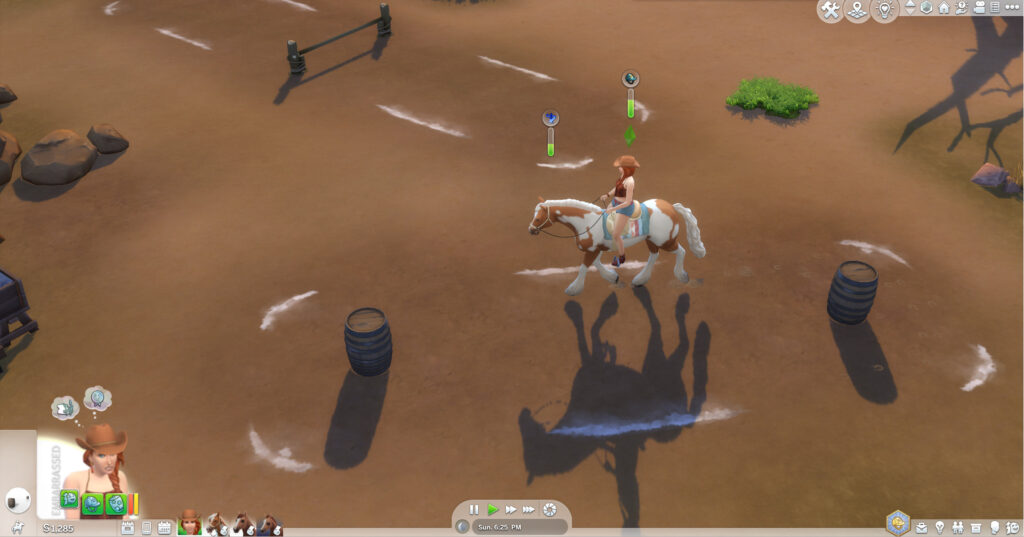 Since I chose a property in Galloping Gulch, I could ride my horse directly from my ranch to that surrounding landscape. There was a considerable area you could ride around, with barrels to train at and even a secret cavern to be found with a mini-game! Even riding with your horse increases endurance and temperament, so it's nice to let them ride and admire the scenery. Though you can't directly ride into town, you can 'travel' to town and choose your horse to accompany you, then mount and ride around once you're there.
Besides creating your horses when initially making your family, you can breed your horses, too. Unfortunately, it seems as though the foal will either look like the father or the mother rather than with a coat that's a mixture of the two, which would have been cool. The foal may carry on some of the parents' traits but also develop its own. You can buy horses for 1000 simoleons if you're not picky about creating your own. Rescuing horses is also an option for just 250 simoleons, which are a little more difficult to train as they have traits such as aggressive and fearful. But with your care, they can thrive in a loving home!
Dag Dag!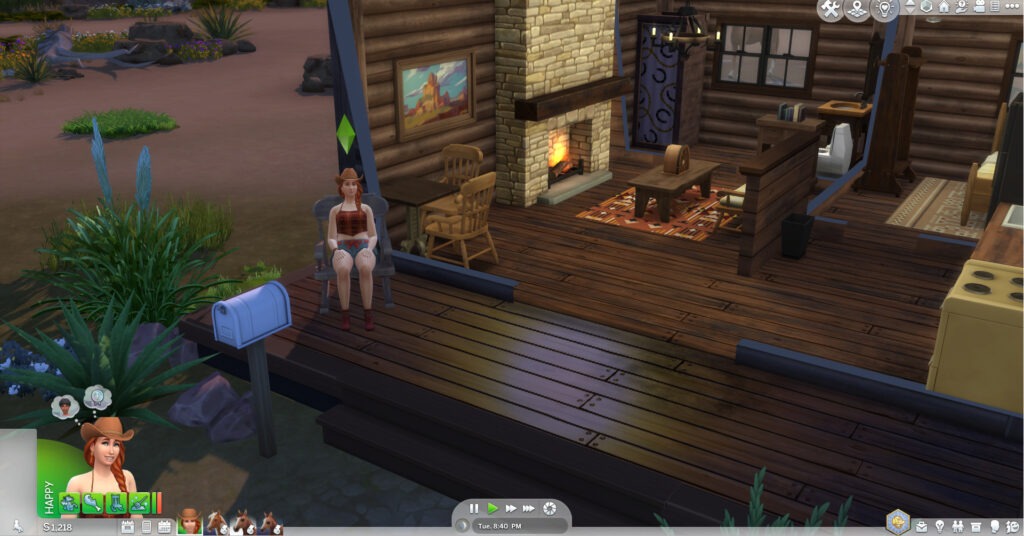 For me, I am over the moon with the Horse Ranch Expansion Pack! The create a sim items fit the theme perfectly, and I loved designing my horses. Though I won't take full advantage of the build items with my poor building skills, and I would have liked some more prebuilt rooms, experienced Simmers will surely have a ball. There is tonnes to do to keep your Sims busy all hours of the day, from caring for your ranch and completing community jobs to winning competitions and drinking Nectar all night long.
I do feel, however, that hardcore Simmers may be a bit more nit-picky than me and compared to previous packs, such as horses being included with cats and dogs in The Sims 3: Pets. Some feel this could have been combined with the Cottage Living Expansion Pack, including animals like cows, chickens, and llamas. While I do agree to some extent, as I believe the two could work well together, they have different vibes. Cottage Living is about rural England-esque country life, whereas Horse Ranch is about the American West, so I understand the separation.
It is unsurprising that they would be separate from a business perspective, too. At £34.99, it is expensive just to extend playability from the base game and acquire horses, but unfortunately, it is something Simmers are used to now. There is plenty to do, though, especially if you don't own many other packs yet, such as myself. If you're a horse lover ready for ranch life, this is certainly for you!
Rapid Reviews Rating
4 out of 5
4
You can purchase The Sims 4: Horse Ranch Expansion Pack here.