22.5W
,
25W
,
Accessories
,
Chargers
,
Charging
,
Charging Case
,
earbuds
,
Portable Charger
,
Reviews
,
Smart Tech
,
Smartphone
,
Smartwatch
STM ChargeTree Go Review
Reading Time:
3
minutes
Fast Facts
STM ChargeTree Go Review
Manufacturer: STM (Smarter Than Most)
Charge Speed for Smartphone 15w / 7.5w
Charge Speed for Bluetooth Earbuds: 5w
Potential Charge Speed for Smartwatch: 3w
Features: 3 x Charge Indicators
Release Date: Nov 2022
Price: £69.99

A unit was provided for review purposes
STM ChargeTree Go – 3 Solutions in One
With so many devices in our lives the biggest challenge we all face is sockets and charging solutions that don't look like spaghetti junction. This becomes even more challenging when it comes to travel and planning for how much space all of these take up in your bag.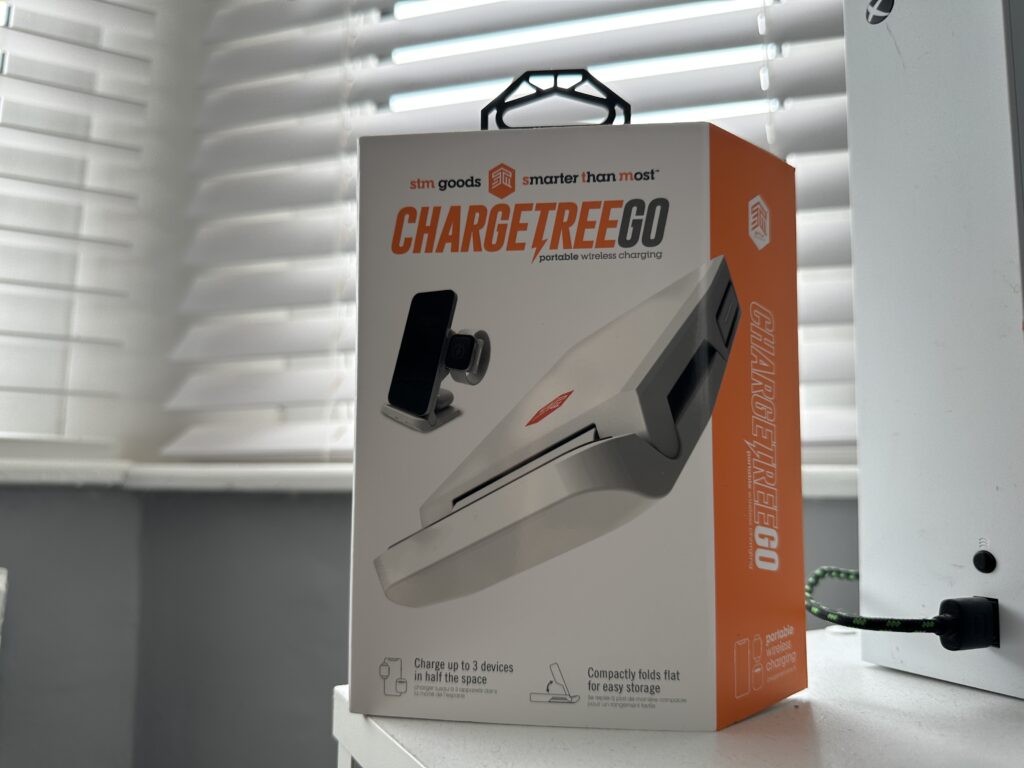 I was super excited to have the opportunity to review the ChargeTree Go. Created by the team at that rather humbly named Australian company Smarter Than Most. Just a couple of centimetres thick and easily pocketable, the ChargeTree Go is a one stop charging solution for your smartphone, smart watch and earbuds. The magic really being it requires just one USB C charge cable to keep those devices topped up.
The Design
ChargeTree Go is built from a soft touch polycarbonate, that offers a premium feel that's weighty and robust. It has a good balance that allows it to sit very planted on my bedside table. It can adapt from a flat charging position with one delightful click into a portrait standing position. Available in two colours, black and white, the smartphone charges at a 65 degree angle, which keeps the device positioned securely with little risk of falling from the rubber charging base.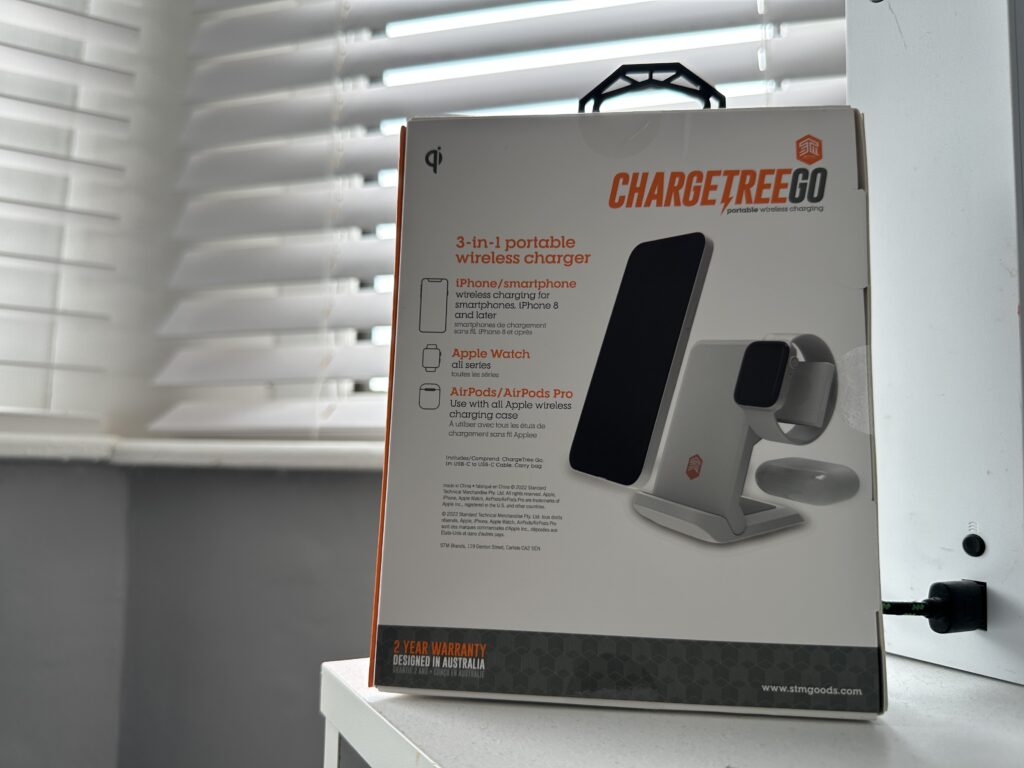 This design is well thought out, and entirely necessary with no magnets to help the positioning of your devices or to support in retaining their placement. Smartphones can charge at speeds up to 15w wirelessly, although this will entirely depend on the manufacturer and the charging brick that you utilise with this accessory. Yep, sorry to say no charging brick included, just the USB C cable itself, which for £69.99 is a little disappointing.
The Next Step
Taking things further from here, there are two additional charging options that make up the 3 in 1. There is a small shelf at the back for charging your Bluetooth Earbuds wirelessly, which can receive up to 5w of power independently. This is super useful albeit a smaller space that may struggle for larger earbud cases. My beloved Nothing Ear (2) unfortunately just about charge but hang slightly off the edge of this shelf, and on more than one occasion I've just missed the sweet spot and returned to less battery in these than expected.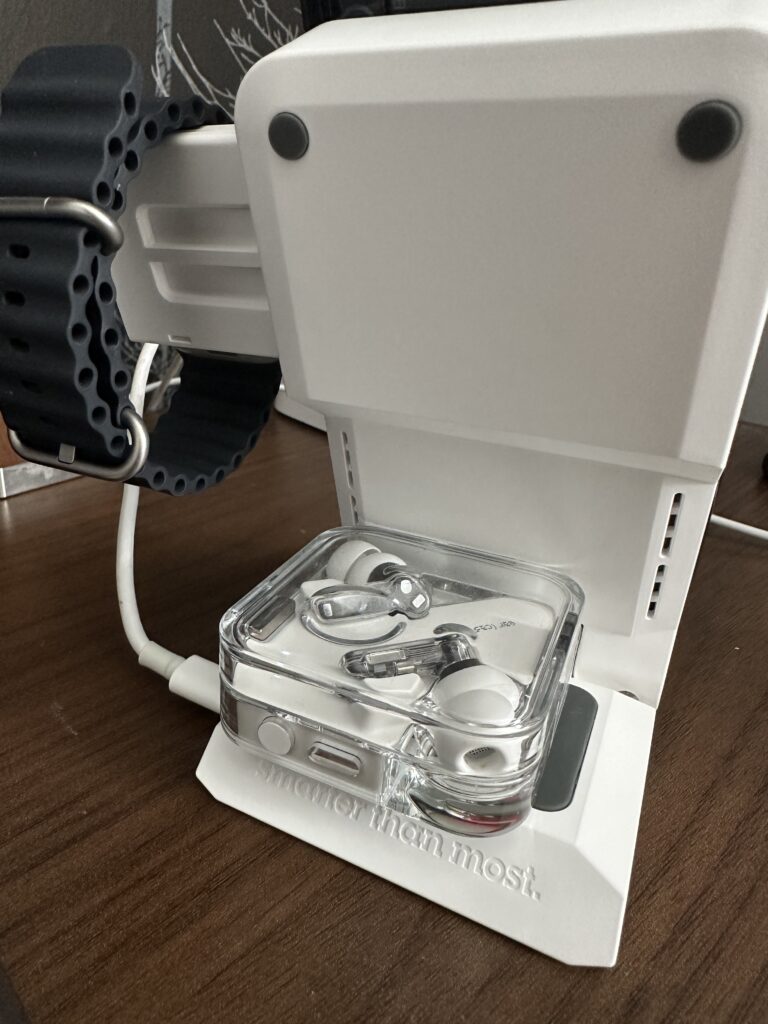 The final addition is the clever addition of the spring loaded smart watch charger on the side. Im really impressed with the mechanism on show here, its a solid design that feels robust. It also feels a little niche vs other options on the market that leave the watch charging component on show at all times. A frequent downfall of other options being, not everybody has a smart watch so having the option to conceal this when not being used is an extremely pleasing aesthetic. The only disappointment being the angle your smart watch charges at. Also the size of the charge pad means larger smartwatches, or those with particularly heavy straps attached can sag forward when charging which is a shame. However, I haven't had any missed charges here in my testing.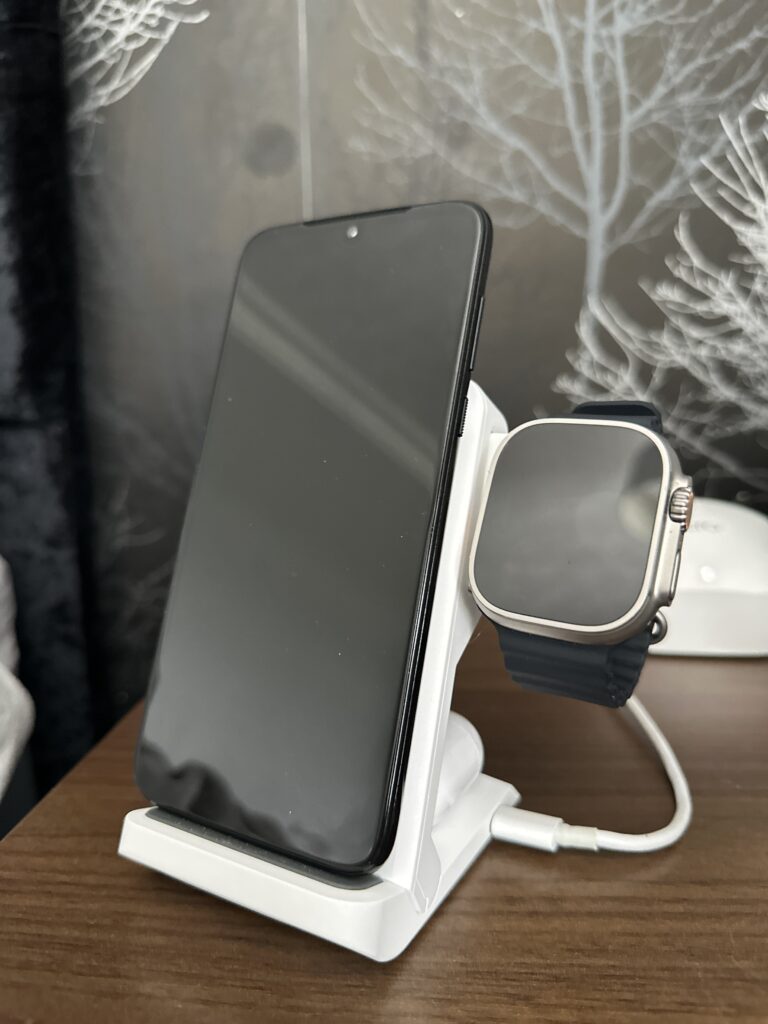 In Conclusion
The STM ChargeTree Go is a really useful piece of kit. It charges reliably, folds into a very useful travel mode (with a drawstring bag included) and has a premium enough style, that undercuts much of the competition at its price point. I think there are a few quality of life improvements that can be made in its next revision. A few magnets, a slightly re-angled watch charger and bigger pad for charging your earbuds and this product is a home-run next time round. For now though, I can comfortably recommend this to anyone looking for a combination charging solution from a trusted brand.
Rapid Reviews Rating
4 out of 5
4
You can buy the STM ChargeTree Go here